Media gallery
Cruise overview
Lot 27 Tuan Chau port, Halong city, Ha Long, Vietnam
View on map
" Cruising along Halong Bay on an Annam Junk is the experience you'll never forget. Exquisite décor and wooden carvings brilliantly reflect the cruise's traditional style. While providing standard facilities, the thing that makes the cruise outstanding is the cozy and intimate ambiance onboard. In addition to this, this is among a few ships that offer sailing routes to both Halong Bay and Bai Tu Long Bay."
Editor Reviews
Pros
+ The ship is neat and has a beautiful design of traditional Vietnamese wooden junks.
+ Bathroom is clean, tastefully furnished, and has plenty of hot water.
+ The crew is friendly and tries very hard to help guests.
Cons
- Stops during the journeys on Halong Bay are overly touristy.
- There is little information on the destinations.
- Cabins are a bit small but have adequate facilities.
Bottom Line
Annam Junk provides a warm and relaxing space for tourists to soak up the spectacular beauty of the bay.
About
Type: Wooden
No Of Cabins: 29 (4 Cruises)
Pick Up Time: 7:30 – 8:00 Am
Drop Off Time: 16:30 Pm
Operating Area: Halong Bay, Bai Tu Long Bay
Available Tours: 2d1n, 3d2n
Destinations: Luon Cave, Titop Beach, Surprise Cave, Vung Vieng Fishing Village, Thien Canh Son Cave

8.7/10
Itinerary & activities
The 1-day and 2-day itinerary to Halong Bay allows tourists to enjoy kayaking in Luon cave, explore Surprise cave, and relax in Titop beach. Meanwhile, excursions to Bai Tu Long Bay are available for the private trip only. It brings an opportunity to visit local houses and fish farms on Vung Vieng floating village as well as Thien Canh Son cave on foot.
Cooking class
Themed dinner nights
Movie nights
Beach
Evening entertainment
Canoeing
Karaoke
Fishing
Golf course (within 3 km)
8.5/10
Cruise quality
Comprising of 5 wooden boats, Annam Junk fleet qualifies 3-star standards and gives travelers a home-from-home cruising experience. Most of the ships are well-maintained but guests should not expect luxurious amenities and personalized services at the 1-to-1 ratio.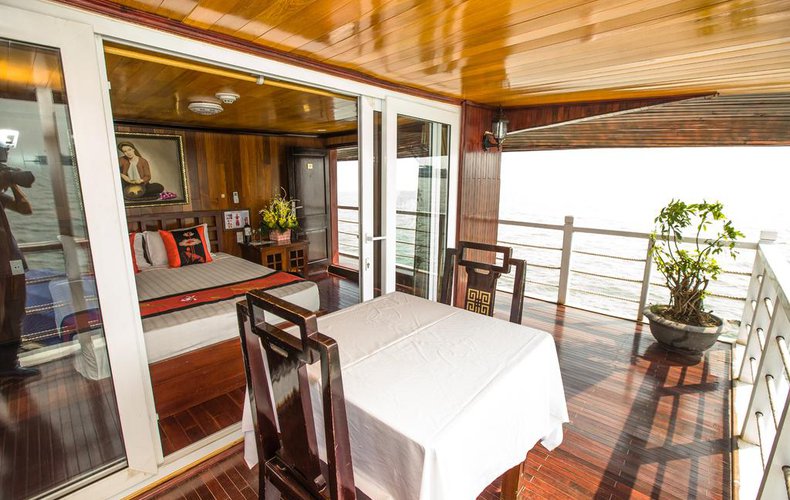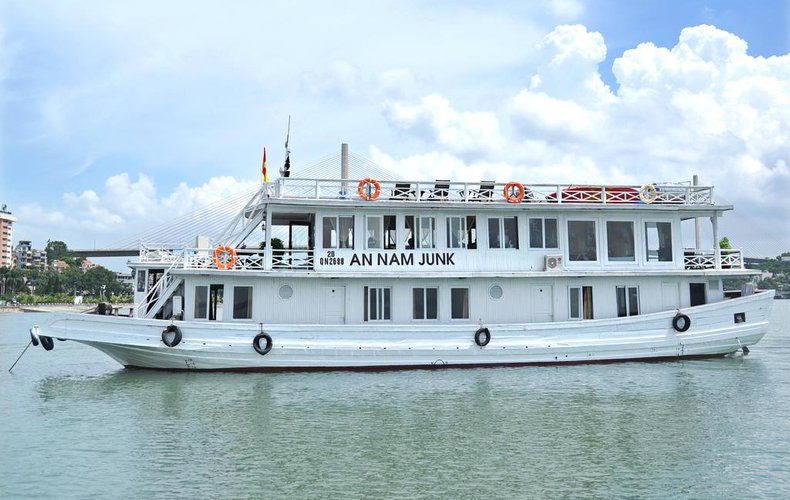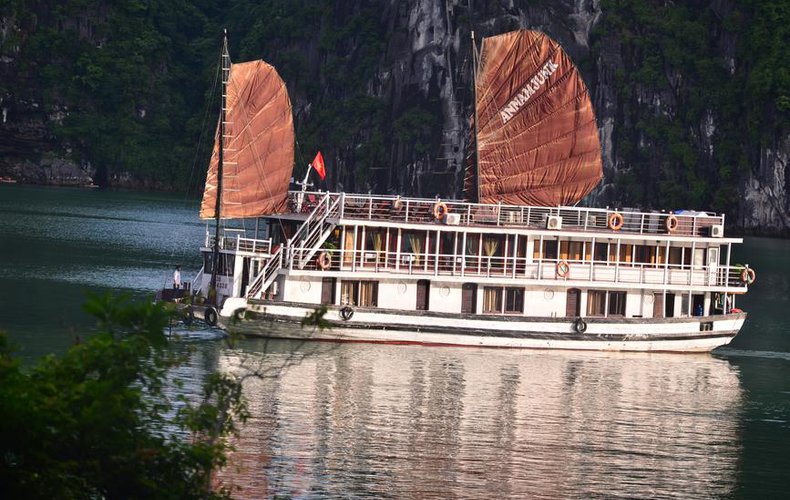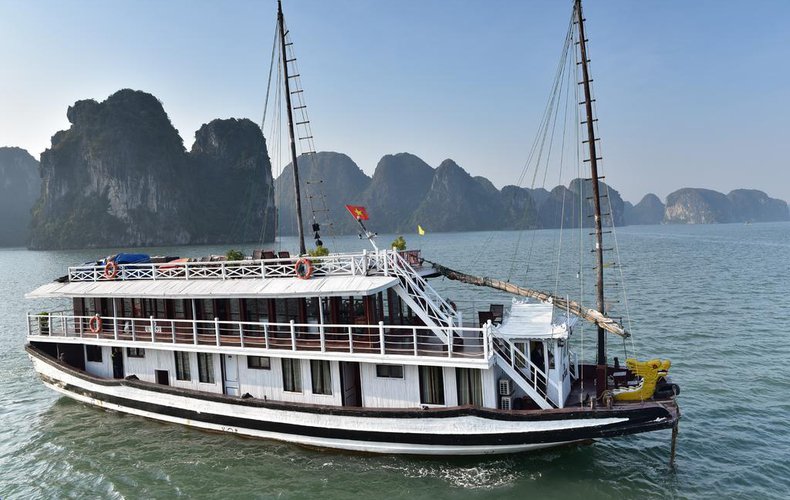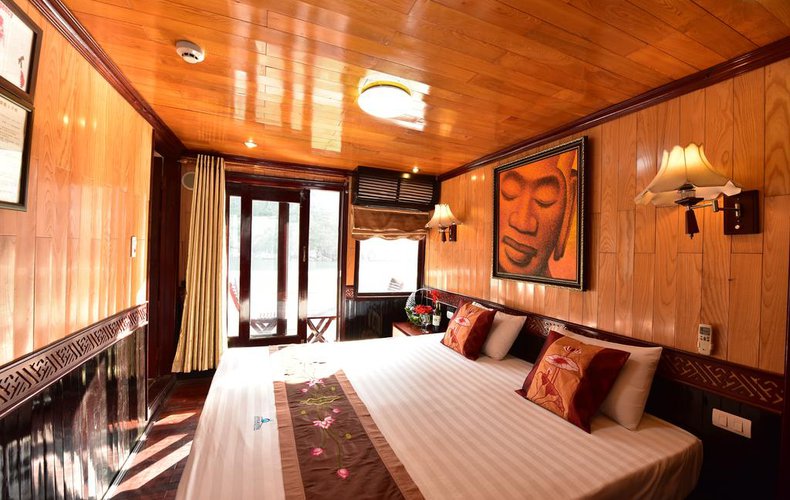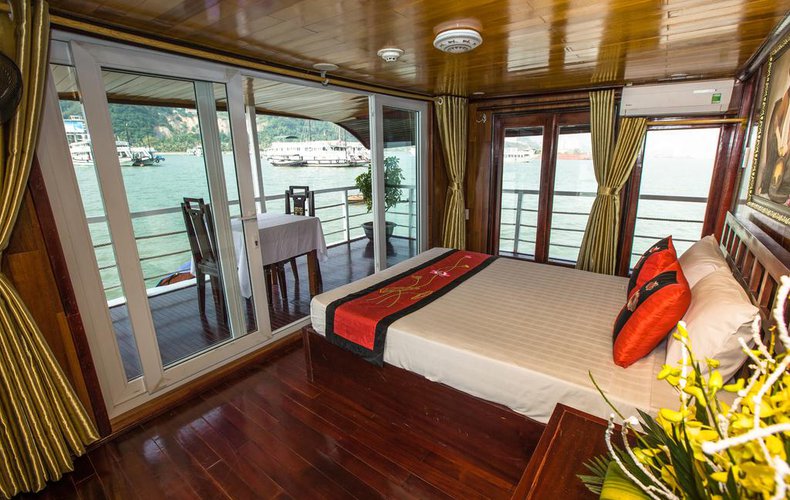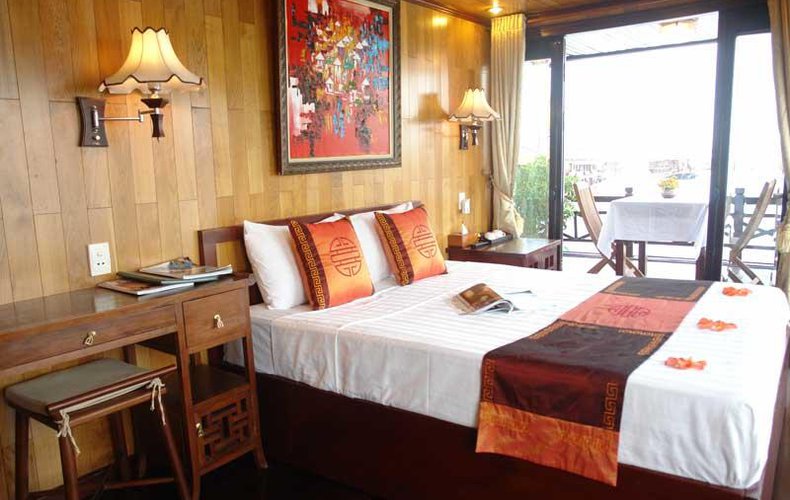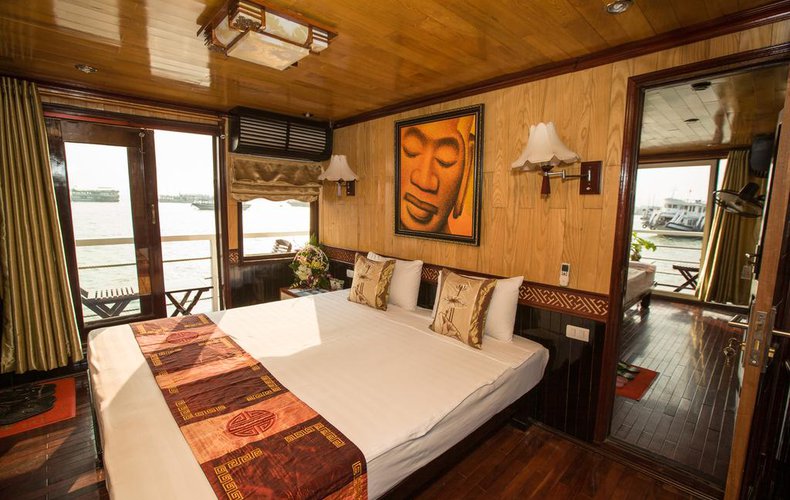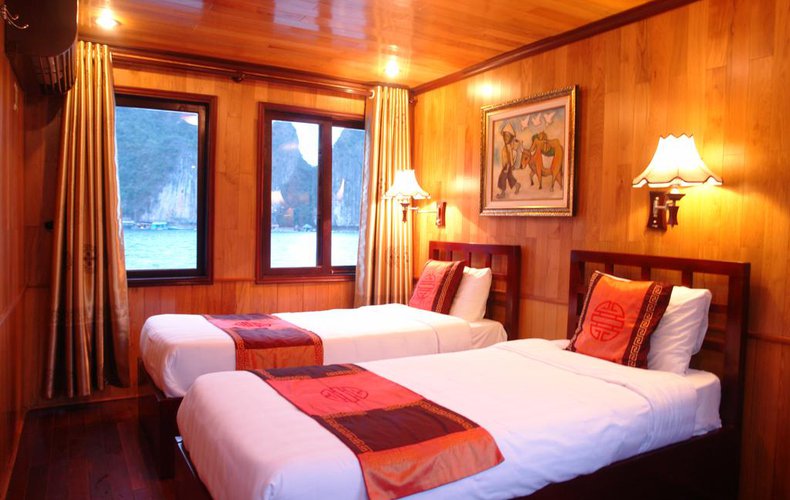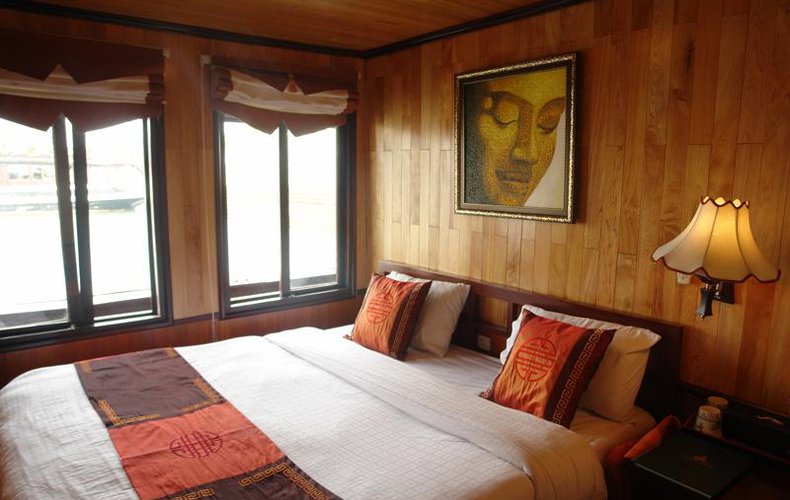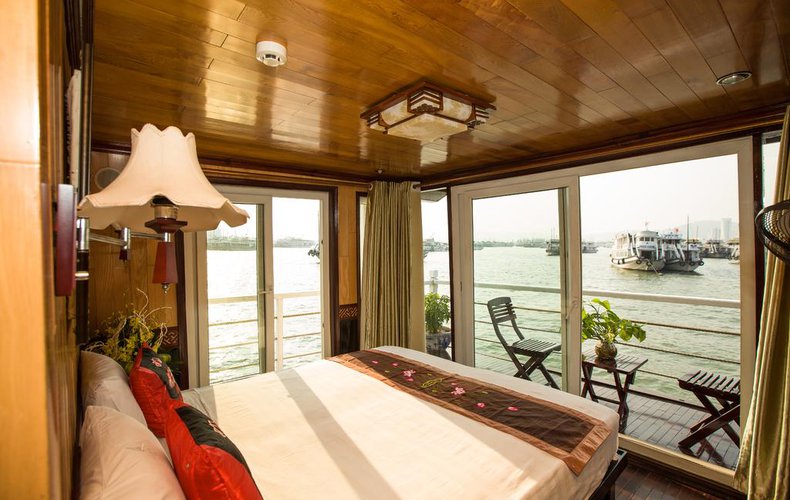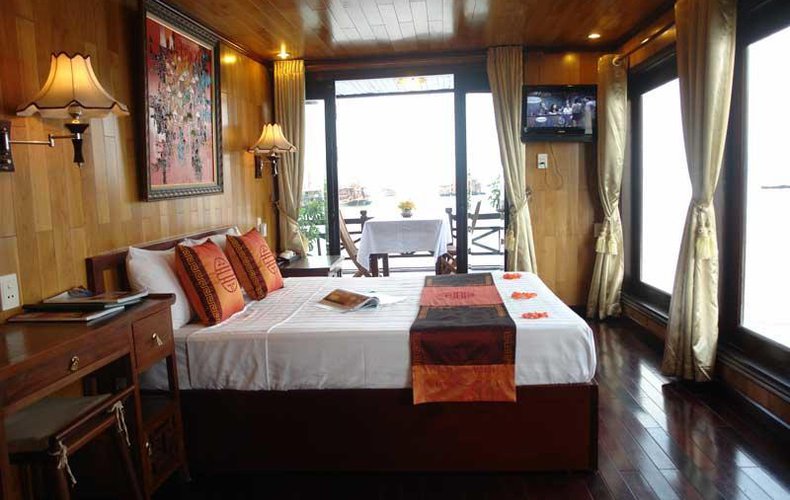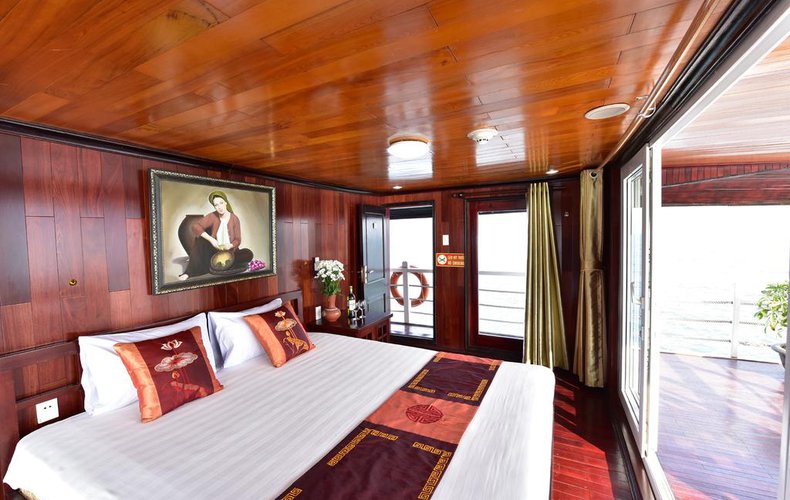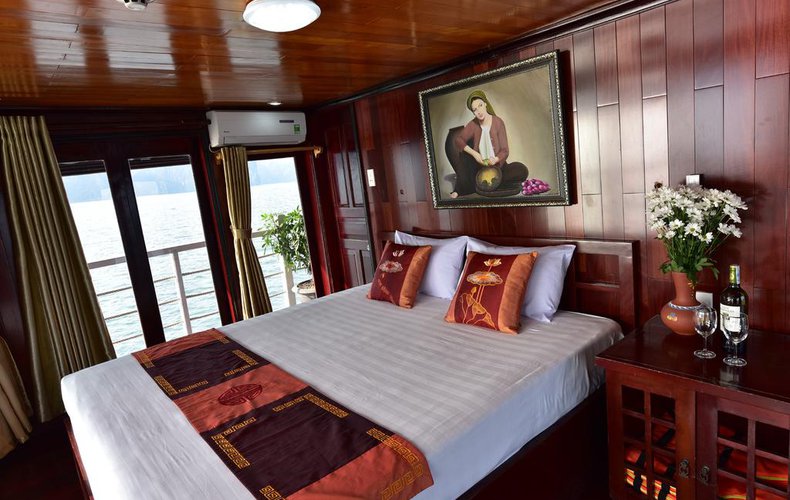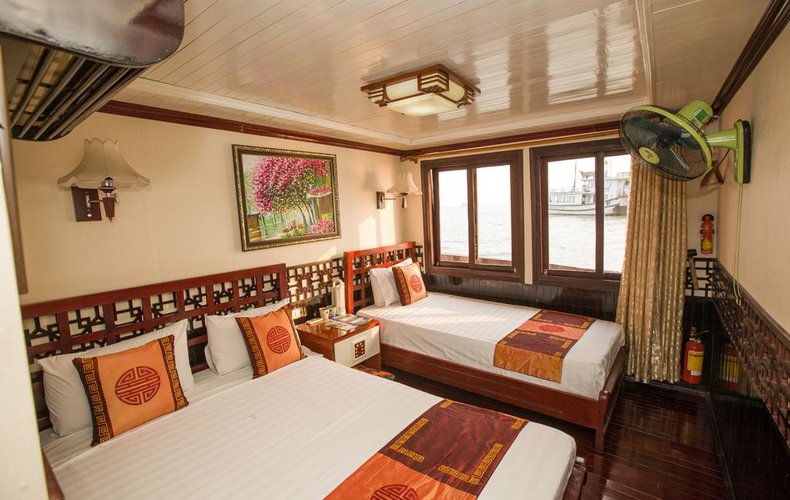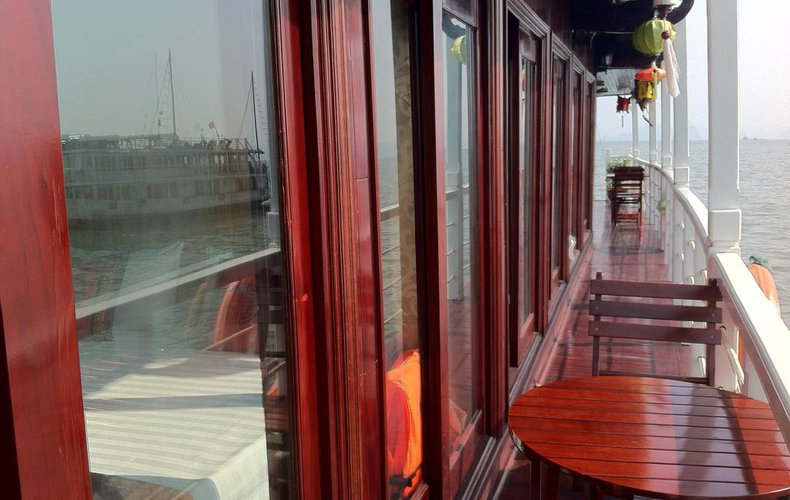 8.6/10
Service & facilities
Passengers are guaranteed to have a wonderful time on board with the cruise facilities. The dining room and shared lounge welcome guests to grab a bite and socialize at any time during the day. At the same time, a private sundeck with shade and free WIFI provides an ideal spot for watching the sunset. Annam Junk also offers guests a terrace, karaoke facilities, and a tour desk.
Shuttle service
Shared lounge/TV area
Airport shuttle (additional charge)
Shuttle service (additional charge)
Designated smoking area
Air conditioning
VIP room facilities
Family rooms
Non-smoking rooms
Room service
8.5/10
Cabin quality
Couples and small groups will particularly love the homely atmosphere inside the cruise cabins. Despite its small size, every unit is complete with a private bathroom, a glass window, comfort bedding, and an electric teapot. Some cabins also have a private balcony.
| Room Type | Maximum | Size |
| --- | --- | --- |
| Deluxe Double or Twin Room with Sea View | 2 adults, 0 Children | 10 sqm |
| Single Room with Bath | 1 adults, 0 Children | 11 sqm |
| Junior Suite with Balcony | 2 adults, 0 Children | 14 sqm |
| Queen Studio | 2 adults, 0 Children | 30 sqm |
8.0/10
Food & Drink
All guests are treated to an à la cart breakfast and a vast selection of Vietnamese traditional dishes. What's more, the ship provides free tea & coffee, and other nice drinks at a reasonable price.
8.1/10
Value for money
Deluxe double or twin room with sea view costs from US$208.
Access for people with disabilities?
There are no facilities for disabled guests.
Family-friendly?
Annam Junk provides books, DVDs, and music for kids.
There is no capacity for cribs in the rooms.
Last updated: February 7, 2020
MORE CRUISES IN HALONG BAY
Frequently asked questions
1.

Which is the most expensive cabin on the junk?

The most luxurious and expensive cabin on Annam Junk is the royal double room that is fitted with a balcony, private service, bathroom with a separate bathtub, and a king bed.
2.

Is the transfer included in the price?

Yes, shuttle bus transfer with AC is included in the price.
3.

Can we charter the cruise?

Yes, Annam Junk is available for charter. Please contact the cruise for further details.
4.

Does Annam junk sail to Titop Island?

Yes, Annam Junk provides a trip to Titop Island where visitors can hike up to the mountain or swim at Titop beach.
5.

What if I don't eat seafood?

Apart from seafood, the cruise still serves a variety of Vietnamese cuisines.