Oasis Bay Classic Cruises
Media gallery
Cruise overview
Tuan Chau Island, Ha Long, Vietnam
View on map
" A sister of Oasis Bay Party Cruise, Oasis Bay Classic Cruise is proudly among the biggest wooden boats on Halong Bay since its operation in 2015. This ship combines advanced technology with Eastern essence and brings a more tranquil ambiance to passengers than its fellow. Besides chock-full with up-to-date features, Oasis Bay Classic Cruise is an attractive option for guests who don't want to be bothered by the crowd and love to explore the best destinations on Halong Bay."
Editor Reviews
Pros
+ Pick-up and drop-off service is on time and handled very professionally.
+ Oasis Bay Classic Cruise is a tastefully-designed old boat that carries a more Vietnamese feeling.
+ Cruise cabins are clean and have a beautiful glassy wall with views over the bay.
Cons
- Passengers have to wait for a long time in the port under the heat for transfer back to Hanoi on the last day.
- The bigger hot tubs are dirty and need cleaning.
- The food comes in the set menu and it is quite cold and flavorless.
Bottom Line
This traditional wooden junk is a better choice for adults and families with children with enrichment programs and less-demanding itinerary.
About
Type: Wooden
Launched: 2015
No Of Cabins: 18
Pick Up Time: 7:45 – 8:30 Am
Drop Off Time: 17:00 – 17:30 Pm
Operating Area: Halong Bay, Cat Ba Island
Available Tours: 2d2n, 3d2n
Destinations: Ho Dong Tien Cave, Halong Pearl Farm, Sung Sot Cave, Cat Ba Island

8.9/10
Itinerary & activities
Specializing in unforgettable journeys, Oasis Bay Classic Cruise offers tourists a chance to visit Fairly Lake Cave by a kayak, hike up 600 steps to admire the magnificent of Sung Sot Cave, and cruise to Halong Pearl Farm to witness the pearl growing process. The trip is complete with many other exciting activities both onboard and at the site.
Happy hour
Kayaking
Swimming
Cave visiting
8.5/10
Cruise quality
Standing out with oriental style, this wooden boat is not very new but still ensures a high safety standard and contemporary factors. What's more, it can cater to 40 guests with a lot of modern comforts and personalized services.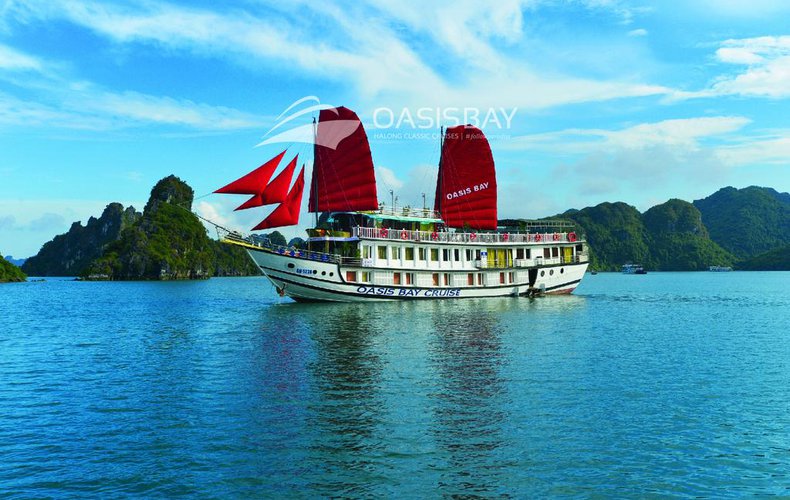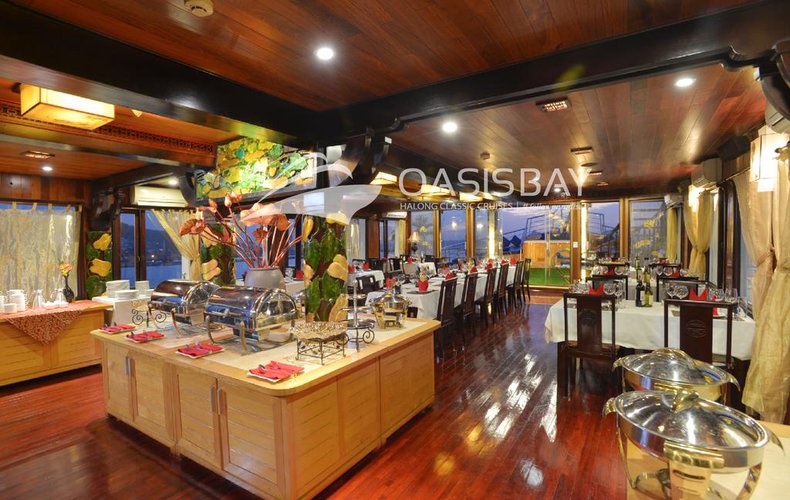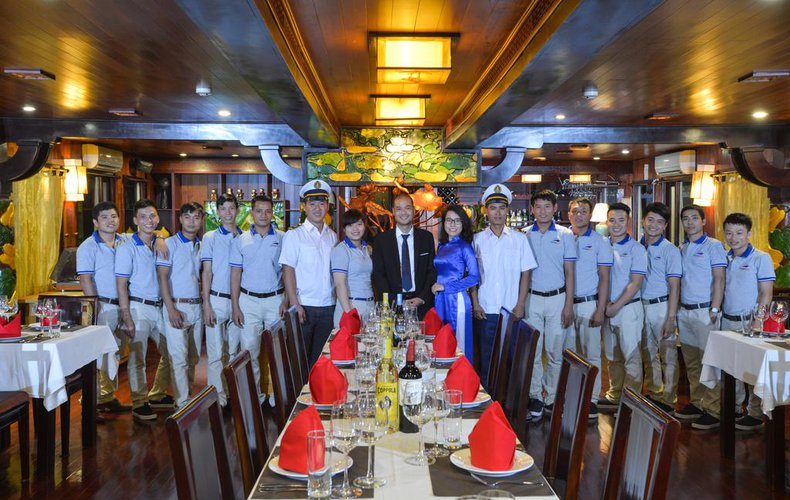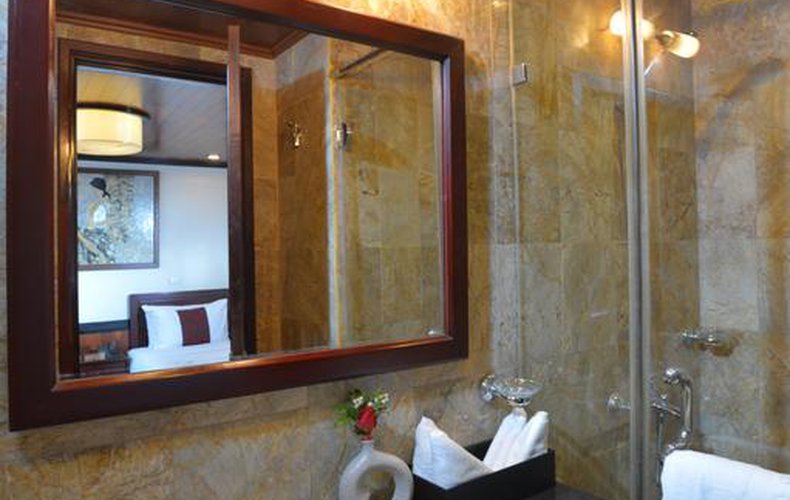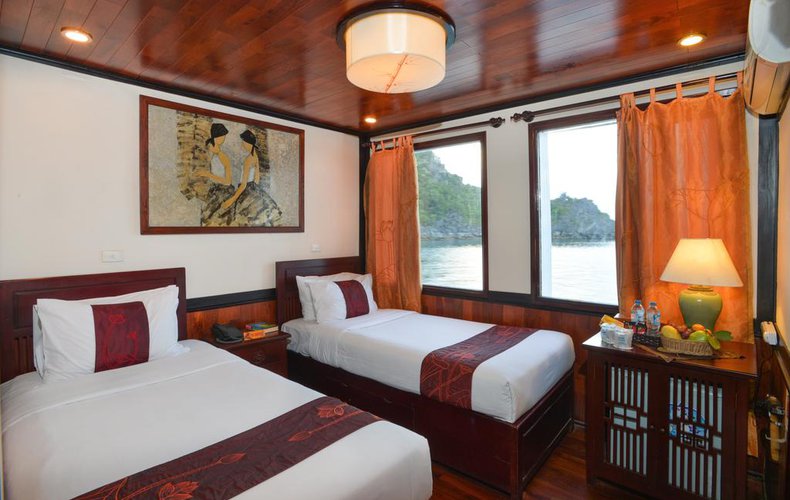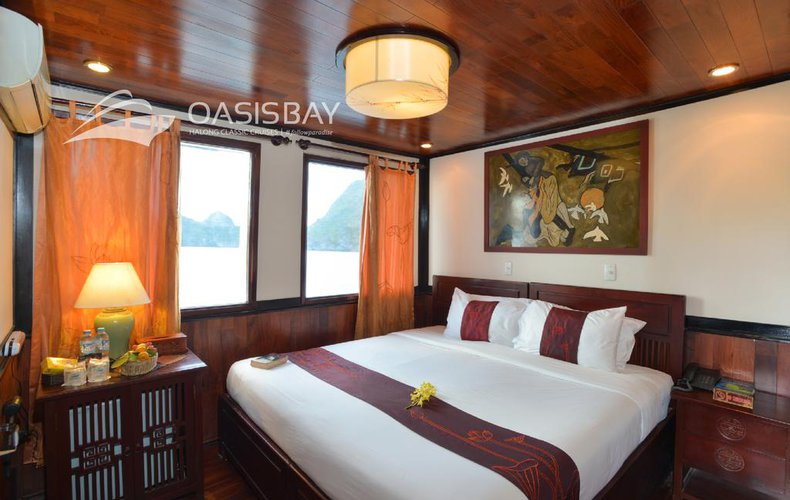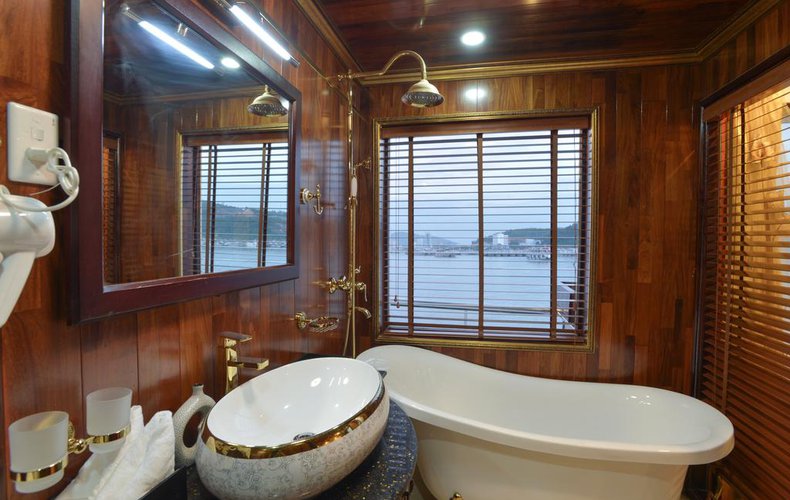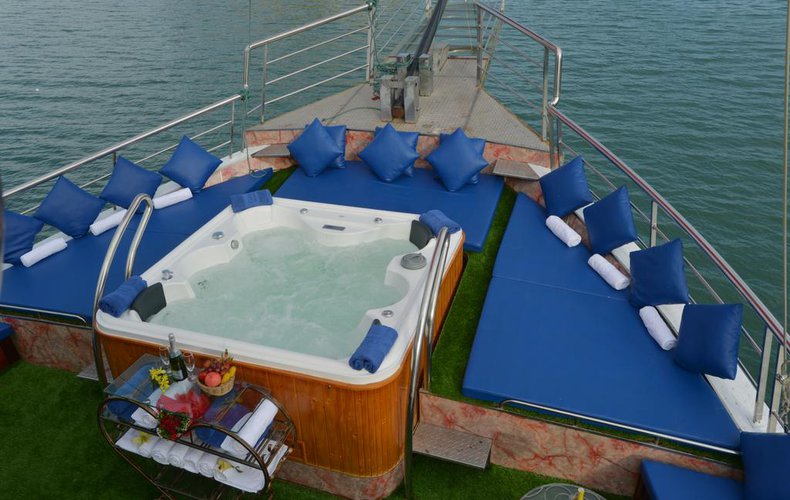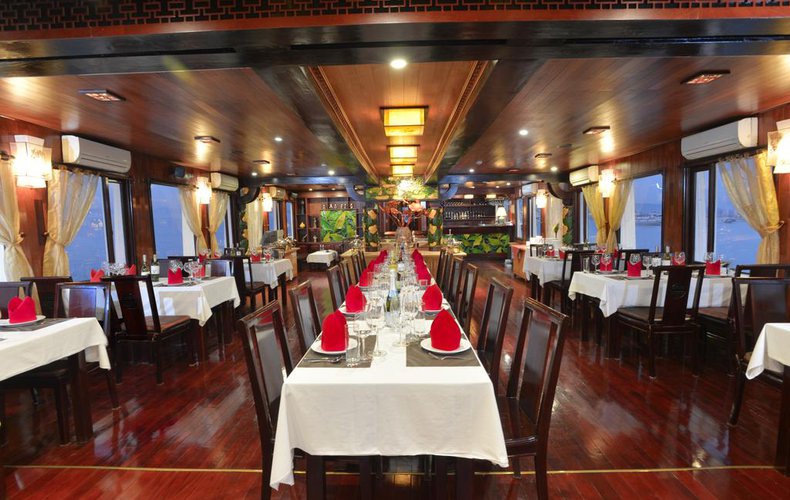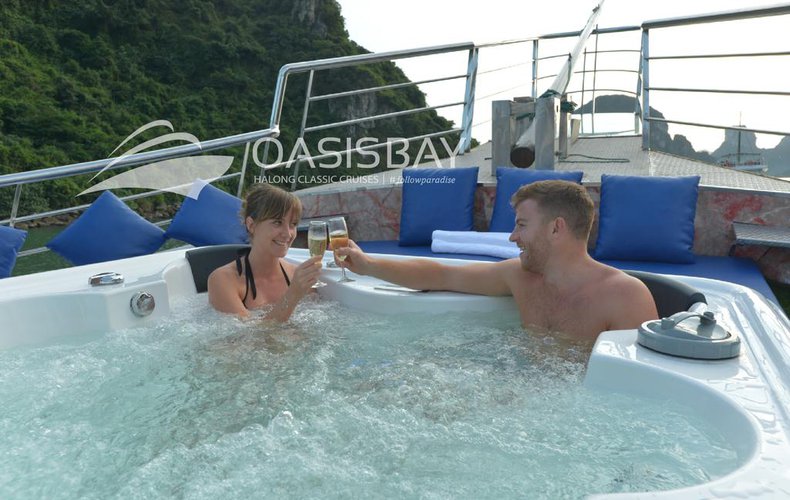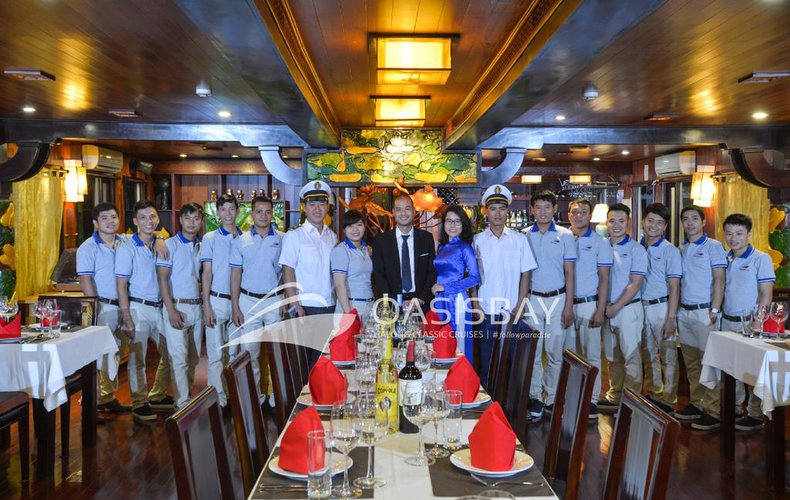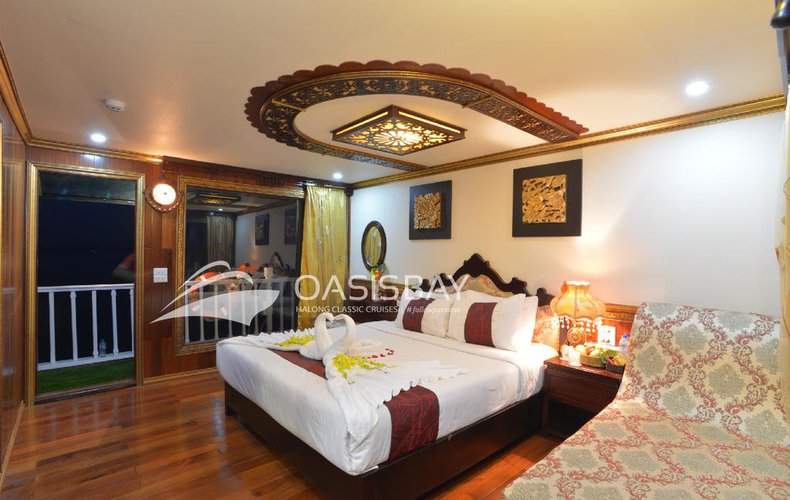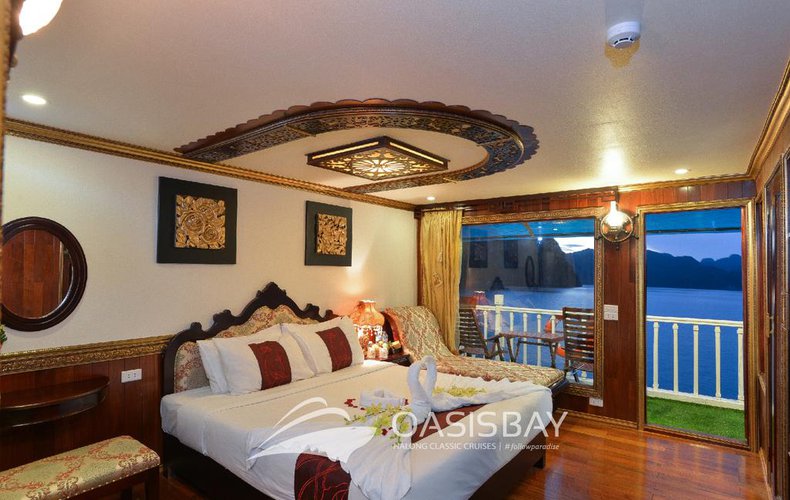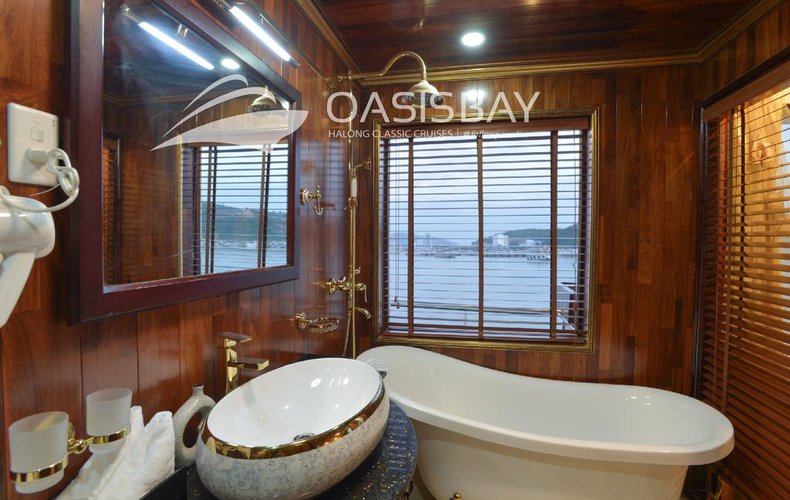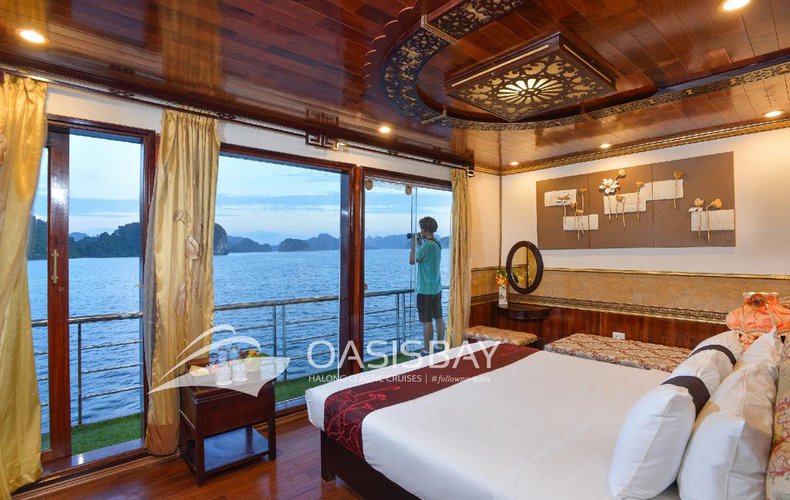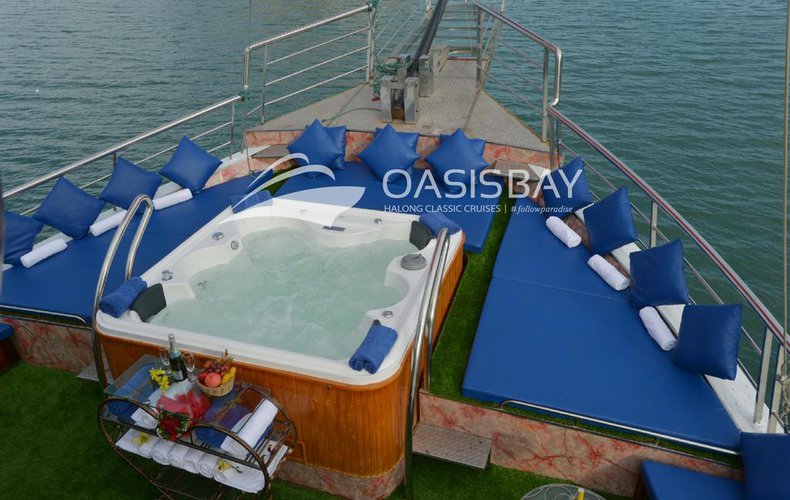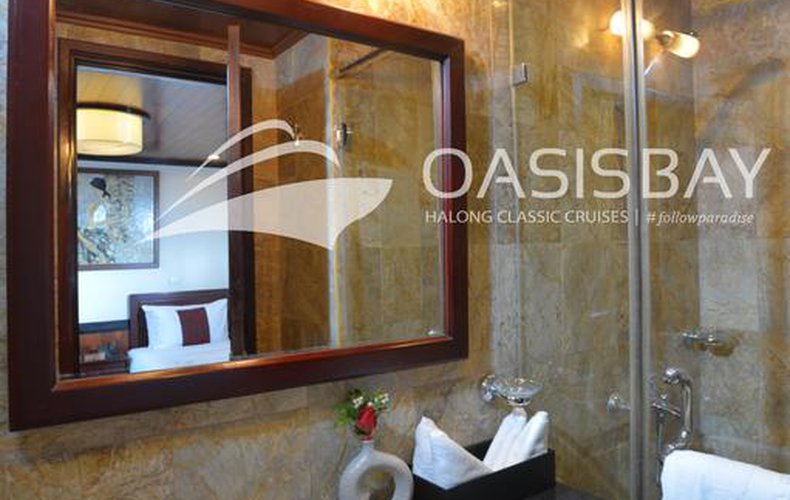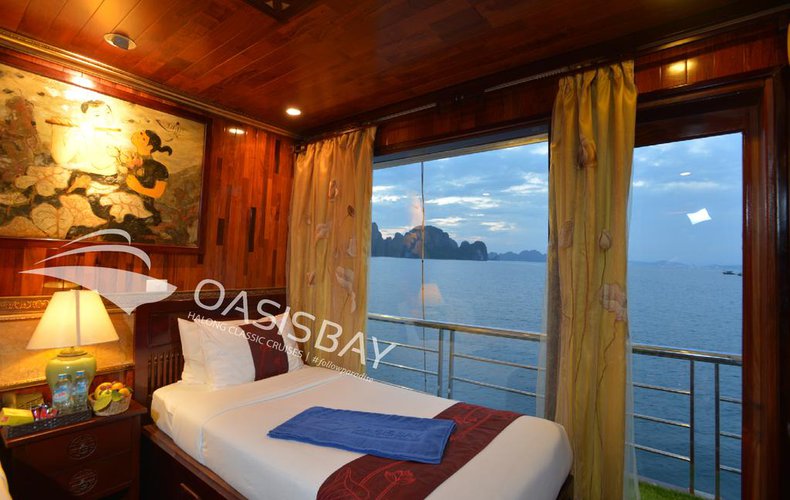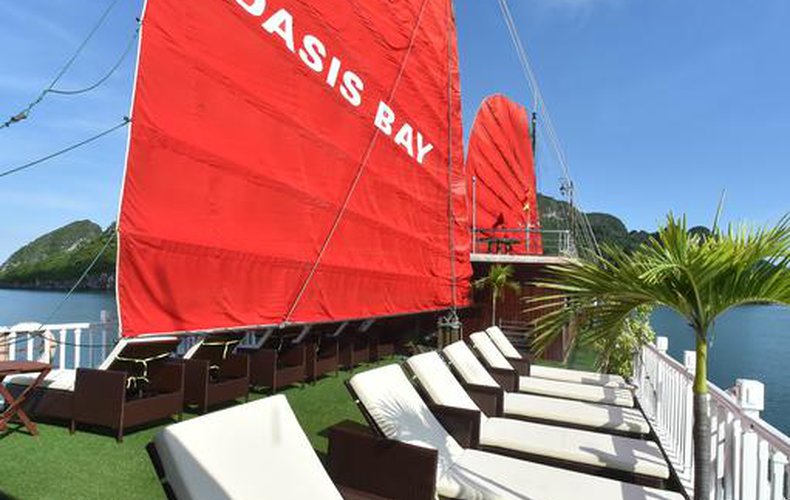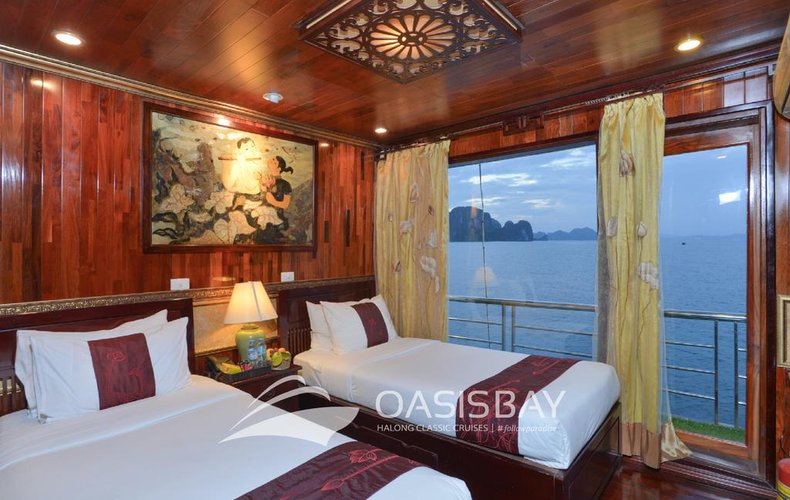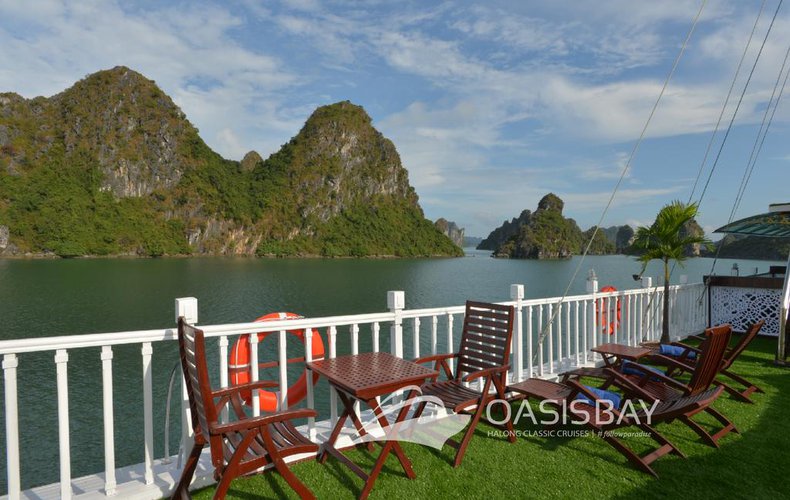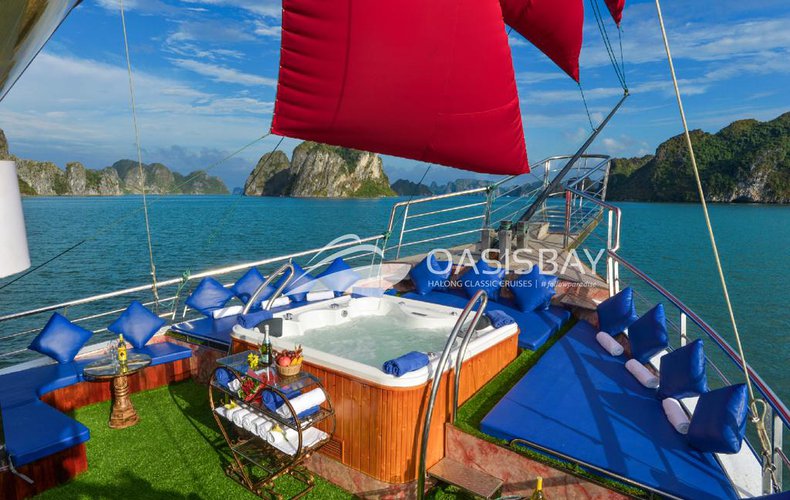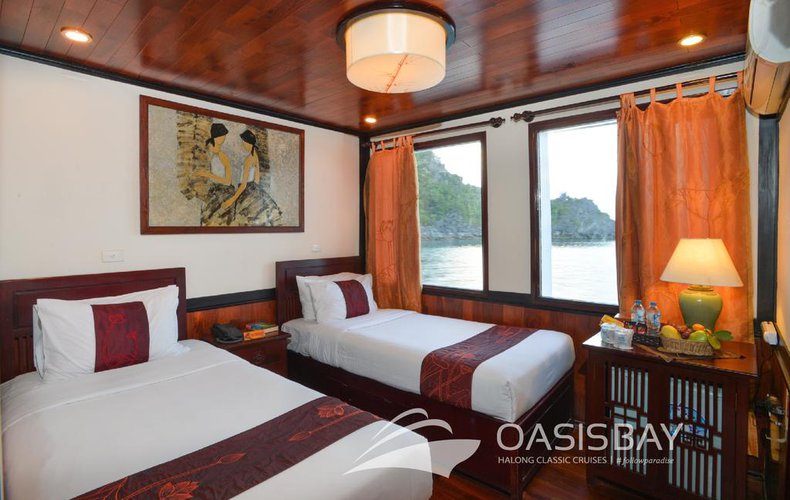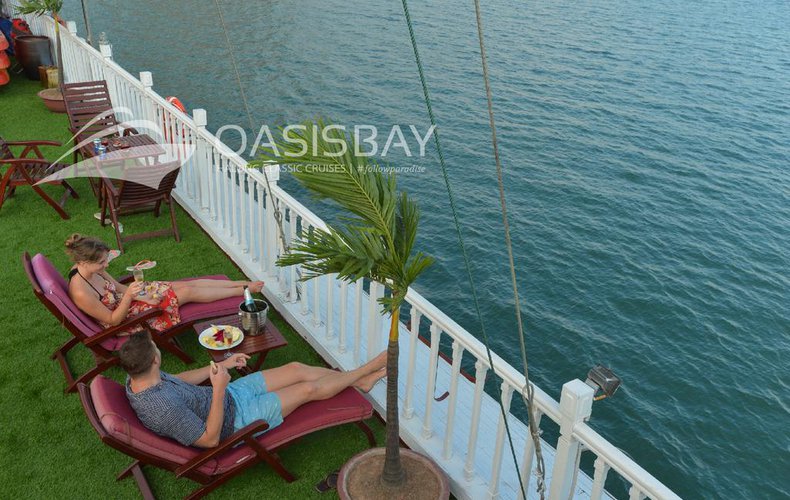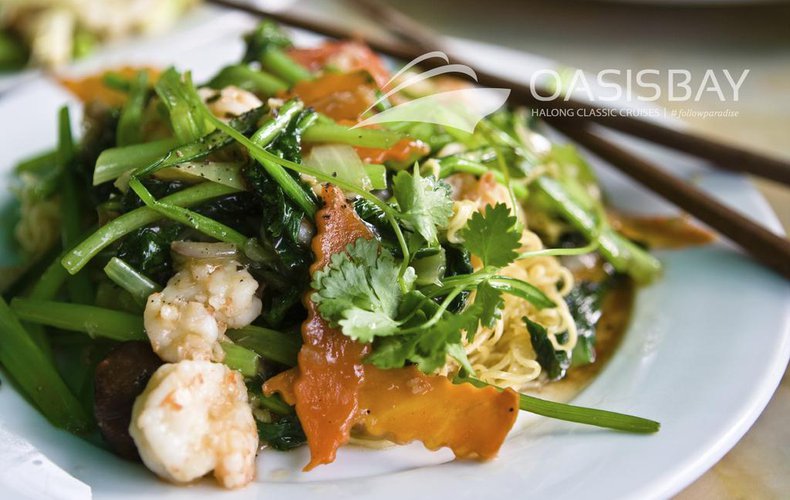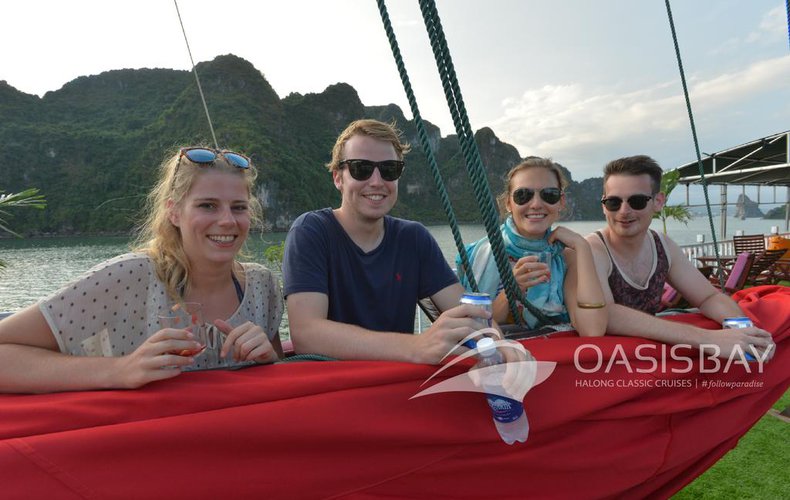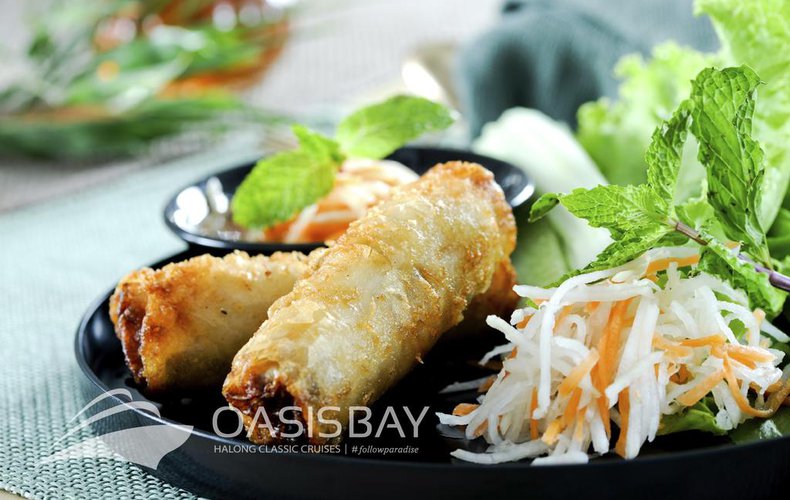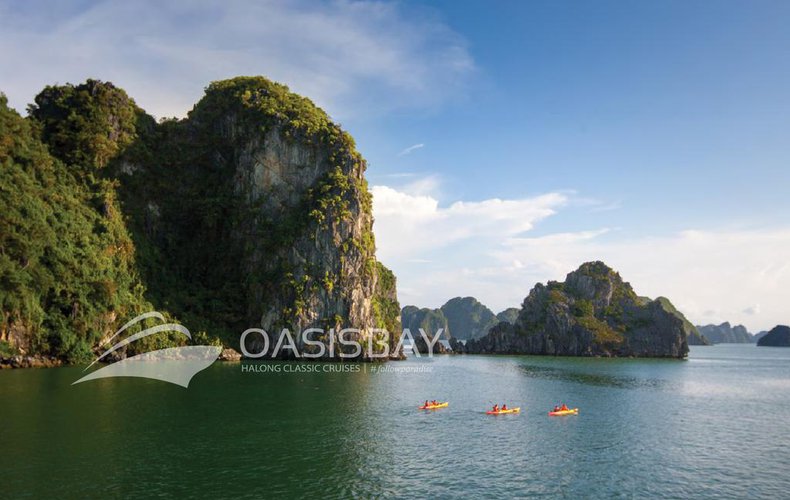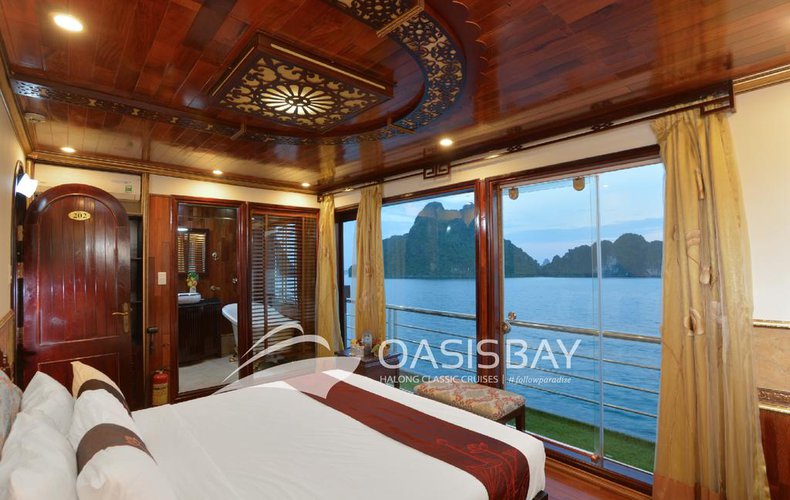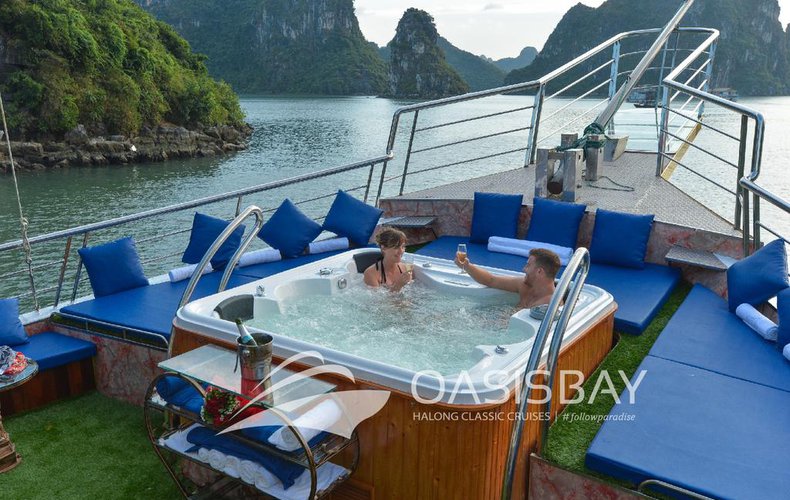 8.3/10
Service & facilities
If you're looking for a free and easy cruising experience, Oasis Bay Classic Cruise has a lot to keep you entertained and relaxed. Highlights of the cruise facilities include a bar & restaurant in the terrace deck, a spa with an outdoor Jacuzzi and various massage services, and a large sundeck for fun-filled events and parties.
Designated smoking area
Air conditioning
Safety deposit box
Family rooms
Non-smoking rooms
8.6/10
Cabin quality
The property is home to 18 cabins and suites which are well-appointed with natural wooden flooring, a minibar, and a private balcony. In addition, the luxury en-suite bathroom also includes a massage and rainfall shower and deluxe toilet amenities.
| Room Type | Maximum | Size |
| --- | --- | --- |
| Suite with Balcony | 2 adults, 0 Children | 22 sqm |
| Deluxe Double or Twin Room | 2 adults, 0 Children | 16 sqm |
8.7/10
Food & Drink
Oasis Bay Classic restaurant & bar is located in the terrace deck so that guests can both savor flavorful dishes and watch spectacular views. The menu is a perfect balance of seafood and Vietnamese & international cuisines.
Meanwhile, after-dinner drinks are served in the bar both indoor and outdoor with a variety of tropical juices and cocktails.
8.0/10
Value for money
Deluxe double or twin room with balcony costs from US$318 and suite with balcony costs from US$337.
Access for people with disabilities?
There are no facilities for disabled people.
Family-friendly?
The cruise provides child safety socket covers, board games, and puzzles for children.
Children under 5 years old are free of charge and limited to one child per cabin.
Last updated: January 14, 2020
MORE CRUISES IN HALONG BAY
Frequently asked questions
1.

Do I need to bring cash onboard?

Yes, you may need cash for personal expenses on board.
2.

How can I pay for the deposit?

You can pay by credit card, pay pal, or bank transfer.
3.

What if I have any questions about the cruise?

For more information and bookings, guests can send an email to info@oasisbaycruises.com or info@vilandtravel.com (the owner company).
4.

Does the cruise require a deposit to secure the booking?

Yes, just like other cruises, Oasis Bay Classic Cruise requires 30% of the total amount as a deposit.
5.

Is transportation free?

No, the cruise VIP bus transfer costs US$20/pax/way.