News & Updates
Halong bay closed through end of month amid coronavirus outbreak
Halong Bay and other Vietnam's attractions closed until the end of March as WHO declared Covid-19 a global pandemic.
The authority of Quang Ninh province has earlier announced temporary closure of Halong Bay until 26th March, 2020. In an effort to limit the spread of COVID-19 pandemic, the local authority has ordered all sightseeing activities suspended and all relics closed. More specifically, tourist attractions including Halong Bay, Bai Tu Long Bay, Yen Tu, and Co To must stop receiving visitors. The suspension will valid from 12th March 2020 until 26th March.
Updated: The closure of Halong bay has been extended to April 14, 2020.
All cruises, offering either day trips or overnight excursions, will be temporarily put to dock until further notice.
Meanwhile, Ninh Binh, famously named "Halong Bay on land", has also decided to close all major attractions and stopped receiving visitors from 13 March. There is not yet a known date that tourism activity can resume.
In an unprecedented move, Hanoi also temporarily closes all attractions through the end of the month and suspends all bar and karaoke business.
As of 01 April, Vietnam currently reports 212 cases of Covid-19 with the majority of infection are imported case (foreigners or Vietnamese returning from abroad). 57 have completely recovered while the rest is in stable condition. The local government is closely monitoring the situation and updating its tourism policy frequently in response to any new circumstances arising worldwide.
Last updated: April 01, 2020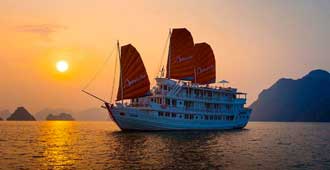 Discover the charming and exotic landscapes of Halong bay on an all-inclusive luxury cruise!
QUESTION FORUM:
Halong Bay: Questions
Free ITINERARY planning with us!
Planning your trip with our Halong local experts, we will help you with:
Accomodation: Find the best hotels/homestay or BnB.
Tours: Connect you to the trusted tour operator in Halong bay.
Cruises: Find the best cruise on your date!
It is all FREE