Halong bay on Christmas - 2 day trip or 1 day enough?
Dear visitor, if you know the answer to this question, please post it.
Thank you!
Halong bay on Christmas - 2 day trip or 1 day enough?
Hi, we are taking our kids (5 & 7) to Halong Bay this Christmas. Should we take 2 day trip or 1 day enough? Is it better to stay on a cruise or book a hotel and with either option, anyone has good recommendation for cruise/hotel for family with kids?
By Graham
Re:
If I can make a recommendation, that will be please try to avoid Halong Bay for the period 24 Dec to 31 Dec as it will be packed with tourists. It will be better to come 1-2 days earlier or later than the stated period so you can fully appreciate the beauty of the bay (unless you prefer people watching over seeing the landscape). Personally I would recommend a 2 day trip on a cruise - it takes you way further into Halong bay than a one day trip. Last year our family of 7 use Stellar cruise, it was a good value choice. We weren't charged the extra fee for staying on 24 Dec like other cruise trips but unfortunately there were too many vacationers in Halong Bay at that time that it kinda ruined some of the experience.
By Nickolas (guest)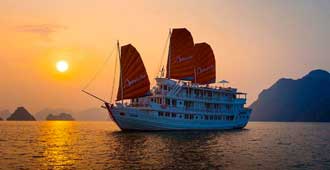 Discover the charming and exotic landscapes of Halong bay on an all-inclusive luxury cruise!