Visa Vietnam arrival by ship at Halong Bay
Dear visitor, if you know the answer to this question, please post it.
Thank you!
Visa Vietnam arrival by ship at Halong Bay
To Whom it May Concern:
I would like to get more details of how to apply for visa since I'm not arriving at any of the 3 airports, we will be in a cruiseship arriving a Halong Bay, Chan My, then Phu My, consecutively without leaving Vietnam, so I guess this is counted as one entry.
Awaiting your kinds reply,
Haifa Yordi
By Haifa Yordi
Re:
If you are arriving Vietnam on a cruise ship, there are three options to get a visa:
Get your visa at the embassy of Vietnam in your country.
Get an evisa (https://evisa.xuatnhapcanh.gov.vn/trang-chu-ttdt).
Get a loose-leaf visa on arrival. With this option, you will be granted for a visa directly at the cruise port and the fee for this loose-leaf visa is 5 USD/pp.
Just make sure your passport is valid for 6 months or longer.
By Tran (guest)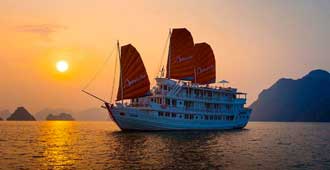 Discover the charming and exotic landscapes of Halong bay on an all-inclusive luxury cruise!