Wondering what to do in Halong Bay for 2 days? We've got you covered, read on for two different itinerary options.
Itinerary 1: (2 Day 1 Night Cruise)
This itinerary is suitable for those who wish to stay overnight onboard and enjoy visiting caves and other attractions in Halong bay.
Itinerary Summary
Depart Hanoi early on day one.
Spend two days and one night aboard a Junk boat.
Return to Hanoi in the evening of day two.
Day 1 - Hanoi to Halong Bay
08:00- 08:30: Depart Hanoi and take a shuttle bus to Halong Bay.
12:00: Arrive and check-in at Tuan Chau Wharf.
12:45: Board your cruise; usually enjoy welcome drinks and listen to the safety briefing.
01:00: Have a set-menu lunch while your cruise sets off for Halong Bay. Read our 'Top 6 Must-Try Foods in Halong Bay" article.
15:00: Travel by kayak to one of Halong Bay's famous caves. Check out our 'Halong Bay Caves' articles for lots of interesting information!
17:00: Return to boat, freshen up and have some refreshments.
17:30: Relax and admire the sunset over the limestone karsts.
19:00: Enjoy a set-menu dinner onboard your boat.
21:00: Retire to your cabin for the night, relax on deck or take part in squid fishing.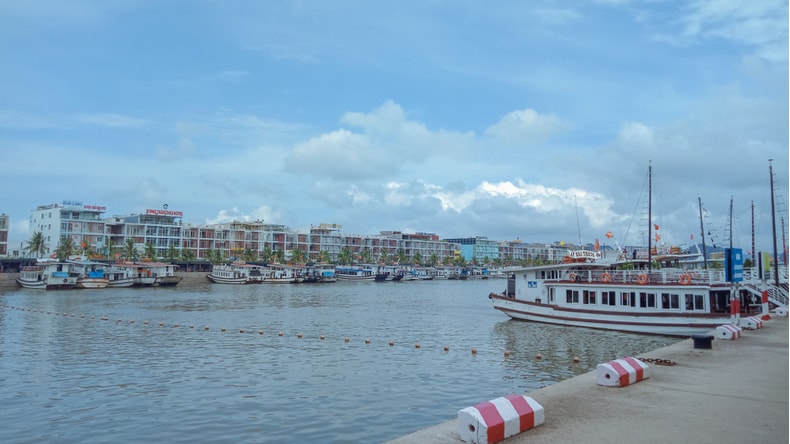 Tuan Chau Marina - one of the busiest cruise ports in Halong Bay. (Photo: Shutterstock)
Important Note: Remember to take your passport to any cruise in Halong bay.
Day 2 - Halong Bay - Hanoi
06:30: Start the day with Tai Chi on deck as the sun rises.
07:00: Enjoy breakfast onboard your boat.
07:45: Explore one of Halong Bay's famous floating villages by kayak or rowboat.
09:00: Return to boat and enjoy brunch before packing up your things.
10:45: Disembark at Tuan Chau Port.
12:00: Leave Halong Bay in shuttle bus headed for Hanoi.
16:00: Drop off at your accommodation.
Itinerary map
Distance: 160 Kilometers. Time: 2 hours 30 minutes.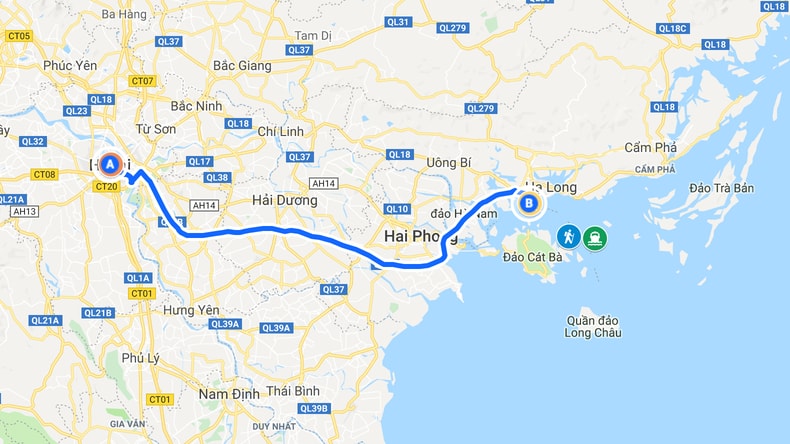 This 2 day itinerary includes Vung Vieng floating village (Day 2) and Sung Sot cave (Day 1) - Google maps
Itinerary 2: (Day Cruise + Hotel)
This itinerary is good for those who want to discover the Halong city and surrounding areas while still having one day on board to see the major caves and islets around the bay.
Itinerary Summary
Depart Hanoi early on day one.
Spend one night at a hotel.
Visit Tuan Chau Park.
Go on a 1-day cruise.
Return to Hanoi in the evening of day two.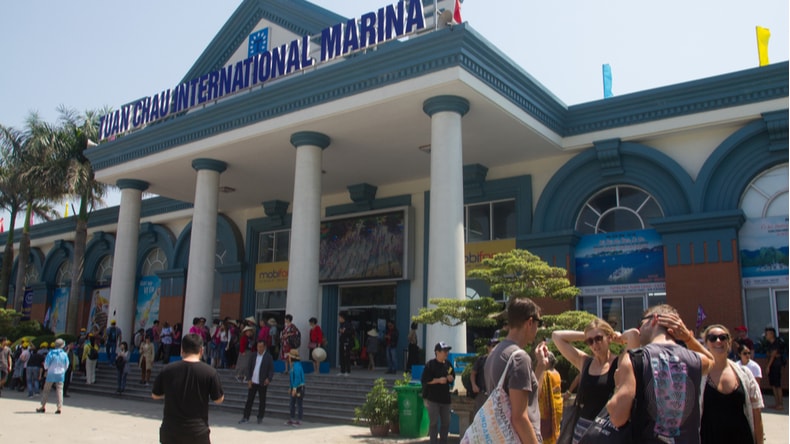 Visitors waiting at Tuan Chau Marina to board the junk cruise (Photo: Shutterstock)
Day 1 - Hanoi/Tuan Chau Island
07:30: Hanoi to Tuan Chau. A minivan can pick you up at your hotel or you can take a bus from Hang Voi street. Price for a bus ticket is usually around 10 USD.
12:00: Arrive at hotel and drop of luggage and get ready to go to Tuan Chau park.
13:00: Have lunch at the hotel or venture out and eat at one of the many local restaurants.
14:30: Go to Tuan Chau park, an amusement park for children with fun rides, a dolphin show and pretty lights when it's night time. Dolphin shows start at different times throughout the day and evening.
19:00 Get back to the hotel to freshen up and get ready for dinner.
20:00 After a long day everyone must be hungry, time to eat a well deserved dinner! Eat at the hotel or go out and find out what Tuan Chau has to offer.
22:00: Get back to the hotel and get ready for another day of fun tomorrow.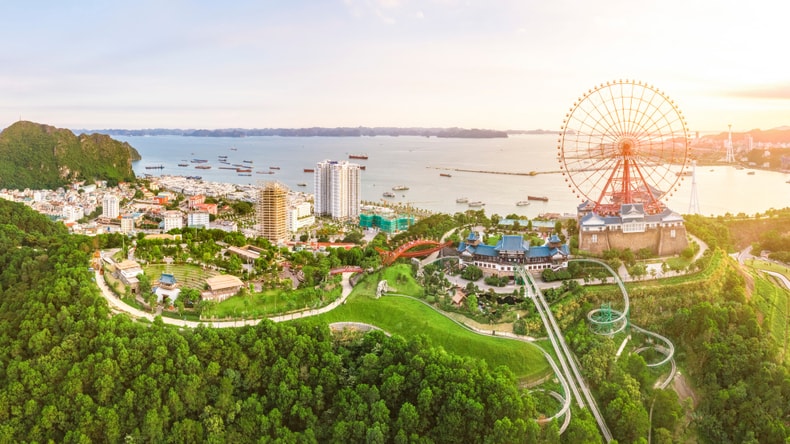 You can also visit Sun World Complex instead of Tuan Chau Park, the ticket is 500,000 VND/adult for all games and areas.
Day 2 - Halong Bay/Hanoi
6:00: Wake up well rested and eat breakfast. Get ready for a 1-day cruise in Halong Bay. Check out of the hotel.
8:00: The boat leaves from Tuan Chau Harbor. We will visit Sung Sot (surprise) cave, visit Ti Top Island, visit Ba Hang fishing village and see Cho Da, Lu Huong, Ngon Tay, Con Rua, Dau Nguoi and Mat Quy islets.
16:00: Get back to Tuan Chau harbor. Time to head back to Hanoi.
Note: If you choose to visit Sun World Complex, which is about 5 kilometers away from Tuan Chau Island. It is recommended that you catch a taxi to get there.
Important Notes
Most cruise cabins don't have room for many suitcases so pack light.
Remember to bring your passport with you so that you can be registered with the local authorities.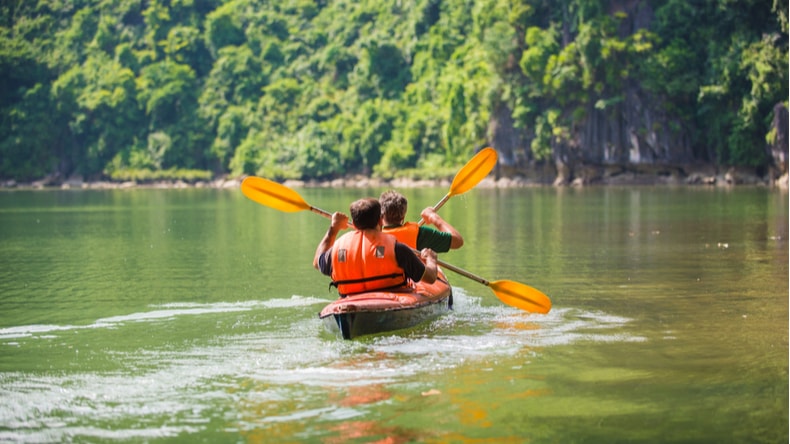 Kayaking in Halong bay!
Tip: Make sure you bring some bathing suit with you as you are sure to get wet when kayaking.
READ THIS NEXT
There's so much to see and do in Halong Bay. To make your trip a bit easier, we've compiled three …
Read more
You could easily spend a week in Hanoi and Halong bay without feeling bored. However, for most people with limited …
Read more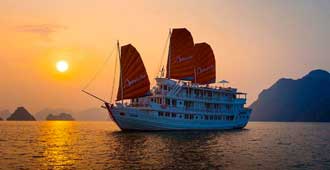 Discover the charming and exotic landscapes of Halong bay on an all-inclusive luxury cruise!
QUESTION FORUM:
Halong Bay: Questions
Free ITINERARY planning with us!
Planning your trip with our Halong local experts, we will help you with:
Accomodation: Find the best hotels/homestay or BnB.
Tours: Connect you to the trusted tour operator in Halong bay.
Cruises: Find the best cruise on your date!
It is all FREE