One day in Halong Bay will be a tight squeeze but we've come up with a jam-packed itinerary to ensure you get to see as much as possible.
IN A NUTSHELL
Depart early from Hanoi, arrive at Tuan Chau wharf to board a day cruise.
Visit floating villages, Thien Cung cave.
Return to Hanoi in the evening.
Detailed Itinerary:
8:00 - 08:30 - Depart Hanoi Old Quarter by shuttle bus, 15 minute rest stop along the way.
12:00 - Arrive and check in at Tuan Chau Wharf. Board your cruise ship and have welcome drinks.
12:30 - Have lunch aboard your cruise ship as the ship heads for Halong Bay. Be sure to look out the windows and observe the beautiful scenery.
13:30 - Visit one of Halong Bay's floating villages. Explore by kayak, talk to the locals and try your hand at fishing. Keep an eye out for some of the famous islets and beaches that Halong Bay is home to.
14:15 - Arrive Thien Cung Cave, one of Halong's most beautiful and famous caves. Explore the cave and take pictures of the stunning stalagmites and stalactites.
15:30 - Return to the boat for your trip back to the mainland. Stay on the top deck and feast on some fresh fruit while you enjoy the majestic limestone karsts.
16:15 - Board the shuttle bus to return to Hanoi.
21:00 - Arrive back in Hanoi Quarter.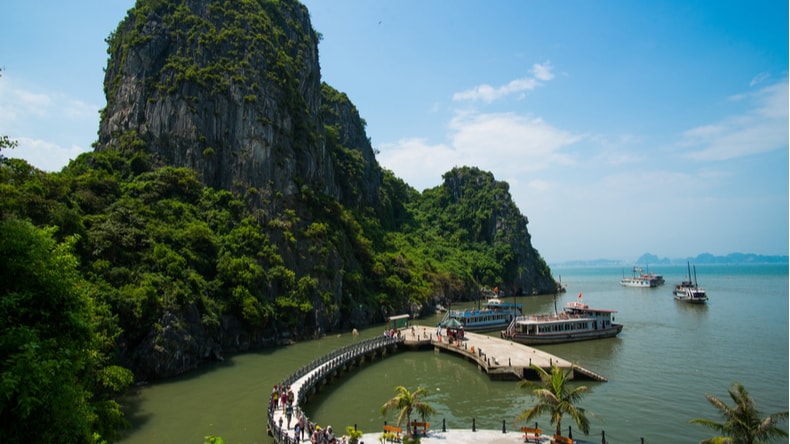 Tourists visiting Thien Cung Cave!
Itinerary maps
Distance: 160 kilometers. Travel time: 2 hours 30 minutes!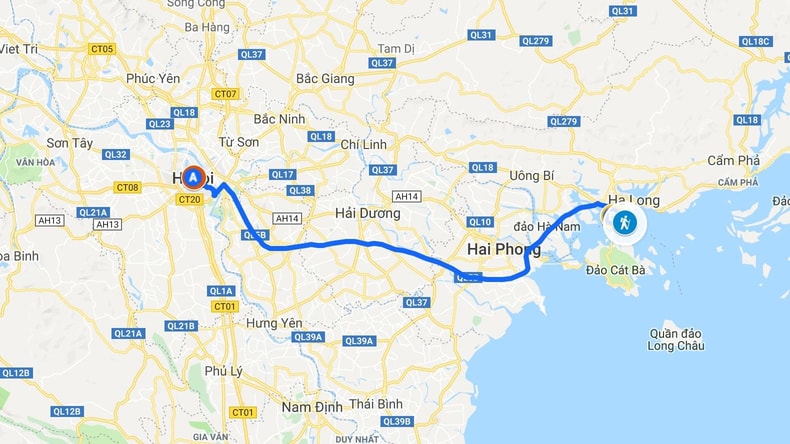 Hanoi - Tuan Chau Wharf - Thien Cung Cave (8:00am to 21:00pm) - Google Maps
Things to know:
Bring a bathing suit with you as you are likely to get wet when kayaking.
Bring your passport.
Wear comfortable shoes for exploring the cave.
Useful tip: Bring some Vietnamese Dong in case you want to purchase refreshments or souvenirs.
READ THIS NEXT
There's so much to see and do in Halong Bay. To make your trip a bit easier, we've compiled three …
Read more
You could easily spend a week in Hanoi and Halong bay without feeling bored. However, for most people with limited …
Read more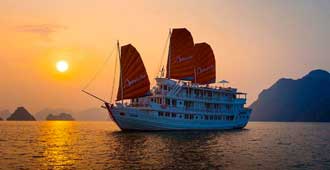 Discover the charming and exotic landscapes of Halong bay on an all-inclusive luxury cruise!
QUESTION FORUM:
Halong Bay: Questions
Free ITINERARY planning with us!
Planning your trip with our Halong local experts, we will help you with:
Accomodation: Find the best hotels/homestay or BnB.
Tours: Connect you to the trusted tour operator in Halong bay.
Cruises: Find the best cruise on your date!
It is all FREE