Media gallery
Cruise overview
Tuan Chau Wharf, Ha Long, Vietnam
View on map
" Launched in 2017, Oasis Bay Party cruise creates a relaxing and dynamic atmosphere onboard with many party-focused features. The ship particularly fits young adults and provides new experiences to extraordinary destinations on Halong Bay."
Editor Reviews
Pros
+ The whole journey is well-organized from start to finish and pick-up service is very comfortable.
+ Straight into activities and guests fully involved throughout.
+ Oasis Bay Party Cruise is clean and very new. It also has a few Jacuzzis for guests to relax in the warm water.
Cons
- Breakfast could have been better.
- Guests are charged for a water refill.
- Freedom Island has a lot of mosquitoes.
Bottom Line
Attracting the youngest cruisers on Halong Bay, Oasis Bay Party cruise generates a lively atmosphere in which to party down.
About
Type: Metal
Launched: 2017
No Of Cabins: 30
Pick Up Time: 7:45 – 8:30 Am
Drop Off Time: 17:00 – 17:30 Pm
Operating Area: Halong Bay, Lan Ha Bay
Available Tours: 2d1n, 3d2n
Destinations: Frog Pond, Lan Ha Lagoon, Freedom Island

9.1/10
Itinerary & activities
Whether you take a short 2 or 3-day excursion or extend your stay with the 6-day trip, the cruise provides you the best off-the-beaten-track itinerary to completely different attractions of Halong Bay. Tourists are brought to the Frog Pond area, Lan Ha Lagoon, and especially Freedom Island where they can join some activities such as kayaking, swimming, cliff jumping, and playing volleyball on the beach.
Live music/performance
Happy hour
Evening entertainment
Nightclub/DJ
Entertainment staff
Karaoke
8.9/10
Cruise quality
The 4-star Oasis Bay Party Cruise is in good condition and well-appointed with the highest technology of shipbuilding. The ship includes 3 decks and the layout separates accommodations with other recreational amenities.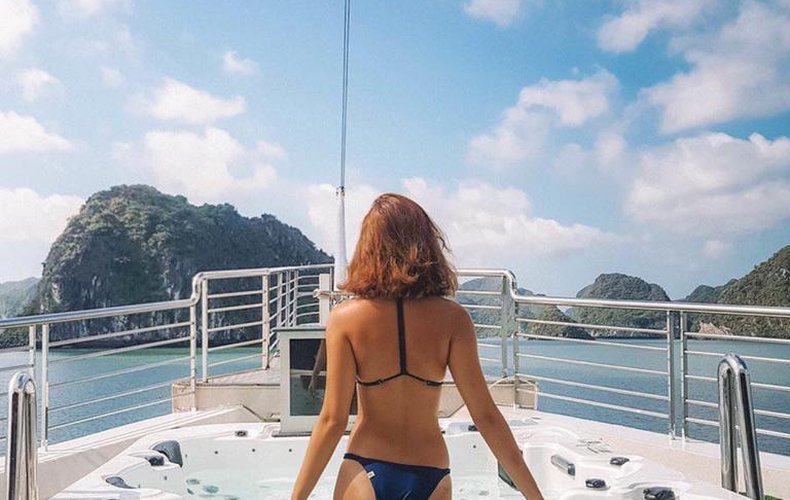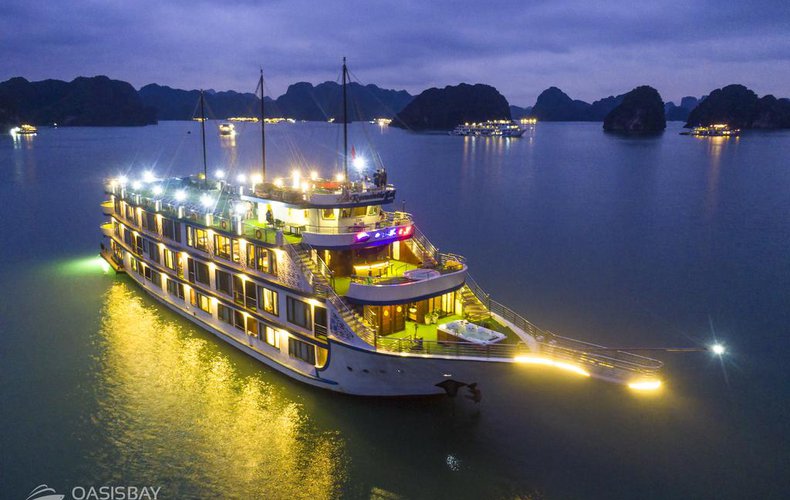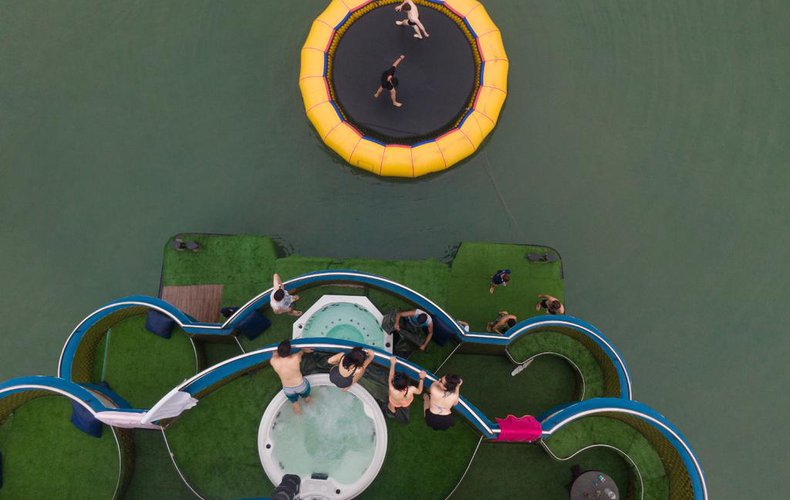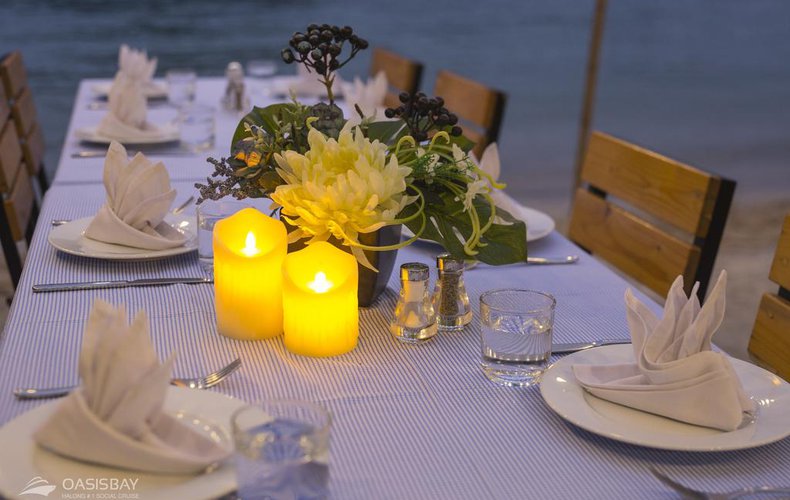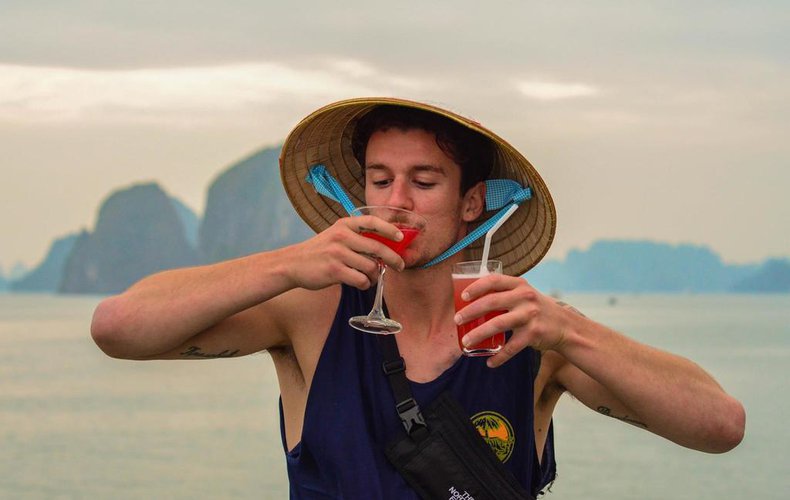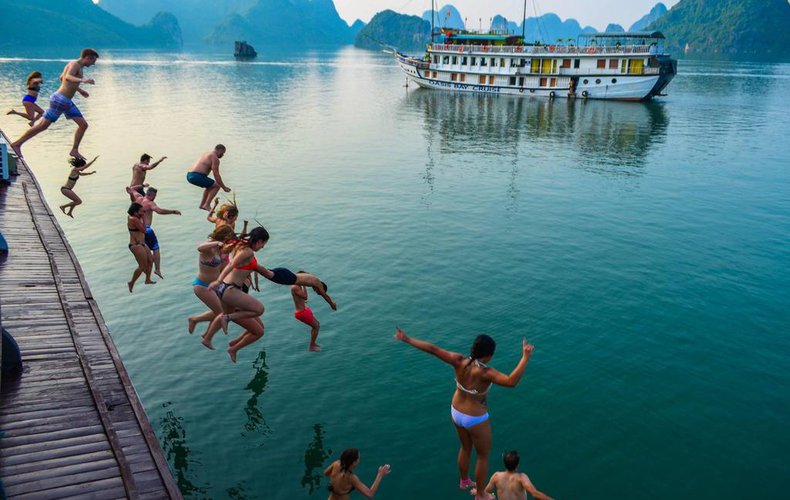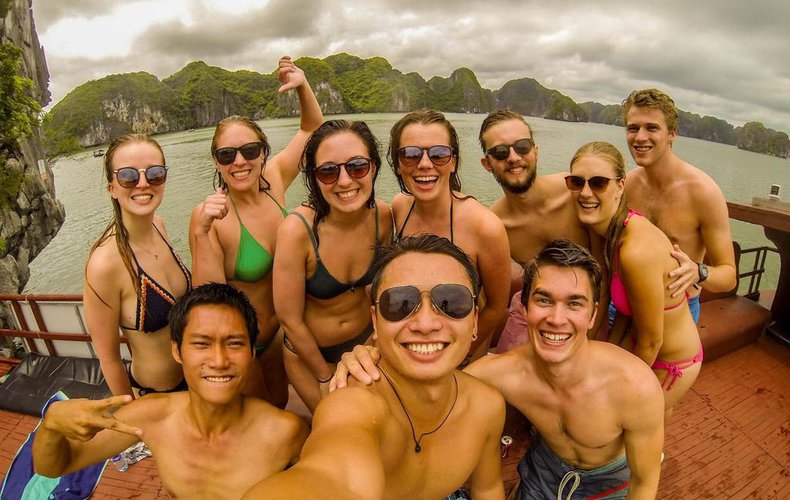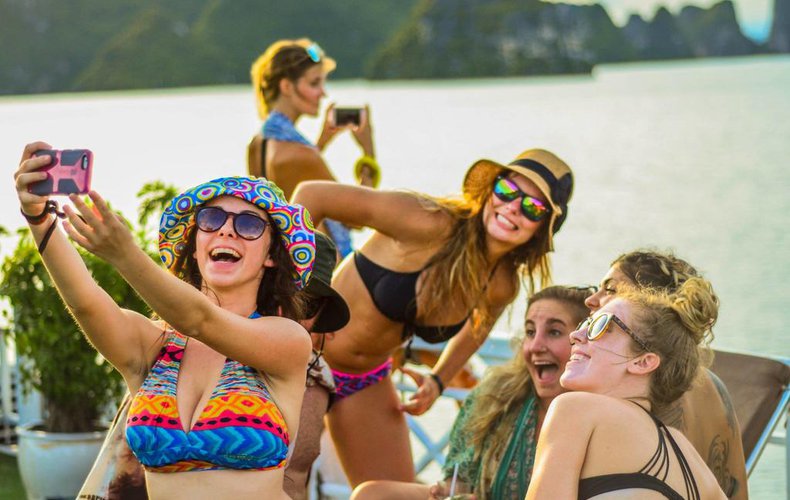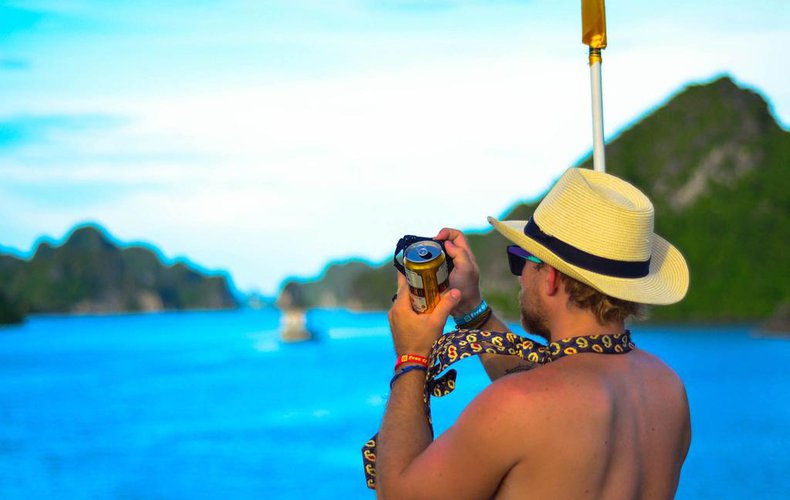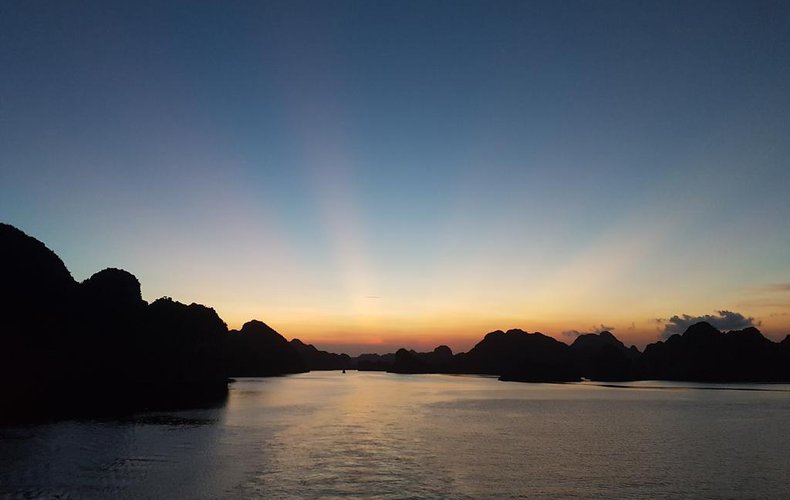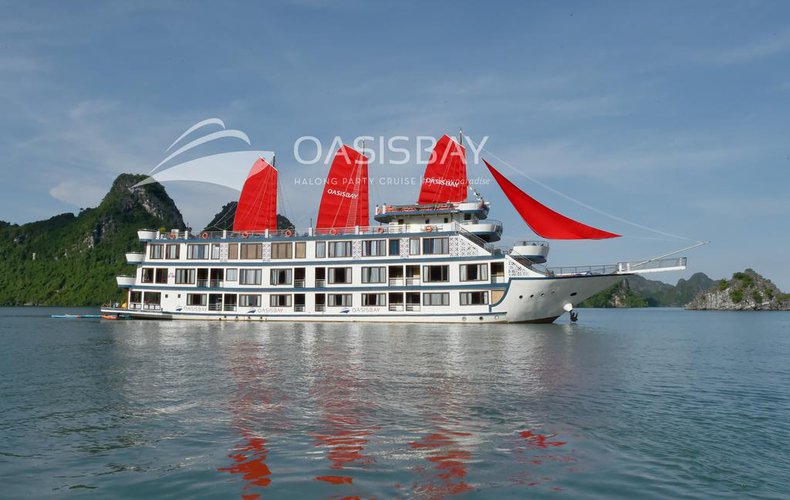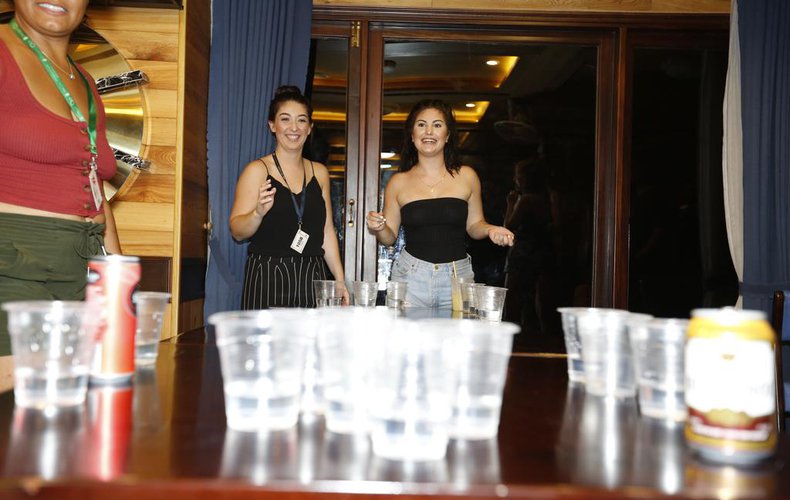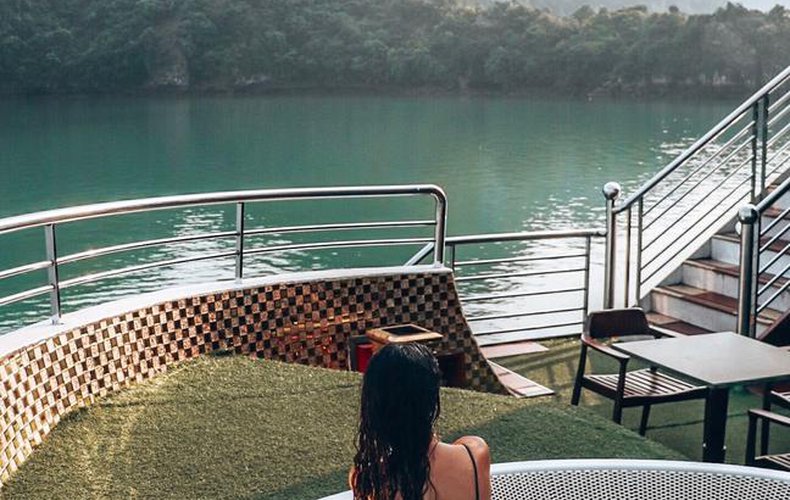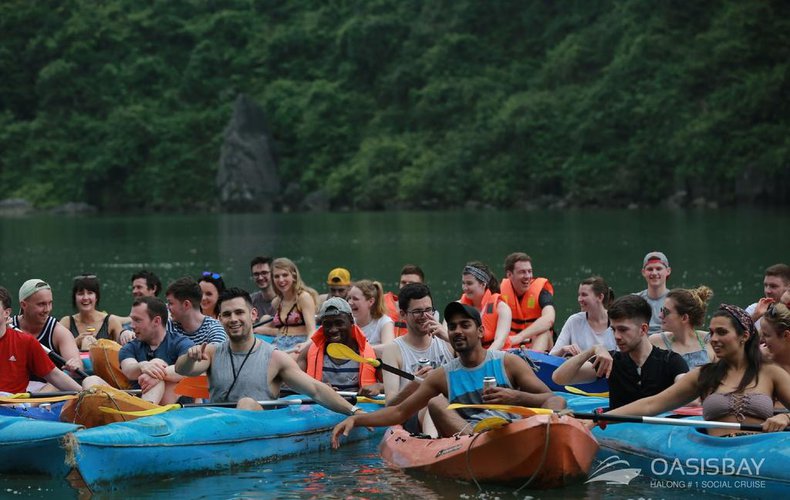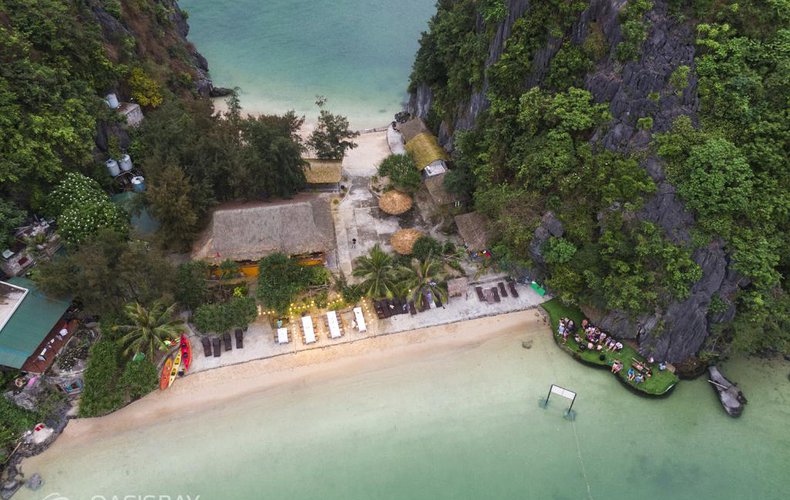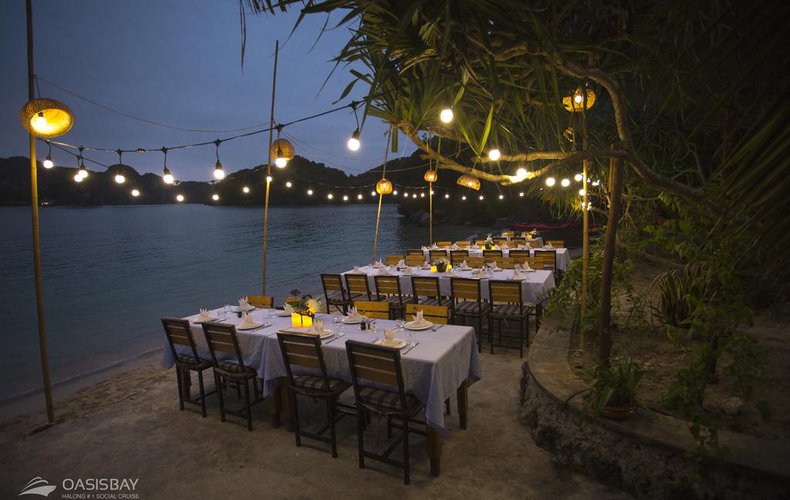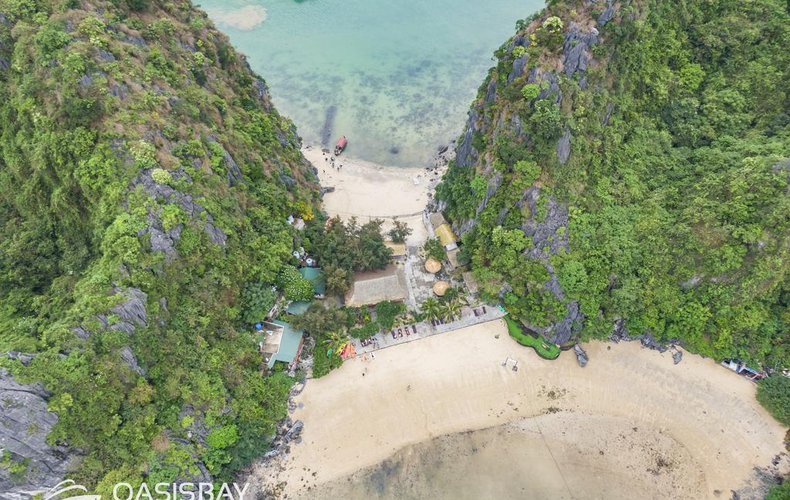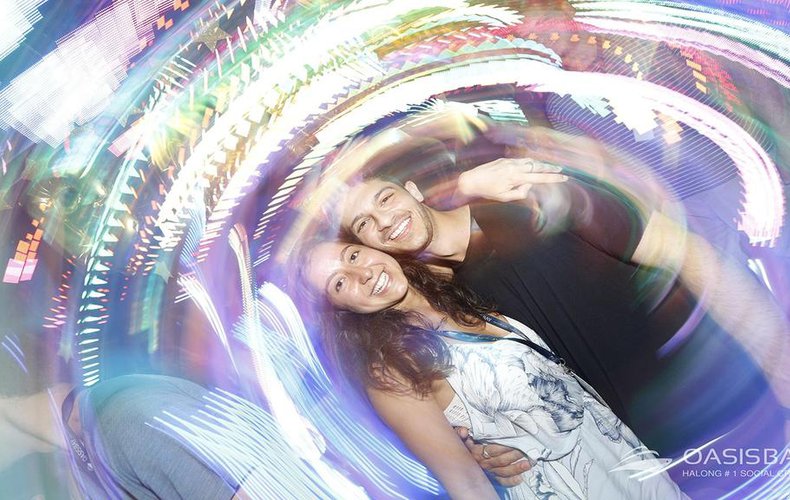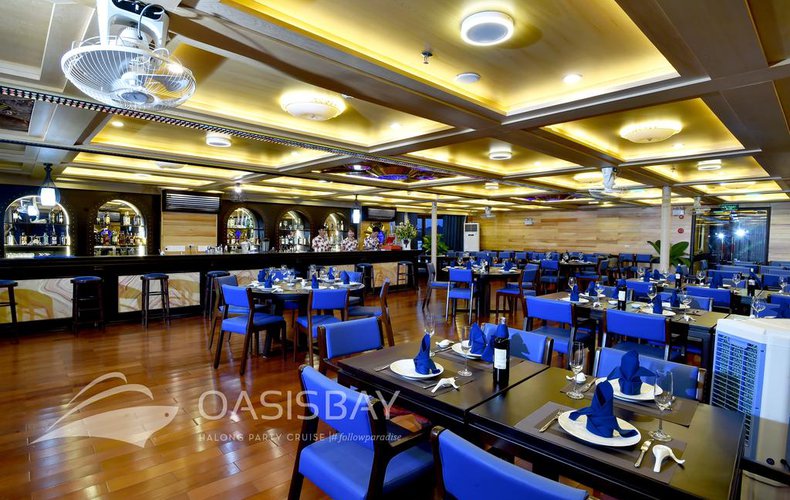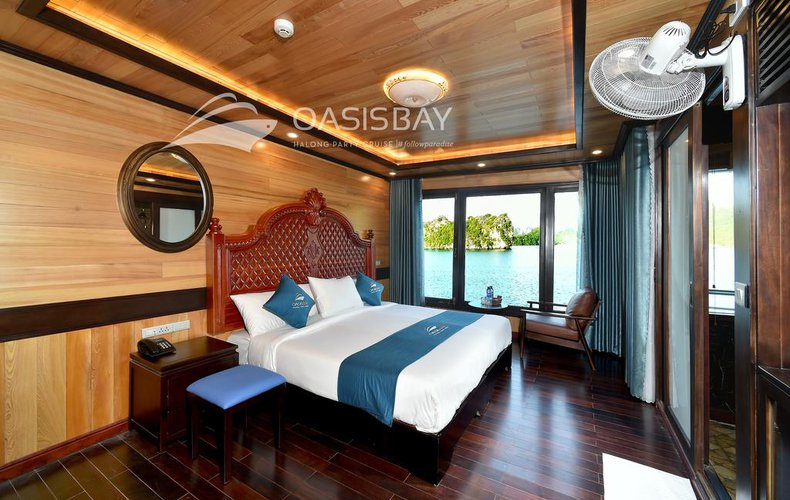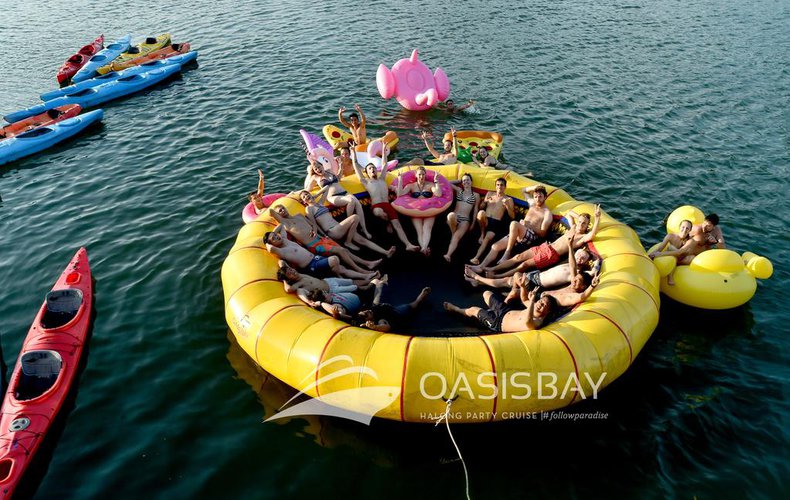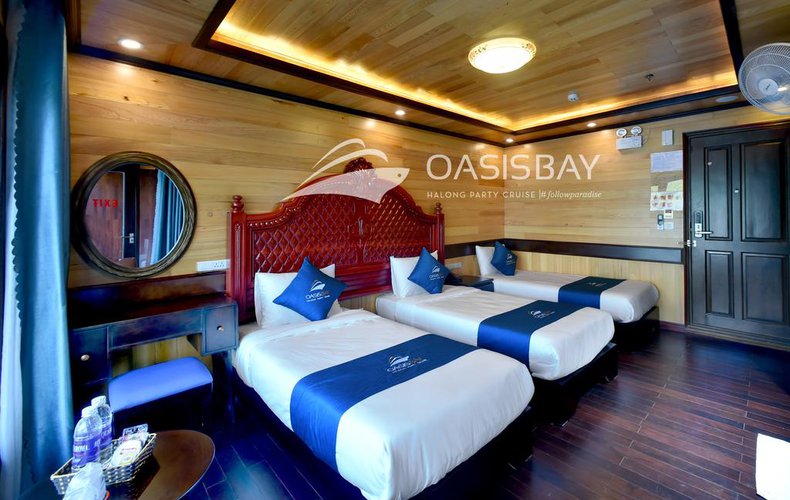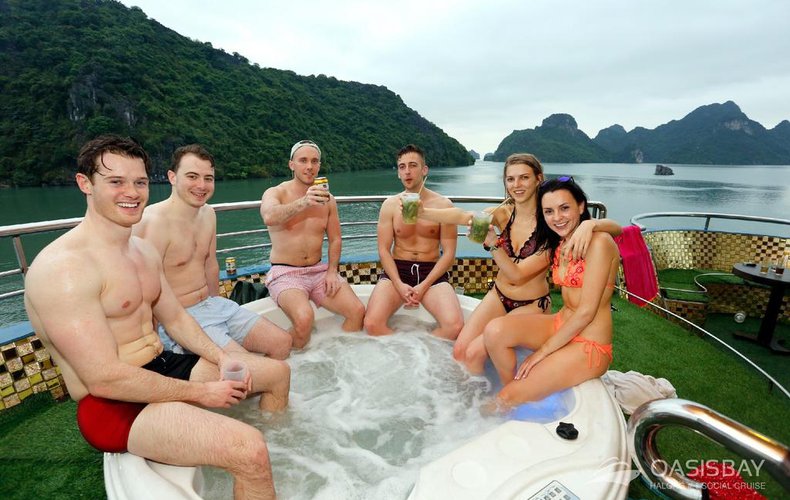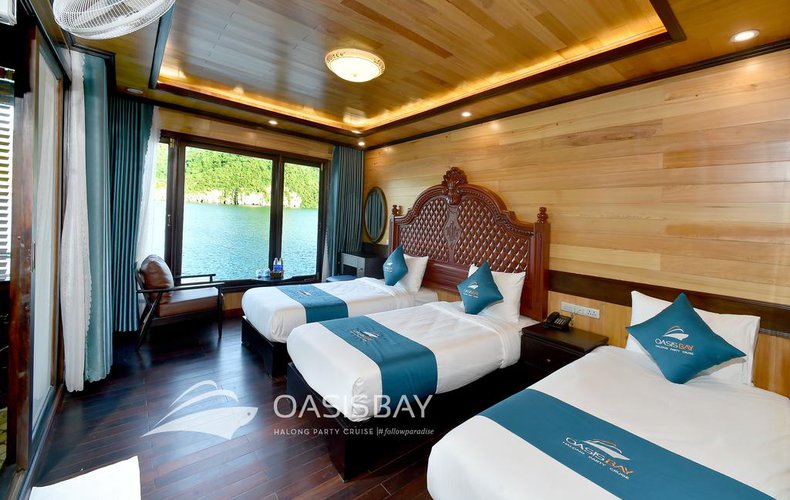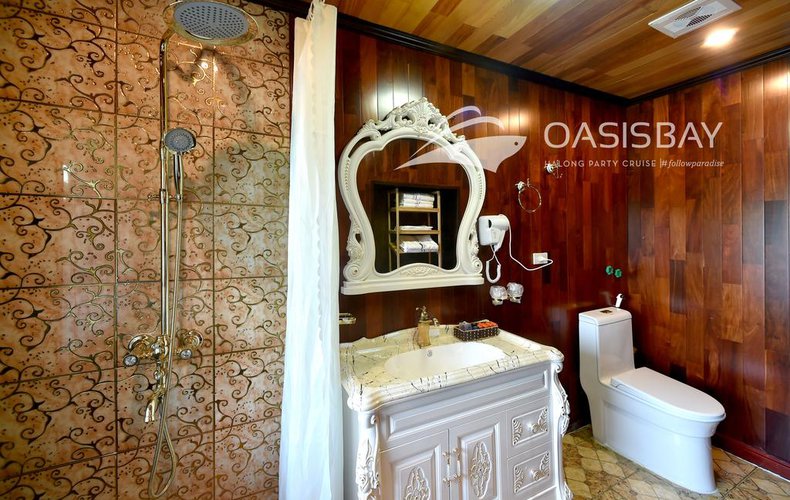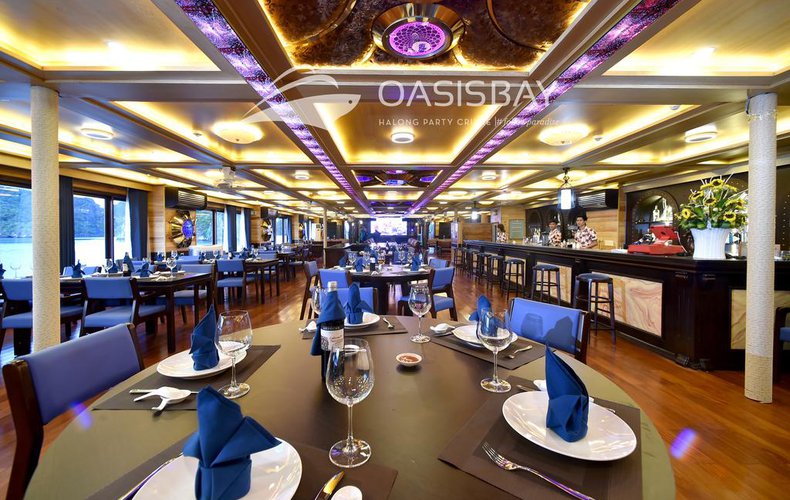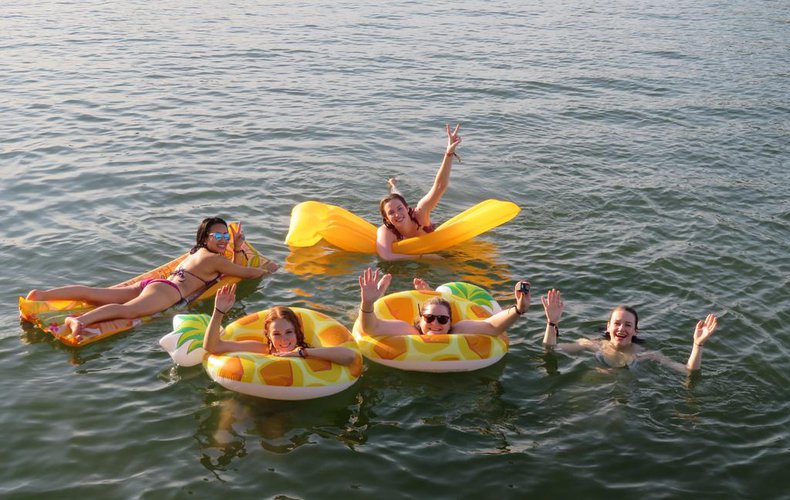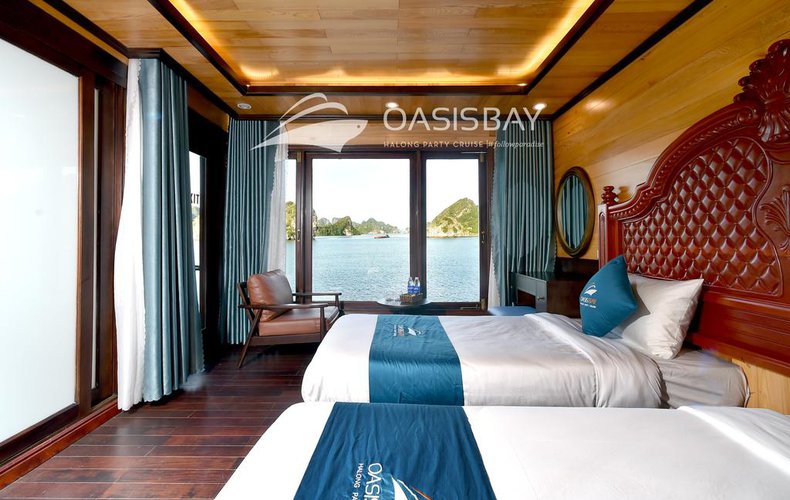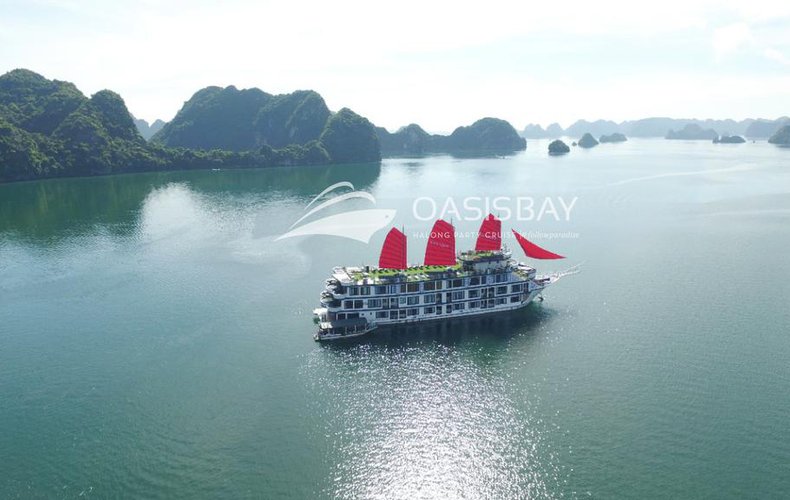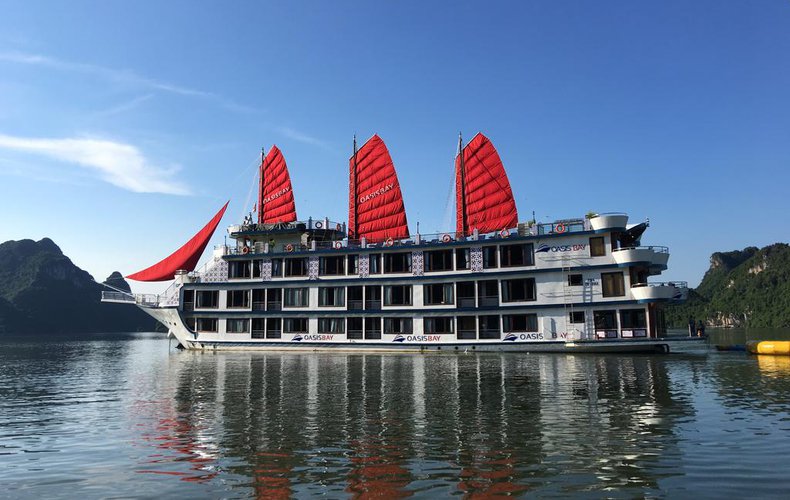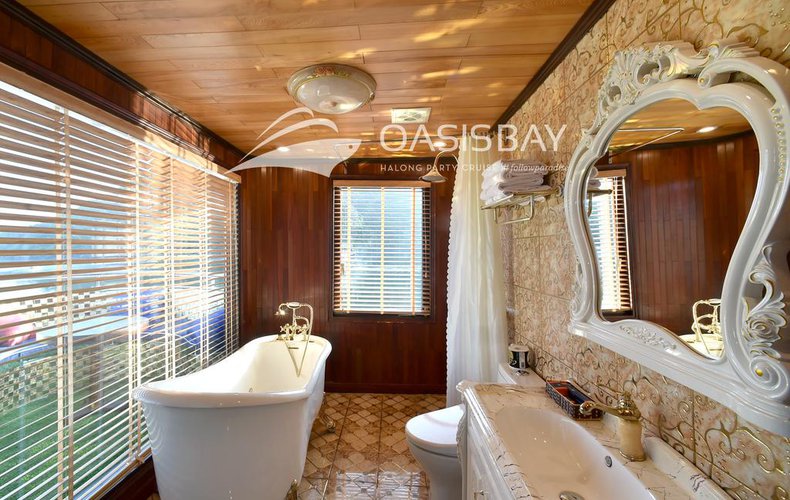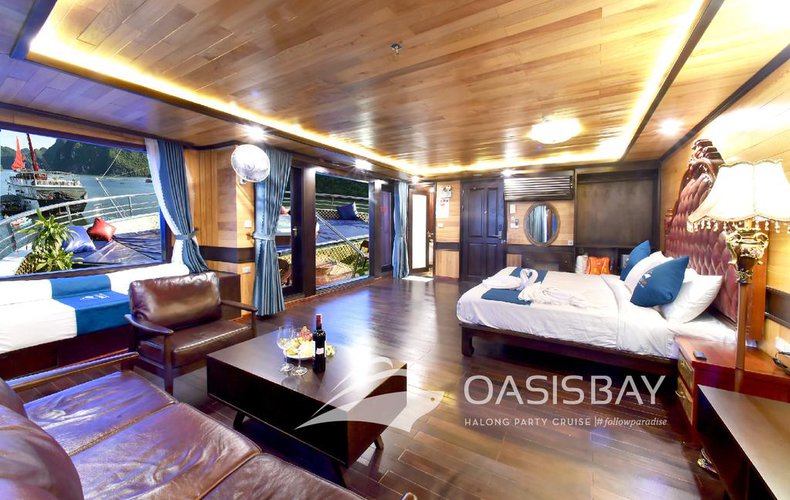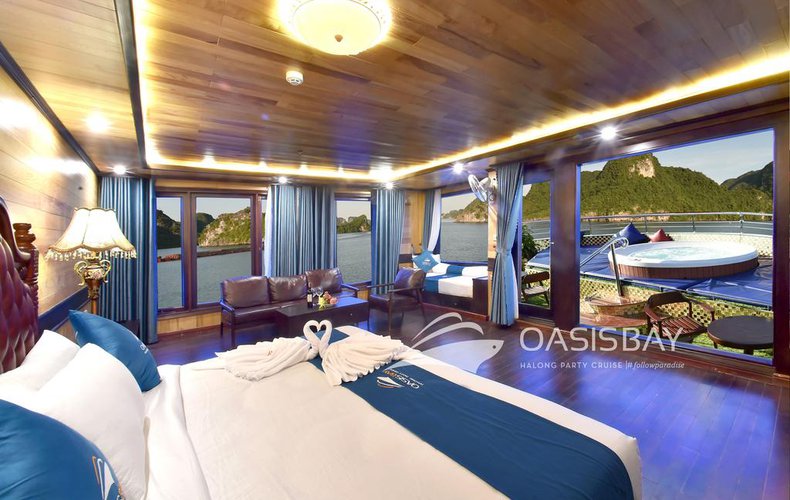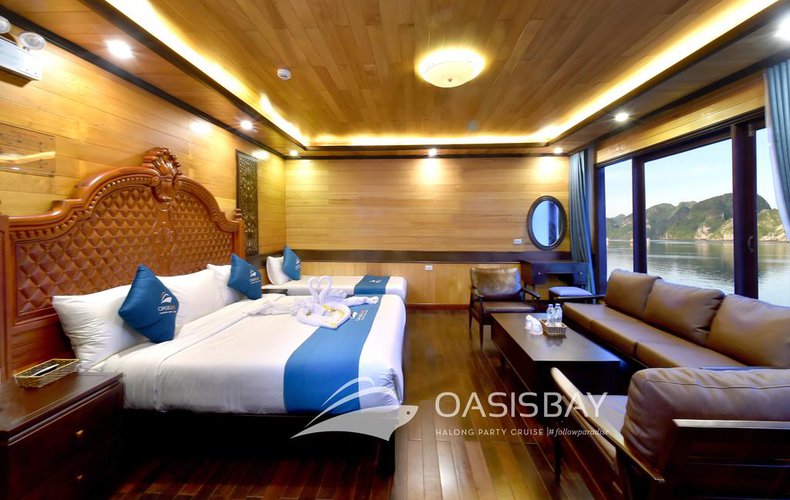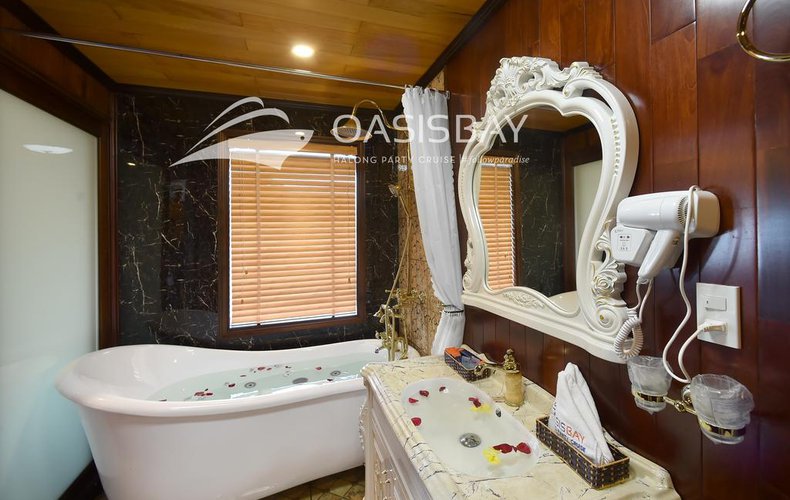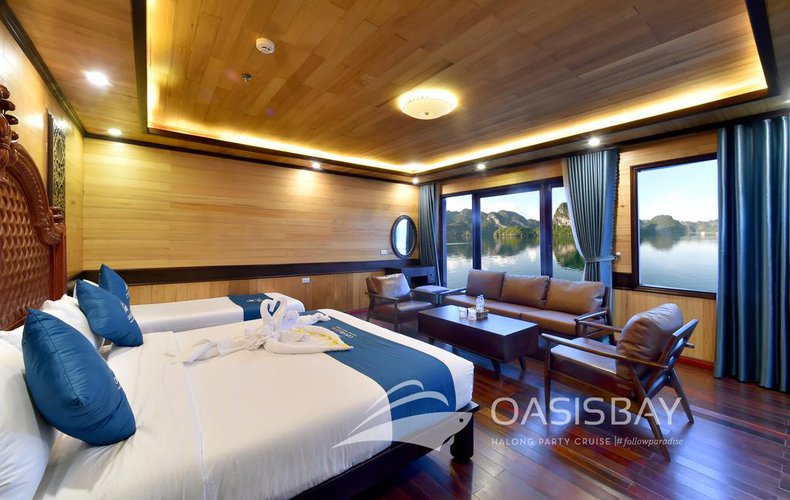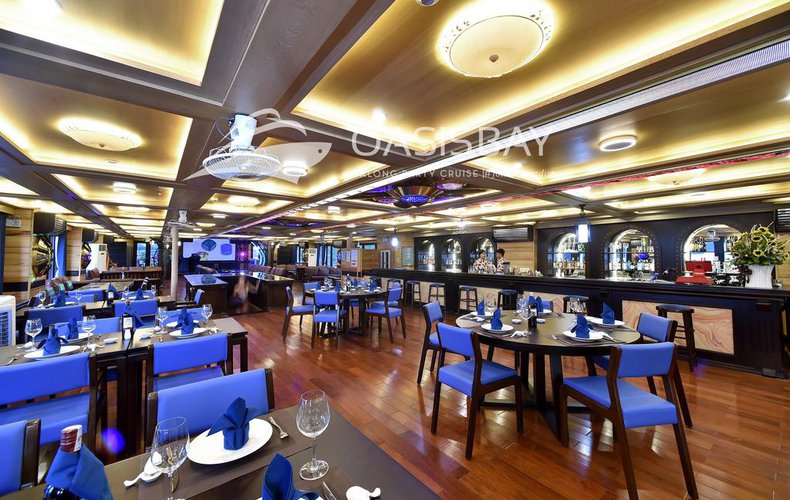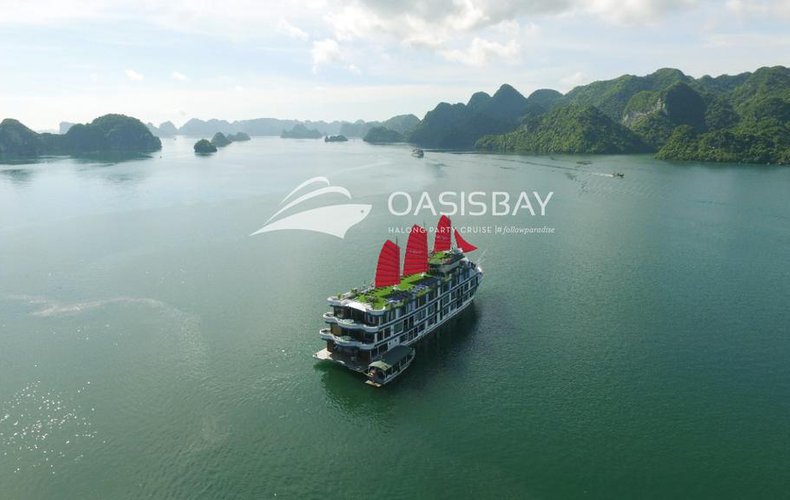 8.7/10
Service & facilities
Apart from basic facilities of a normal boat such as a restaurant & bar and a sundeck, this property also boasts a lot of fascinating features namely Jacuzzis, dance floor, and an observation deck.
In terms of convenient services, there are 24-hour room service, shuttle service, currency exchange, and more.
Adult only
Air conditioning
Heating
Safety deposit box
VIP room facilities
Airport shuttle
Non-smoking rooms
Room service
8.8/10
Cabin quality
The cruise comprises 30 en-suite deluxe cabins which are located on the 1st and 2nd floor. All cabins have a private balcony, extra bed, and a big window for watching panoramic bay views. Some also have large Jacuzzis with hot water so that guests will feel the utmost comfort.
| Room Type | Maximum | Size |
| --- | --- | --- |
| Deluxe Triple Room with Sea View | 3 adults, 0 Children | 26 sqm |
| Deluxe Double Room with Balcony and Sea View | 2 adults, 0 Children | 26 sqm |
8.5/10
Food & Drink
Complimentary morning tea & coffee and mineral water are restocked every day. The cruise dining room serves excellent breakfast and Vietnamese set menu lunch & dinner. Vegetarians are also treated very well with a variety of choices for the vegan diet menu.
8.6/10
Value for money
Deluxe double room with balcony and sea view costs from US$276, deluxe triple room with sea view costs from US$414, and bunk bed in the mixed dormitory room is priced from US$138.
Access for people with disabilities?
There are no facilities for disabled people.
Family-friendly?
There are an indoor play area and board games for children. However, the cruise is mostly suitable for adults only.
Last updated: January 13, 2020
MORE CRUISES IN HALONG BAY
Frequently asked questions
1.

How can I book the cruise?

Tourists can book the cruise by sending an email to booking@oasisbaypartycruise.com or call +(84) 234 931 0292.
2.

What events can the cruise arrange?

The cruise can arrange some events such as theme party, birthday party, and wedding.
3.

Where is the Freedom Island?

Freedom Island is a small private island on the outskirts of Lan Ha Bay with only 2 beaches. This is a wonderful place to enjoy the tranquility and do various water-based sports & activities.
4.

What activities does the cruise have?

The cruise offers live music, a nightclub with DJ, karaoke, evening entertainment, and a Happy Hour.
5.

Are spa services available onboard?

Yes, Oasis Bay Party cruise provides some spa and wellness facilities such as yoga classes, beach chairs/ loungers, bathhouse, and hot tub or Jacuzzi.