For a majority of cruise ships on Halong Bay, pools are still a novelty. However, some upscale lines have pioneered with either swimming pools or Jacuzzi pools in various shapes and sizes where guests can freely rejuvenate both their body and mind. The list below summarizes the best cruises on Halong Bay that contain a pool.
1. Stellar of the Seas cruises
Pool on Stellar of the Seas (Photo: stellaroftheseas.com)
As with any larger hotels, Stellar of the Seas cruises – a modern steel yacht comes with a medium-sized 50-sqm swimming pool. It is built on the front of the 3rd deck to ensure jaw-dropping views of the bay. This seasonal pool even adds a touch of sophistication with vivid LED lights illuminating the cruise in the evening. Surrounding the pool, there are a few coffee tables with shades so that guests can also enjoy a sip of cocktails.
2. Heritage cruise
Heated swimming pool on Heritage cruise
Few things can beat a dip in the largest heated swimming pool on Halong Bay by far then relax on one of the surrounding sun chairs with shades and enjoy nice drinks in the nearby fully-stocked pool bar. The pool spreads over an area of 32m² and is measured 1.2m deep with warm waters year-round. It perches on the panorama deck connected with an outdoor lounge, thus providing 360-degree wonderful bay views. Pool parties and other events can be arranged here.
Read our reviews for Heritage Cruise
3. Rita cruise
A small open air pool on the second deck!
Launched in 2020, Rita cruise is acclaimed the finest brand-new luxurious vessels gliding on Lan Ha Bay. Featuring contemporary design, this 5-star 32-cabin cruise has everything you could wish for, especially a hi-end four-season outdoor swimming pool in the back. Next to the pool are some coffee tables where passengers can enjoy a glass of cocktails.
4. Ginger cruise
Resembling an ancient wooden junk, Ginger cruise is tastefully-designed in Indochinese-Vietnamese style. Its airy terrace deck is especially an incredible spectacle with a pool just below the sail. Tiled with blue mosaic tiles, this tiny soaking pool is an ideal spot for guests to appreciate the views of the ocean while immersing in the warm waters. There are plenty of comfortable lounges and daybeds awaiting you to lie down.
5. Ylang Cruise
Pool on Heritage Line - Ylang Cruise (Photo: heritage-line.com)
The latest addition of Heritage Line fleet - Ylang cruise is home to sumptuous suites and a vast range of superior amenities. However, for leisure travelers, perhaps the most epic onboard entertainment is the inviting pool on the terrace deck. The pool setting gazes out the most splendid seascapes while sunbeds are uncommonly shaded by giant canvas sails.
6. Dragon Legend cruise
Beautiful pool on Dragon Legend
Dragon Legend cruise is among a few top-notch brands that offer off-the-beaten-track itineraries to the less-visited Bai Tu Long Bay. The ship has an indoor and outdoor mineral seawater pool where tourists can refresh after a day of exploring. The plunge pools are accessible for passengers of all ages and the outdoor pool especially gives a different perspective of the bay.
7. Aspira cruises
Heart-shaped swimming pool on top deck!
The heart-shaped swimming pool on the front of Aspira cruises has become one of its signatures. Its size is big enough for 3 to 4 people to access free of charge and pool loungers are well-appointed alongside with the deck. More interestingly, the pool's surrounding is stylishly finished with a scattering of pots of trees.
8. Apricot President cruise
The only 3-star cruise with pool in Halong bay!
The former Sky Garden cruise, Apricot President Cruise is the only 3-star ship in Halong Bay that is fitted with a swimming pool on the sundeck. It is characterized by a mosaic-clad interior, a few sun loungers and ornament trees put around. The emerald pool glows brilliantly at night, adding to the cruise's excitement.
9. Rosy cruise
The triangle Jacuzzi pool on the front of sundeck prides a nice touch of the 5-star Rosy cruise to enhance your stay onboard. This adult-only retreat is the best place on the ship to relax while admiring the sunset and sipping. At night, the pool becomes a light show with LED light adornment.
10. Scarlet Pearl cruise
Another hi-end ship with round-shape Jacuzzi pool, Scarlet Pearl Cruise particularly bears a resort-style atmosphere. Plush couches with towels are also provided. Release yourself in heated water and listen to melodious music while the ship cruises to best parts of Lan Ha Bay.
11. President cruises
The 5-deck President Cruises are amongst the largest vessels in Halong Bay. Catering to affluent voyagers, the cruises include a sublime selection of on-deck premium facilities. Especially, the highlight is a minimalistic outdoor Jacuzzi enclosed by line-up comfy lounge chairs. This is an idyllic corner for passengers to head for pampering.
Questions and Answers
(0)
Be the first to ask a question on this page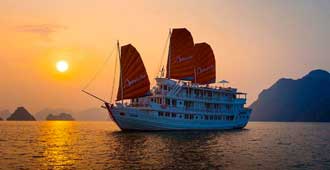 Discover the charming and exotic landscapes of Halong bay on an all-inclusive luxury cruise!
Meet local experts
Need to create your own Halong bay trip?
Call us now: +84 987 24 6600 (Whatsapp)
Customize Your Tour
QUESTION FORUM:
Halong Bay: Questions