First Timer Guide to Cruising in Halong Bay
Planning Your First Cruise?
Is this the first time you visit Halong bay? Our first-timer guide will help you plan your first cruise trip with our up-to-date articles and tips.
These are some of the best- and worst-kept Halong bay cruise tips, from onboard food and drinks to itineraries and activities.
Got a dozens of cruise recommendations and do not know which one to choose? Our guide will help you pick the right one that meets your needs.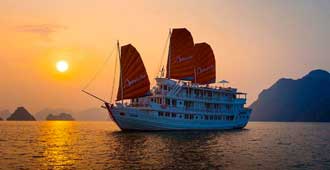 Discover the charming and exotic landscapes of Halong bay on an all-inclusive luxury cruise!
QUESTION FORUM:
Halong Bay: Questions
Free ITINERARY planning with us!
Planning your trip with our Halong local experts, we will help you with:
Accomodation: Find the best hotels/homestay or BnB.
Tours: Connect you to the trusted tour operator in Halong bay.
Cruises: Find the best cruise on your date!
It is all FREE