Overview of Cat Ba island
Cat Ba island is best known for awe-inspiring cliffs, lush forests, enchanting caves, and serene white sandy beaches. It harbors a diverse and rich ecosystem, providing a habitat for numerous wildlife species. During the cruise trip, you can stop over several spectacular sites and immerse in an authentic natural sanctuary filled with boundless wonders and scenic panoramas.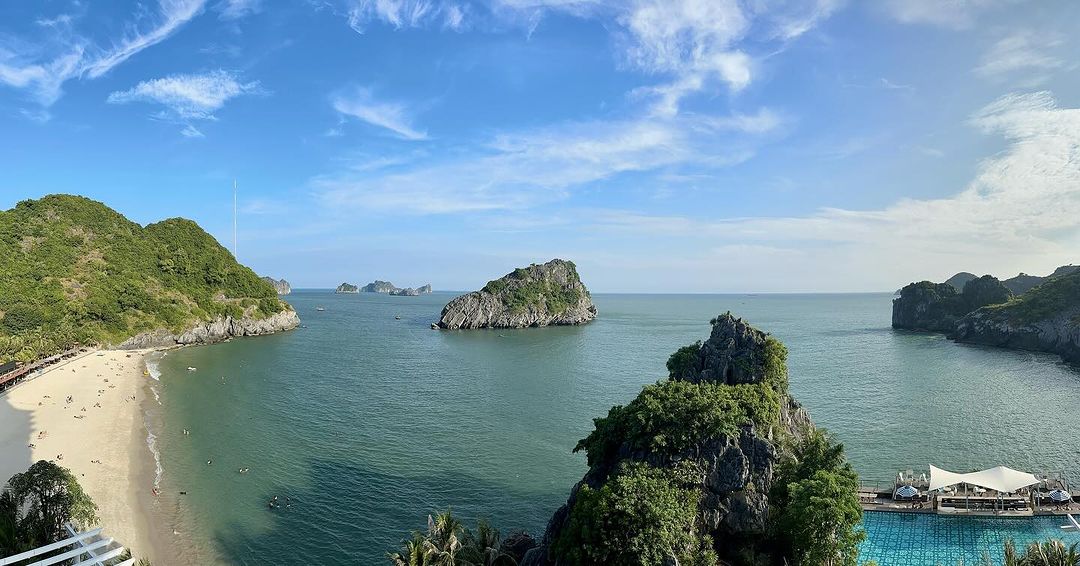 Presently, there are no exclusive cruises solely dedicated to Cat Ba island, yet they include exciting trips to this intriguing destination along with other enticing stops in their itineraries. The island is usually scheduled on the second day of a 3-day tour, particularly a Lan Ha Bay cruise.
What to expect
Currently, most cruises with excursions to the island visit two prominent attractions: the natural wonder of Trung Trang cave and the cultural scene of Viet Hai village.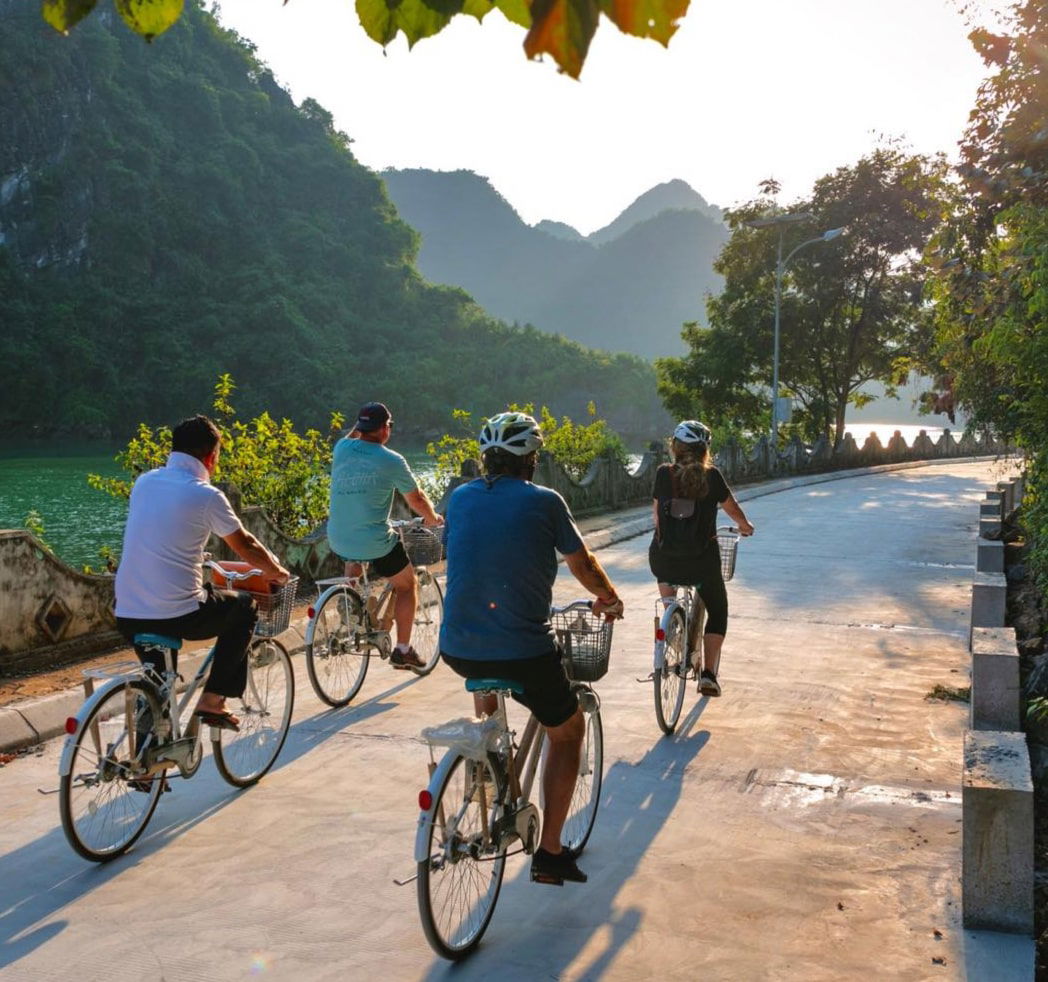 Cycling around the village
Enveloped by the verdant mountains of the Cat Ba national park, the charming village of Viet Hai offers a meaningful experience for any culture lover. As you take a bike ride around the village, you will be captivated by the picturesque scenery of this rustic village and enjoy its tranquility. Many cruise tours also include visits to local houses, providing a nice opportunity to interact with the warm and welcoming locals and gain insight into the idyllic daily life of the fishermen.
For those who seek a convenient alternative, an electric car ride also embraces the peaceful landscapes and serene ambiance here, savoring every moment in this alluring village.
Caving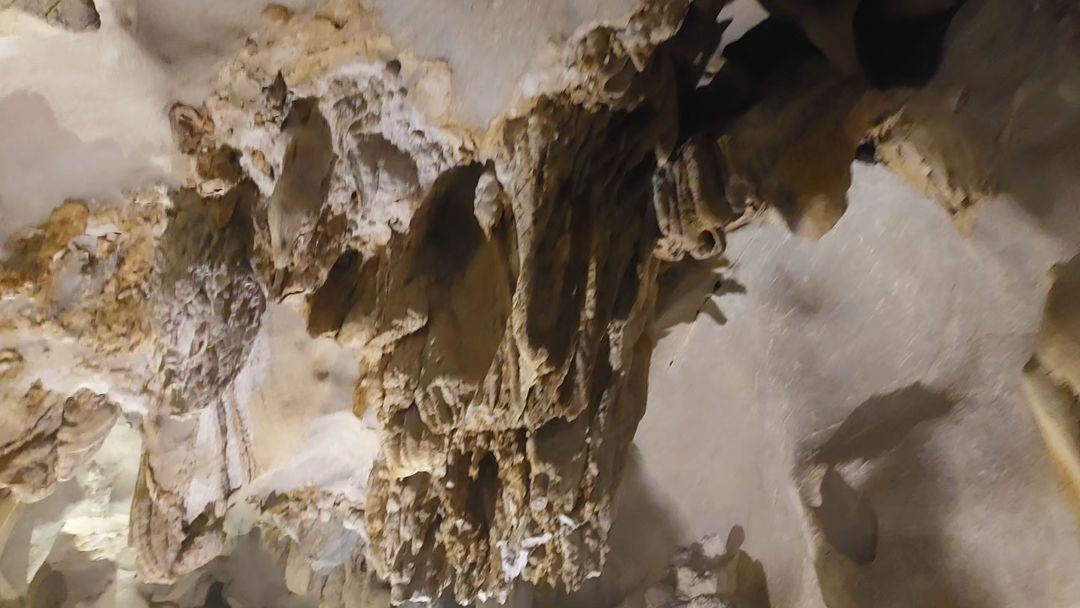 Trung Trang cave, spanning an impressive 300 meters in length, holds an enigmatic beauty. Its interior is adorned with an array of sparkling stalactites and stalagmites in distinct shapes and sizes. A slow walk through this impressive cave enables you to both explore and marvel at its splendor, creating a thrilling and mesmerizing adventure. Breathtaking karst formations reflect the timeless charm of this natural wonder, leaving any tourists a meaningful caving experience.
Sightseeing
When exploring the island, you will be treated to a great sightseeing experience with the perfect combination of natural beauty and cultural aspect. From the stunning beaches, lush forests, majestic mountains to quaint villages, every corner of this island offers a picturesque view and ambiance. 
Best cruises exploring Cat Ba island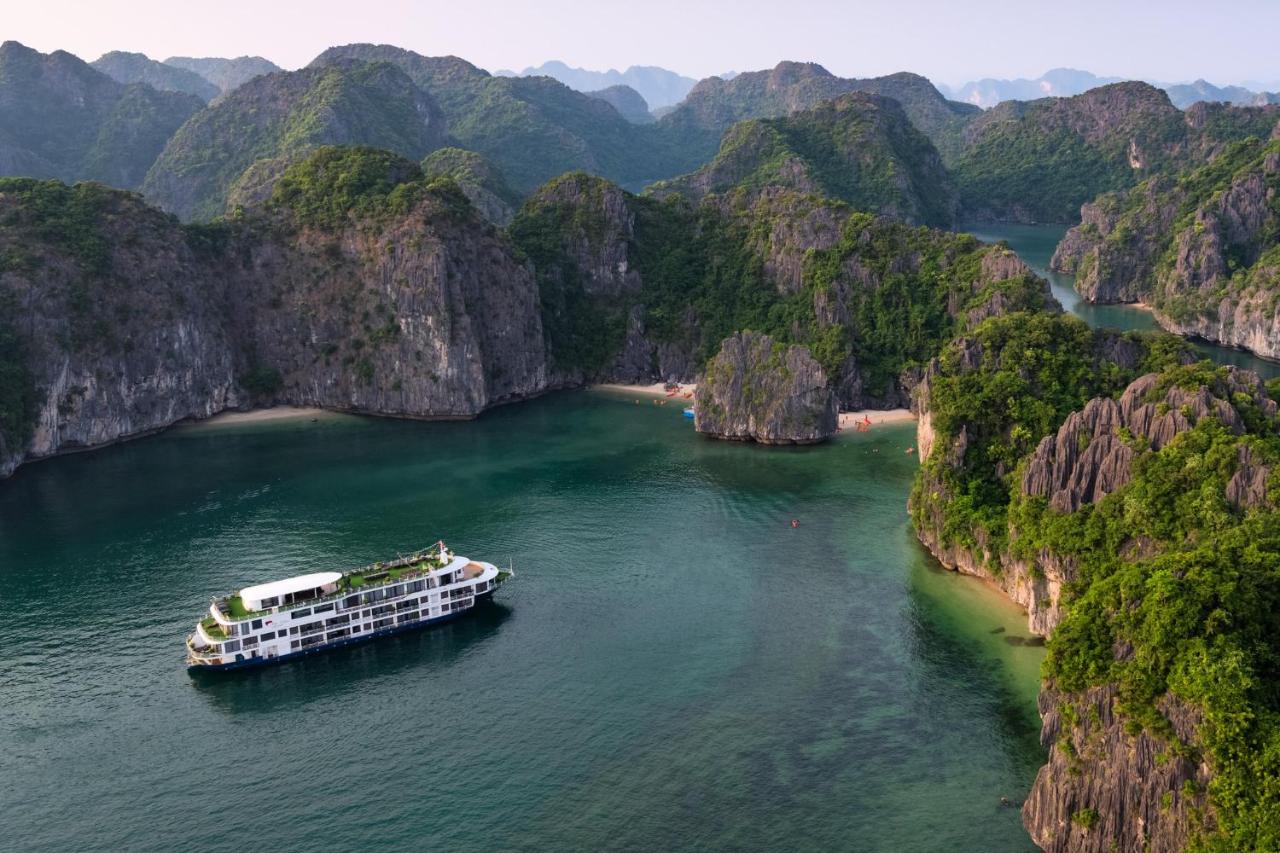 Mon Cheri cruise
Destinations: Dark & Bright cave, Viet Hai village, Frog Pond area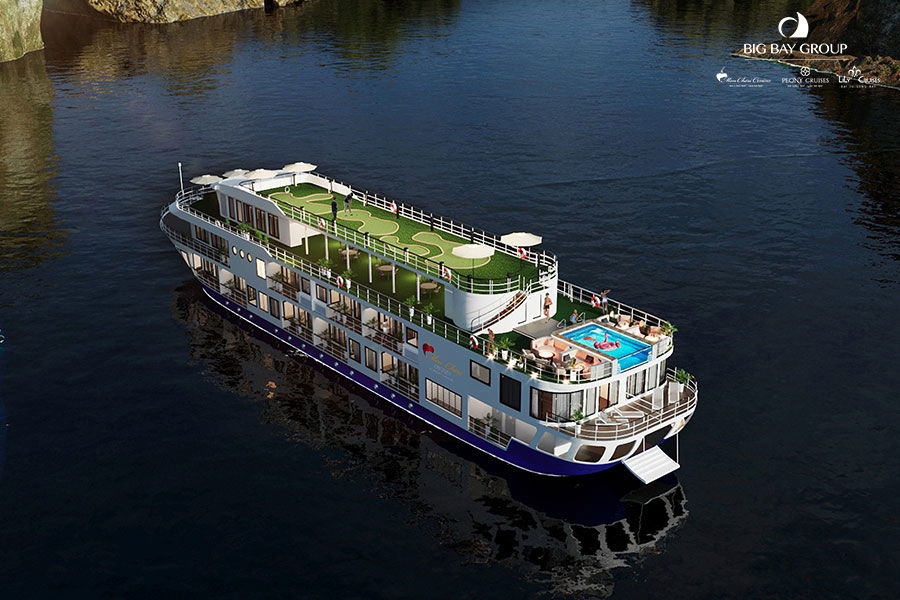 From the outside to the interior, Mon Cheri cruise presents the ultimate luxury, promising a lavish experience. The boutique boat is renowned for its meticulous attention and exceptional services, offering an indulgent culinary journey with an array of cuisines including Kosher, Halal. Thoughtfully designed based on the harmonious blend of vibrant colors and decor, each cabin grants guests a pleasant and soothing stay experience. 
Elite of the Seas cruise
Destinations: Frog Pond area, Viet Hai village, Dark & Bright cave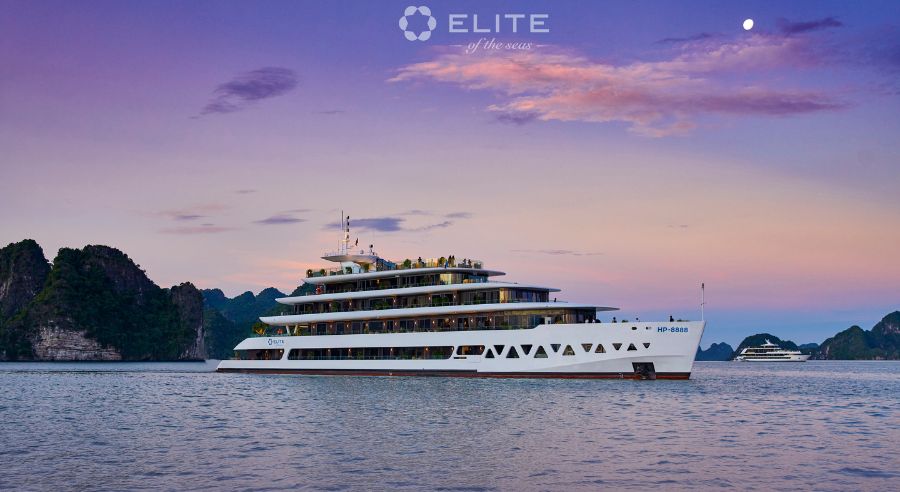 Being highlighted with an aesthetic, modern, opulent ambiance throughout the boat, Elite of the Seas stands out for its high-class amenities such as an open-air pool, a mini golf course, a spa and sauna, a panoramic bar, and so on. Amidst its luxurious beauty, the vessel manages to create a cozy atmosphere at every corner, ensuring a delightful journey for all guests.
Sena cruise
Destinations: Three Peaches beach, Viet Hai village, Frog Pond area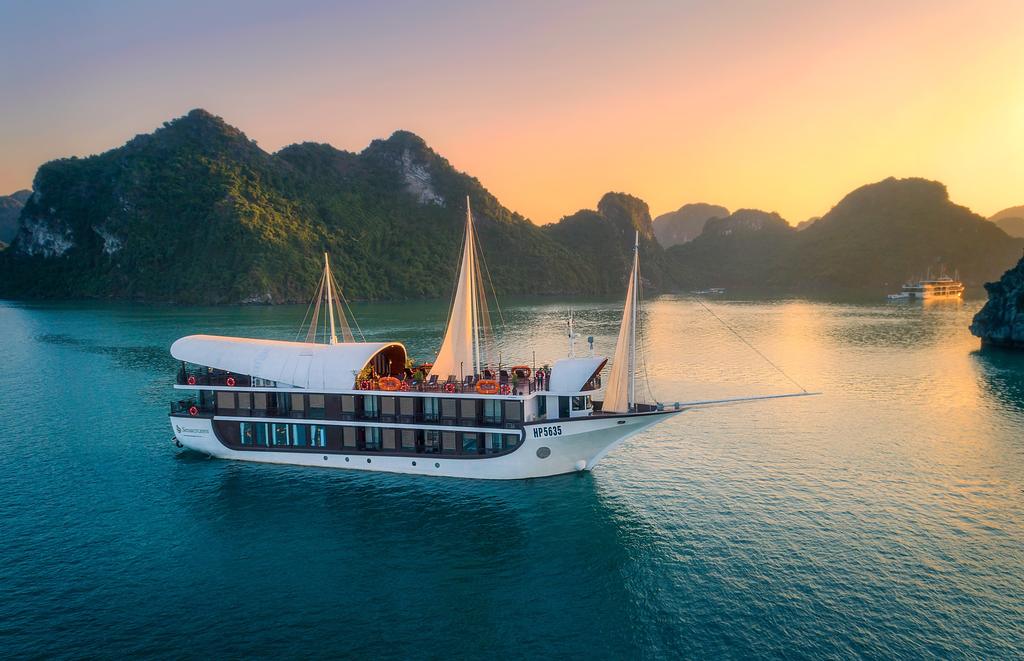 This boutique traditional cruise has cozy lighting and decor, adorned with charming Indochine patterns, creating an artful ambiance. Aiming to bring about a meaningful adventure filled with beautiful moments, the boat offers a well-planned itinerary exploring the lovely Halong bay and Lan Ha bay, delightful delicacies, well-decorated cabins, spacious shared areas on board, and so on.
Erina cruise
Destinations: Viet Hai village, Three Peaches beach, Dark & Bright cave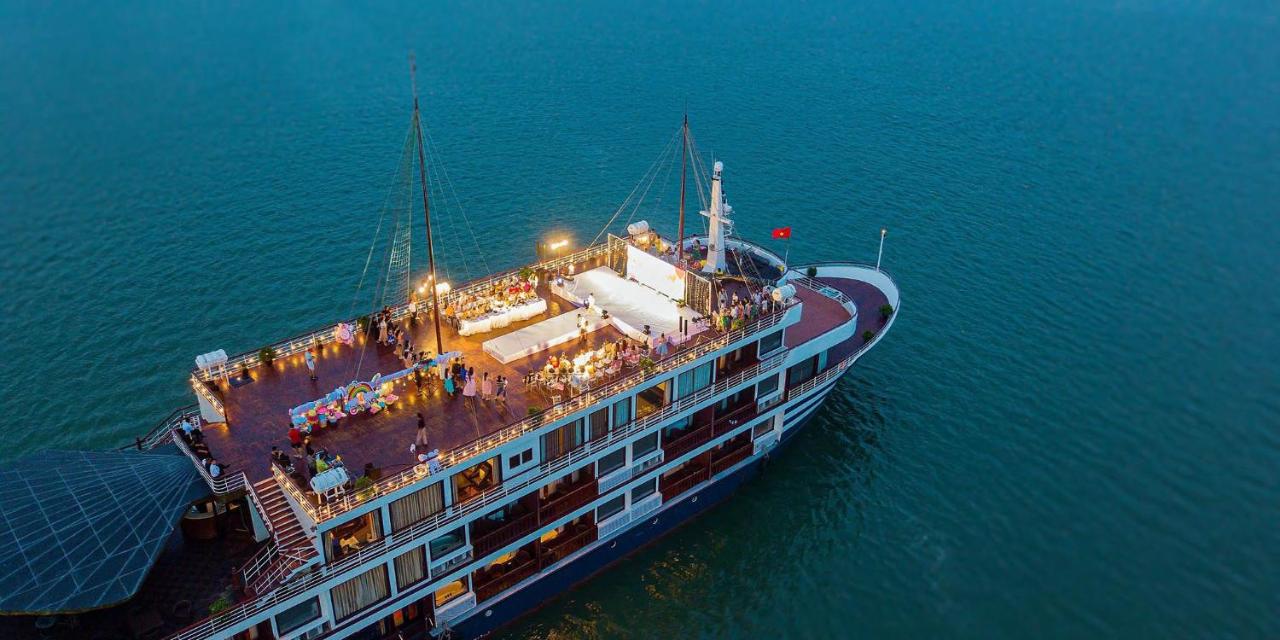 The contemporary design and modern amenities on this a newly-introduced ship of Erina Cruise ensure you a fulfilling cruising experience. Fully equipped with open-air jacuzzi pool,  sky bar, spa & gym, luxurious dining area, and more, the boat presents a harmonious blend of relaxation and entertainment, allowing you to fully enjoy every moment on board. Each cabin is thoughtfully designed to cater to both couples and families, featuring an ocean-view bathtub and a private balcony to create comfortable private spaces.
La Casta Regal cruise
Destinations: Three Peaches beach, Viet Hai village, Tra Bau area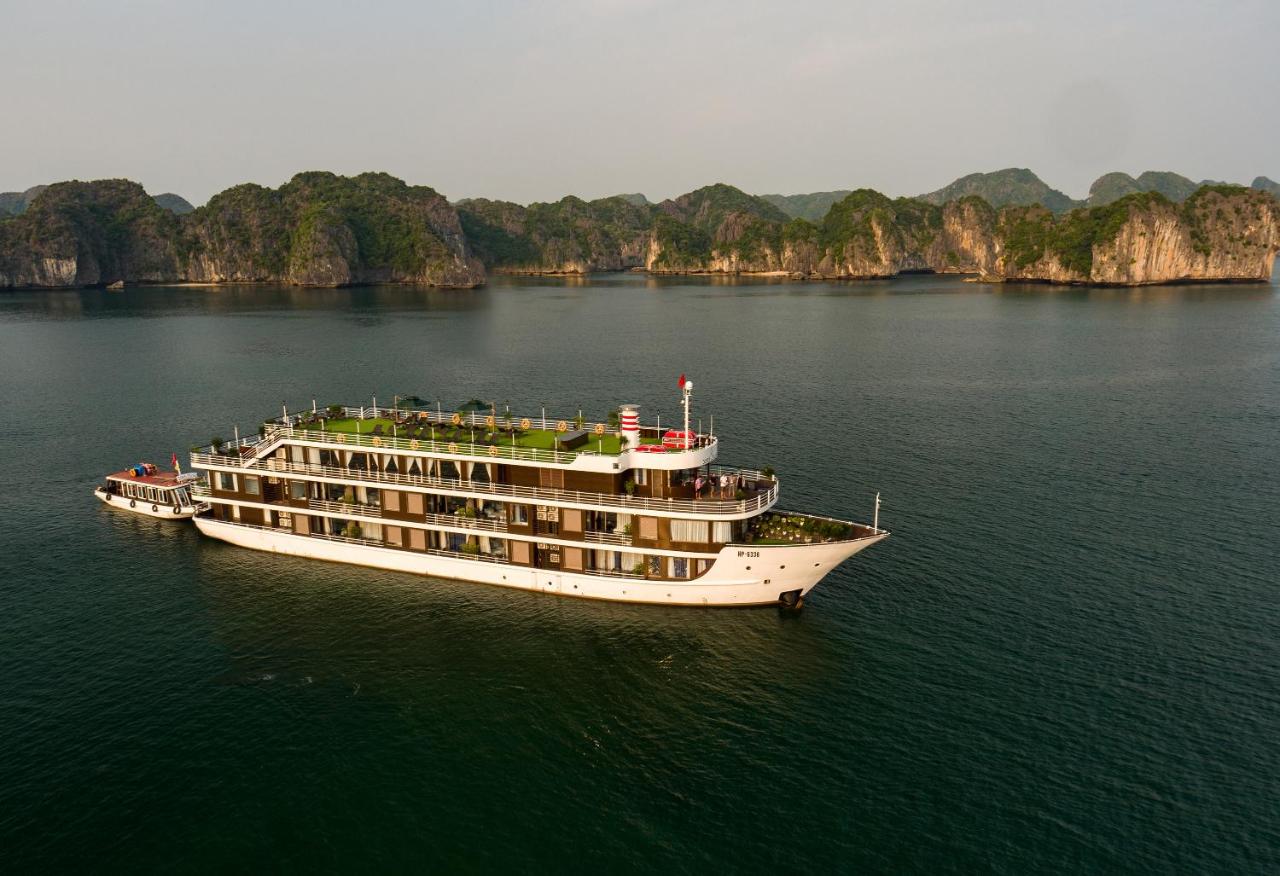 La Casta Regal is an ideal choice for budget-conscious travelers with a memorable and meaningful cruising experience. Carefully crafted and planned, its itineraries take you to the most tranquil places, creating beautiful journeys filled with authenticity and relaxation. Every little detail throughout the boat is taken care of, bringing about the coziest and most satisfying experiences with an array of high-standard amenities - outdoor jacuzzi pool, beauty spa, dining area & bar, theme party on request.
Questions and Answers
(0)
Be the first to ask a question on this page!
Frequently asked questions
1.

When is the best time to go on a cruise in the island?

You can visit the island at any time of the year. However, the best time is believed to be from March to April and from September to November. These are both dry seasons on the island, so you can avoid the humidity and heat of the tropical climate here. During these periods, the weather is also milder and more pleasant for your discoveries.
2.

Can I go for a swim in the winter?

No, during winter, the water is very cold and swimming is not allowed for safety. However, you will have alternative activities such as bamboo boating, ensuring an enjoyable experience.
3.

Are there any caves in Cat Ba island?

Yes, there are several beautiful caves on the island. However, currently, most cruises only include a visit to the renowned Trung Trang cave.
4.

What should I bring when visiting the island?

It is advisable to carry a jacket when visiting caves during winter, as the temperature inside tends to be cooler than the outside. In the summer, it is recommended to bring sun cream. Additionally, wearing sneakers and bringing mosquito repellent is also advisable.
5.

Is the island suitable for trekking?

Yes, Cat Ba national park is a primary trekking and hiking venue with trails of different challenging levels. By trekking to the viewpoints, you'll see wildlife and secluded beaches.