Overview of Lan Ha Bay
Located on the eastern coast of Cat Ba Island, Lan Ha Bay is an exquisite unspoiled destination, embracing splendid seascapes comparable to the renowned Halong Bay but offering a more tranquil atmosphere. The bay showcases awe-inspiring natural vistas with mesmerizing limestone karsts, sparkling emerald waters, pristine sandy beaches, and rustic fishing villages.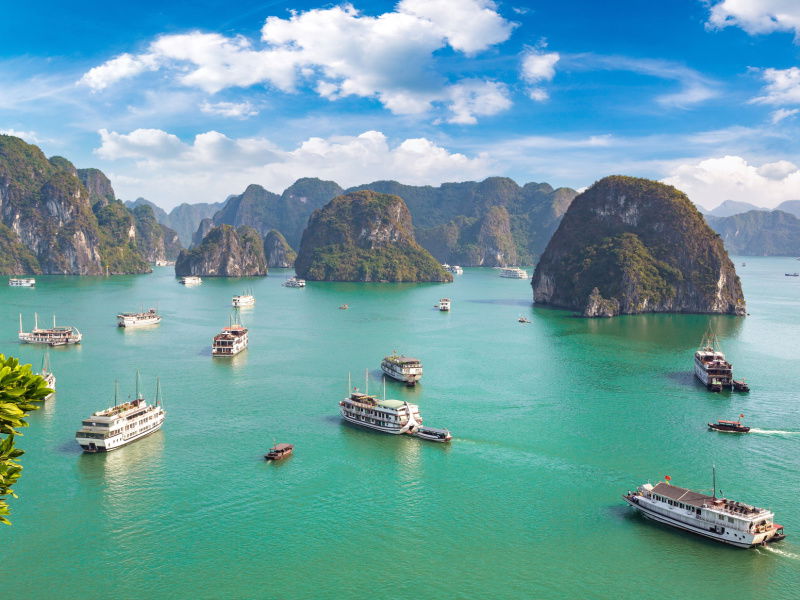 A cruise journey to the bay opens the door to an authentic adventure brimming with natural wonders and cultural encounters. From a pleasant indulgence into the allure of nature to serene moments of relaxation, the excursion promises you an unforgettable experience. Do not forget to check out the following cruising guide for more helpful detailed information.
Best destinations to visit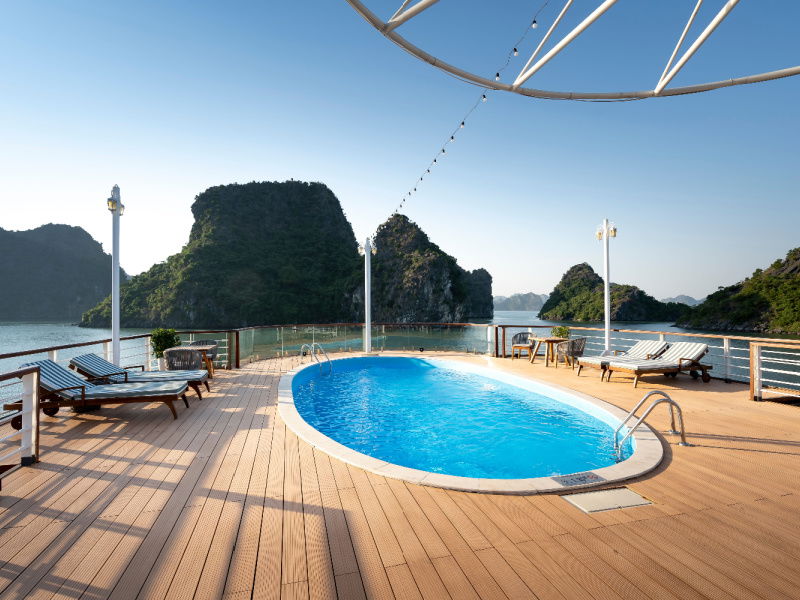 Trung Trang cave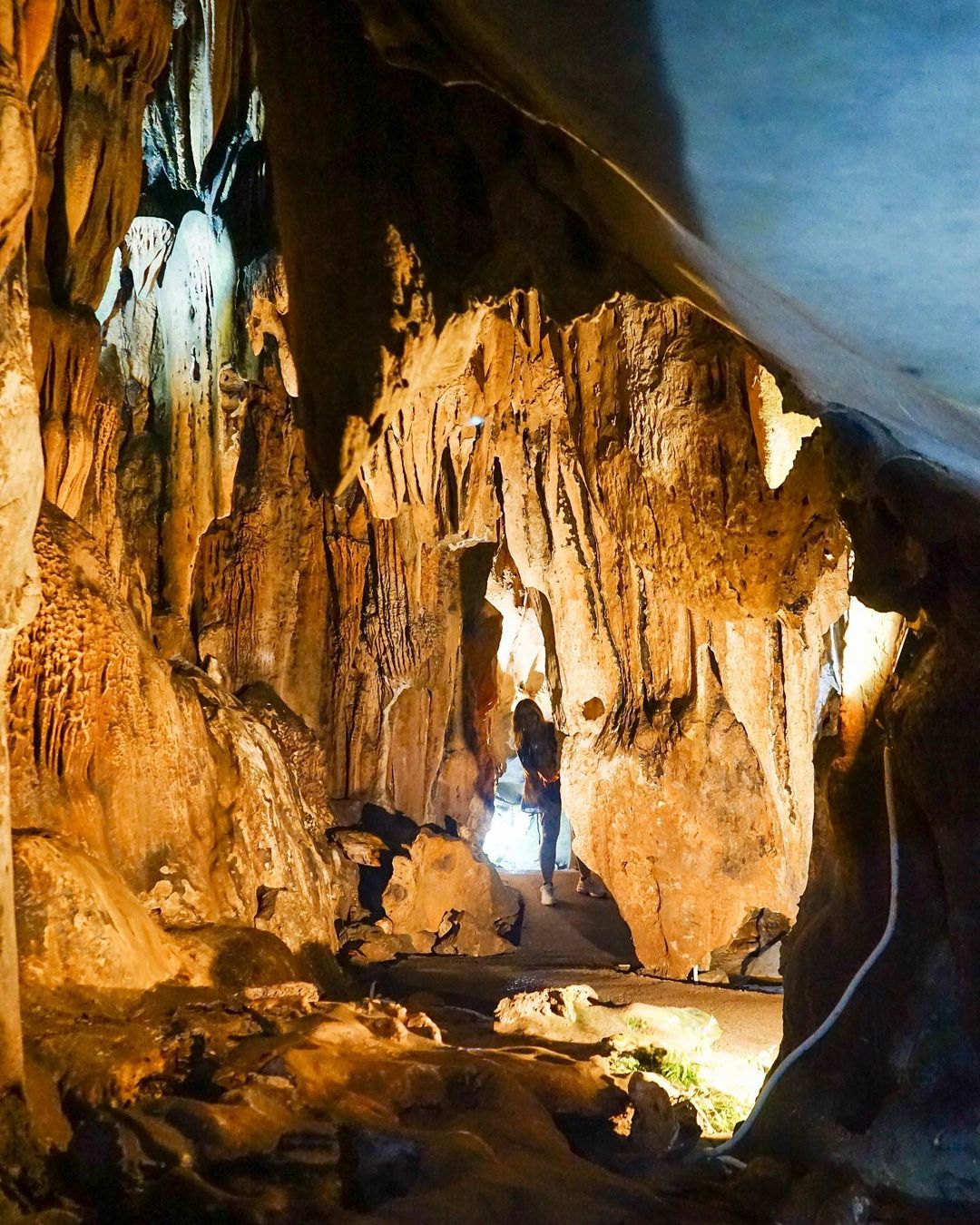 Nestled amidst lush green forests, Trung Trang cave showcases an enchanting charm with its extraordinary rock formations. With a length of around 300 meters running through mountains, the cave carries a harmonious blend of dazzling lights and various shapes of stalactites and stalagmites, exuding a mysterious ambiance.
Viet Hai village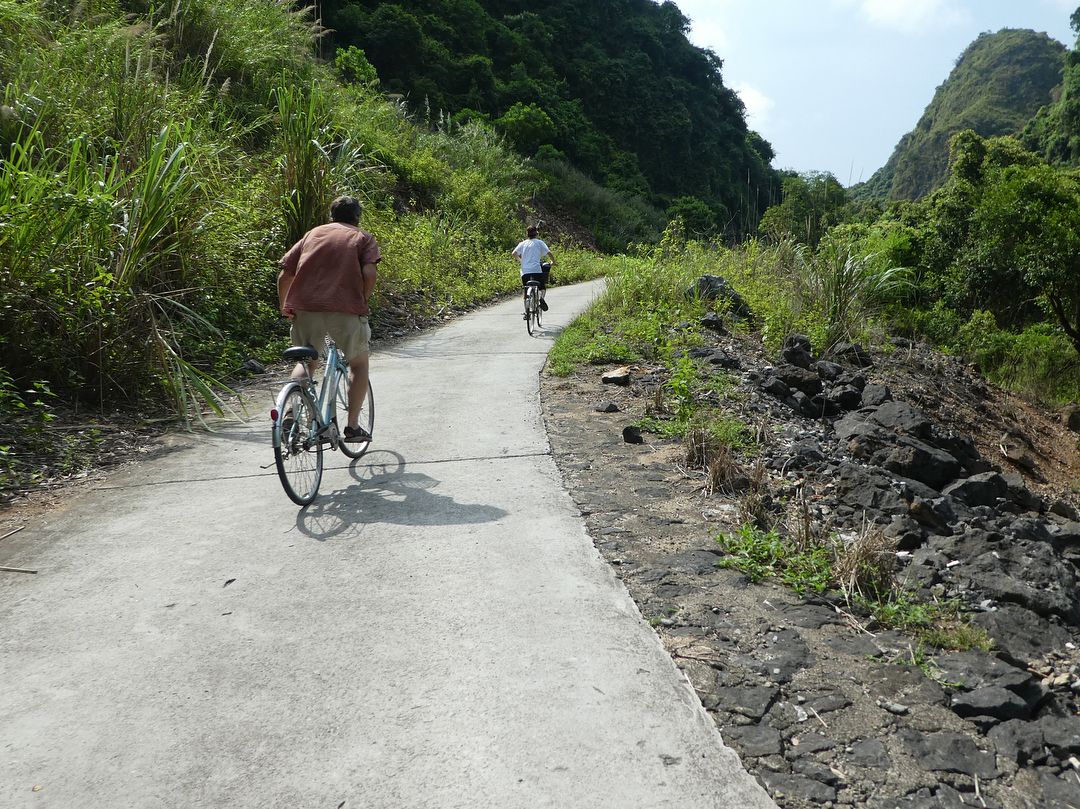 Surrounded by verdant forests, Viet Hai Village is a true allure, offering a glimpse into the traditional rural life of the warm-hearted local fishermen. Bestowed with picturesque landscapes, majestic mountains, and rustic bamboo, wooden houses, the fishing village radiates a tranquil and peaceful atmosphere for an ideal getaway. Interacting with the friendly locals, trekking and biking around the village are precious opportunities for authentic experiences, where you can be fully immersed in serene nature and idyllic lifestyle here.
Frog Pond area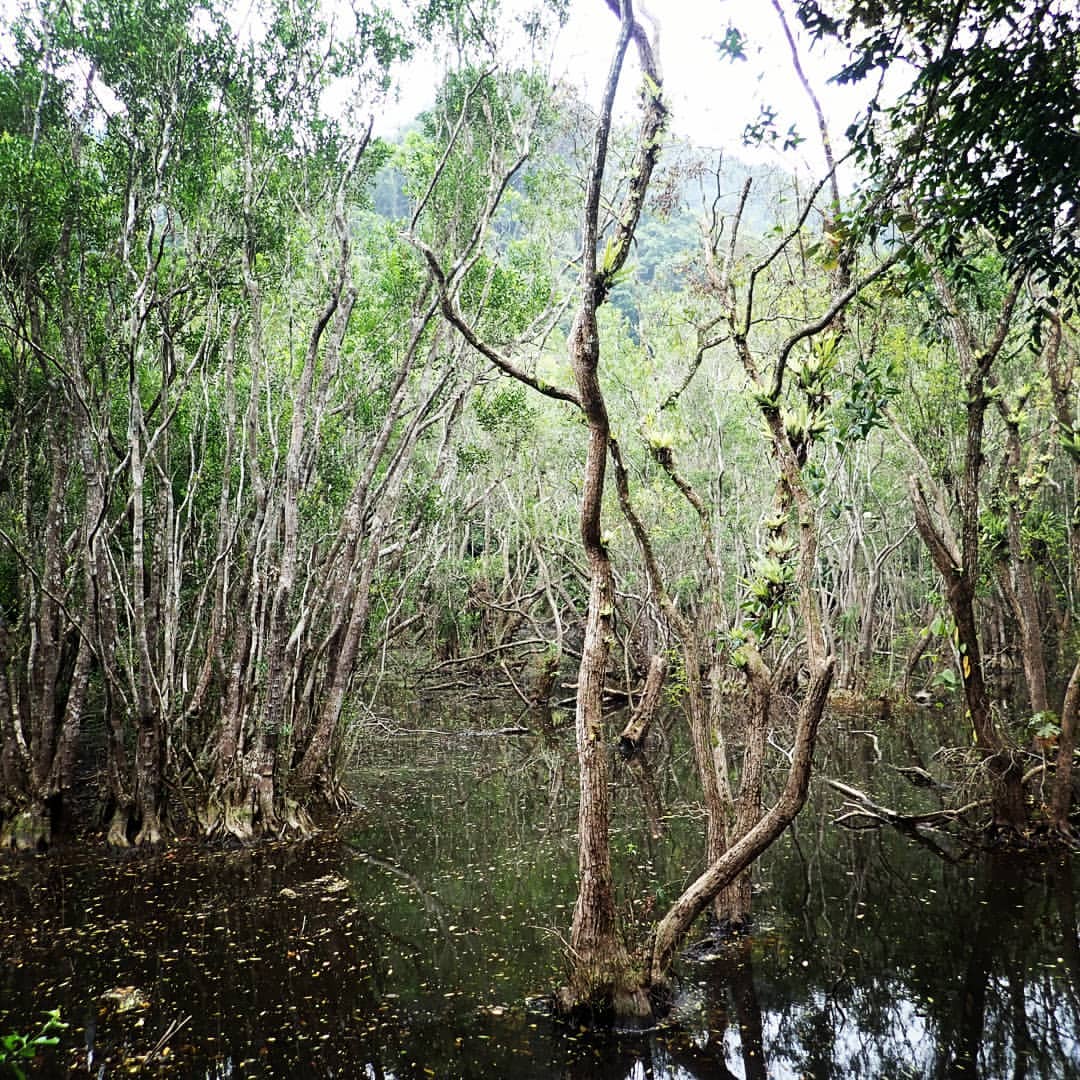 Offering a captivating exploration for immersing oneself in the wonders of nature, Ao Ech area is a true paradise for any nature lover. Surrounded by majestic karst mountains, the destination covers emerald waters and tranquil seascapes, painting a picturesque natural picture. Visitors to Ao Ech area are embraced by gentle breezes, calming flows of water, and warm sunlight, enjoying a perfect serene retreat.
Ba Trai Dao beach (Three Peaches beach)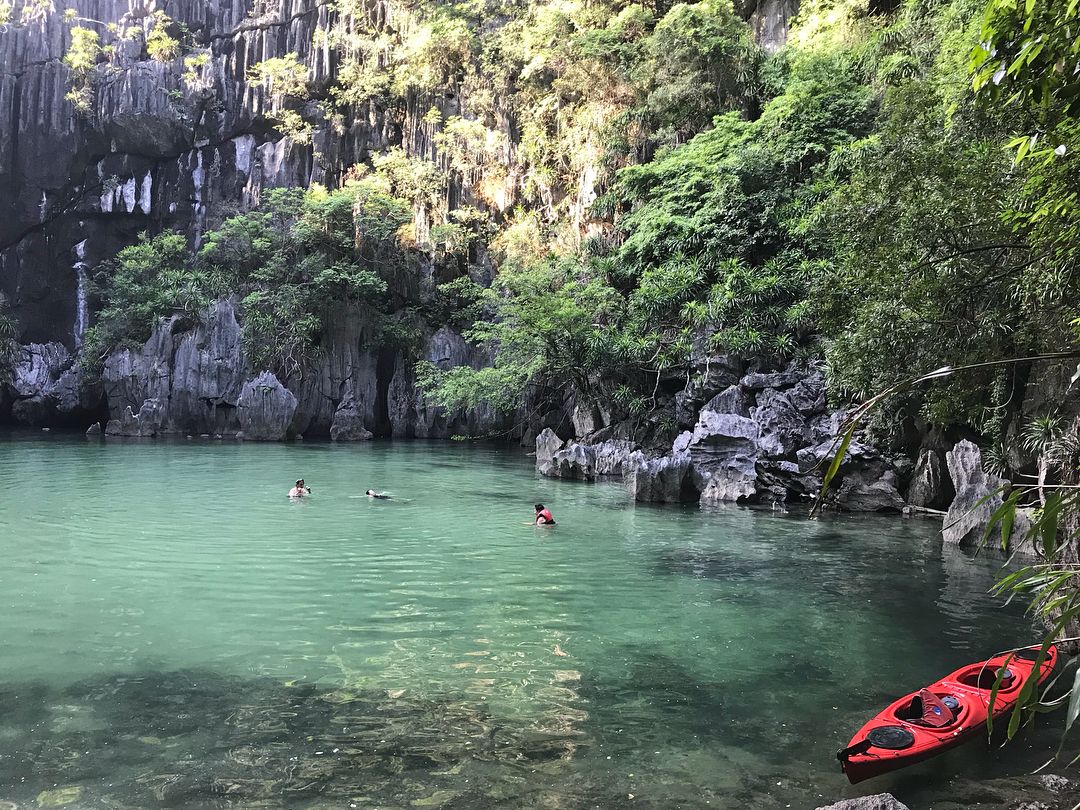 Living up to its name, Ba Trai Dao beach is a unique beauty with three picturesque islets, making it an even more exceptional destination. Renowned for its crystal-clear and calming waters, this destination facilitates numerous water sports experiences. Rich floral system, majestic cliffs, and unspoiled sandy beaches make the attraction a perfect place for a rejuvenating retreat of both exploration and relaxation.
Tra Bau area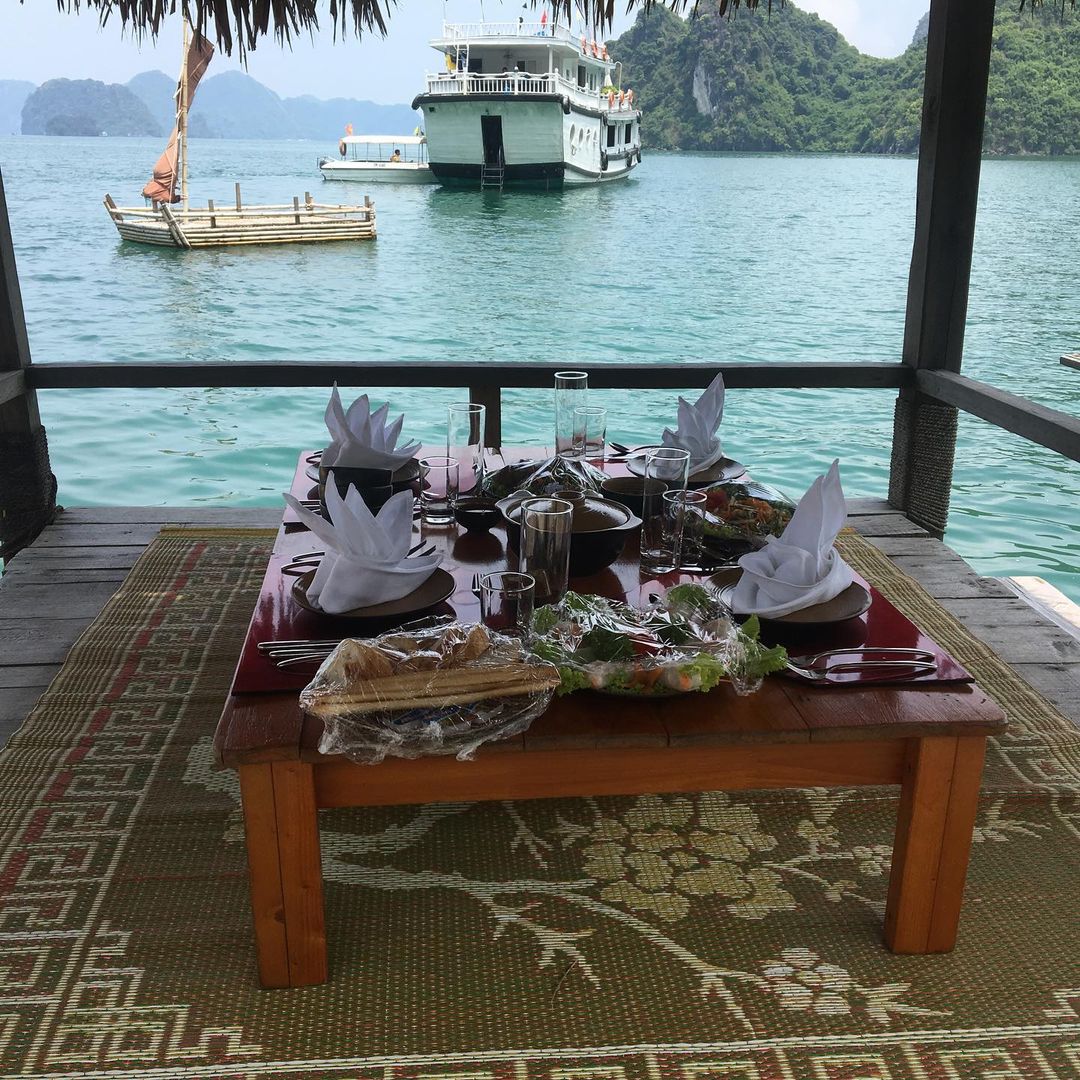 For an enchanting blend of natural beauty and immersive cultural experiences, Tra Bau area is a must-see stop for any cruises in Lan Ha Bay. The destination offers a breathtaking sight of the bay, with the expansive tranquil waters and limestone karsts seamlessly blending with local lush vegetation, creating a picturesque and idyllic natural landscape. Witnessing the serene fishing lifestyle in this peaceful natural setting, you can truly unwind their mind and indulge in a true retreat.
Top activities to do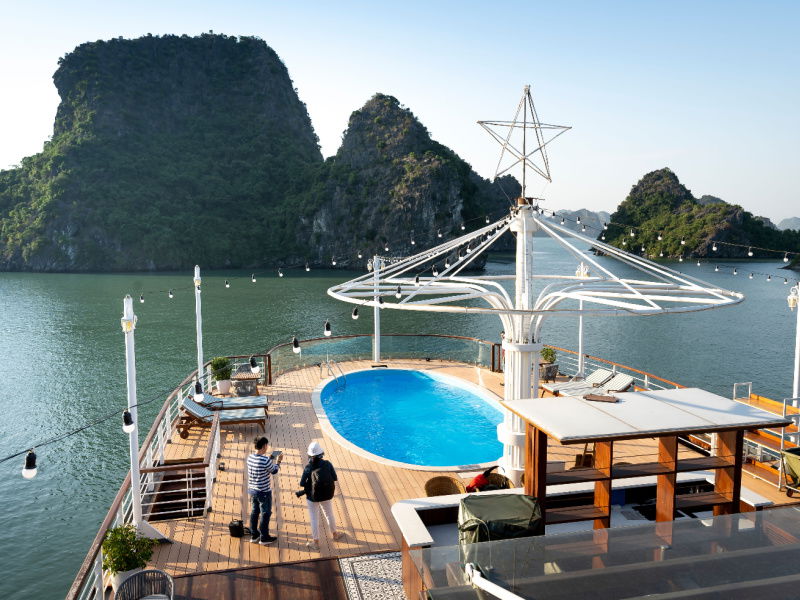 Kayaking
Here you'll find an array of dreamy spots for kayaking to fully appreciate the picturesque landscape and experience total serenity. The gentle, calming jade waters create a tranquil backdrop perfect for kayaking, making it an indispensable activity for exploring the beauty of the bay.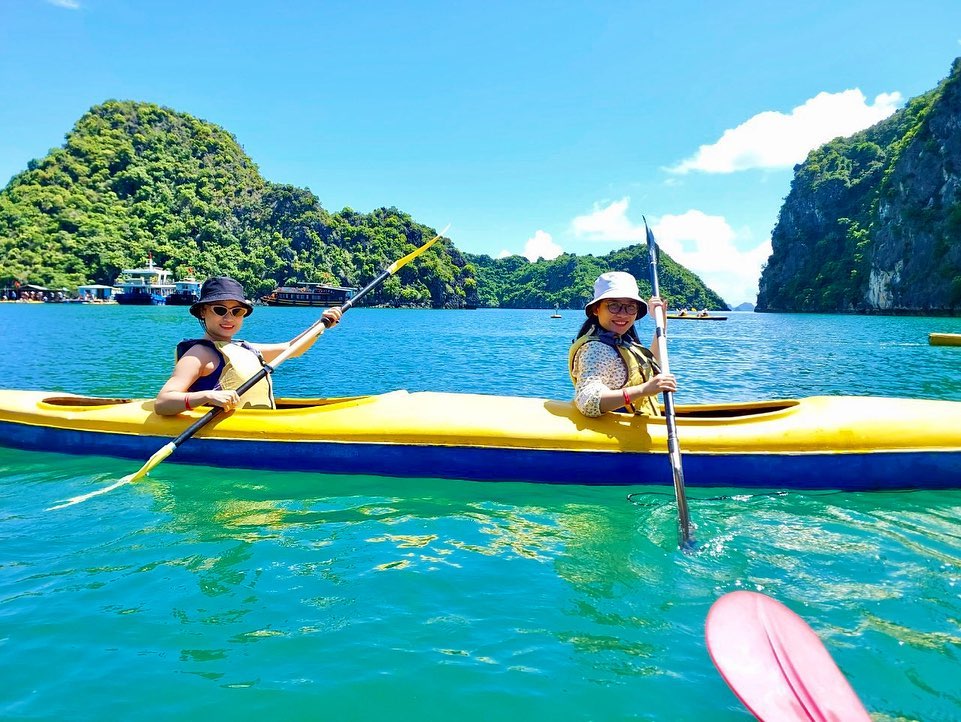 Swimming
Just swimming and fully diving into the jade-green waters is a perfect experience to marvel at the splendid natural wonder. As the water flows gently carry you, you'll find yourself surrounded by cool waters when bathed in the warm embrace of warm sunlight.
Trekking & biking
The bay is renowned for its slow pace of life, an idyllic lifestyle that allows you to fully appreciate each passing moment. Taking a leisurely stroll or biking through the rustic fishing villages, you will discover true primitiveness in every corner and every activity of the amicable locals, creating a unique cultural experience.
Onboard activities
In addition to the enriching shore excursions, you can also allow yourself to indulge in an array of fun-fillled experiences on board. Life on the cruise is filled with intriguing cultural and natural discoveries, from traditional sunset Tai Chi sessions to exciting squid fishing at night. Cruises also offer various other forms of entertainment and relaxation, such as spa services, cooking demonstrations, and sunset parties.
Top cruises in Lan Ha bay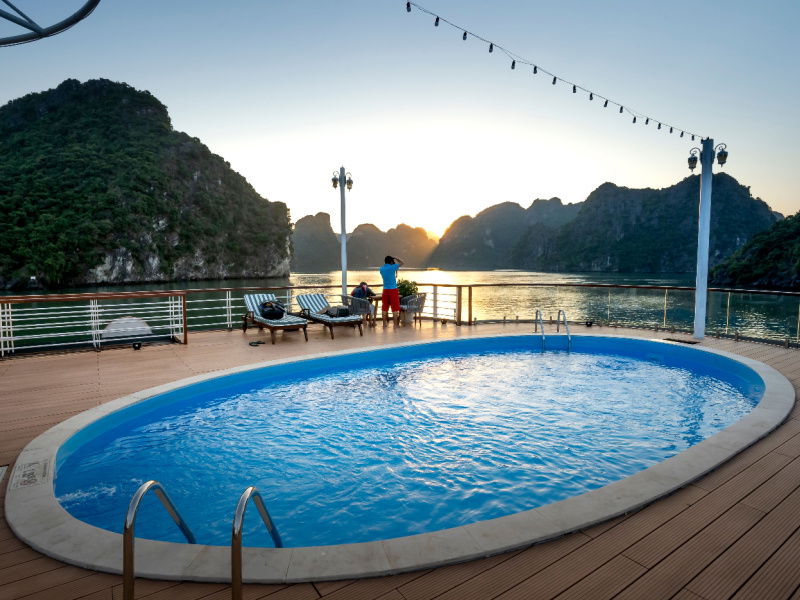 Heritage Cruise Binh Chuan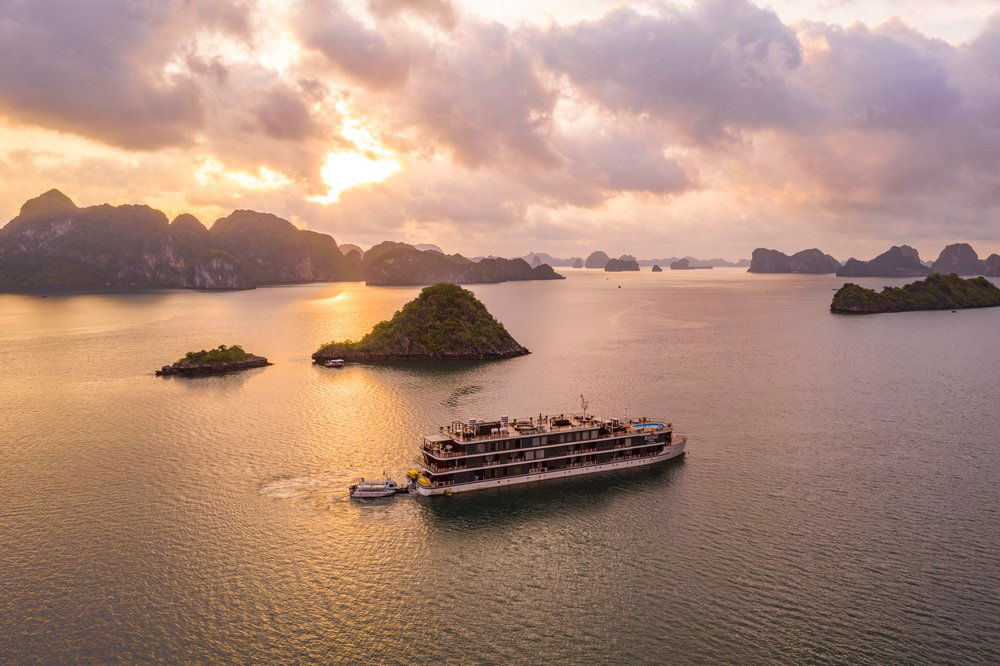 A boutique traditional boat, stands out for its luxurious cabins with a private balcony and a sea-view bathtub, unique artful gallery, wine cellar, and open-air swimming pool. Every aspect features the elegant Indochine architecture. The cruise is a premium choice for any traveling couples or families with kids.
Orchid Classic cruise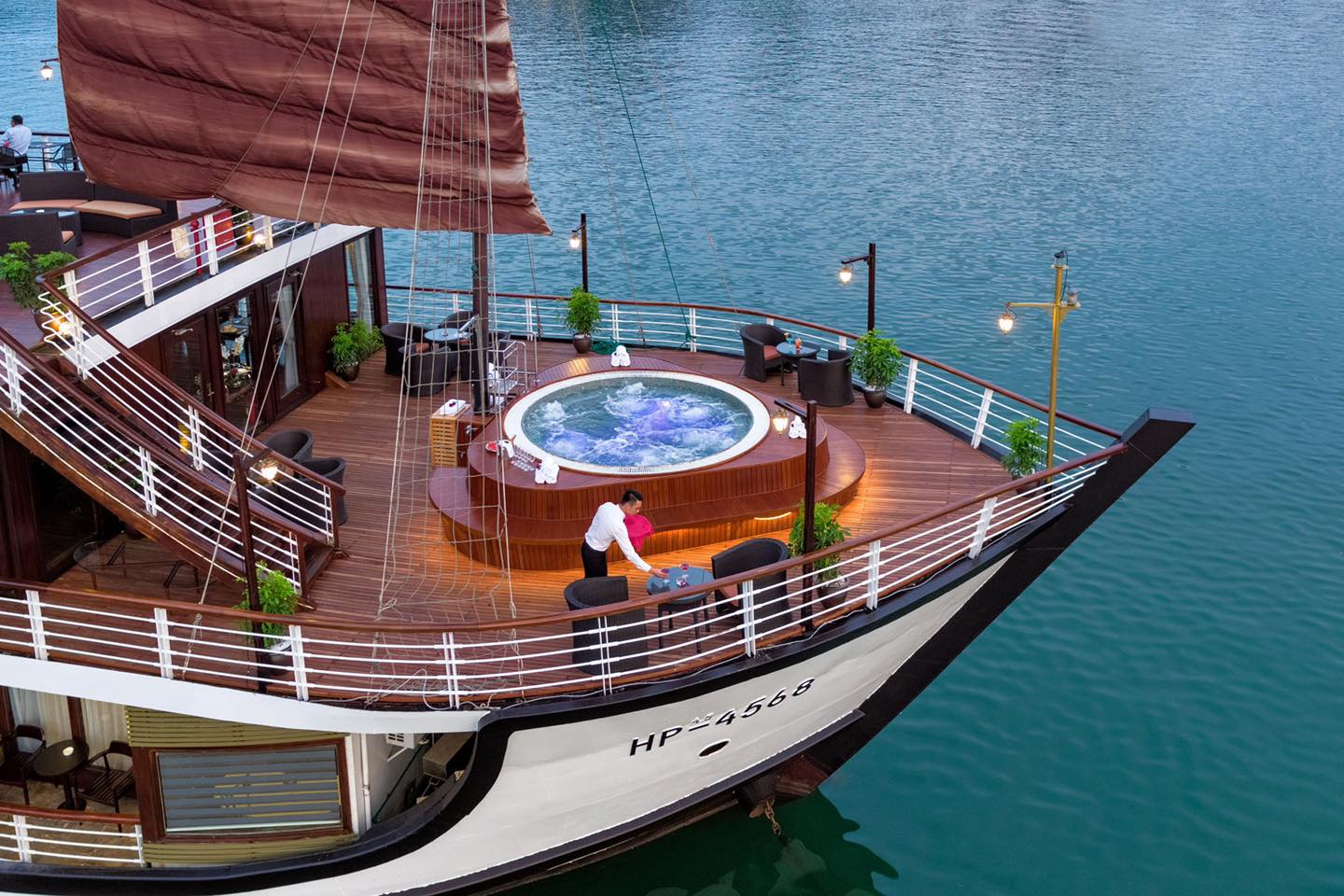 The cruise is renowned for its cozy refined cabins, an array of unparalleled public facilities and services including theme parties on request, fitness center, beauty spa, and so forth. The attentive and dedicated crew on board goes beyond to ensure your satisfaction and enjoyment.
Capella cruise
A charming retro-styled vessel, stands out for its exceptional entertainment and relaxation, ideal for those seeking a memorable and exciting adventure. Being fitted with a unique water slide, karaoke room, poker club, gym center, Capella cruise guarantees an enchanting journey filled with unforgettable experiences.
La Pandora cruise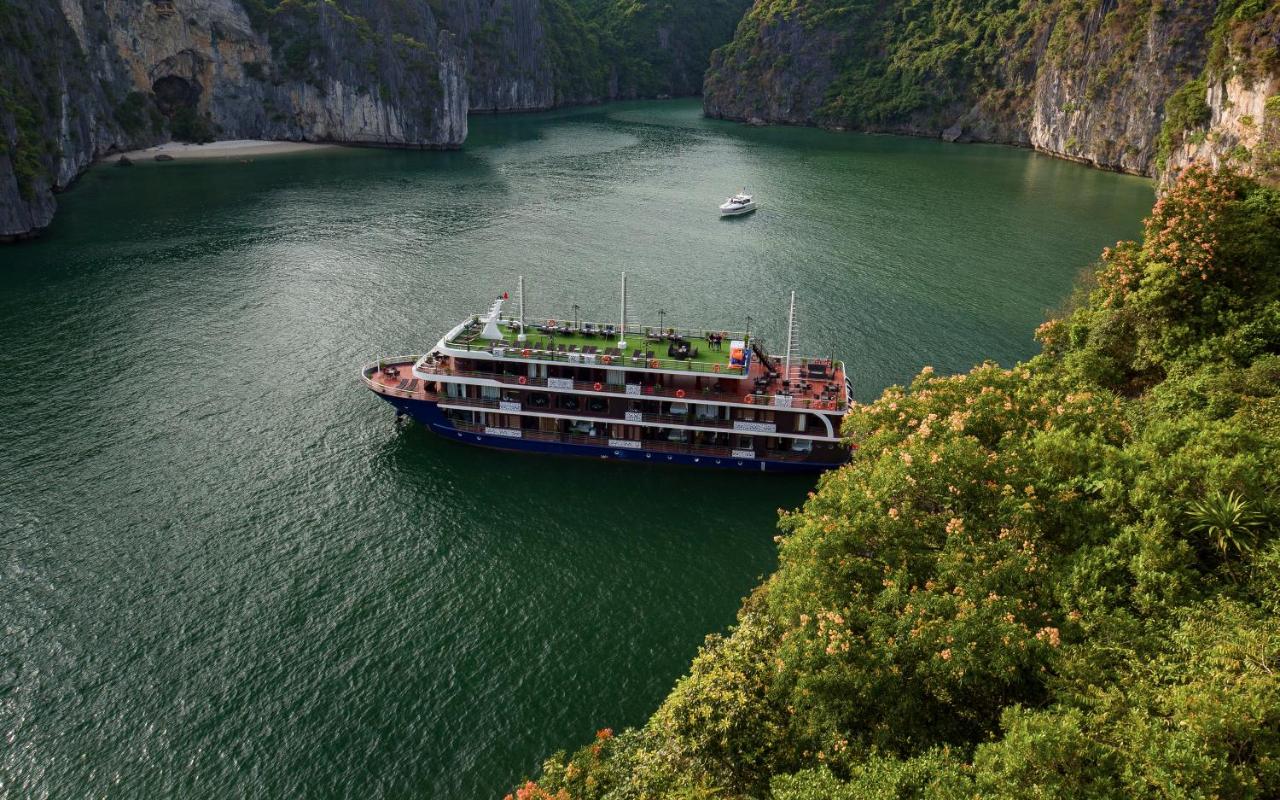 Stands as one of the best family cruises sailing through the serene Lan Ha Bay. Each spacious cabin onboard is thoughtfully equipped with superb amenities and a private open space of a balcony. The boat offers voyages filled with well-planned activities of kayaking, swimming, caving, biking, and so on.
On the other hand, Sena Cruise is a perfect cruise choice for couples who seek a more cozy romantic ambiance. The cruise effortlessly combines exquisite decor and traditional Indochine patterns while offering high-class facilities such as restaurant, bar, massage services, and spa treatments, ensuring a truly satisfying experience.
In addition to competitive prices, both Alova and La Casta Regal cruises bring unforgettable and authentic experiences for every passenger. La Casta Regal Cruise aims to create a delightful social journey for every tourist with its diverse public areas, including a seasonal jacuzzi, a fitness center, and an expansive sundeck area.
Meanwhile, comprising only 11 cozy cabins, Alova cruise stands as a good option for those seeking a more intimate and private moment with loved ones.
Questions and Answers
(2)
am interested in doing a 2 or 3 night cruise to either Lan Ha Bay or Bai Tu Long Bay. There are 3 people in my group. We want to go on a smaller boat so there are less people are prefer to go to less crowded sites. We are interested in snorkeling, hiking, and going to beaches along the way. We would like to spend around $150USD per person if possible. What do you recommend?
A
Visithalongbay Team
1 month ago
@Olivia, Per your request, we suggest you 2 options below:
1. Renea Cruise (https://www.visithalongbay.com/cruise/renea-cruises-halong.html)
- Capacity: 11 cabins
- Route: Bai Tu Long Bay
- Activities: Kayaking/ swimming in the bay, hiking to Thien Canh Son cave
- Rate: $380/Deluxe Triple/2D1N
2. Swan Cruise (https://www.visithalongbay.com/cruise/swan-cruises-halong.html)
- Capacity: 18 cabins
- Route: Bai Tu Long Bay
- Activities: Kayaking/ swimming in the bay, hiking to Thien Canh Son cave
- Rate: $490/Deluxe connecting/2D1N
Please let us know if this works for you.
Regards,
4 people found this helpful
Frequently asked questions
1.

Do cruises serve special dietary requirements?

Yes, all cruises can accommodate dietary needs such as vegetarian, gluten-free, allergy restrictions, and other food requirements on request.
2.

When is the best time to visit the bay?

In fact, the bay is an ideal destination to visit throughout the year, but the months of October to November and March to May are often considered the most beautiful due to the favorable weather conditions. Before the trip, it is also wise to check the weather forecast, particularly during July and August when there is a high probability of storms and rough sea.
3.

Is kayaking available there?

Yes, kayaking is a must-try activity and almost all cruises this fascinating activity in their itineraries.
4.

Are there any alternatives to biking in Viet Hai village?

Besides biking, you can also go for a ride in an electric car to explore and marvel at the serenity of Viet Hai village.
5.

Can I swim in the bay?

Yes, there are many beautiful attractions in Lan Ha Bay that you can go for a swim, such as Ba Trai Dao beach, Tra Bau area, Frog Pond area, and so on. However, it is important to note that swimming is only available if the weather is preferable.