Overview of Families
If you and your family members are seeking an incredible vacation with cherished memories lasting for a lifetime, you should definitely embark on a family cruise on Halong Bay filled with excitement and endless fun.
Halong Bay family cruises are thoughtfully designed to cater to the needs and preferences of multi-generational families where adventure and relaxation come together to create unforgettable memories for all family members. Whether you're travelling with children, teenagers or aged parents, there is something for everyone to enjoy ranging from diverse destinations to a wide array of activities, and family-bonding programs onboard.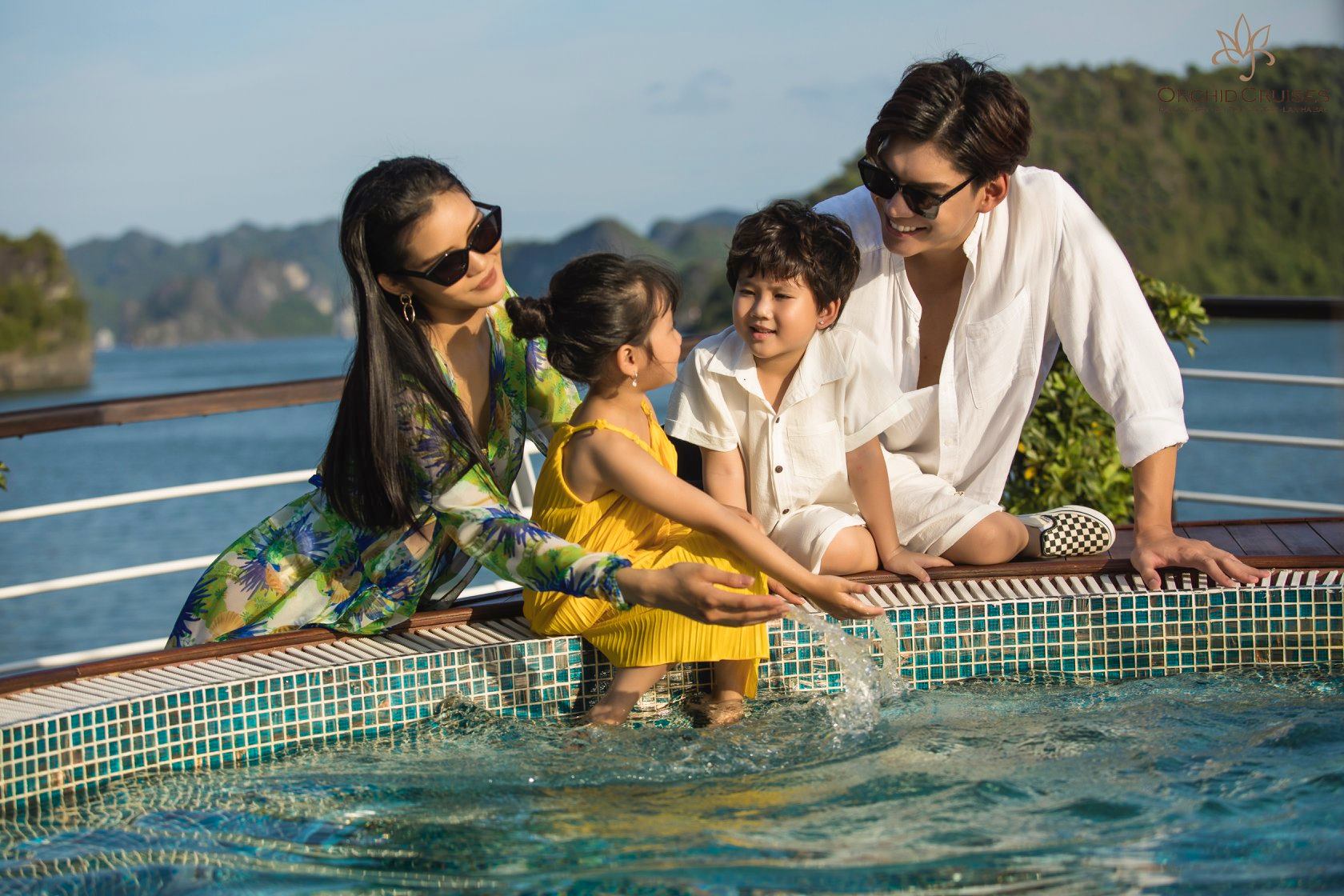 Mealtimes on these cruises are also delightful and suitable for families, with a variety of dining options to satisfy even the pickiest eaters. Professional chefs offer kid-friendly menus for children as well as fusion dining options for adults. Besides, safety and convenience are of paramount importance on family cruises which means a team of well-trained staff will serve you attentively and provide personalized services for children.
Highlights of Halong Bay cruises for families with children
This cruise type appeals to families with children for a variety of compelling reasons:
Family-friendly amenities: The cruise lines specializing in catering to families usually offer a plethora of amenities and activities suitable for all age groups. For instance, your children can have access to kids' clubs with age-appropriate activities or children's swimming pools on the sundeck of Orchid Cruise and Genesis Luxury Regal Cruise. Meanwhile, parents can enjoy spa treatments, gourmet dining, and fascinating entertainment programs such as cooking class, squid fishing, and live music performance on Mon Cheri Cruises.
Safety and security: Those cruises have strict security measures and well-trained staff to ensure the safety of all passengers, especially children.  Activities are also tailor-made to suit various guests' age groups and offered with constant supervision.
All-inclusive, family packages: You only need to reserve a family package and enjoy a hassle-free cruise vacation with your children. There is nothing to worry about booking further accommodations, dining options, and entertainment activities because all are conveniently provided on the ship. The price almost covers all services, except for private transfer, beverages, and massage services.
Entertainment for all ages: Cruises for families offer a wide range of entertainment options for children, adults and the elderly as well. While children can get entertained in the kid's club, adults and the old can practice yoga and tai chi session on the sundeck every morning. Additionally, all families can engage in a cooking class or sunset party together in the afternoon.
Educational opportunities: These cruises often incorporate educational elements into their itineraries. You can participate in guided tours to floating villages and pearl farms to immerse in cultural experiences and enrichment programs that can be both fun and educational.
Best family cruises on Halong Bay
The bay with its emerald waters, limestone karsts, mysterious caves, and breathtaking floating villages has long been a popular destination for families with children. Below is a list of some best options that you and your family members can take into consideration:
Orchid Cruises: The cruise offers a family-focused  experience with cabins designed to accommodate parents and children comfortably. Kid's meals are attentively served onboard and others can take part in many activities including kayaking, squid fishing, and visits to caves and fishing villages.
Bhaya Cruises: A fleet of Bhaya Cruises comprises a range of options suitable for families, including family cabins and interconnecting rooms. You can also expect a mix of activities, such as kayaking, swimming, squid fishing, and cooking classes, ensuring the enjoyable involvement of adults and children.
Paradise Cruises: This is a reliable cruise line for families with children to choose from for its luxurious accommodations and superior family-friendly amenities. Besides, activities like tai chi sessions, cave exploration, and beach visits are specifically designed for groups.
Halong Athena Royal Cruise: The cruise consists of 21 luxurious cabins and family suites, making them suitable for families seeking a more upscale experience. You are offered a sauna session every afternoon and children aged under 5 sharing a bed with parents are free of charge. 
Tips for choosing a cruise 
To make sure that everyone in your family reaps a wonderful experience, choosing the right cruise is very crucial. Read some tips below carefully to select the perfect  cruise:
Identify cabin figures: Family cabins or suites with large space for everyone are the top requirements. Some cruise lines also offer interconnected cabins, which can provide more privacy while keeping the family close.
Figure out your family's priorities: You should discuss with other members to opt for a cruise that suits everyone's expectations. Some important criteria include the children's policy of the cruise, entertainment programs, time for relaxation, cultural experiences, or a mix of everything, 
Pay attention to family offerings: Each cruise line has its own offerings for families. You should prioritize the cruise with dedicated kids' clubs, family cabins, personalized dietary requirements, and activities suitable for all ages.
Check itinerary and destinations: Make sure the cruise's itineraries and tourist destinations and water-based activities are appealing to all members. More importantly, check whether the cruise has kids' activities and family-oriented entertainment options onboard.
Safety and Security: Research the cruise line's safety measures, especially if you're traveling with young children. Ensure the ship has proper safety features and trained staff to cater to the needs of families.
Dining options: The food menu onboard should be kid-friendly and flexible because your kids may want to eat at different times during the day. Besides, look for cruises with a range of dining choices to suit different taste buds.
Questions and Answers
(0)
Be the first to ask a question on this page!
Frequently asked questions
1.

Do family cruises suitable for all age groups?

Yes. These cruises are designed to be suitable for a wide range of age groups, from toddlers to teenagers and grandparents. However, to have an enjoyable experience, parents with infants should not embark on the cruise because there are no specific activities and facilities for this group.
2.

Are the cruises safe for children?

Yes, the cruises are generally safe for children with lifeguards at pools, secure kids' club areas, and skillful staff to take care of children's needs. However, you should still pay attention to your children and follow any safety guidelines provided by the cruise line.
3.

What types of activities are available for children on family cruises?

Children onboard can take part in a wide range of activities such as arts and crafts, video games, movie nights, swimming pools, water slides, and more. These activities must be supervised by trained staff.
4.

Can families with infants or toddlers go on a cruise?

Yes, families with infants or toddlers can go on a cruise as some lines provide cribs, baby supplies and babysitting services.
5.

Are family cabins available on this type of cruise?

Yes, family cabins and connecting cabins are provided on family cruises so you and other members have more space to play together. Small kids can also have cribs or extra beds to sleep separately.