Overview of New Cruises
As of 2023, a variety of cruise lines in Halong Bay have unveiled a fresh batch of vessels, often generating significant attention and excitement from the public. This new series of megaships features sleek designs, splendid interior decoration, larger capacities, and many new features that we haven't seen before.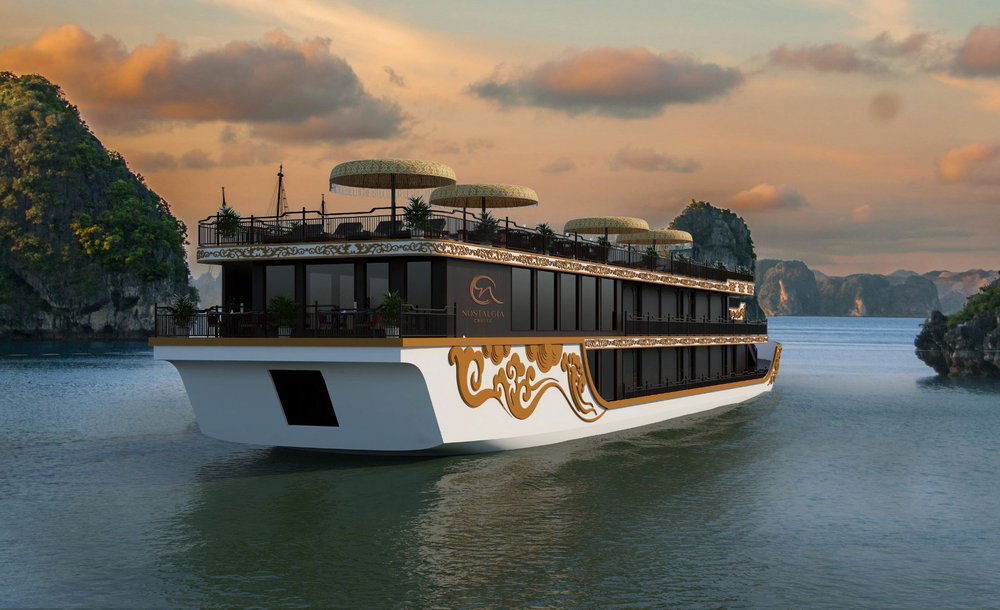 What to expect in new cruise ships?
Unlike a majority of existing cruise lines which often follow traditional, classic design styles, this year, you'll be amazed by the advancement of novel vessels to the next level. Alluring design, larger staterooms, delectable culinary delights, excellent entertainment programs, and well-researched itineraries contribute to the fascination of Halong Bay's latest cruises. Consequently, these 5-star floating hotels will be able to persuade the most fastidious travelers.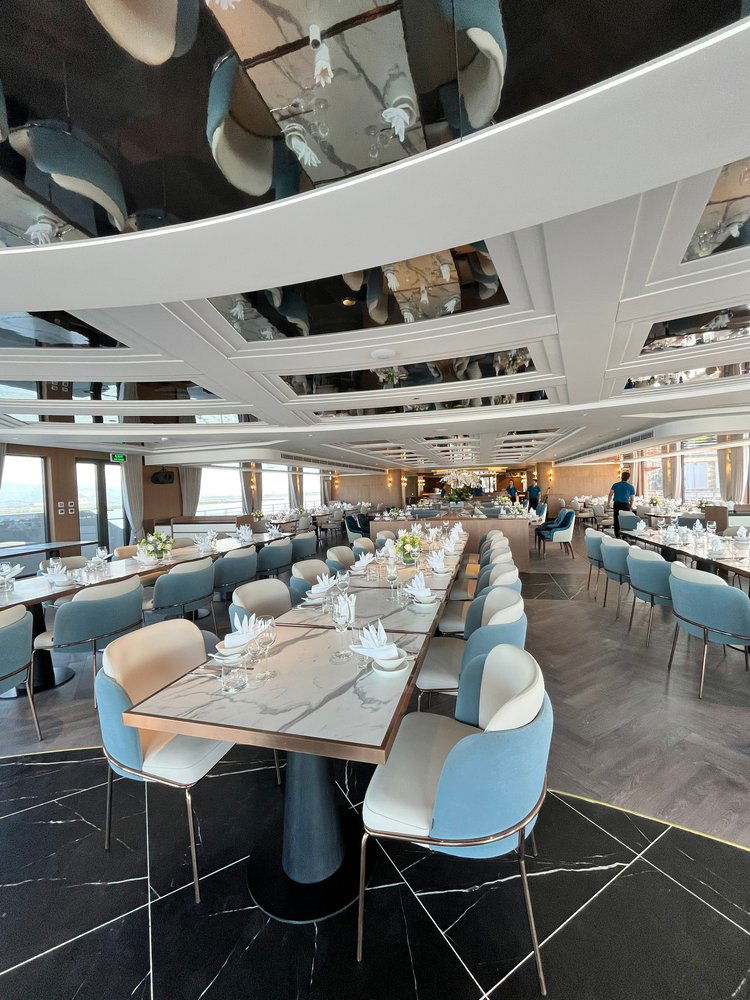 More impressive architectural design
Newly launched cruises like Nostalgia Cruise and Ambassador Day Cruise tastefully combine lavish emperor architectural design with modern touches to bring a sense of royalty and enjoyment. Meanwhile, modern yachts like Essence Grand or Catherine Cruise are the symbol of opulence and modernity that strikingly differentiate themselves from conventional cruises.
Bigger and better cabins
Staterooms and suites on these new cruises are generally more spacious and well-equipped with state-of-the-art amenities. The average room size ranges from 30sqm to 50sqm and each cabin is fully fitted with a private balcony or sun terrace and personalized services.
World-class dining options
A diverse menu that is characterized by the essence of Euro-Asian cuisine crafted by talented chefs plays a pivotal role in elevating your cruise experience. On Essence Cruise, for instance, you'll be served fresh local seafood and infused dishes in a floral setting with a capacity of 140 guests. Nostalgia Cruise's restaurant, on the other hand, offers an array of Vietnamese specialties, typically Hue cuisine and Quang Ninh seafood in a luxurious royal ambiance.
Superior amenities onboard
Embarking on one of the new Halong Bay cruises this year, you'll have access to the largest year-round saltwater swimming pool, a stylish twin 600-sqm sundeck, or a heated Jacuzzi pool that provides the ultimate indulgence amidst the sea.
Best new cruises in Halong Bay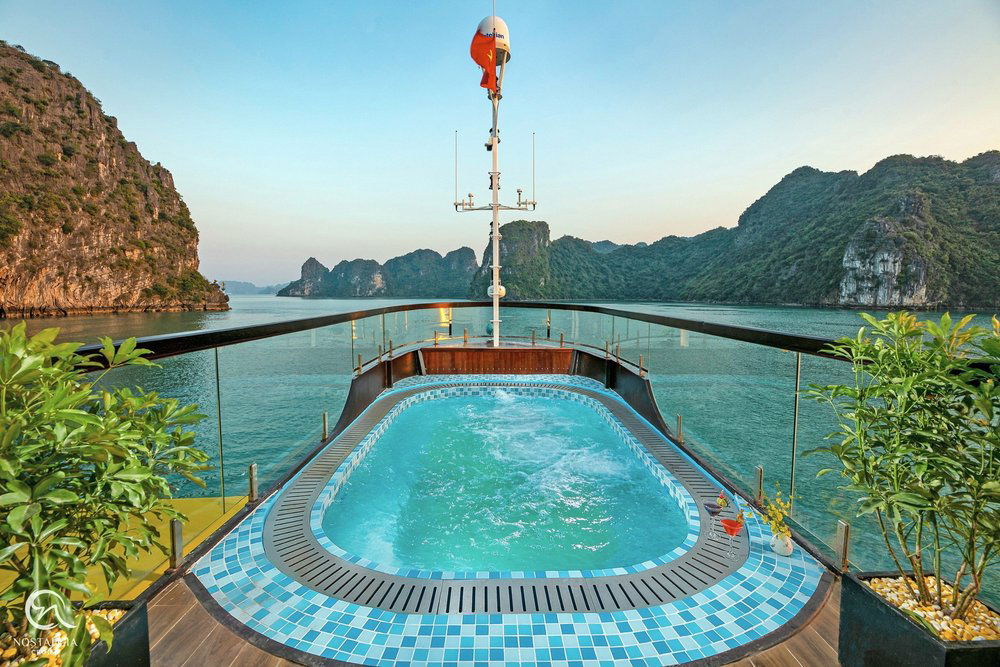 A lot of surprises to expect in this year's batch of new cruises and here are some of the recommendable brands for you to consider.
Essence Grand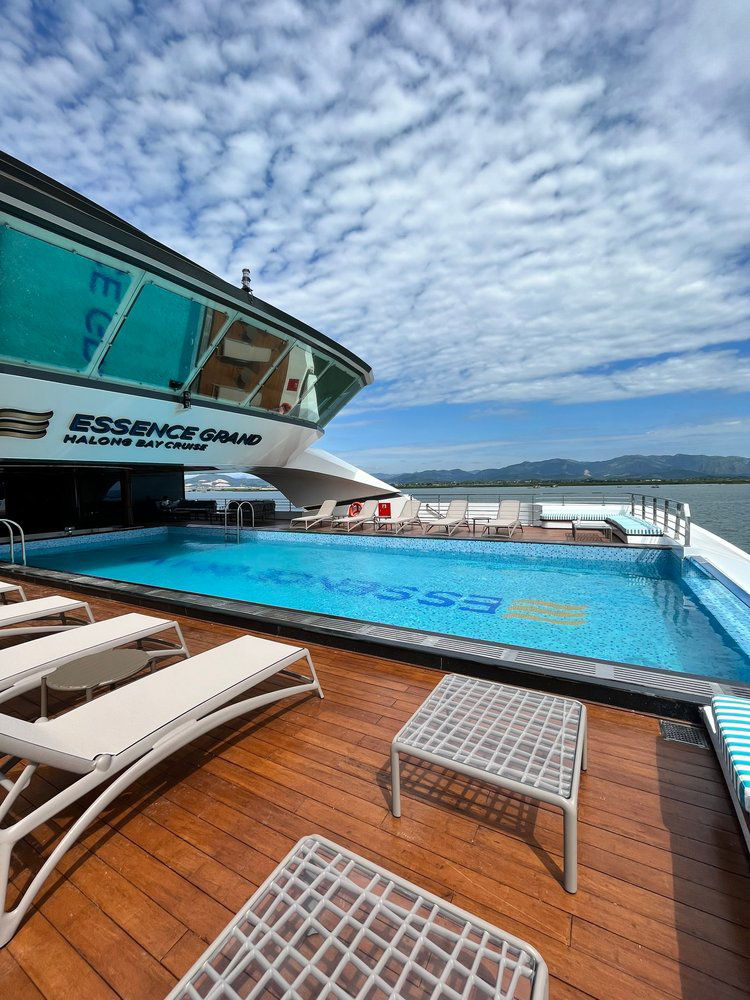 Number of cabins: 55
Highlight features: Stellar sky bar and outdoor swimming pool & bar.
With over 50 years of experience in the maritime transport and shipbuilding industry, the cruise operator of Essence Grand aims to launch one of the best 6-star vessels that meet international standards. The ship can accommodate up to 300 guests at a time and provide guests with personalized services. It typically follows a yachting style with generous suites fitted with a private terrace, Stellar Sky Bar, and infinity swimming pool & bar.
Elite of the Seas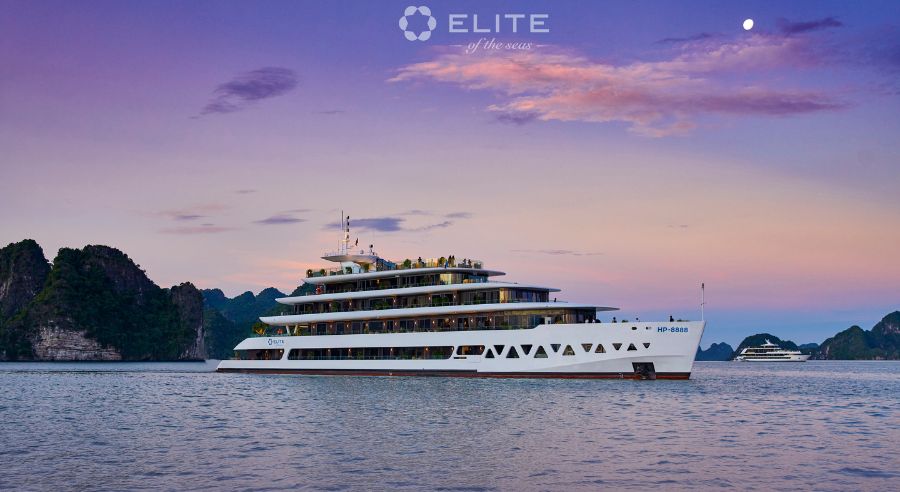 Number of cabins: 22
Highlight features: Mini golf course, wine cellar, outdoor swimming pool, a wide range of itinerary options
Elite of the Seas Cruise carries a new breeze to the current contemporary cruises on Halong Bay. The cruise stands out with premium suites, a variety of itineraries, a panoramic bar, an outdoor pool, a mini golf course, a wine cellar, and a chic dining room. Besides, you'll have ample chances to explore Lan Ha Bay with diverse duration ranging from two days to five days.
Ambassador Day Cruise
Number of cabins: 45
Highlight features: Outdoor Jacuzzi pool, 500-guest restaurant, and a glass bridge
This is the first and largest 5-star day cruise on Halong Bay with a capacity of 500 guests. The cruise is appointed with deluxe cabins, an open-air Jacuzzi pool, and first-rate services. Significantly, there are a sophisticated glass bridge and stylish twin decks spanning an area of 600 sqm for you to admire the seascapes.
Nostalgia Cruise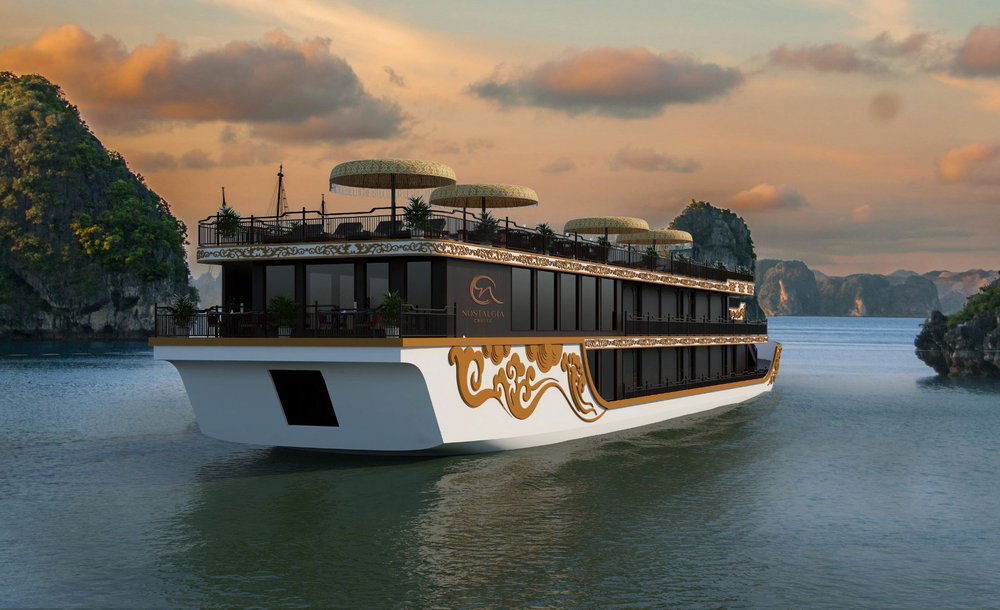 Number of cabins: 10
Highlight features: Hue royal architecture and heated Jacuzzi pool
Nostalgia Cruise is imbued Vietnamese-Hue royal architecture that brings you an authentic traditional experience dating back to ancient times. Staterooms are charmingly designed with Oriental philosophy and Vietnamese feudal patterns. Onboard, you can unwind in the heated Jacuzzi pool, savor Vietnamese fusion cuisine, and engage in plenty of entertainment programs.
Questions and Answers
(0)
Be the first to ask a question on this page!
Frequently asked questions
1.

Are new cruises more expensive than the established ones?

Yes. The prices of new cruises, especially the upscale ones are generally more expensive because of high demand and novel features.
2.

What factors should be considered when I make the booking?

Certain elements such as the cruise line's reputation, its features, accommodations, amenities, itineraries, as well as budget need thorough consideration. Besides, you should also seek the latest reviews or feedback from early passengers before booking.
3.

Do new cruises have elevators?

In spite of top-notch facilities, not all cruise ships have elevators.
4.

What are the latest ships in Halong Bay?

Some cruises newly released are Catherine, Indochine Premium, Ambassador Signature, Nostalgia, Essence Grand, Ambassador Day Cruise, and Elite of the Seas Cruise.