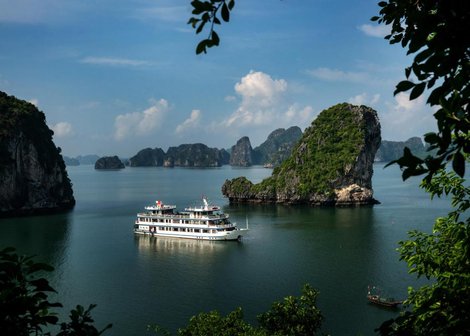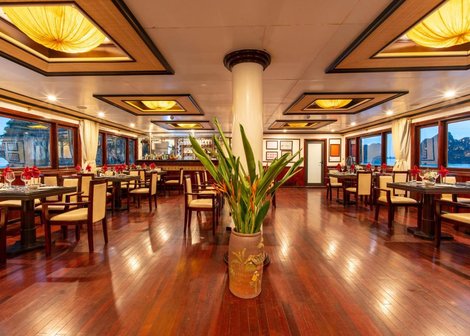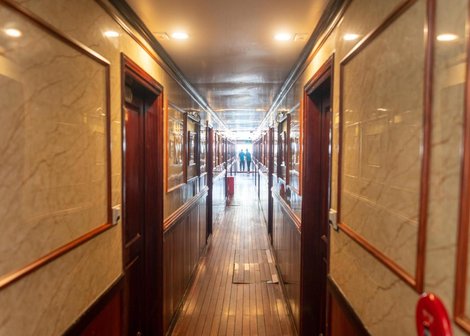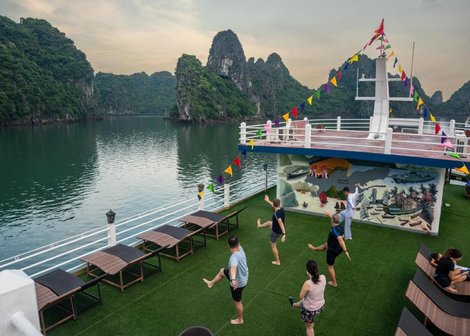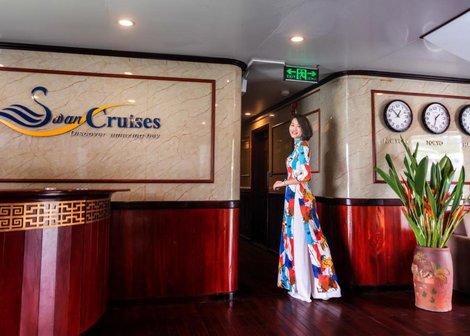 Launched 2018 - Metal - 18 cabins
Family rooms - Free kayaking - Bar - Bai Tu Long Bay route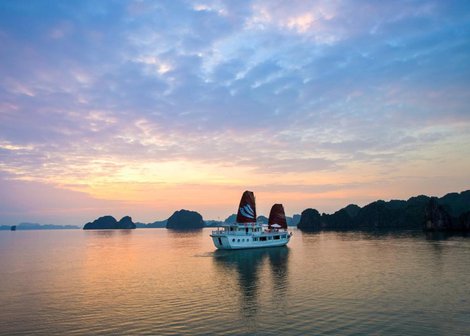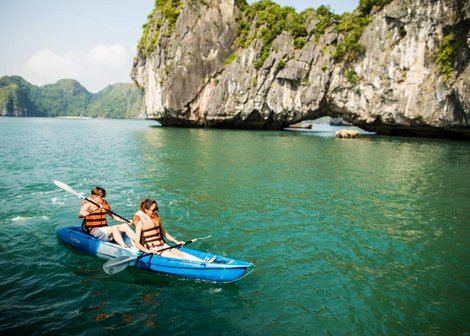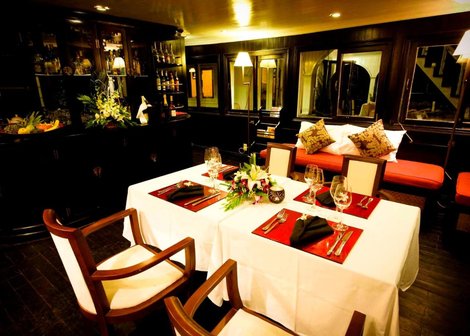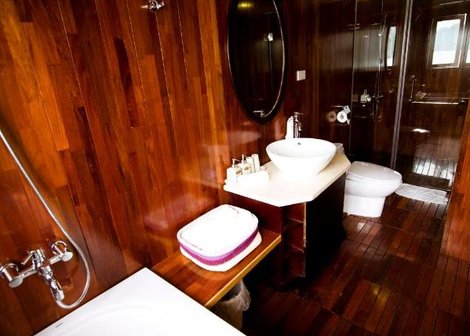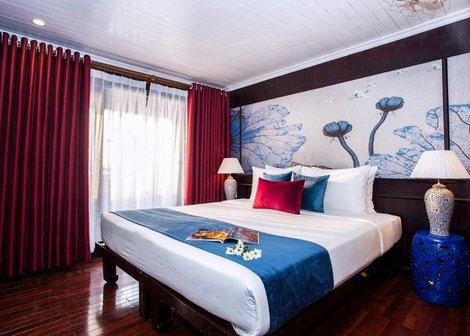 Launched 2015 - Wooden - 3 cabins
Non-smoking rooms - Taichi - Karaoke - Bar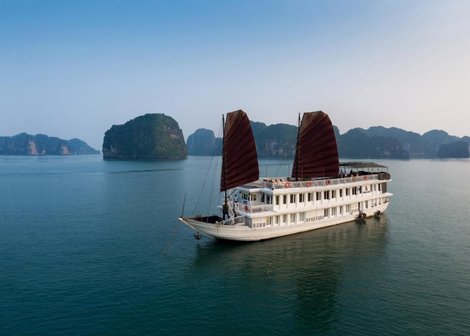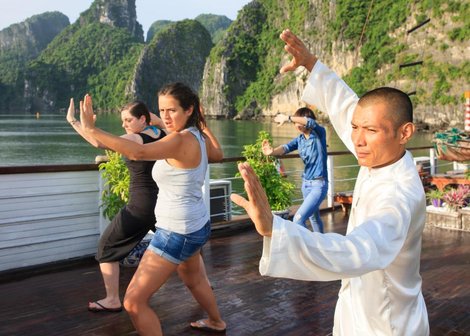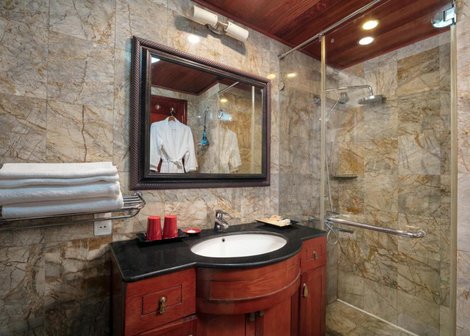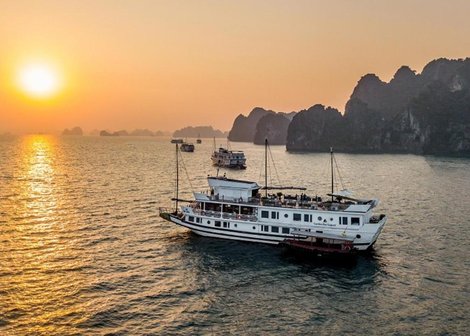 Launched None - Wooden - 10 cabins
Family rooms - Triple room - Bai Tu Long Bay route - All meals included
Overview of Junk Boats
Junk boats are traditional wooden vessels that incorporate century-old elements of ancient boats in Southeast Asia, typically in Vietnam. Most traditional junks came into operation between 2007 and 2019 and while there have been limited options for new boats and modern cruises added every year.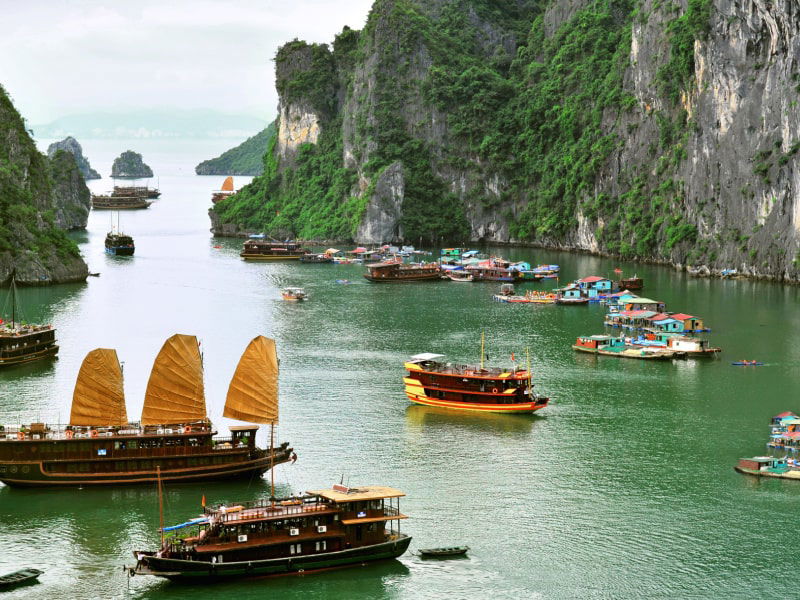 These cruises are small and not as well-appointed as steel boats. Yet, you can still expect comfortable cabins, a wealth of must-try activities, and good safety standards. They are characterized by  distinctive wooden design with curved sails, intricate detailing, and timeless Oriental charm.
In fact, the bay, at the present time, is overwhelmed with high-end steel-hulled vessels and luxurious yachts; thus, seeking a good overnight junk boat is a quite daunting task. Those who are keen on larger cruises with a modern flair would overlook the enduring charm of these traditional boats. However, if you expect the most authentic cruise experience on Halong Bay, opting for the cruise remains the ultimate choice.
Why to choose this cruise type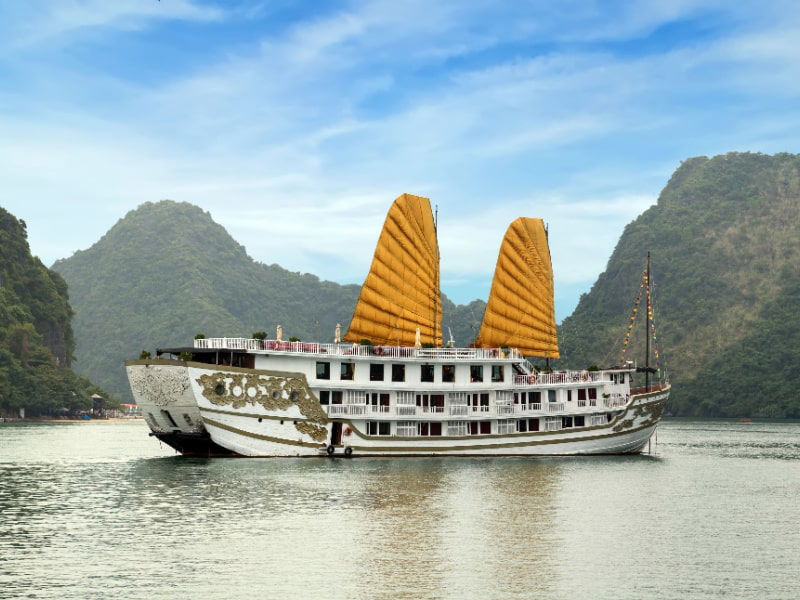 Choosing a junk boat brings a unique and unforgettable cruise experience for you to fully admire the natural beauty and cultural richness of Halong bay.
Abundance of must-try activities: Embarking on the cruise allows you to ultimately soak up the mesmerizing scenery of floating villages and participate in typical activities such as cave exploration, swimming, fishing, and mountain climbing.
Cultural immersion: There is a blend of decent amenities and traditional design on the cruise. You have an opportunity to enjoy the charm of Vietnamese craftsmanship and hospitality while onboard.
A variety of itineraries: While upscale and newly launched vessels tend to exploit Halong bay and Lan Ha bay, wooden junks focus on itineraries to Halong bay and Bai Tu Long bay with classic and off-the-beaten-track excursions. The classic itineraries to Halong bay are suitable for first-time visitors with notable attractions like Titop island, Luon cave, and Sung Sot cave. Meanwhile, journeys to Bai Tu Long bay are best suited for those seeking the unspoiled beauty of remote areas such as Vung Vieng fishing village, Thien Canh Son cave, and Cong Do area.
Authentic Vietnamese cuisine: You will be mainly served Vietnamese food, local specialties, fresh seafood, and several international dishes. Some cruises also offer cooking classes to learn more about Vietnamese cuisine.
Good value for money: Most  cruises are budget-friendly with 3 to 4-star service standards. The prices are reasonable from only 126 USD/per pax for a 2D1n trip. Regarding higher class, it can cost 175-350 USD/per pax/one night.
Popular junk boats in Halong bay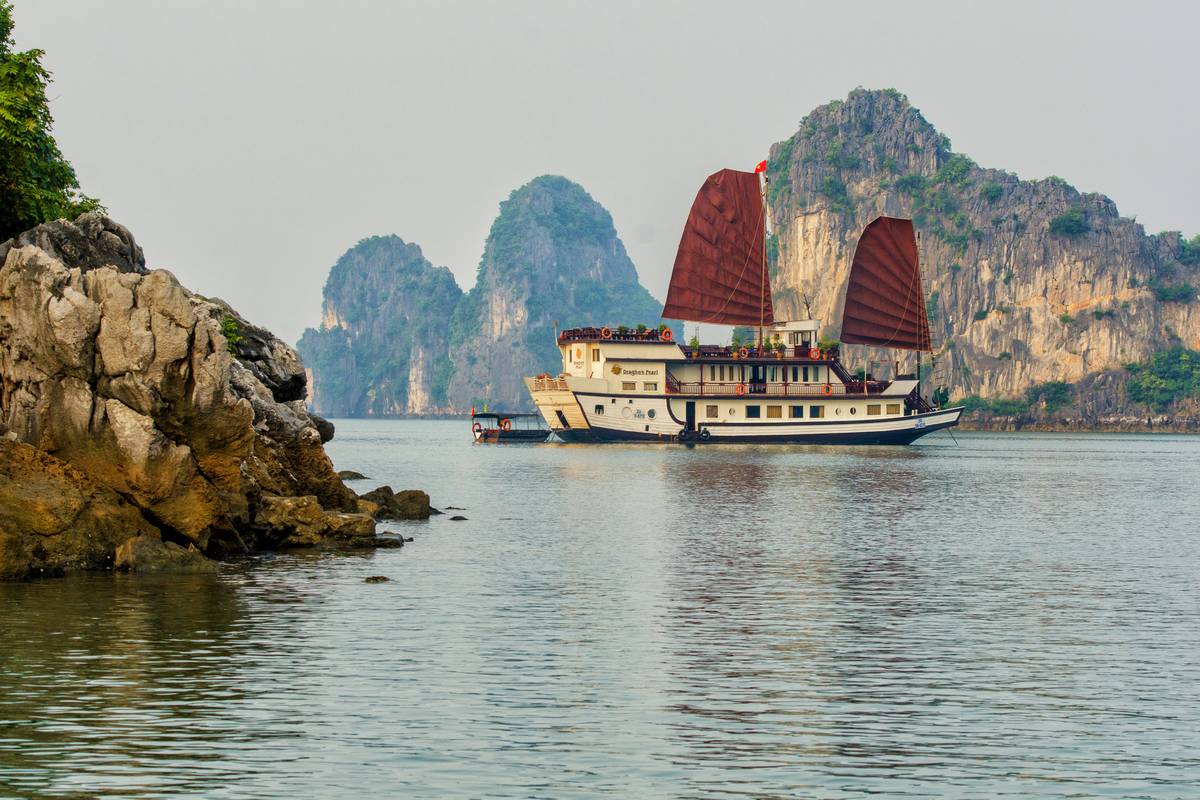 Orchid Classic Cruise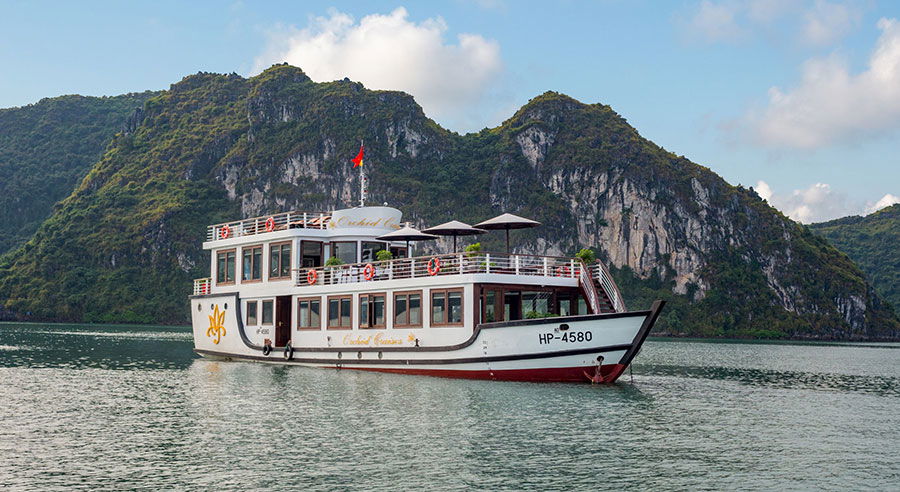 It is proud of being a high-class junk  on Halong Bay with classic Indochine architecture combined with all-wooden interiors. The cruise comprises 14 spacious suites with private balconies and sitting areas. There are an outdoor Jacuzzi on the sundeck, an intimate dining area, and a spa with a sauna and Jacuzzi for your utmost relaxation. Orchi Classic cruise promises an extraordinary cruising experience exploring Lan Ha Bay and Cat Ba Island.
Price range: From 350 USD/per room/per night
Dragon's Pearl Junk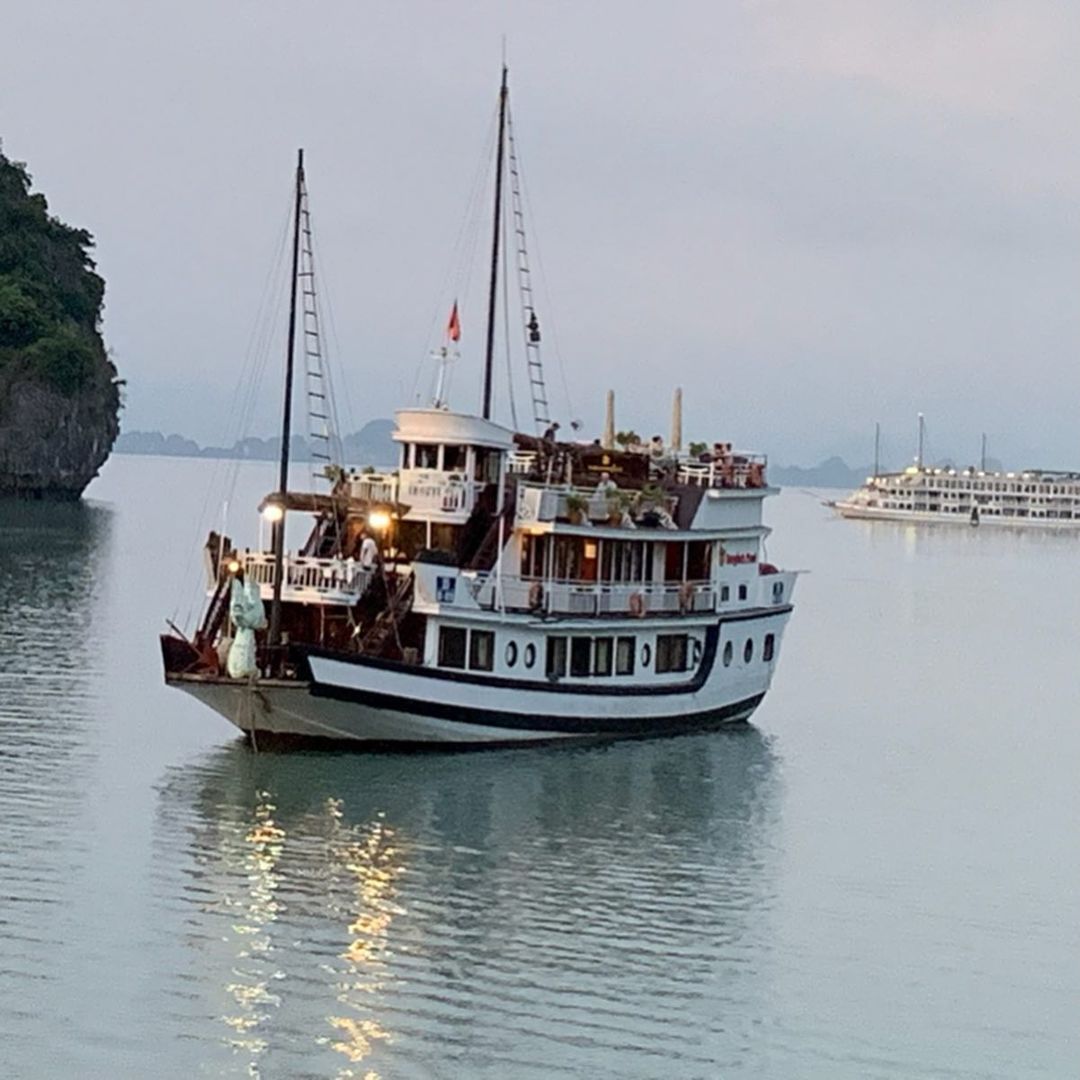 Belonging to the Indochina Junk family, the cruise is modeled after the traditional Indochine junk with a total of 10 cabins across 3 decks. Staterooms are tastefully decorated in a traditional style and fitted with high-quality facilities. The dining room both indoor and outdoor enables you to savor tasty meals and enjoy the scenery. Noticeably, Dragon's Pearl Junk offers off-the-beaten-track itineraries to Bai Tu Long Bay with a number of interesting activities.
Price range: From 184 USD/per room/per night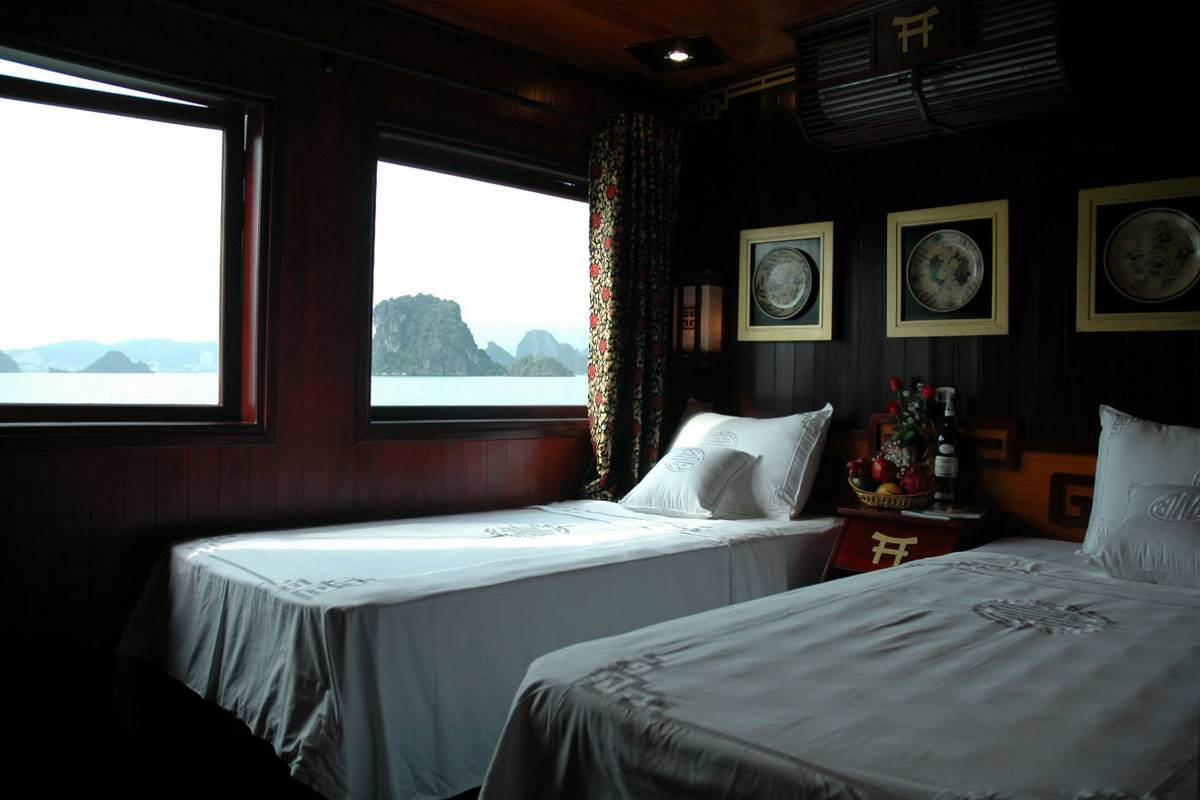 Paradise Sails
The cruise offers a perfect mix of chic, modern styling, and traditional Vietnamese detailing. You'll be impressed by the warm, classic interior with luxurious cabins and wooden furnishings. In an intimate dining room, you are served a Vietnamese royal-like menu and a wide range of beverages. The cruise provides well-researched itineraries to discover the best parts of Halong Bay, stopping over Sung Sot Cave, Luon Cave, and Titop Island. After a day of exploration, you can get rejuvenation in the luxurious spa with excellent massages and spa treatments.
Price range: From 294 USD/per room/per night
Questions and Answers
(0)
Be the first to ask a question on this page!
Frequently asked questions
1.

What are the best junk cruises in the bay?

Some of the best cruises include L'Amour Junk, Dragon Legend cruise, Prince Junk, Dragon's Pearl Junk, and Indochina Junk.
2.

How much does it cost for a night on the boat?

The prices vary depending on the quality of the cruise. While a 3-star cruise costs only around 125 USD/per room/per night, a 5-star cruise can cost up to 400 USD/per room/per night.
3.

Do these boats have the same itineraries as others?

Yes. Most cruises still provide common itineraries and activities as other steel cruises. You can visit Halong Bay, Lan Ha Bay, Bai Tu Long Bay and engage in kayaking, swimming, and caving, to name a few.
4.

Can I charter a private junk?

Yes. Some cruise lines such as L'Amour Junk, Valentine Premium Private Junk, Legend Halong private boat, and Prince Junk offer charter service for a more personalized and exclusive experience.
5.

How do I book the cruise?

You can book through travel agencies, tour operators, online booking platforms, and cruise websites. You should contact the agency and book in advance, especially during the peak seasons.