Affluent voyagers are always yearning for lavish cruise ships that are crafted for the most exclusive experiences. Thankfully, from exquisite cabins to Michelin-starred chefs and top-notch amenities, Halong Bay cruises have them all. The list below pick out the best luxurious cruises in the bay that you should consider.
1. Paradise Peak Cruise
The 8-cabin luxury "floating hotel" on Halong bay
Paradise Peak earns its stripes just by being the most expensive traditional wooden junk in Halong Bay. 8 extravagant suites are a reminiscence of classic design with opulent furnishings and stunning artworks. Junior suites provide a private dining area while superior and premium suites have a private balcony and private front terrace respectively. The dining room features an enchanting setting that takes on the ambiance of the dishes served from traditional Vietnamese to more familiar Western cuisines. Other nice touches include a pampering spa with sauna & Jacuzzi, fitness, and library.
Why we love it: Paradise Peak is one of the most famous brand names in the Vietnam cruise industry. This ultra-luxury ship gives priority to the seclusion with a few suite cabins and separated living corners. It's also small enough to access less-visited destinations that other megaship cannot.
Luxury features: Typical dining areas (in the balcony, at the restaurant, on the sundeck, and on the beach) and wellness facilities like a sauna & Jacuzzi, massage service.
Price: starting at US$780
Itinerary: Tuan Chau Marina, Tung Sau Pearl Farm, Sung Sot Cave, Titop Island, Trong Cave, Trinh Nu Cave, Cua Van Floating Village
Read our review for Paradise Peak Cruise
2. Heritage Cruises Binh Chuan (Cat Ba Island)
Luxury cruise with large outdoor swimming pool.
The 20-suite Heritage Cruise has operated far-from-luxurious vessels. The ship of opulence blends classical French-Indochina charms with Vietnamese local touches. Every unit has a private balcony with a daybed and beautifully-decorated with hand-painted pictures. Regal suites are the largest rooms that can be connected with the Ocean suites for a total area of79m2. Heritage Cruise also hosts a sublime selection of superior amenities with highlights are White Lotus Spa, Bach Thai Buoi Library, L'Art de l'Annam, and the largest heated swimming pool in Halong Bay.
Why we love it: The ship has unique design and decoration. Cabin rooms are superbly spacious compared to the average. The cruise's amenities are among the most impressive on Halong Bay thus offering are a lot of spots to chill inside the cruise.
Luxury features: The large swimming pool and connecting cabins on the cruise.
Price: starting at US$423
Itinerary: Got Ferry Terminal, Ba Trai Dao Beach, Viet Hai Village, Ba Ham Lake, Dark & Bright Cave
Read our review for Heritage Cruise
3. Stellar of the Seas Cruises
Luxurious cabins on Stellar Cruises
Stellar of the Seas is amongst the newest and most contemporary luxury cruise line in the bay. The cruise's design is second-to-none in its sophistication. Uniquely, some of 22 hi-end suites have sloping roof glass windows, a sun terrace, a variety of modern facilities. Notably, it boasts a large 50sqm seasonal swimming pool on its 3rd deck and a mini-golf course.
Why we love it: One of the newest cruises on the bay with top-end cabins provided at an affordable rate. It has extended itineraries up to 4 and 5 days and comprises many heart-pounding activities like snorkeling, cycling that are ideal choices for grown-ups and young adults.
Luxury features: Mini-golf course and a swimming pool open year-round.
Price: starting at US$504
Itinerary: Tuan Chau Marina, Lan Ha Bay, Viet Hai Village, Dark & Bright Cave.
Read our review for Stellar of the Seas Cruises
4. Ambassador Cruise
Ambassador Cruise has always prided itself on the grandest ship gliding on Halong Bay. Generously spreading across 5 decks are 46 spacious cabins and suites. Take in the sleek and stylish interior décor that is luxuriously-appointed with a private terrace, en-suite bathroom, and other modern comforts. The two sundecks are capacious and fitted with an outdoor Jacuzzi. When it comes to dining, the Michelin-starred menu is a perfect fusion of European-Asian specialties.
Why we love it: it boasts the biggest cruise on Halong Bay with no dearth of modern features and Ambassador Cruise's restaurant presents world-class dishes.
Luxury features: Michelin-starred cuisines, a vast selection of world-sourced drinks, and an outdoor Jacuzzi.
Price: starting at US$277
Itinerary: Tuan Chau Marina, Sung Sot Cave, Luon Cave, Titop Island, Trinh Nu Cave, Cua Van Fishing Village
Read our reviews for President Cruises
5. Azalea Cruise
A fine example of contemporary-designed cruise lines, Azalea is unquestionably glamorous and elegant. 24 light-filled staterooms aboard this ship are large and feature over-the-top furniture including polished marble bathroom, a mini bar, private sitting area, and a private balcony. Massive windows allow guests to absorb as much as outside vistas. Additionally, the cruise provides a variety of family favorites like indoor play areas for kids and babysitting service. However, the pinnacle of indulgence is found at the sumptuous spa with deep tissue massage and herbal essential oil treatment.
Why we love it: this is a top pick for families with kids and the decor fits those falling in love of contemporary style.
Luxury features: the spa with exclusive treatments and kid-friendly amenities.
Price: starting at US$347
Itinerary: Got Ferry Terminal, Cat Ba Island, Trung Trang Cave, Viet Hai Village, Ba Trai Dao Beach area, Ao Each area.
Read our reviews for Azalea Cruises
6. Perla Dawn Sails
Not traveling with children? Perla Dawn Sails is all about intimate and laid-back luxury for two. Original artworks and wooden specifics, the ship harks back to the glory of traditional Vietnamese architecture. Suite cabins are decorated in plush grey and offer state-of-the-art facilities such as floor-to-ceiling windows, a private sitting area & balcony, in-suite bathroom with non-woven fabric bath amenities, and a drink bar. Amazing dining is flexible either on the floating farm or in the restaurant where staple Vietnamese foods and fresh seafood are superbly prepared.
Why we love it: couples will love the luxuriant and romantic room setting while adventurers highly appreciate the extraordinary sailing routes.
Luxury features: Limousine van transfer and a splendid spa.
Price: starting at US$316
Itinerary: Got Ferry Terminal, Bright Cave, Viet Hai Village, Ba Ham Lake or Ba Trai Dao Beach, Tra Bau are
Read our reviews for Perla Dawn Sails
7. Dragon Legend Cruise
If larger cruises seem impersonal, Dragon Legend Cruise is done in privacy and offers off-the-beaten-path itinerary to the lesser-known Bai Tu Long Bay. This Indochina junk carries local culture into its architecture with a wide collection of hand-crafted cultural products namely Chu Dau ceramics and Red Dao brocade. Art aside, Dragon Legend takes the prize for unique experiences like a dip swim in the indoor and outdoor mineral seawater swimming pool, a BBQ on the beach, a water puppet show, and cave exploring.
Why we love it: Dragon Legend cruise brings the freshness of Bai Tu Long Bay to fade out your ordinary experiences and a number of exotic activities, especially the water puppet show and dining on the beach.
Luxury features: mineral seawater pools and original pieces of art.
Price: starting at US$309
Itinerary: Halong cruise port, Mua Hoa area, Vung Vieng Fishing Village, Thien Canh Son Cave, Hai Quan area
Tip: Check out our editorial reviews for 120+ cruises in Halong bay.
8. Scarlet Pearl Cruise
Scarlet Pearl Cruise
Scarlet Pearl Cruise breaks preconceptions of traditional-inspired cruises where you can discover Halong Bay in style and experience truly spoiling services. The cruise features exclusive architecture that the Vietnamese traditional design is fused with deep brown wood in Norwegian theme. Staterooms are fitted with top-of-the-range amenities such as an outside Jacuzzi and 180-degree balcony with an ocean view. On this modern ship, you can also expect classy dining experiences. Bistro Bar and Tahiti Restaurant enable you to immerse in local tastes, international specialties, and whiskey cocktails.
During the day, fun and adventurous seekers will be lured with a variety of activities namely kayak, boat sail, sunbathe, village exploration, and yoga practice. Alternatively, you can seek relaxation and re-invigoration for body and mind in Akoya Spa.
Why we love it: Scarlet Pearl is among the newest cruises on Halong Bay. It is the top pick for both individuals and families seeking fun-filled activities. You will especially be amazed at the fantastic exhibition of top-notch pearls. In addition, an array of activities and on-shore excursions make voyages on Lan Hay Bay more captivating.
Luxury features: 7-seat luxurious limousine van is available on request, high-quality pearl exhibition in the Pearl Museum, Jacuzzi pool on the sundeck, savor multicultural cuisines in a soothing ambiance with live music performances.
Price: Starting at US$404
Itinerary: Halong International Cruise Port, Viet Hai Village, Dau Be Island or Ba Trai Dao Beach, Dark & Bright Cave.
9. Le Theater Cruise
What can be a better way to fulfill your dreamy vacation than with a glamorous glide through limestone karts on Halong Bay? Regarded as a luxurious floating theater on the bay, Le Theater Cruise boasts a sleek vessel that combines contemporary European grace with Vietnamese touches. Chic, nautical-inspired suites are provided with sumptuous amenities and private balconies while still remaining a home-from-home feeling. Le Theater Cruise also offers a wide range of all-inclusive onboard and on-shore activities.
When it comes to dining, Le Opera Restaurant features a European design complete with polished timber floors and dark blue walls. Culture hoppers eager to sample traditional delicacies will satisfy with grilled seafood, Vietnamese cuisine, and hand-crafted cocktails.
Why we love it: Kayaking, swimming, and swimming are all included. Panorama suite provides an expansive bay view through curved windows. You can fully unwind in your private space without disturbance. In the late afternoon, recline on deck to admire sunset on the deck while sipping delicious cocktails and whiskies.
Luxury features: Suites are appointed with Western imported furniture and a Jacuzzi in the bathroom. The highlight of the spacious sundeck is an outdoor mini swimming pool.
Price: Starting at US$461
Itinerary: Tuan Chau Pier, Ao Ech Area, Viet Hai Village, Van Boi Area, Dark & Bright Cave.

Last updated: December 25, 2021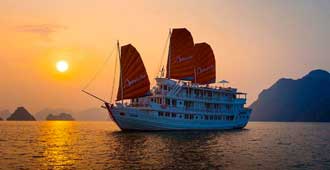 Discover the charming and exotic landscapes of Halong bay on an all-inclusive luxury cruise!
QUESTION FORUM:
Halong Bay: Questions
Free ITINERARY planning with us!
Planning your trip with our Halong local experts, we will help you with:
Accomodation: Find the best hotels/homestay or BnB.
Tours: Connect you to the trusted tour operator in Halong bay.
Cruises: Find the best cruise on your date!
It is all FREE