Best cruises in Halong bay
Halong Bay is one of the most popular destinations on many travelers' bucket list. There are many different ways to enjoy the spectacular beauty of the Bay but none is as fulfilling as taking an overnight cruise trip. The trip not only takes you deeper into the most secluded part of the Bay but also organizes many activities for you to understand more about the local culture. There are both day trip, 2 day trip, 3 day trip and even longer trip available. Pick the best one and you will have your moment of a life-time.
Expert rating (High - Low)
Expert rating (High - Low)
Expert rating (Low - High)
Price (High - Low)
Price (Low - High)
Frequently asked questions
1.

Which cruises are sailing in Lan Ha bay?

A variety of cruise lines call on Lan Ha bay including Peony Cruises, Orchid Cruises, Heritage Cruises Binh Chuan and Mon Cherry Cruises.
2.

What is the newest cruise in Halong bay?

Elite of the Seas is the latest luxurious cruise ship to be announced by Stellar of the Seas. It is about to launch in September 2022, the ship will feature many of the contemporary innovative facilities, such as open air swimming pool, stunning mini golf course and the unique wine and cigars cellar.
3.

Are there any 6-star cruises in Halong bay?

Currently, there is no 6-star cruise in Halong bay. However, in our opinion, the most luxurious cruise in Halong bay is the Stellar of the Seas.
4.

What cruise is best for couples?

There are many luxury cruises in Halong Bay that parallel the intercontinental mega-cruise in terms of services and luxury. For best luxury cruise for couples, you can take a look at exclusive cabin on Orchid Cruise, or senior suite on Stellar of the Seas. If you prefer a smaller cruise boat which allows better privacy and intimacy, you can take Paradise Peak or Orchid Premium Cruise.
5.

We are travelling with young children and wonder which cruise is kid-friendly?

If you have the budget, we recommend you consider the cruises with butler service where the cruise staff can help you baby sit your kids and you can have some time on your own. Cruises with butler service includes Hera Cruise, Orchid Premium and Paradise Peak. However if you need a more budget-friendly option, you can consider Azalea Cruise - the only cruise that has both connecting cabins and kid play room.
6.

When is the best time to book a cruise?

Generally there are many cruise options and you do not have to book too long in advance. However December is the peak travel season in Halong Bay and the top choices are always fully booked well in advance so we recommend you to book your trip at least 3 months in advance to guarantee space.
7.

How much money should I bring on board?

In general, all cruise fares already include transportation, accommodation, food and entrance fee. However drinks are not included and you may also take part in the paid activities on board such as spa or bar services. You may expect to spend extra $20-100/person for your cruise trip. Also you do not need to bring too much cash as all cruises accept payment by credit card.
8.

How many cruises are there in Halong bay?

The number of cruises grow by month and at the moment there are over 500 boats operating in Halong Bay, both overnight and for day trip purpose. These boat spread over 3 different terminals/ piers (Tuan Chau, Got and Hon Gai) with different level of luxuries and capacities. It is best that you read some online reviews to pick the best value one instead of waiting until the day before your trip and get a random choice.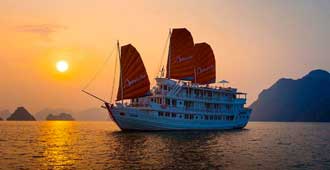 Discover the charming and exotic landscapes of Halong bay on an all-inclusive luxury cruise!
QUESTION FORUM:
Halong Bay: Questions
Free ITINERARY planning with us!
Planning your trip with our Halong local experts, we will help you with:
Accomodation: Find the best hotels/homestay or BnB.
Tours: Connect you to the trusted tour operator in Halong bay.
Cruises: Find the best cruise on your date!
It is all FREE