Best cruises in Halong bay
Halong Bay is one of the most popular destinations on many travelers' bucket list. There are many different ways to enjoy the spectacular beauty of the Bay but none is as fulfilling as taking an overnight cruise trip. The trip not only takes you deeper into the most secluded part of the Bay but also organizes many activities for you to understand more about the local culture. There are both day trip, 2 day trip, 3 day trip and even longer trip available. Pick the best one and you will have your moment of a life-time.
Expert rating (High - Low)
Expert rating (High - Low)
Expert rating (Low - High)
Price (High - Low)
Price (Low - High)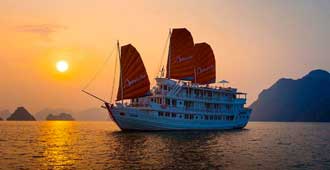 Discover the charming and exotic landscapes of Halong bay on an all-inclusive luxury cruise!
QUESTION FORUM:
Halong Bay: Questions
Free ITINERARY planning with us!
Planning your trip with our Halong local experts, we will help you with:
Accomodation: Find the best hotels/homestay or BnB.
Tours: Connect you to the trusted tour operator in Halong bay.
Cruises: Find the best cruise on your date!
It is all FREE