Overview of Budget
A budget cruise is a fantastic way to take up an unforgettable journey through Halong Bay's emerald waters, breathtaking limestone karsts and hidden grottoes without straining your wallet. This cruise type provides excellent value for money and a variety of amenities and activities onboard while cruising to multiple tourist destinations. The total price often covers necessities such as accommodation, meals onboard, entertainment, and sightseeing & entrance fees to many onboard facilities.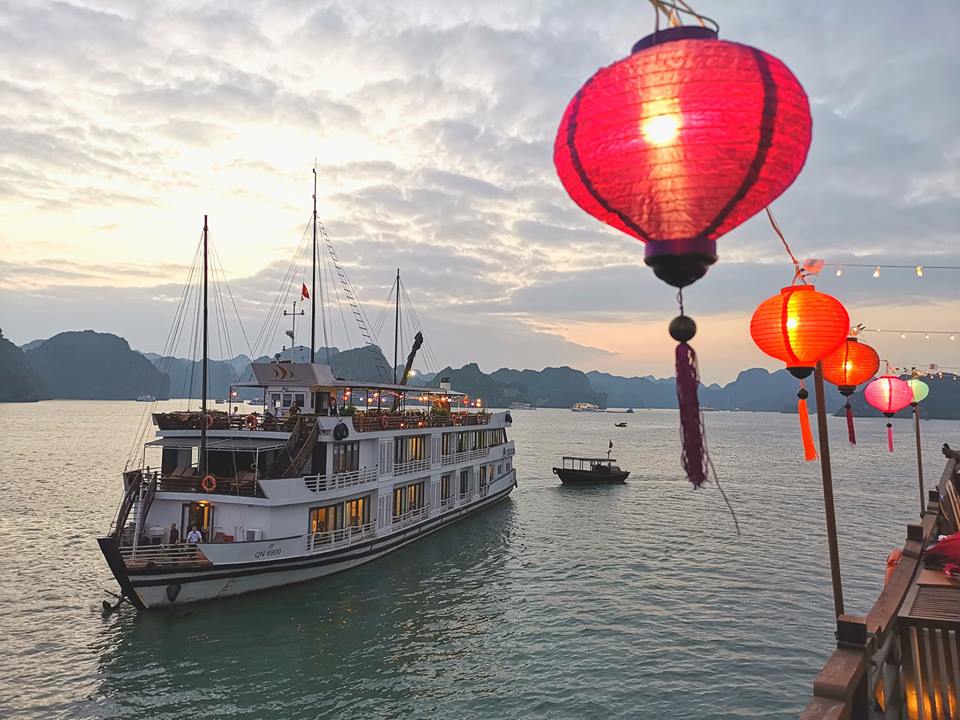 The provision of a diverse range of interests at a good price is one of the main advantages of an affordable cruise. Whether you travel solo, with friends, or as a family, there are activities and entertainment options to suit your tastes. Apart from that, a combination of visits to various tourist sites in a single trip allows you to experience different cultures, stunning landscapes, and exciting excursions, all in one adventure.
Why choose a budget cruise?
Although wallet-friendly cruises are not comparable with their premium counterparts in terms of the level of luxury, you can expect excellent value for money and a memorable vacation experience. With competitive prices, frequent promotions and discounts, these cruises have gained increasing prevalence for cost-conscious travelers looking for an enjoyable getaway. Here are some outstanding features of a budget cruise that appeal to you:
Affordability
Reasonably-priced cruises provide access to all tourists with a tight spending. The price range varies from US$100 - US$130/person. There is still a full range of decent amenities and cabins for you to stay in comfort.
Action-packed, well-research itineraries 
Praising exploration which is the primary purpose of a cruise vacation, low-cost cruises promise well-planned journeys to admire the beauty of Halong Bay's iconic landscapes, from the famous Fighting Cocks islet to the mesmerizing Surprise cave.
Local cuisine
Money-saving cruises may lack premium cuisines, western flavors, but they delve deeper into the culinary delights of authentic Vietnamese cuisine. Fresh seafood and other local delicacies are part of your cruise package.
Cultural immersion
Excursions to the bay also enable you to engage in cultural activities, interact with the friendly locals, and learn about the rich history and traditions of the bay provided by experienced guides.
Exciting activities
You'll also have opportunities to participate in a variety of activities such as kayaking, swimming, and cave exploration to immerse yourself in the bay's natural beauty fully.
Best inexpensive cruise options 
There is an array of cruises with reasonable cost that you can choose from:
Swan cruise: The cruise line particularly caters to affordable day cruises and overnight options with decent service and comfortable cabins. You'll enjoy multiple opportunities to explore stunning landscapes.
Oriental Sails cruise: This is a traditional wooden junk offering comfortable cabins and many exciting onboard entertainment programs. Frequent promotions and discounts allow you to travel comfortably without breaking your allocation plan.
Glory Legend cruises: Well-appointed cabins and organized activities to explore caves and islands are the competitive advantages of this line.
Phoenix cruiser: This cruise is tidy, comfortable, and the crew provides friendly service, making it a good budget choice.
Rosa cruise: Rose cruise has a good reputation for its reasonable prices and good service. The boats are well-maintained, and all services and amenities onboard guarantee a pleasant experience.
Popular types of travelers for low-priced cruises
These cruises attract tourists who are looking for a money-saving way to experience a cruise vacation.
Budget-conscious travelers: If you travel on a tight expense plan or simply want to save money, this cruise category brings you opportunities to discover different destinations and enjoy the amenities of a ship without overspending.
Young backpackers: Wishing to explore new destinations without spending a huge fortune is the primary reason for young backpackers to choose economical cruises. Those options allow you to see various tourist sites in one trip and onboard accommodations and meals are inclusive.
Families: There are cost-effective options for families to have a fun and memorable vacation together. Discounts or promotions for children are sometimes provided on those cruises, making it an appealing option for families.
Solo travelers: Independent travelers seeking social vibe often embark on this cruise line to participate in shared activities and communal areas, making it easier to meet and connect with other guests.
Adventure seekers: If you're a seasoned traveler placing a higher value on exploring destinations than luxury amenities, budget cruises will appeal to you the most. Those cruises especially offer a balance between affordability and a unique travel experience.
Questions and Answers
(2)
Is it possible to charter a seaplane to visit Bai Tu Long Bay?
@Richard Most seaplane flights will cover up all three bays including Halong, Bai Tu Long and Lan Ha Bay. if you wish to fly within Bai Tu Long bay area, you will need a whole charter flight. We just emailed you with options and prices.
1 people found this helpful
Frequently asked questions
1.

What is a budget cruise?

It is an ideal choice for tourists wishing to save traveling costs. The category offers lower-priced cabins, decent amenities, and less luxurious features compared to higher-end cruises.
2.

Are these cruises safe?

Yes, they are generally safe, as all cruises must meet the safety requirements set by local authorities. However, you should also check whether the cruise adheres to international safety standards and has the proper certifications. Additionally, you must follow all safety guidelines and instructions onboard to ensure a safe and enjoyable journey.
3.

What should I consider when booking a cheap cruise?

When booking a cruise with a low rate, you should pay attention to inclusions and exclusions to avoid unexpected costs, itineraries, customer reviews as well as safety and reputation.
4.

Are meals and activities included onboard?

Yes, most cruises include meals and a selection of onboard activities in the cruise package. The quality of the food and activities vary depending on the cruise lines. Be noticed of some activities may cost extra.
5.

How far in advance should I book a budget cruise?

It's a good idea to book the cruise as early as possible because they tend to fill up quickly. Additionally, booking early allows you to take advantage of early-bird promotions and discounts.