Weather in Halong bay: Climate, Seasons, and Average Monthly Temperature.
IN A NUTSHELL
Monsoon Influence: Halong Bay is influenced by the monsoon climate; which brings heavy rain and high humidity in the summer months.
Cooler Winters: Winter temperatures in Halong Bay can drop to as low as 10°C, making it a refreshing change from the hot and humid summers.
Foggy Conditions: Halong Bay can be prone to foggy conditions, particularly in the winter months; adding to the ethereal beauty of the bay.
Rainy Season: The rainy season in Halong Bay can bring heavy downpours, but these also help to maintain the lush vegetation and keep the bay thriving.
Tropical Storms: Halong Bay is vulnerable to tropical storms, which can bring strong winds and heavy rain; It's important to check the weather forecast before visiting the bay during the storm season.
Halong is one of the most humid cities in Vietnam with the average annual humidity at 84%, which fluctuate from a minimum of 68% to a maximum of 90% in a year.
Weather Overview
Halong Bay has a tropical monsoon climate with two main seasons: the hot and rainy season from May to October and the cool and dry season from November to April. During the hot season, temperatures can reach up to 35°C with high humidity and frequent rain showers, while during the cool season temperatures average around 20°C with less rainfall. Overall, the best time to visit Halong Bay is from October to April when the weather is pleasant and the visibility is better for viewing the scenic landscape.
Halong Bay Weather in Fall & Spring (September to November and March to May)
Lowest temperature: 13ºC
Highest temperature: 32ºC
Humidity: 79%-85%
Deciding on the best time to visit will depend on your personal preferences. As many people prefer the cool, dry weather of Spring and Fall, the peak visiting times tend to be from March to April and September to October. During these months, you can expect more sunny days, a cooler breeze and calmer weather. A minor shower is to be expected occasionally, but they rarely last long enough to disrupt visitors' plans.
Halong Bay Weather in Summer (May-September)
Lowest temperature: 21ºC
Highest temperature: 38ºC
Humidity: 81.5%
Summer lasts from around May to September, and in this time, the air is hot and humid. This warmer weather helps create beautiful sunsets, viewable at times when there is no rain or fog. While the promise of summer heat can be tempting, the months of July to September are also the wettest, so visitors should check weather forecasts for signs of severe weather. Temperature high for these months is 38°C.
Winter (November to March)
Lowest temperature: 10ºC
Highest temperature: 19ºC
Humidity: 79.2%
Winter lasts from around November to March. These months are the coldest with temperatures dropping down to 10°C - 20°C on average with a low of 16°C. This is also the dry season, not a lot of rainfall is to be expected.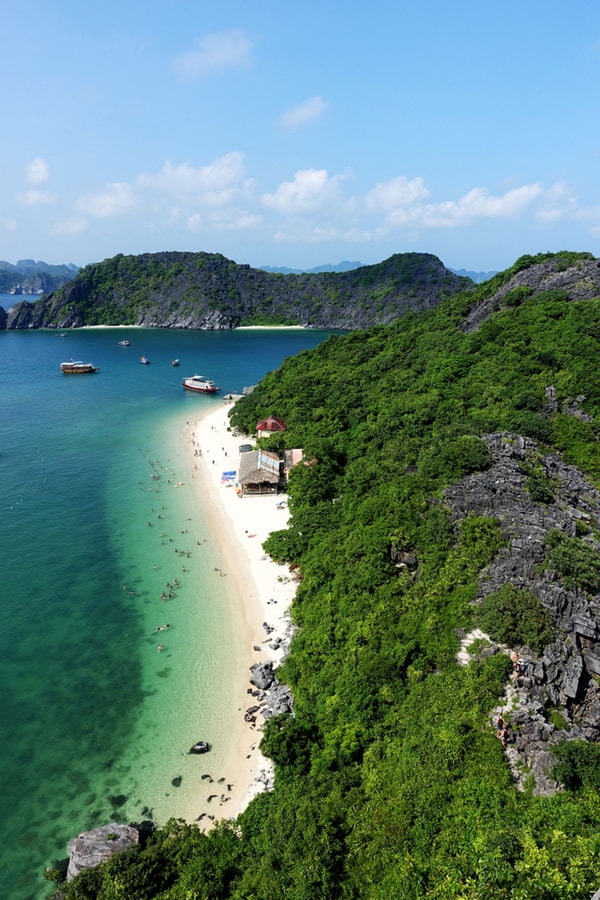 Halong bay on a sunny summer day.
Thanks to the nature of a closed-sea area, Halong is lucky not to be much affected by heavy storms. The strongest storms on the bay normally are at level 9 and 10, hardly anytime reaching level 11.
14-Day Weather Forecast
33°C 30°C Sunny skies
9 m/h
32°C 30°C Patchy rain possible
14 m/h
32°C 30°C Sunny skies
17 m/h
32°C 30°C Sunny skies
15 m/h
33°C 31°C Patchy rain possible
6 m/h
33°C 31°C Light rain shower
16 m/h
34°C 31°C Light rain shower
17 m/h
34°C 31°C Light rain shower
17 m/h
31°C 28°C Sunny skies
10 m/h
29°C 26°C Overcast skies
47 m/h
29°C 26°C Torrential rain shower
12 m/h
31°C 28°C Moderate or heavy rain shower
6 m/h
32°C 30°C Patchy rain possible
5 m/h
32°C 29°C Patchy rain possible
6 m/h
32°C 30°C Sunny skies
5 m/h
30°C 27°C Light rain shower
8 m/h
27°C 25°C Sunny skies
8 m/h
Monthly Weather Averages
Month
High / Low (°C)
Rain
February
21° / 15°
4 days
September
31° / 24°
10 days
November
26° / 19°
3 days
December
22° / 15°
3 days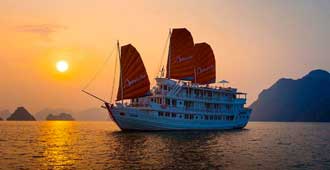 Discover the charming and exotic landscapes of Halong bay on an all-inclusive luxury cruise!
Meet local experts
Need to create your own Halong bay trip?
Call us now: +84 987 24 6600 (Whatsapp)
Customize Your Tour
QUESTION FORUM:
Halong Bay: Questions