Overview of Honeymoon Cruises
Halong bay is a captivating destination which promises romance and adventure come together in perfect harmony. Its stunning limestone karsts and emerald waters allow you and your beloved partner to indulge in a romantic and intimate escape. A honeymoon cruise provides a glimpse of the bay's over 1,600 limestone islands and islets, each adorned with lush greenery, hidden caves, and pristine beaches.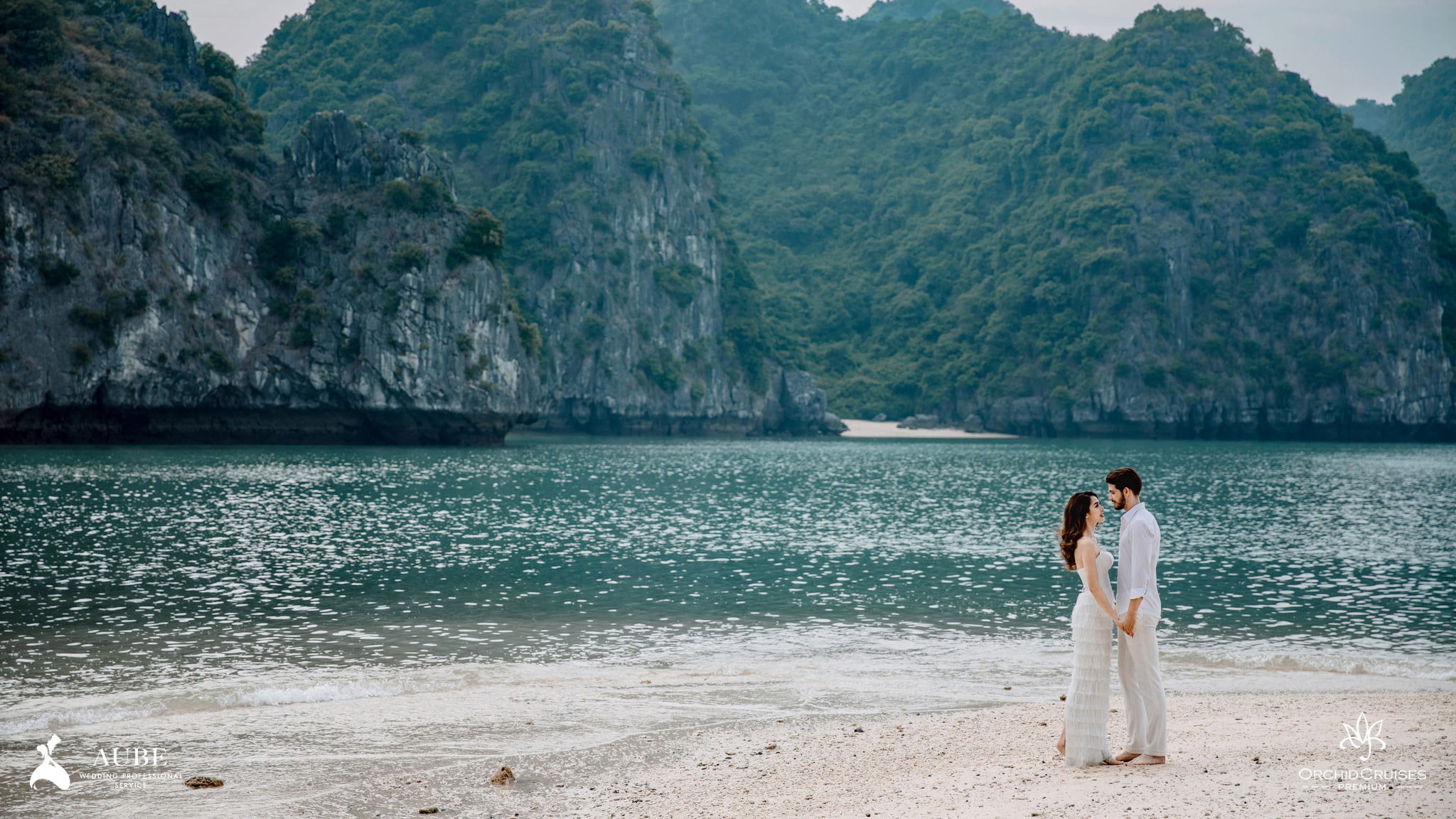 Cruise options for a romantic vacation vary from a one-cabin charter cruise to mid-range and luxury ships. Apart from well-equipped staterooms with panoramic views of the awe-inspiring landscape and attentive services onboard, you'll be treated to themed cruise programs tailor-made for honeymoon vacations, spa treatments for couples, and private dining of delectable Vietnamese cuisine. Itineraries will cover visits to mysterious caves and exciting activities such as kayaking through secluded lagoons, or simply relaxing on the deck.
Why choose a cruise trip for your honeymoon?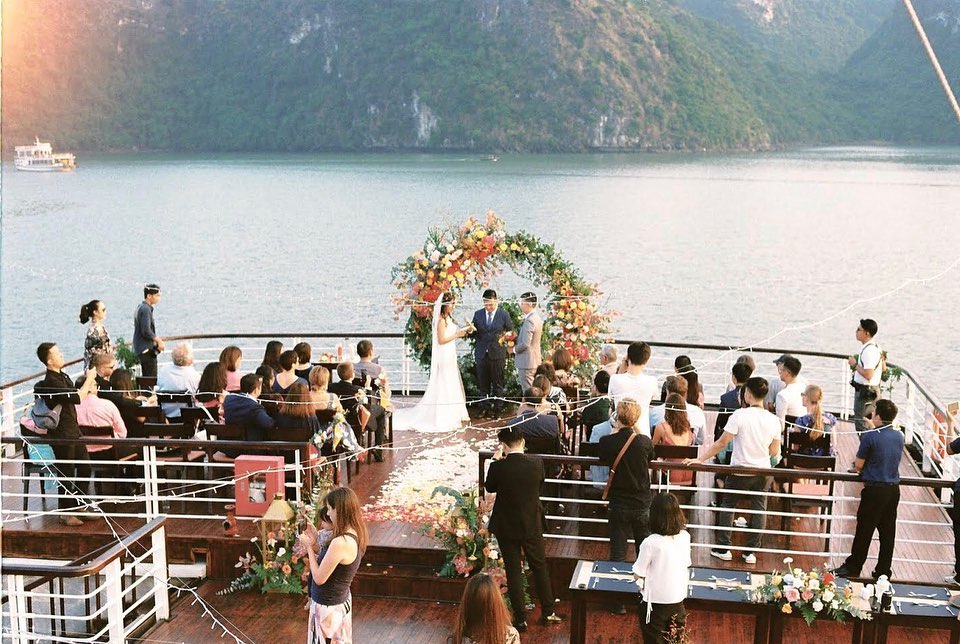 Couples have an abundance of reasons for this wonderful option. Ultimately, an extraordinary blend of natural beauty, luxury, and romance makes it a second-to-none experience you and your partner will remember forever.
Breathtaking scenery: Best known for its staggering and iconic natural beauty, the bay boasts a romantic and dreamlike setting for a honeymoon vacation. All cruises follow the five sailing routes and offer various interesting entertainment programs. 
Privacy and intimacy: There is a limited number of private cabins with personalized services such as massage services and private dining for you to enjoy intimate moments.
Romantic excursions: Journeys enable you to explore hidden caves, pristine beaches, and peaceful lagoons. You can save the most cherished memories with your fiance in the bay.
Poetic views of sunset and sunrise: Sunsets and sunrises on the bay are legendary, especially when viewed from a sundeck or private beach. No romantic moment can be compared with the one while holding hands with your loved one admiring sunrise and sunset. This creates an ideal backdrop for beautiful photos.
How to choose the best cruises for your romantic vacation?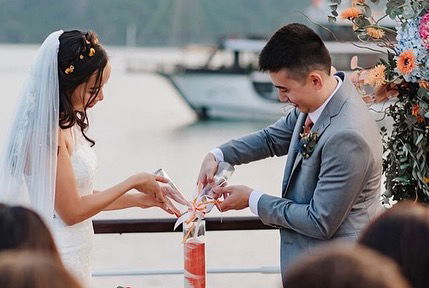 The success and enjoyment a couples' cruise brings to newlywed couples lie in several factors:
Reputable cruise lines: It is crucial that you choose a suitable cruise brand that aligns with personal preferences and desires regarding amenities, atmosphere, and itineraries. Fortunately, most cruises for honeymooners on Halong Bay can satisfy the most discerned guests and create memorable experiences.
Accommodations: Besides choosing a trustworthy cruise line, couples' comfort relies on the quality of cabins. It would be better if the cruise provides you with upgraded cabins with balconies or special honeymoon suites to ensure ultimate luxury and privacy.
Itinerary: You should choose the cruise that provides well-planned itineraries with romantic ports of call, scenic locations, and exciting excursions that appeal to you.
Dining experience: Romantic and private dining is a signature of this cruise type. You'll enjoy gourmet dining experiences with a wide range of cuisines and sumptuous drinks in a cozy setting. 
Romantic offerings and arrangements: Some cruise lines for newly-wed couples design special romantic packages, amenities, and surprises. This might include champagne, flowers, chocolates, or even private dining experiences.
What are the best cruises for honeymoon?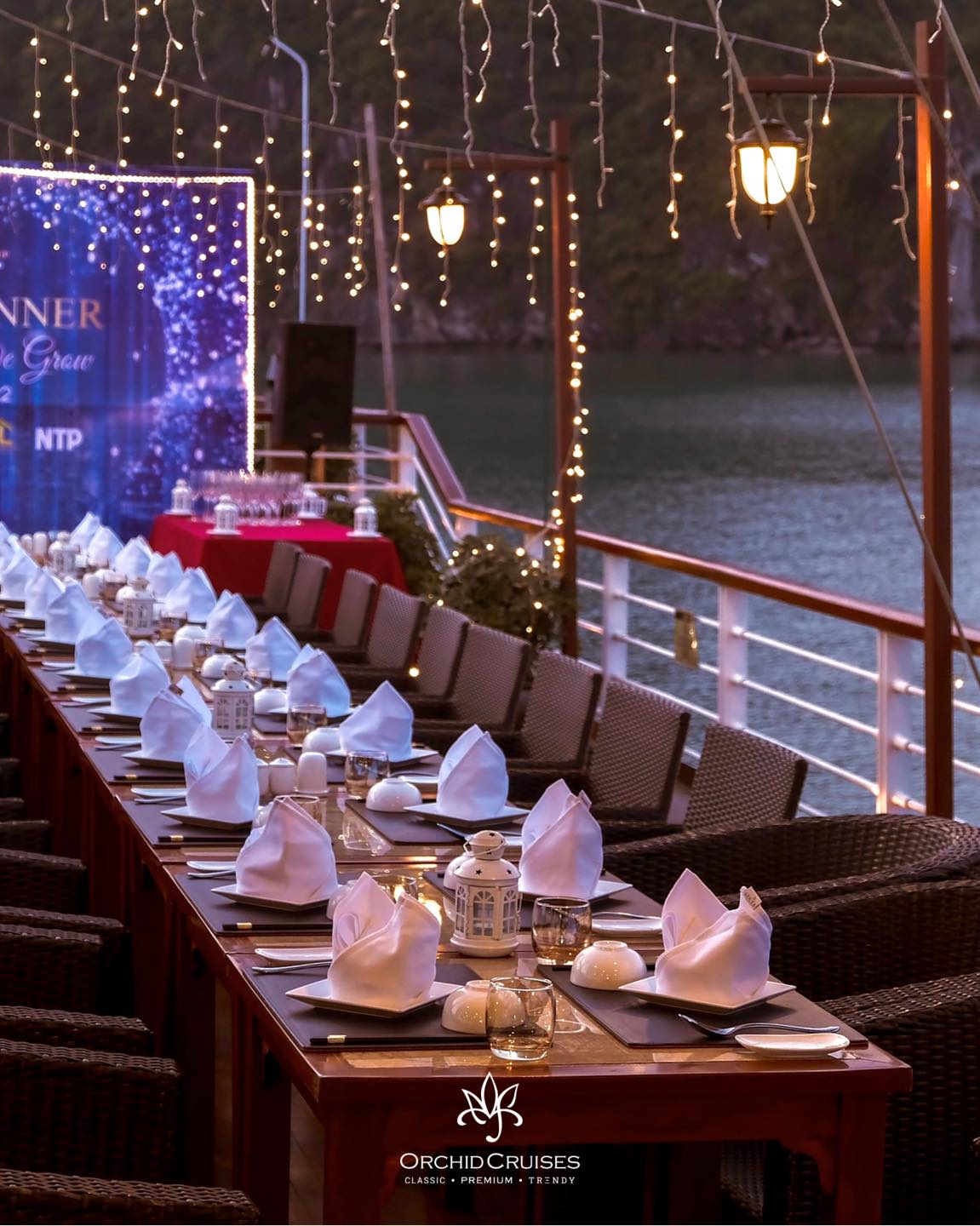 Many cruise operators offer great features and itineraries for your best honeymoon holidays. 
Heritage Cruise Binh Chuan: This 5-star cruise is inspired by the Indochine style. It offers  luxurious suites and outstanding services, and relaxation in superior amenities such as one of the largest swimming pools on the bay. All things on Heritage Cruise Binh Chuan make your vacation truly special.
Nostalgia cruise: Nostalgia is among the newest cruises on Halong Bay with only 10 cabins for your utmost privacy onboard. The cruise stands out for its elegant design and spacious cabins with private balconies. The well-researched cruise emphasises an enriching and romantic experience exploring Lan Ha Bay for the most memorable moments.
Orchid cruise: Luxurious accommodations, personalized services, and a team of attentive staff ensure the most intimate and romantic ambiance. The cruise also allows access to great amenities such as a top-notch spa, an outdoor Jacuzzi pool, and a restaurant & spa for your enjoyment.
Indochina Sails cruise: With a focus on sustainability and responsible tourism, Indochina Sails combines eco-friendly material for furnishings with high-end amenities. 23 cabins onboard are adorned with wooden floorings and details. You and your loved one can savor outdoor BBQ and have fun moments on the sundeck.
Heritage Line - Violet cruise: The French-Indochine-designed cruise exudes classic elegance with its wooden design and luxurious cabins, perfect for privatized sailings. The cruise's excursions to Cua Van village, Tien Ong cave, and Titop island with plentiful thrilling activities guarantee a charming and memorable honeymoon experience.
Questions and Answers
(0)
Be the first to ask a question on this page!
Frequently asked questions
1.

Why should I choose Halong bay for my honeymoon?

The bay's spectacular wonders have been long known as an ideal destination for a romantic getaway. You'll have a maverlous backdrop for alluring pictures and a wide range of water-based activities in tranquil waters to participate in with your company.
2.

How many days in the bay is enough?

Normally, people spend 2 or 3 days on an overnight cruise to explore the bay.
3.

What should I consider before booking a cruise?

When choosing a cruise, you should take into account the cruise's reputation, amenities and accommodations, honeymoon packages, and other exclusive services.
4.

What special offerings do these cruises often provide?

There are many special offers or packages for newlyweds such as champagne, flowers, free spa massages, private dining and activities on tourist sites.
5.

Are these cruises in Halong bay suitable for all budgets?

Yes. There are many options ranging from budget to mid-range and luxury cruises so you can easily choose the line that suits your budget and expectations.