Overview of Bai Tu Long Bay
Being a remote location endowed with an enchantingly unspoiled beauty, Bai Tu Long Bay stands as an impressive natural allure that captivates the unique off-the-beaten-track charm. Here, you can bask in the tranquility of nature, surrounded by breathtaking limestone karsts and pristine crystal clear waters flowing calmingly. Unlike the famous destination of Halong Bay, Bai Tu Long Bay offers a serene getaway with fewer boats, allowing you to fully indulge in the splendor of untouched wilderness.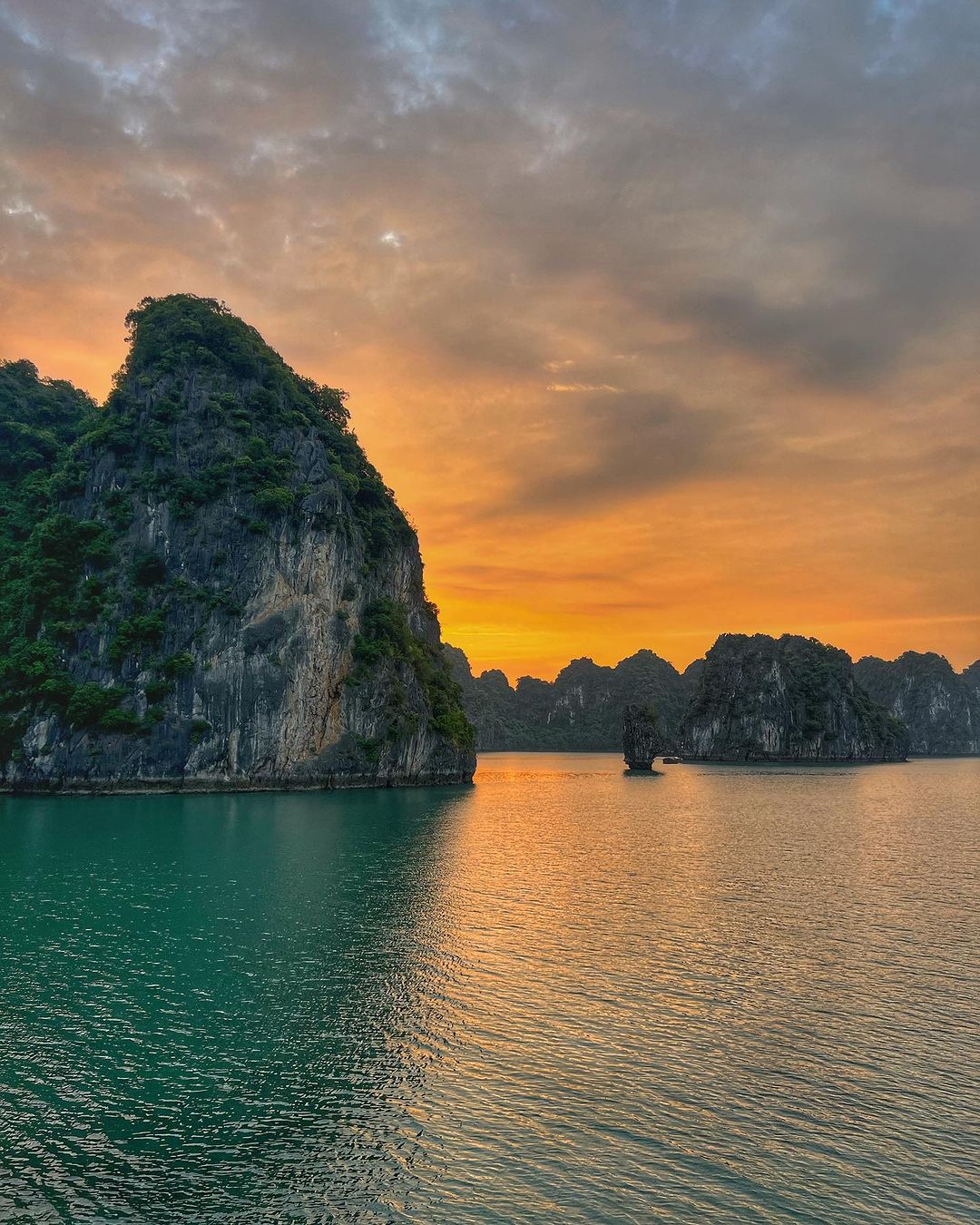 A cruise through the bay is not just a normal vacation, it is an authentic discovery of pure natural beauty as well as a cultural journey exploring the idyllic fishing villages. For those who seek a fresh new adventure, this would be a must experience in every travel bucket list in Vietnam. Check out more detailed information about this magnificent destination in the following guide!
Destinations in Bai Tu Long bay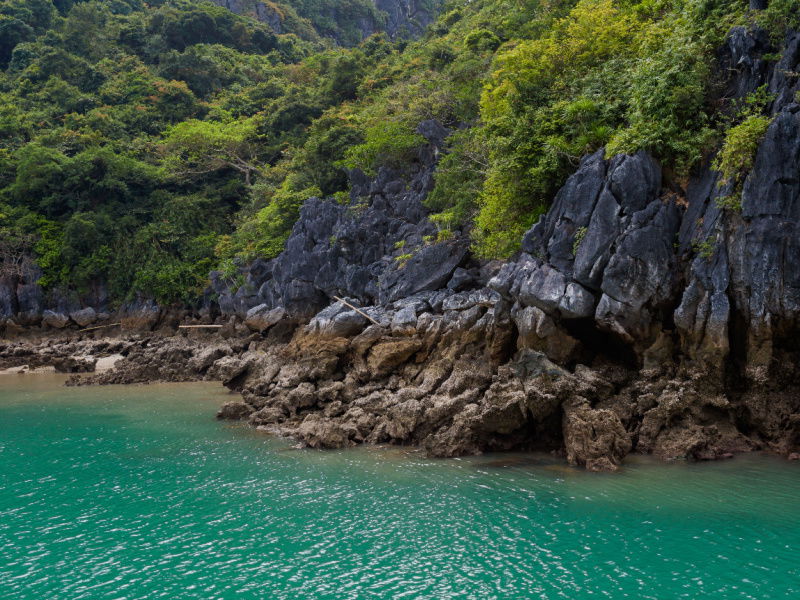 Vung Vieng fishing fillage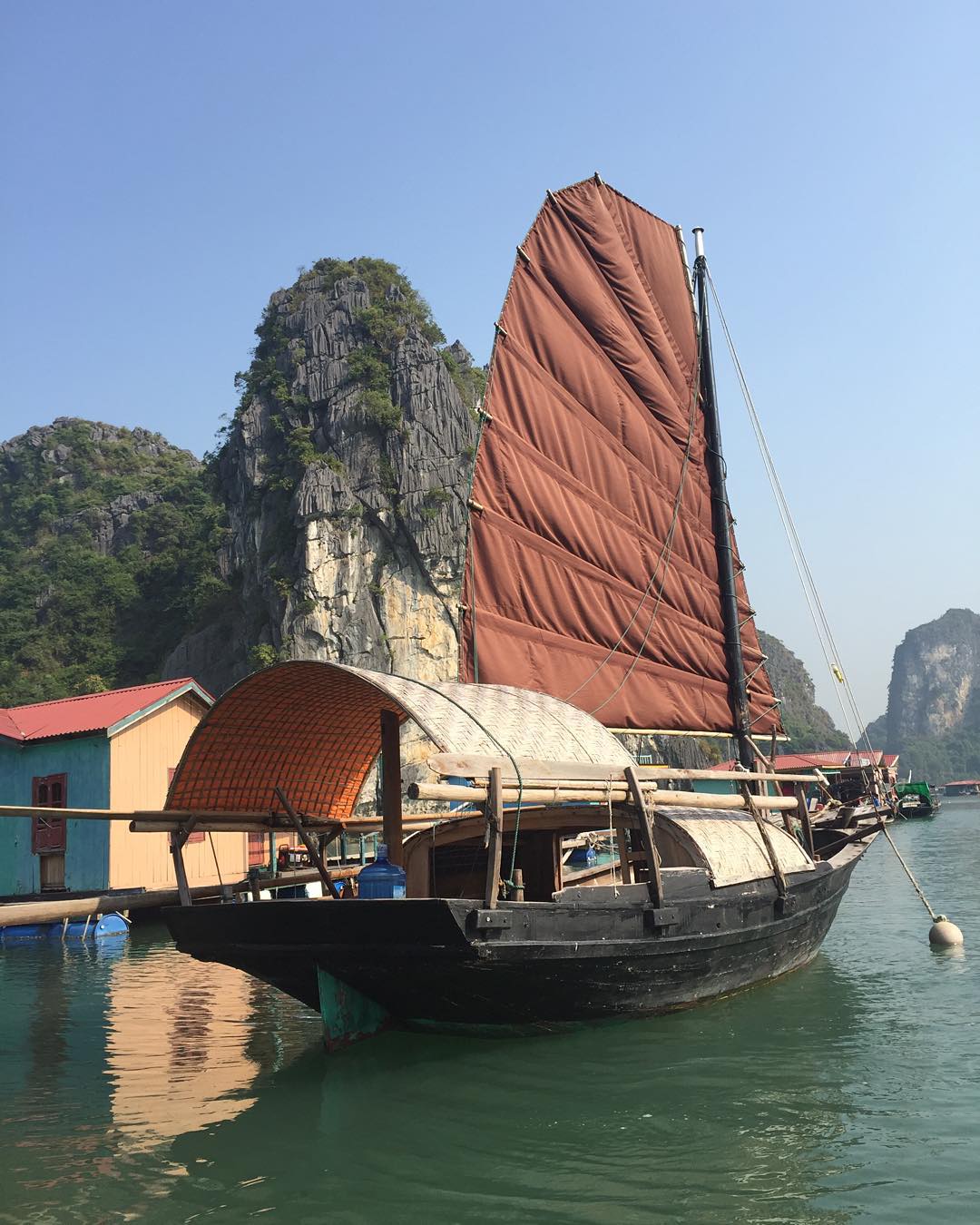 Vung Vieng is a lovely small village that embraces a wild rustic beauty, with a majestic natural backdrop of high mountains, verdant trees, and alluring caves. This poetic attraction is home to a community of amicable and hard-working fishermen, who bear a unique culture with their traditional fishing practices. Immersing in the tranquil ambiance here, you will encounter a simple yet beautiful countryside life in the village.
Thien Canh Son cave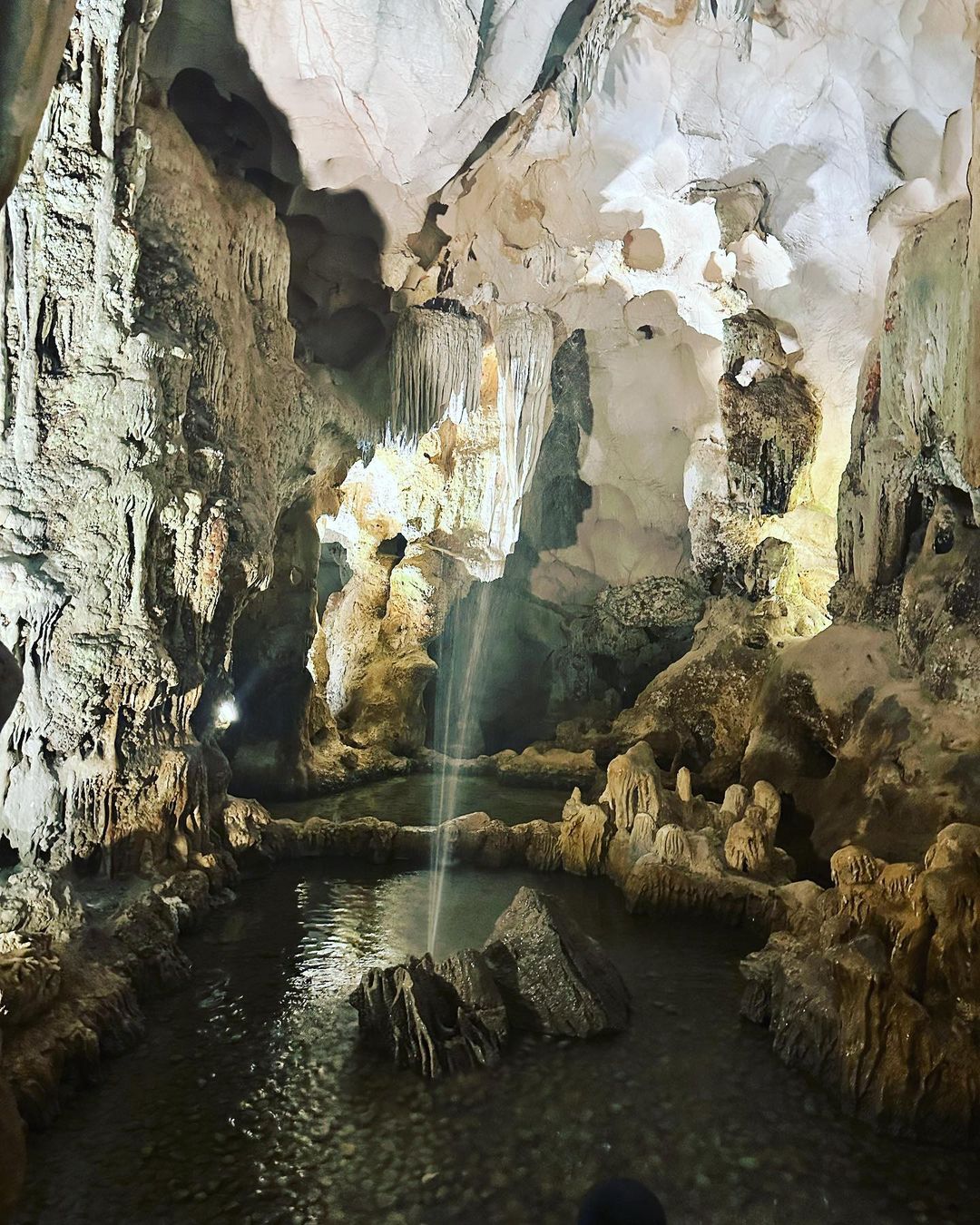 Stepping into the magnificent cave, you are greeted with a dreamy spectacle opening in front of your eyes. Thousands of sparkling stalactites and stalagmites, each adorned in unique shapes and sizes, harmoniously combine and create a vibrant and mysterious ambiance. The cool atmosphere inside the cave also adds a touch of delight to the discovery, making the journey even more enjoyable and meaningful.
Cong Dam area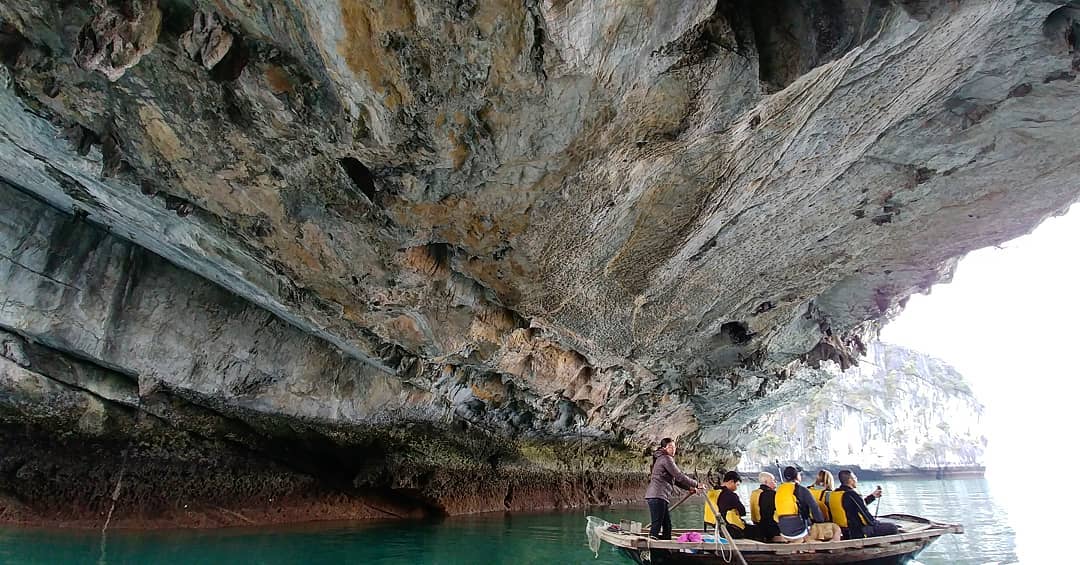 This attraction is renowned for its breathtaking natural beauty and rich biodiversity. You'll be captivated by the rocky mountains, serene seascapes with lush groves, colorful coral reefs, and tranquil blue waters. The destination also features a lovely rustic fishing village that offers a glimpse into local fishing traditions.
Cap La Island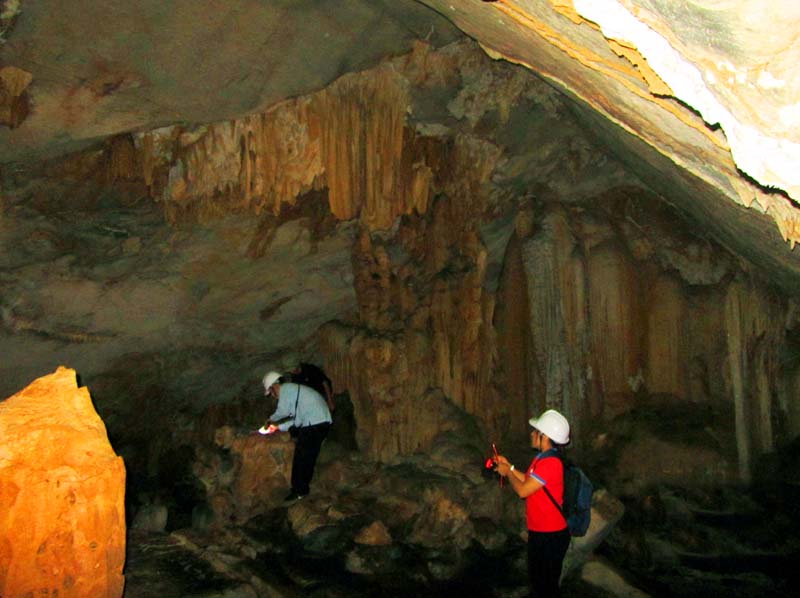 Cap La is a stunning tourist spot well-known for its peaceful seascapes and pristine white sandy beaches. Embracing the calming flows of crystal-clear blue waters, the island presents a picturesque countryside scenery that exudes the utmost serenity. Only by immersing oneself in the refreshing cool waters, visitors can find the true tranquility, allowing the mind to unwind and relax.
Activities in Bai Tu Long bay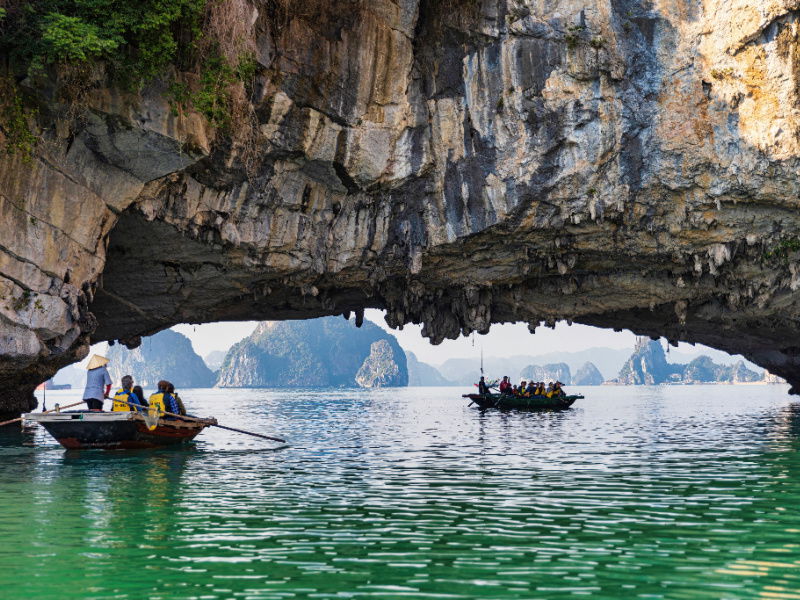 Kayaking
Exploring the bay's wonders is an incomplete journey without the captivating experience of kayaking. Gliding through the peaceful turquoise waters, you have the opportunity to pause and appreciate the awe-inspiring limestone karsts and lush greenery, to be fully immersed in the surrounding natural beauty.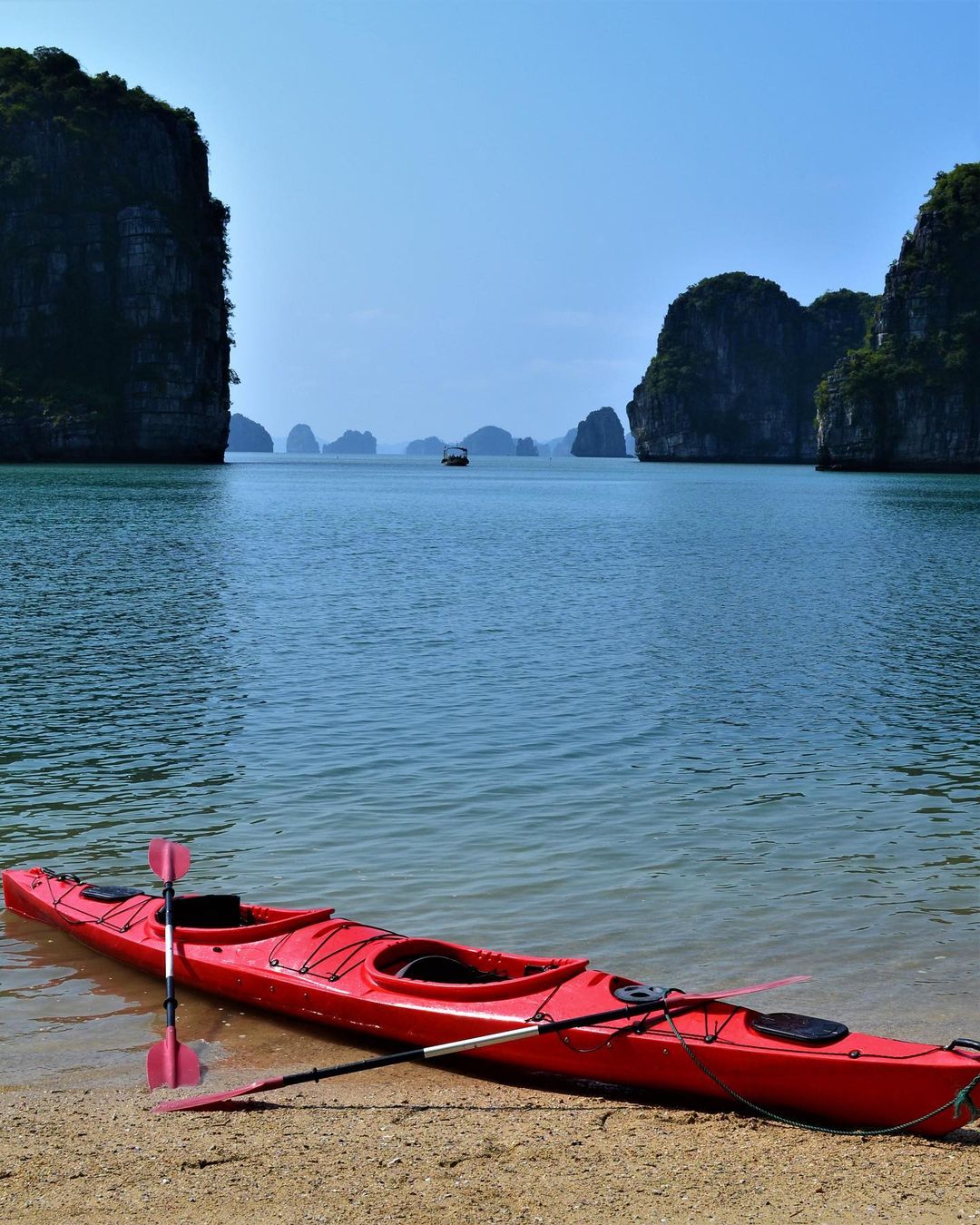 Swimming
Featuring some lovely tranquil sandy beaches and calming seas, Bai Tu Long Bay offers you a true natural retreat through refreshing swimming activities. The dreamy surrounding creates a soothing ambiance that further enhances a rejuvenating experience.
Visiting a fishing village
A visit to a rustic fishing village is more than just a vacation experience; it presents a fascinating cultural expedition to witness and embrace the humble and hard-working way of life here. Watching the locals with their traditional practices, trying the fishing, and talking to lovely people here create a memorable trip filled with meaningful adventures.
Onboard activities
A cruise journey also invites you to diverse onboard activities. Ranging from the utmost rejuvenation with spa services, calming tea sunset parties to entertaining activities of squid fishing, cooking classes, etc., an enriching onboard life is filled with exciting experiences.
Top cruises in Bai Tu Long Bay
Essence Grand (La Siesta Superyacht)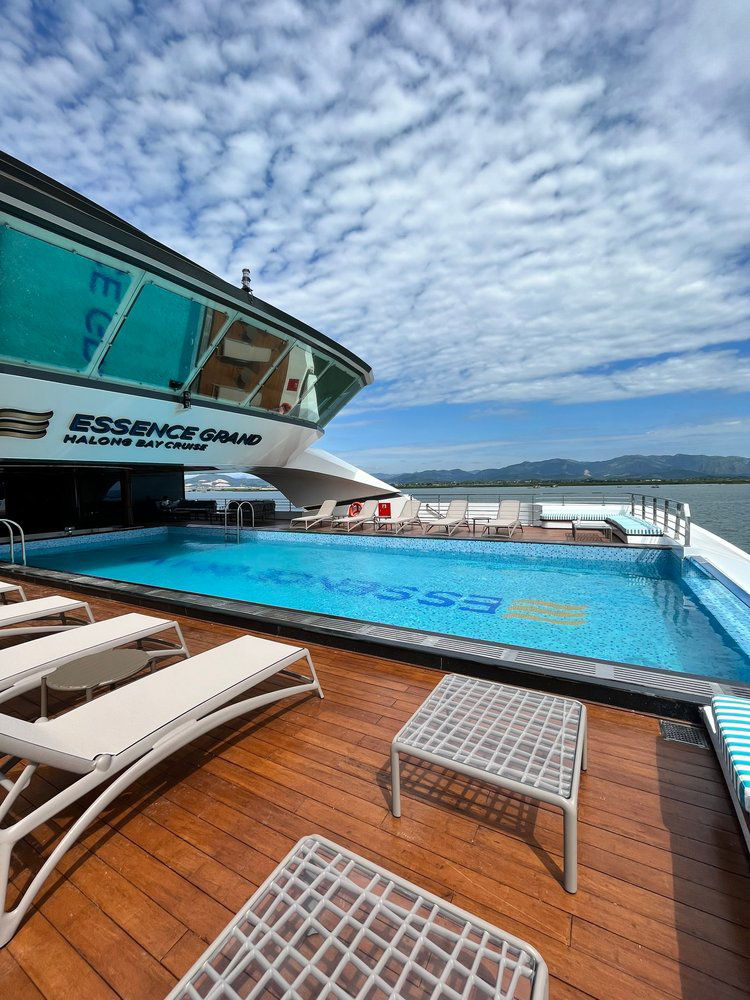 Launched in 2023, with more than 50 exquisite cabins, the boutique superyacht of Essence Grand takes pride in being the grandest and most opulent overnight vessel to grace the bay waters. A refined setting of Cloud Nine restaurant, sky bar & pool bar, gym center & spa, open-air jacuzzi along with other unparalleled services ensure an unforgettable and luxurious journey for every passenger.
Dragon Legend Cruise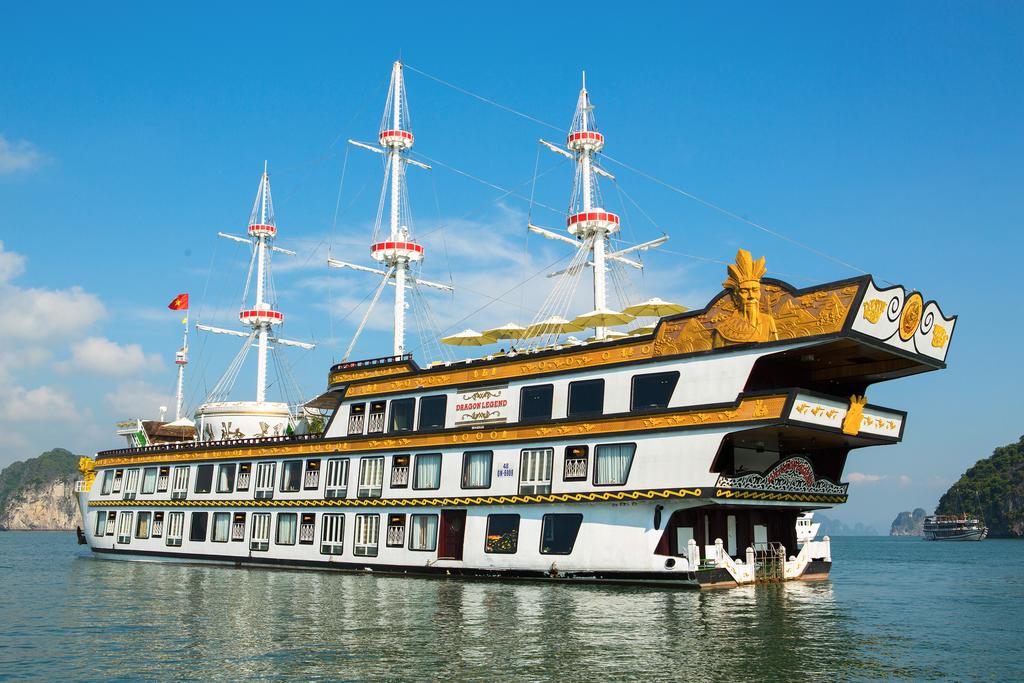 Having an enchanting Indochina-inspired design, this boat radiates a warm and inviting ambience that subtly captures the essence of Vietnam's architecture. Spreading over 4 spacious decks, 24 cabins showcase meticulous handcrafted furniture and decor, along with a palette of cozy soothing colors and the breathtaking bay views. Every little detail creates an alluring experience that authentically presents Vietnamese culture.
Signature Cruise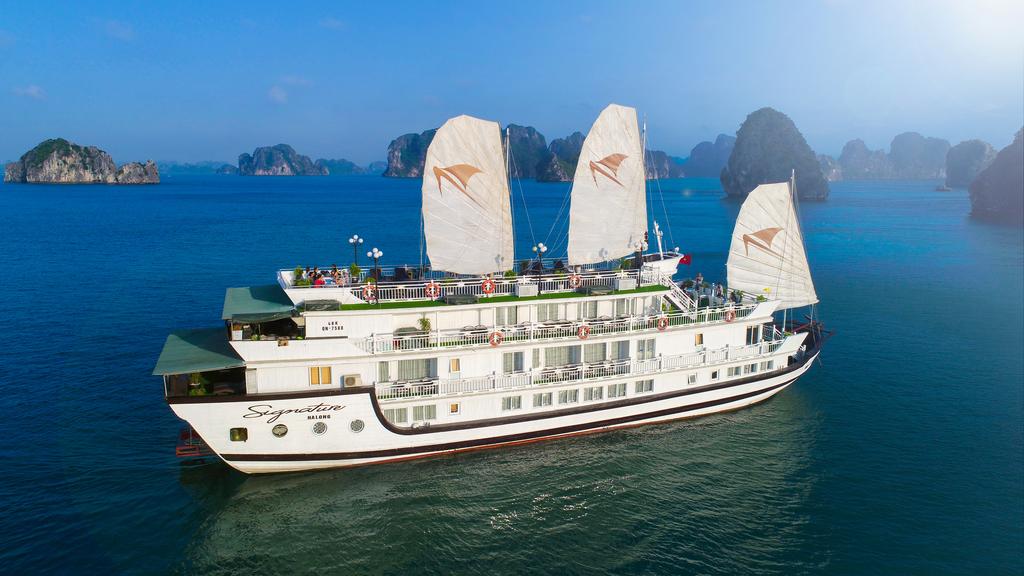 Offering a more comfortable and private experience, this lovely wooden boat comprises just 12 elegant cabins, each of which is equipped with an array of superb amenities  such as a private jacuzzi, TV, desk, and safety box, and so on. In addition to its cozy and intimate ambiance, the ship also consists of a wide range of exquisite facilities -  spa & massage, romantic bar, elegant rooftop, all working together to guarantee a delightful life on board.
Renea Cruise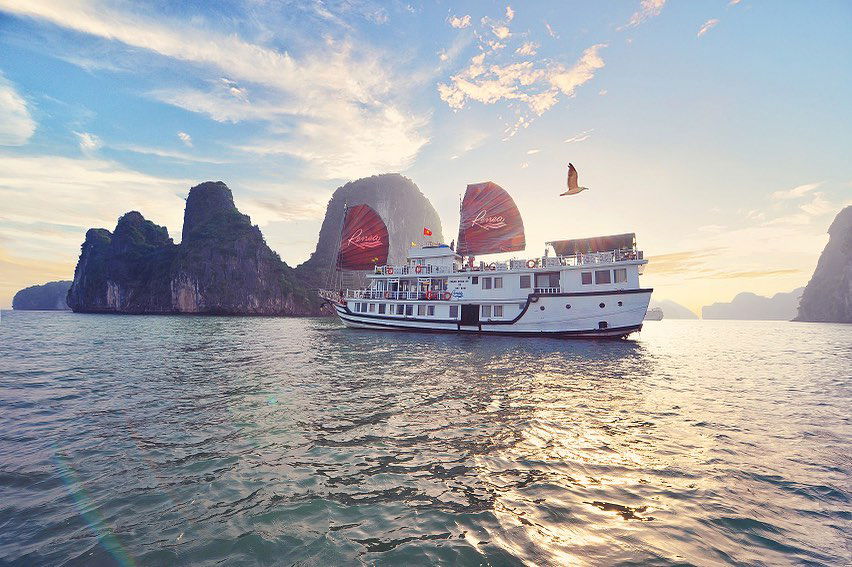 Renea cruise offers a fleet of charming wooden boats, with each aiming at a customized journey with just 11-12 cabins. All rooms are thoughtfully decorated with traditional-themed decor and hardwood furniture, reflecting the graceful allure of Vietnamese culture. Boasting varied types of rooms including connecting cabins, Renea Cruise ensures a fulfilling trip for all traveler types.
Swan Cruise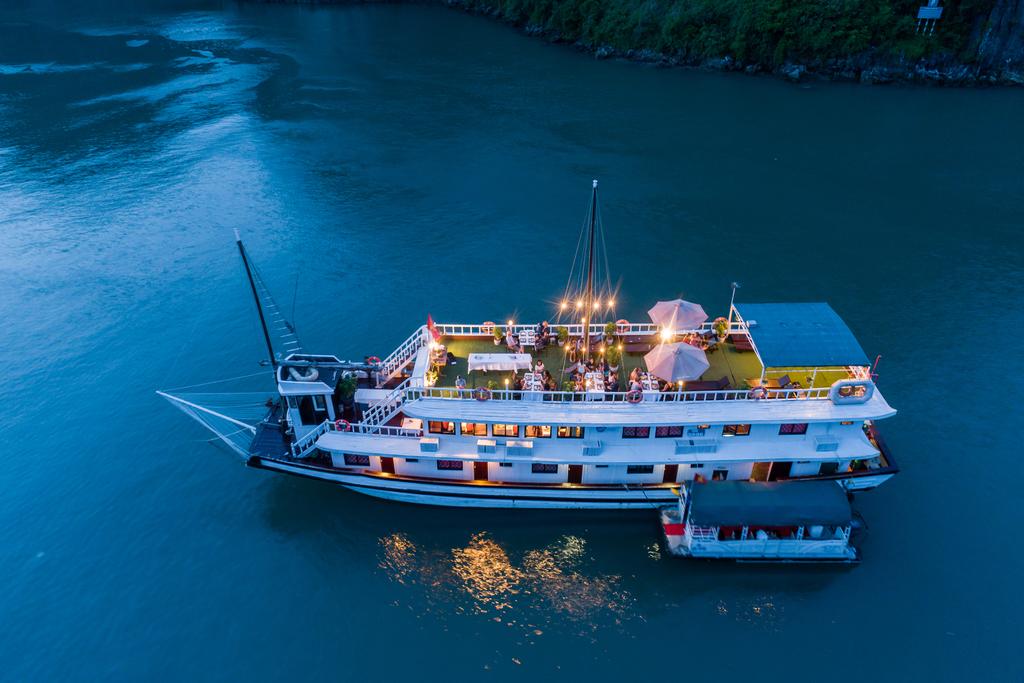 This boat is an ideal choice for any tourists who are looking for a harmonious blend of traditional and contemporary designs. Every corner on board contributes to a lively atmosphere, with vibrant bright colors and elegant decor that exude comfort and tranquility. The cruise features 18 cabins suitable for solo travelers, couples, and families, catering to varied needs.
Oriental Sails Cruise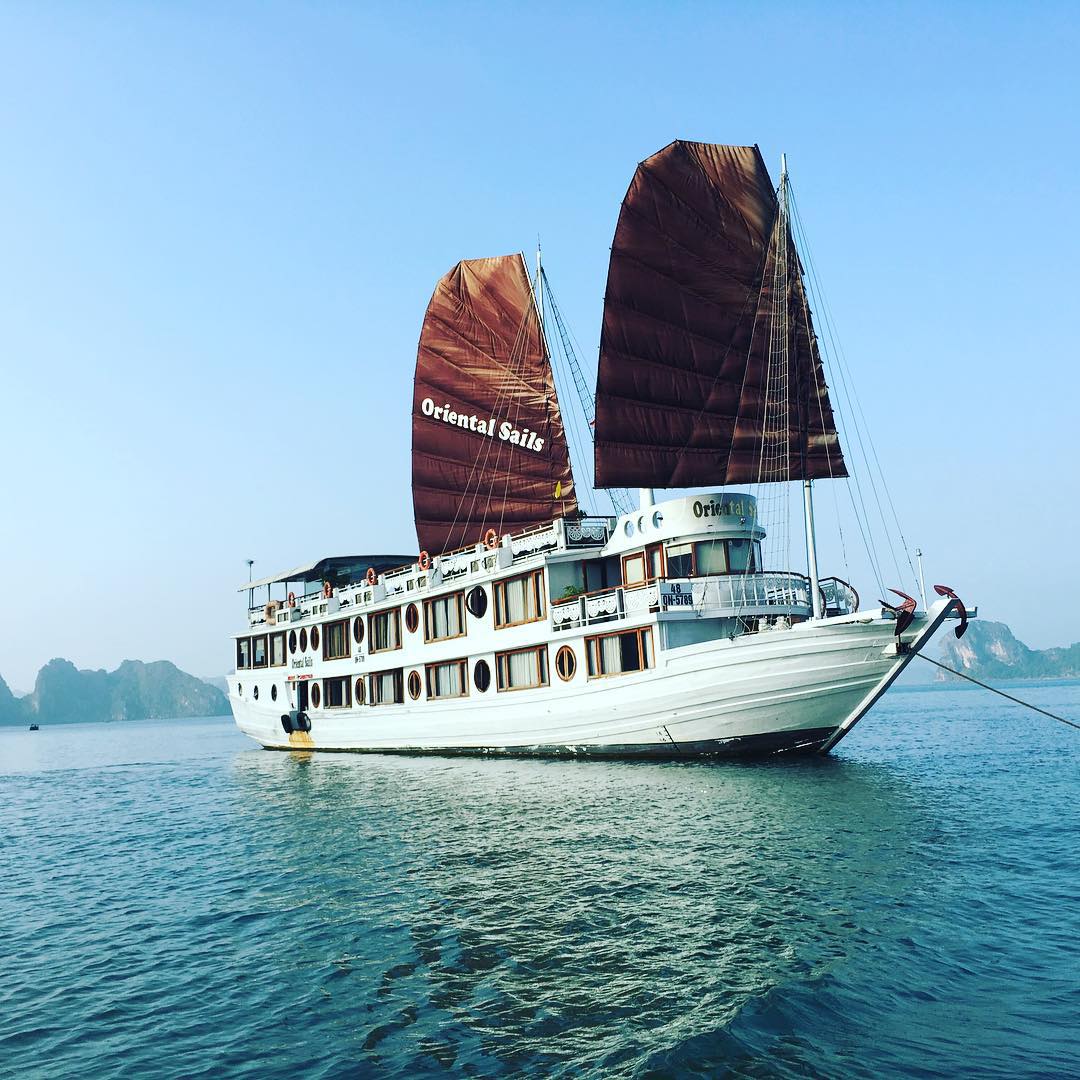 With years of cruising the Bai Tu Long bay's waters, this traditional boat has 2 big sails and charming wooden aesthetics, exuding a warm ambiance steeped in Vietnamese culture. The cruise boasts a sophisticated dining area & bar, 18 lovely well-appointed cabins, a large sundeck with an open bar, and other high-standard facilities and services.
Questions and Answers
(2)
Q
Laura batch
1 month, 1 week ago
Hi there, My family is looking to visit halong/ bai tu bay for a cruise and stay on Cat ba Island but not sure what is the most efficient way to do this travelling from hanoi on the 6th and then needing to be in Ninh binh by the 10th, Jan 2024.
A
Visithalongbay Team
1 month ago
@Laura, you can refer to the itinerary below:
6 Jan: Hanoi - Halong by shuttle bus. Overnight on cruise.
7 Jan: Halong - Cat Ba by ferry. Overnight in hotel in Cat Ba.
8 Jan: Free & easy. Overnight in hotel in Cat Ba.
9 Jan: Cat Ba - Halong by ferry. Halong - Ninh Binh by bus/car.
I hope this works for you. If you have other questions, feel free to contact us. Regards,
3 people found this helpful
Frequently asked questions
1.

When is the best time to visit Bai Tu Long?

Bai Tu Long welcomes tourists throughout the year, offering its magnificent nature every season. However, the best time to visit this place is believed to be from January to April or from October to late November. During these periods, the cool weather is preferable for outdoor water activities without the extreme heat of the summer.

On the other hand, it is also wise to avoid visiting during July and August due to the high risks of storms and rough seas.
2.

Do cruises in Bai Tu Long offer kid meals?

Yes, all cruises can offer kid portions as well as other special food requirements (allergy, vegetarian) on request.
3.

Can I do squid fishing in Bai Tu Long Bay?

Yes, you can do squid fishing and several other water-based activities as well. However, the availability of this activity depends on the seasons and weather conditions.
4.

Do cruises offer dining in the Thien Canh Son cave?

No. Meals in caves are no longer available and all cruises offer all meals on board.
5.

Are cruises in bay suitable for seniors?

Yes, cruises are suitable for all ages, especially the senior travelers because this place is more tranquil and less crowded than in Halong Bay and Lan Ha Bay. While Halong Bay and Lan Hay Bay cruises cover many entertaining activities such as climbing, kayaking, Bai Tu Long Bay cruises focus more on relaxation with gentle activities.