Overview of 2 Days 1 Night
Halong bay is one of the most selected destinations for every traveler coming to Vietnam and to the northern region in specific. Some choose to spend a few hours while many want to stay for a few nights to see as much of what the bay has to offer. Among these itineraries, 2-day-1-night cruising is the most popular and favorite option.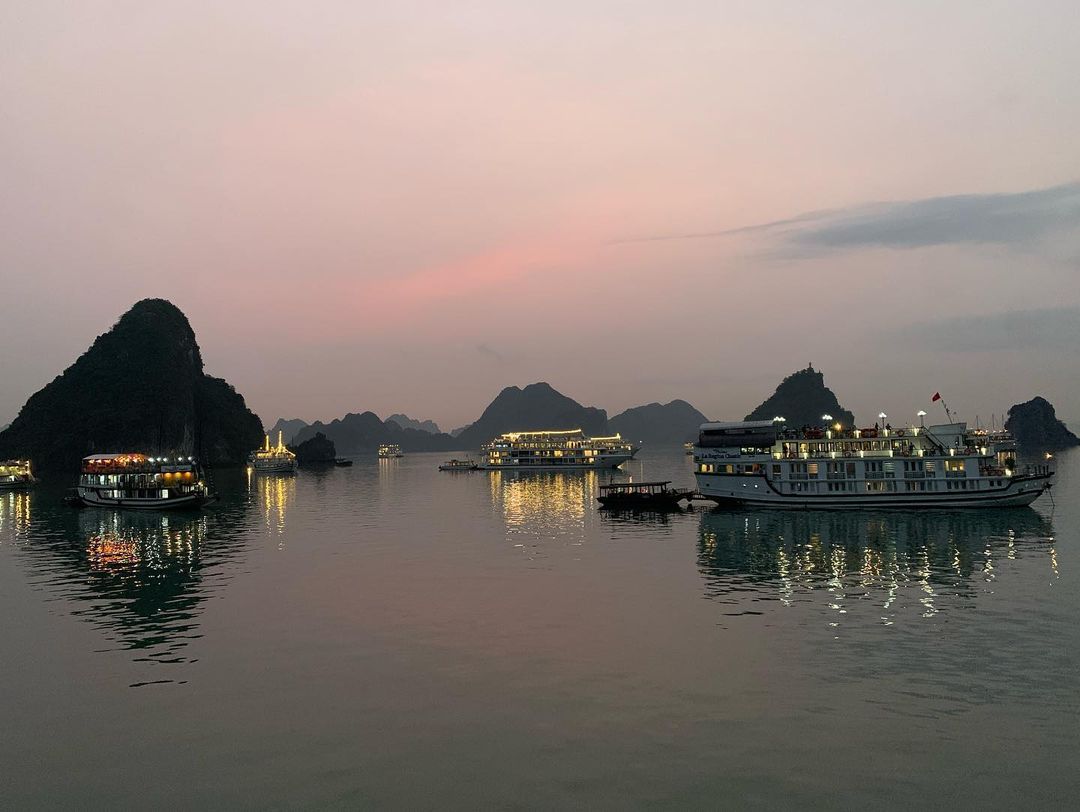 A 2D1N cruise means almost 24 hours on the bay. It is explained by the embarkation time at 12:00 pm and disembarkation time at around 11:00 am the next day of all overnight cruises. This itinerary provides a series of activities on and off the boat and the enchanting beauty of Halong Bay at different times of the day. Some may think that with just a short timeframe, it is challenging to explore the  bay's entire magnificent landscape. However, a wisely arranged time and itinerary will surely provide you with very enjoyable experiences for a fun-filled cruise vacation.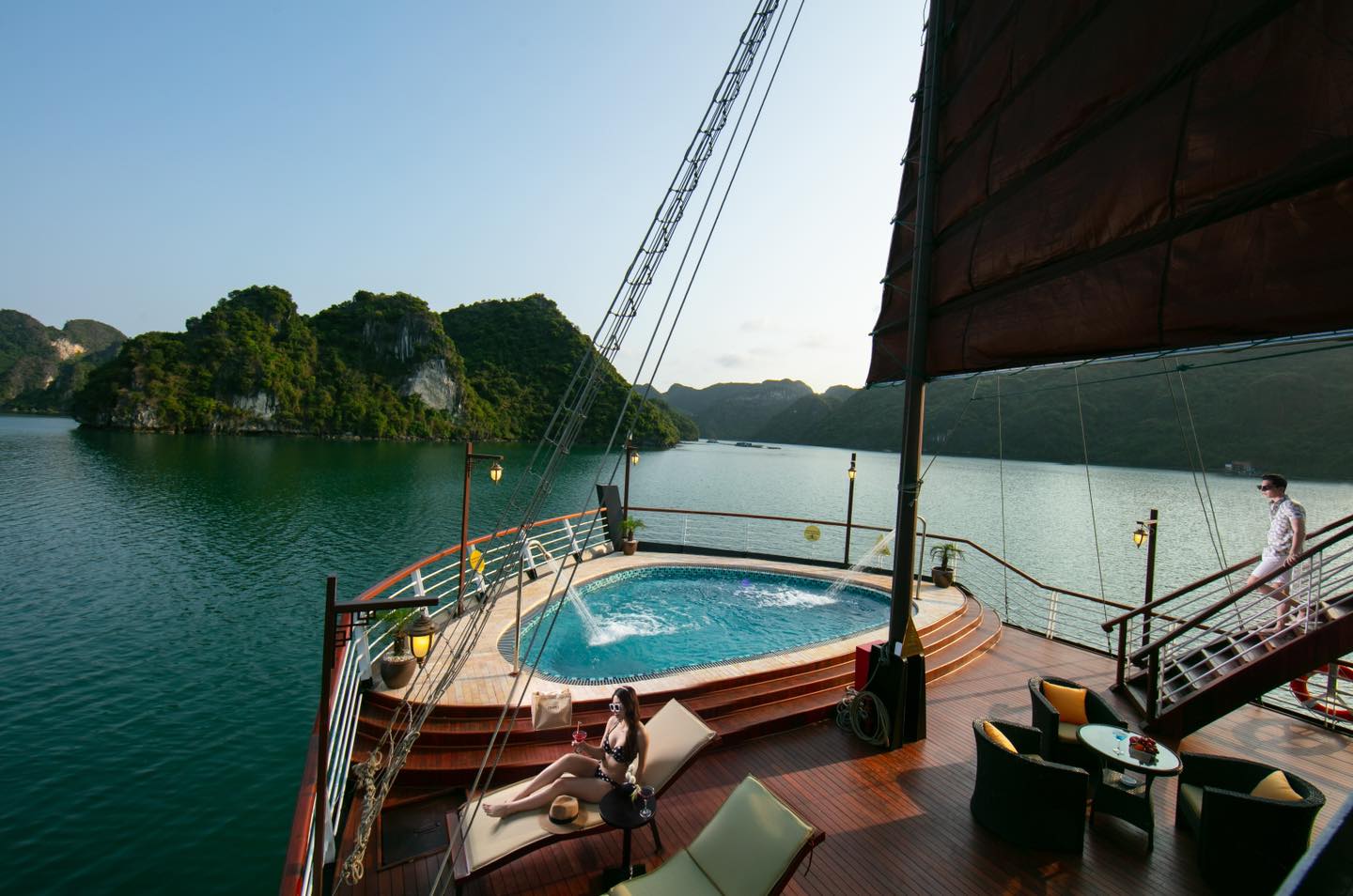 Activities included in a 2 day 1 night itinerary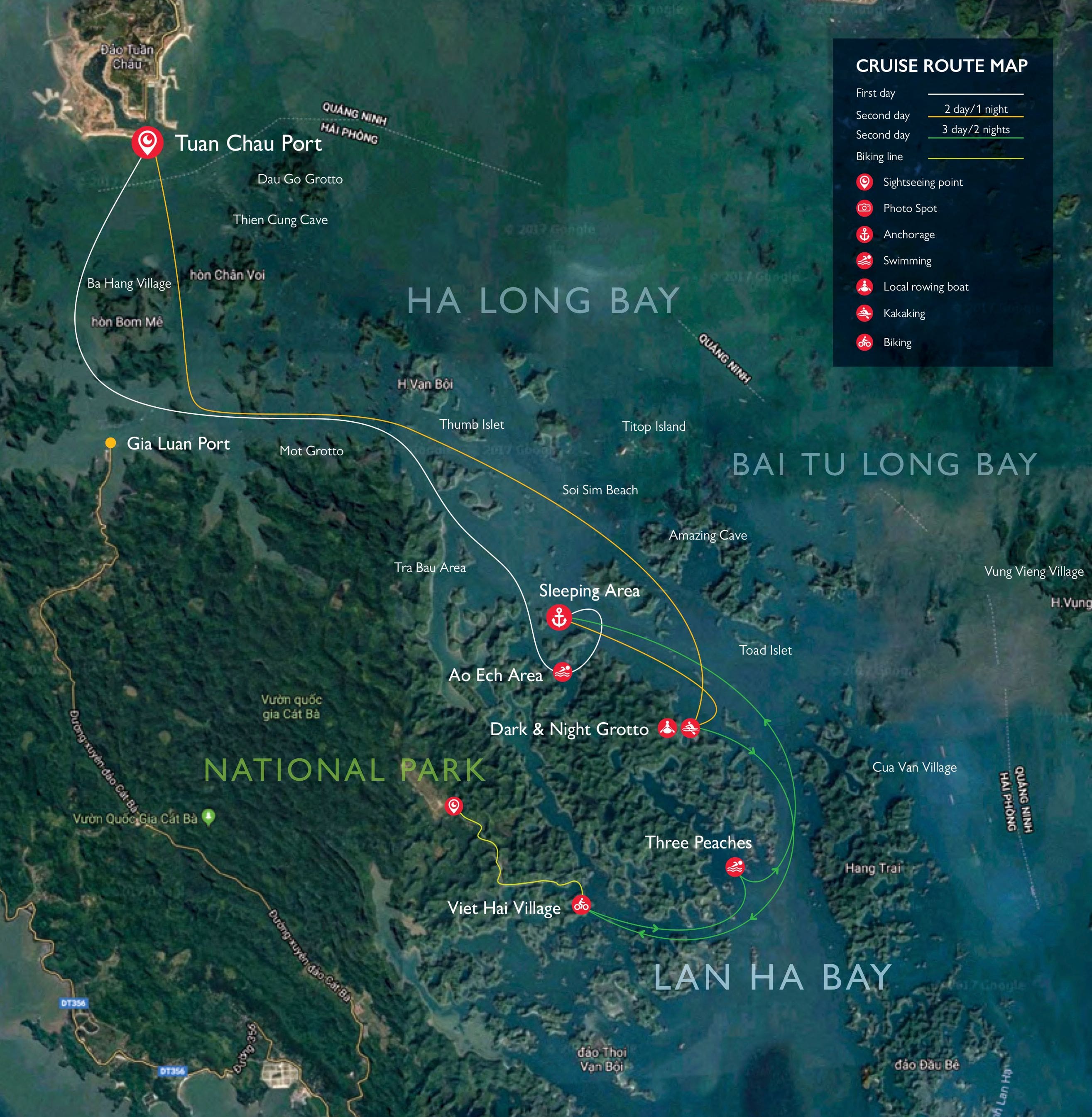 Day 1
Once arriving at the cruise port, you will be assisted with luggage check-in by the cruise operator. Then, the crew member will escort you to embark the boat. A refreshing welcome drink and safety briefing is usually given before you check in your cabin and enjoy lunch. During lunch, the cruise sails to the bay and proceeds to the first attraction.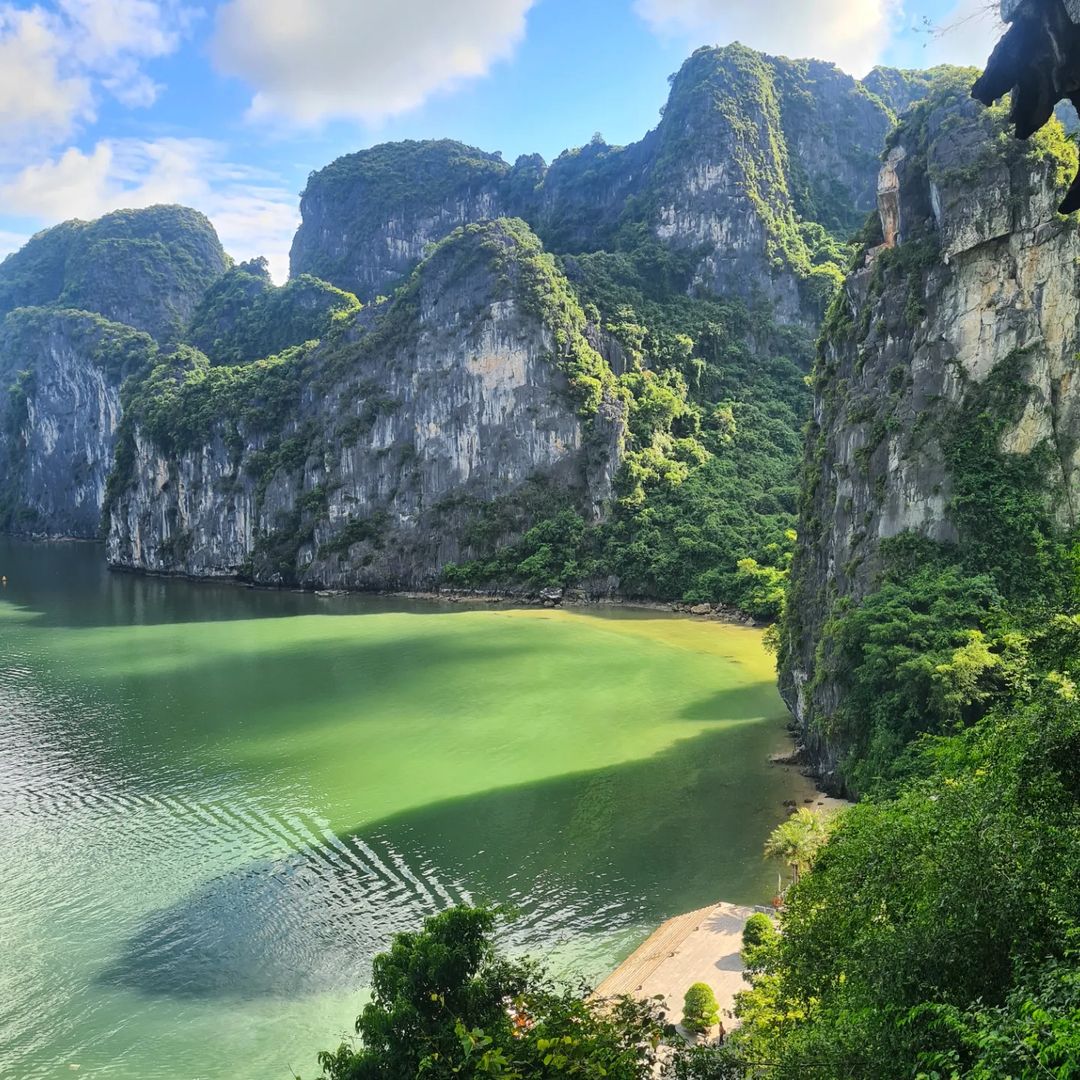 In the afternoon, you are transferred to the first attraction by a small boat (tender). It could be a cave full of beautiful stalactites and stalagmites, an island with a sandy beach and panoramic view, or a cave submerged half by water and visited by a kayak. Some of the highlights are Surprise cave, Luon cave, Titop island, Dark-Bright cave, Tra Bau area, Ao Ech area, etc.
After the excursion, you can join a number of activities onboard or spend free time relaxing on the top deck with the perfect sunset view. After dinner, you'll have the option to engage in squid fishing, catch a movie, savor beverages from the bar, or unwind in the cabin.
Day 2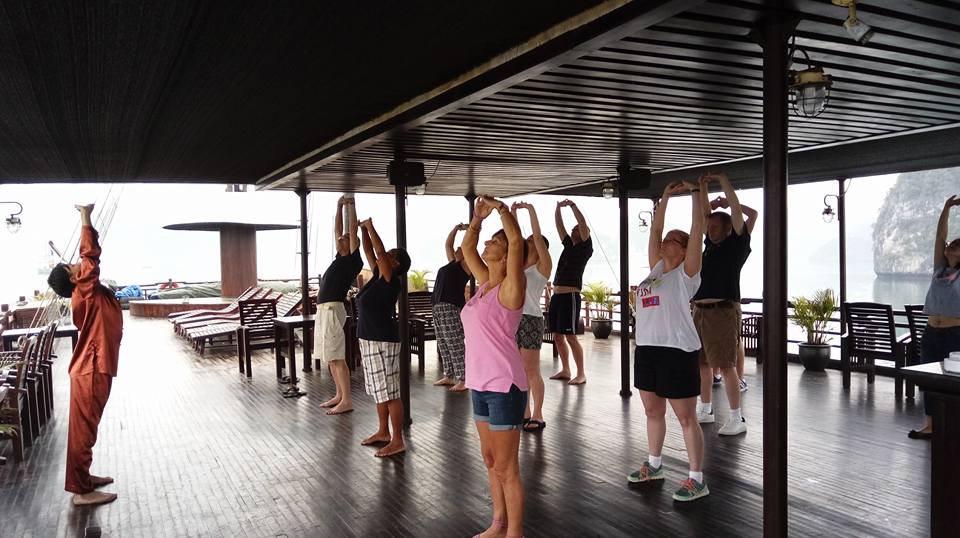 Cruises may offer a Taichi or Yoga session on the sundeck where you can soak up the fresh air and release the tiredness in your body and mind. You later enjoy a light breakfast while the ship cruises to the next attraction. Afterwards, you have time to freshen up and pack your luggage, check out your cabin, settle the bill (if any), and back to the dining area to savor a hearty breakfast. The trip ends at around 11:00 am.
Pros and cons
Although cruising for 2 days and 1 night brings plenty of merits, some demerits cannot be denied.
Pros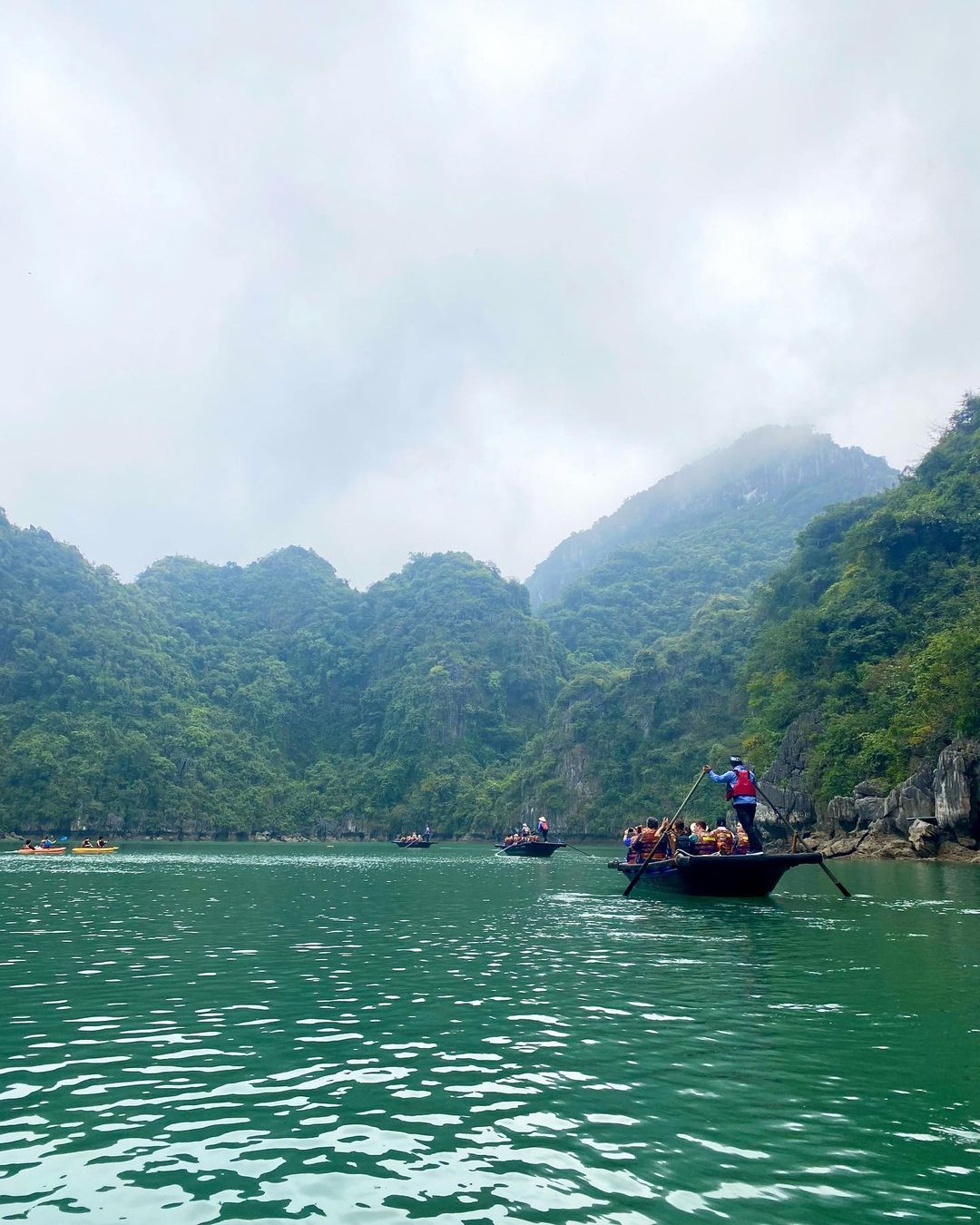 Reasonable duration
Normally, you come from other locations and commuting back and forth to both destinations can consume several hours. Thus, a day cruise cruise feels hurried, leaving no room for relaxation. Conversely, a more extended two-night cruise excursion appears to strike the right balance, making it a safe and suitable choice for most travelers.
Affordable price
Obviously, overnight cruises cost more than day cruises and 1-night cruises cost less than 2-or-more night cruises. However, compared with the time you spend to travel from nearby regions to the bay, a 1-night itinerary is more valued for money.
In fact, Halong Bay cruises are classified into different levels such as cost-saving cruises (3-star), middle-level cruises (4-star), and upscale cruises (5-star). Hence, you completely can find a budget option with a bit higher price than a day cruise to have 24 hours on the bay full of activities.
Varied activities and excursions
The longer you stay on the bay, the more activities and excursions you can join. Yet, a 2-day trip fully offers you typical activities including kayaking, swimming, relaxing on the rowing boat, hiking to the mountain, watching the bay at dawn and dusk, and more . Better still, onboard activities such as cooking class, Taichi, sunset party, Happy Hour, and squid fishing are only offered on overnight cruises but not day cruises.
Cons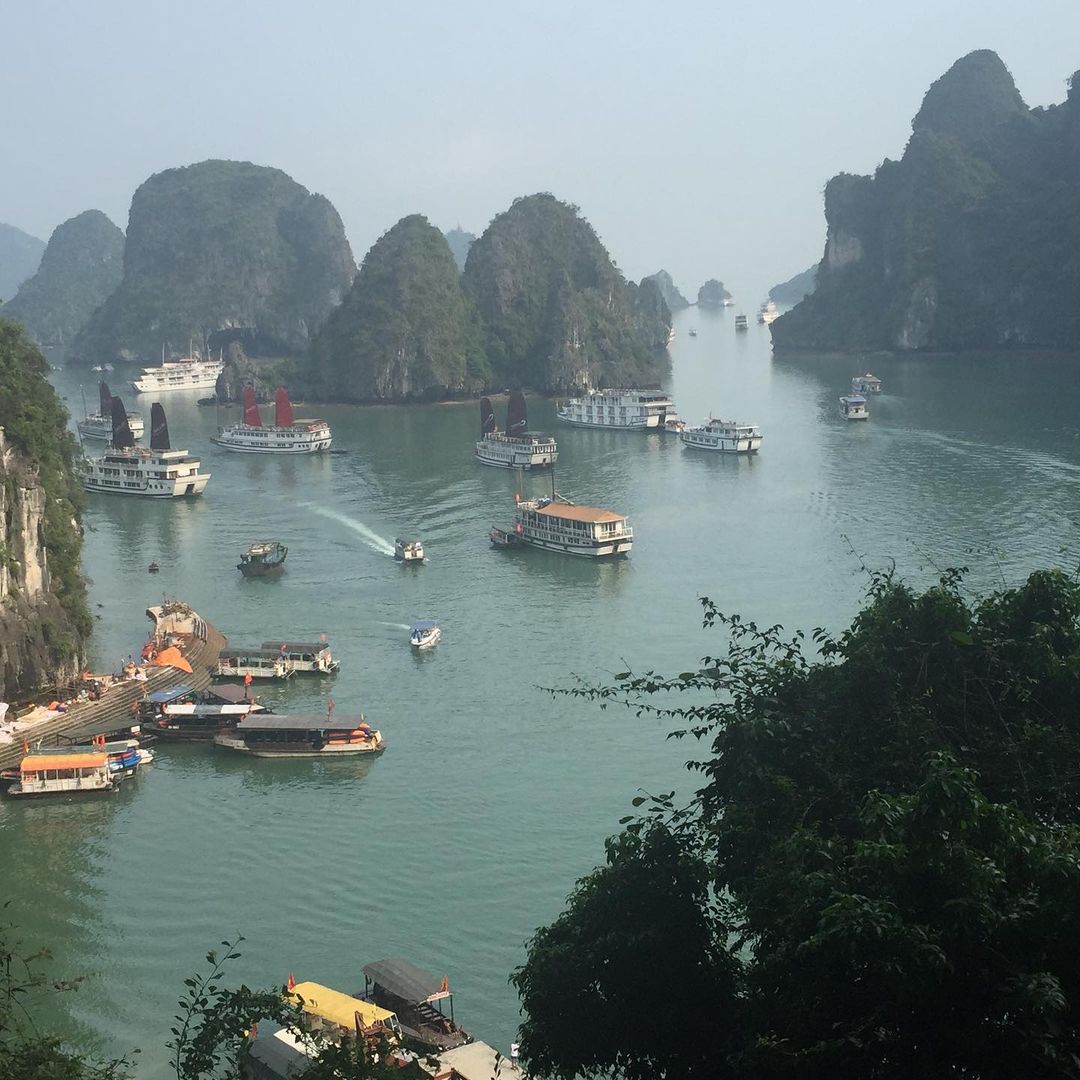 Just 24 hours on the bay
2 days but not actually 2 days! This itinerary includes nearly 24 hours since the cruise departs daily and has to come back to the harbor to pick up new passengers. As a consequence, some may find it still short and do not have much time to rest among activities.
Crowded attractions
In comparison to the high daily volume of ships, the available travel routes are relatively limited. Consequently, it's almost inevitable that a significant influx of tourists will be visiting the attractions simultaneously. The less frequented routes are especially integrated into longer itineraries spanning 2 nights or more, allowing you to access more remote areas of the bay on smaller boats.
Best 2 day 1 night cruises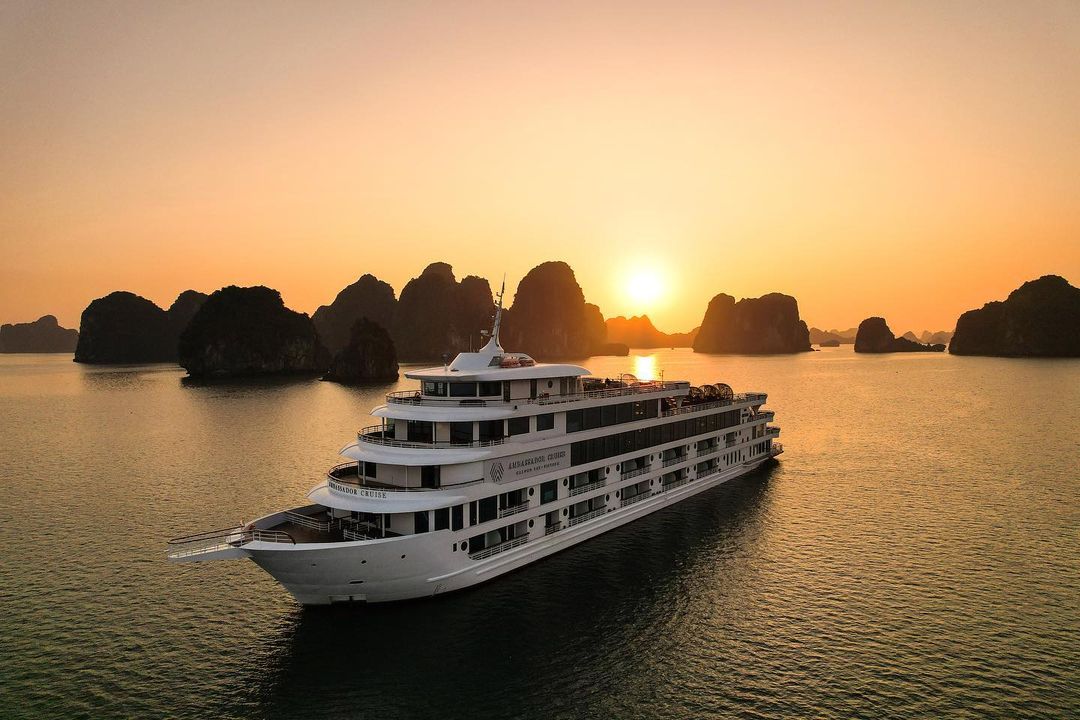 Hundreds of cruises offer an enticing 2-day-1-night itinerary on Halong bay, Bai Tu Long bay, and Lan Ha bay. The price ranges from above US$100 to around US$300 per pax. Some best 1-night itineraries are listed below.
Cruises

Route

Itinerary

Estimated price (pax/night)

Ambassador Cruise


Day 1: Kayak at Tung Sau area - Swim and hike at Titop island - Sunset cocktails & canapes - Squid fishing
Day 2: Taichi - Visit Sung Sot cave

Heritage Binh Chuan Cat Ba


Day 1: Kayak and swim at Tra Bau area - Cooking class - Squid fishing
Day 2: Vovinam - Bamboo boat to Bright cave

Essence Grand


Day 1: Kayak or bamboo boat to Luon cave - Swim and hike at Titop island - Cooking class - Happy Hour - Squid fishing
Day 2: Taichi - Visit Sung Sot cave

Elite of the Seas


Day 1: Kayak and swim at Ao Ech area - Cooking demonstration - Sunset party - Squid fishing
Day 2: Taichi - Sampan boat or kayak to Bright cave

Capella Cruise


Day 1: Kayak and swim at Ao Ech area - Cooking demonstration - Canapes & Happy Hour - Squid fishing
Day 2: Taichi - Sampan boat to Bright cave

Dragon Legend


Day 1: Visit Thien Canh Son cave - Kayak and swim at Hon Co island - Squid fishing
Day 2: Bamboo boat to Vung Vieng fishing village
Questions and Answers
(6)
Hello, my family of 3, husband n 10 year old girl thinking of doing a 2d1n cruise to Halong Bay on 6 or 7 dec. May I know which is a suitable cruise for us?
A
Visithalongbay Team
1 month ago
@Lindy, You can consider cruises for families with more facilities onboard such as Capella, Heritage Binh Chuan, Stellar of the Seas, Elite of the Seas, Catherine Cruise, Genesis Luxury Regal Cruise, etc. These cruises are top luxury cruises with spacious rooms, so it is more comfortable to add one extra bed for your girl. You can also make use of modern facilities on these cruises such as outdoor pool, mini golf, spa, fitness center, poker room, karaoke, etc.
0 people found this helpful
Good morning, We are two friends from Spain currently living in Thailand. We will be in Hanoi for four days and we wanted to visit Ha long bay. Our concern is not to fall into the mass tourism, cruises that do not respect the environment and local community, but we are also on a budget. We were wondering if there were any possibilities of doing one. night and two-day trip to Ha long bay from Hanoi that meets this criteria. Thank you very much in advance, Best, Laura.
A
Visithalongbay Team
1 month ago
@Laura, For budget cruises, we have some options such as Swan Cruise, Renea Cruise for Bai Tu Long Bay and Sapphire and Alova Cruise for Lan Ha Bay. These bays are less touristy and include pristine attractions. The price ranges from $130 - 140/pax for a 2 days/1 night tour (excluding transfer). Regards,
0 people found this helpful
Q
Jennifer Ghiam
1 month ago
We are intending to book a 2D1N cruise for the 3 of u on 26 Jan 2024. We are 3 friends travelling together. One of my friend is pregnant. Can you recommend which is the most luxurious and comfortable cruise ship? Preferably one with a bigger room and 3 beds.
A
Visithalongbay Team
1 month ago
@Jennifer, Per your requests, you can choose luxurious cruises with triple cabins such as Essence Grand, Scarlet Pearl, Orchid Classic, Mon Cheri Cruise, etc. Although all the activities are optional and you can choose to relax all the time onboard, we advise your friend to consult her doctor before the trip to make sure her health is eligible for the trip. Regards,
0 people found this helpful
Show more

(04)
Frequently asked questions
1.

How many attractions does a 2-day itinerary include?

Depending on each cruise, the itinerary may include 2 to 3 attractions. On day 1, there are 1 or 2 attractions in the afternoon excursion while on day 2, there is only 1 attraction in the morning excursion.
2.

Does the boat cruise all the time during the trip?

No. The boat cruises through the bay and drops the anchor at the attractions for a visit and at the sleeping area at night. Boats are not allowed to operate during night time for safety reasons.
3.

What is included in a night trip?

Inclusions and exclusions are specified depending on each cruise's policy. Generally, a 2-day journey includes the following:
2-day-1-night itinerary and program
Cabins with air-con and private bathroom
Welcome drink
Entrance and sightseeing fees
Inhouse English-speaking tour guide
4 Meals on board: 1 lunch, 1 dinner, 1 light breakfast, 1 breakfast
Activities mentioned in the program such as kayak, fishing equipment, sampan boat.
Onboard insurance
4.

Is 2-day or day cruise better?

A 2-day cruise gives you more time to relax and enjoy nature as you have 24 hours onboard. There are a lot of activities and you can admire the bay from day to night. In contrast, a day cruise offers fewer activities but costs less and is suitable for those who have limited time yet want to have a glimpse of Halong Bay. Each type has its own pros and cons so the answer depends on your preference.
5.

Do I stay overnight on the ship or in the hotel on the shore?

For a 2D1N itinerary, you will stay overnight on the ship. You embark on the boat at noon time (12:00-13:00) and disembark at a similar time (10:30-12:00).