Overview of Halong Bay
The renowned UNESCO World Heritage Site of Halong Bay embraces an irresistible charm that enchants tourists with its breathtaking natural beauty. With a sublime landscape of impressive limestone karsts, limitless islands and islets, dreamy caves, and the serene flows of emerald waters, this destination is a true haven for nature enthusiasts. Its lovely rustic fishing villages also adds a cultural touch of idyllic allure, making the bay a must-visit place for any travel bucket lists in Vietnam.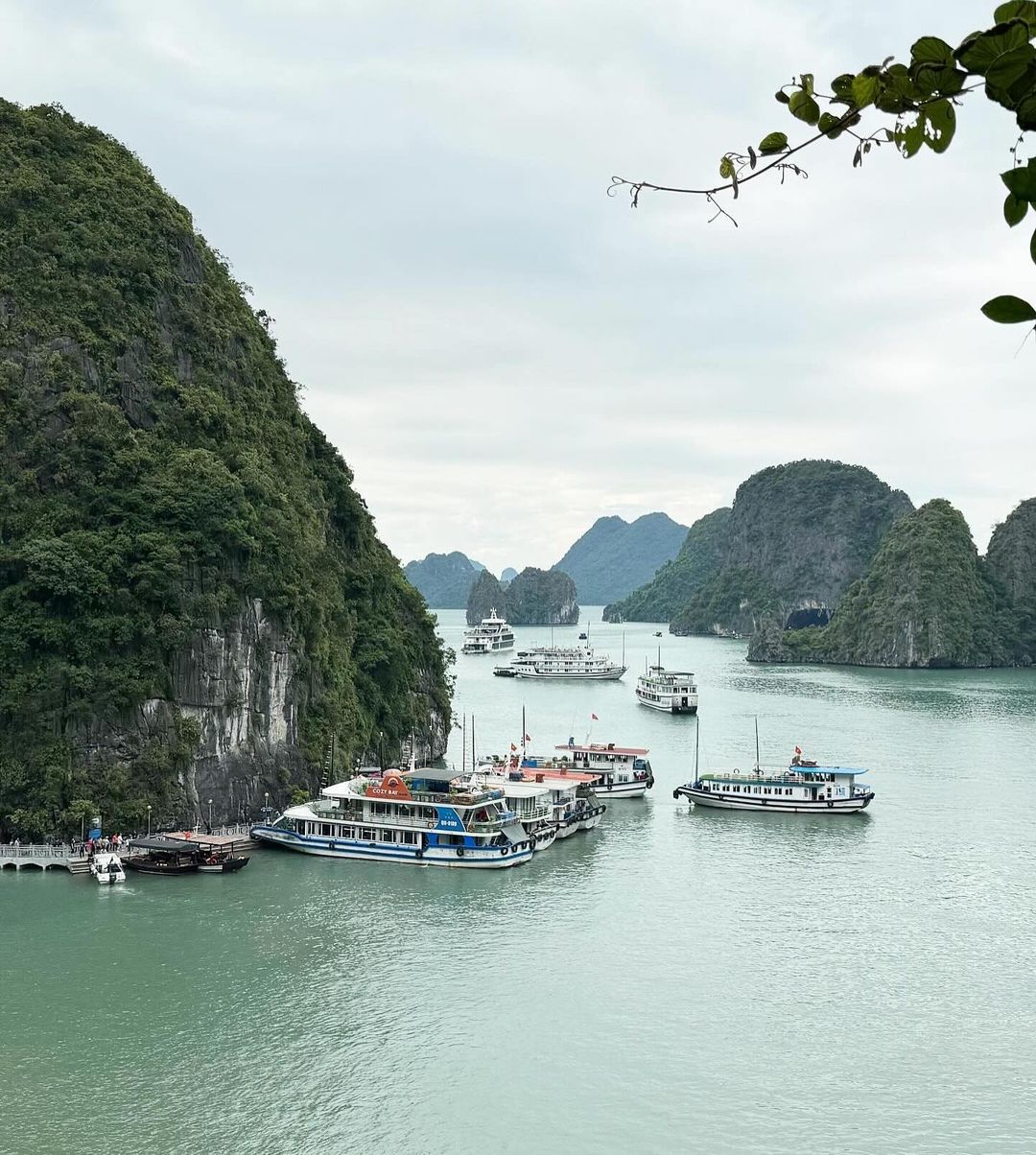 Undoubtedly, cruising is the best way for you to fully immerse in the ethereal charm of this remarkable wonder of nature and culture. From the traditional wooden boats to the elegant contemporary steel ships, each cruise grants you a unique experience, an unforgettable adventure filled with authentic discoveries.
Check out detailed information about this breathtaking destination in the following guide on cruising in Halong Bay!
Top attractions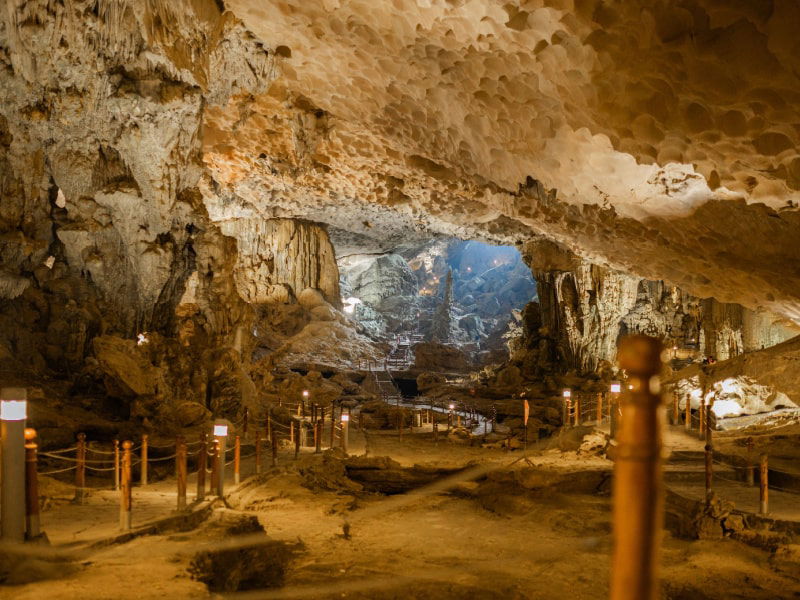 Ti Top island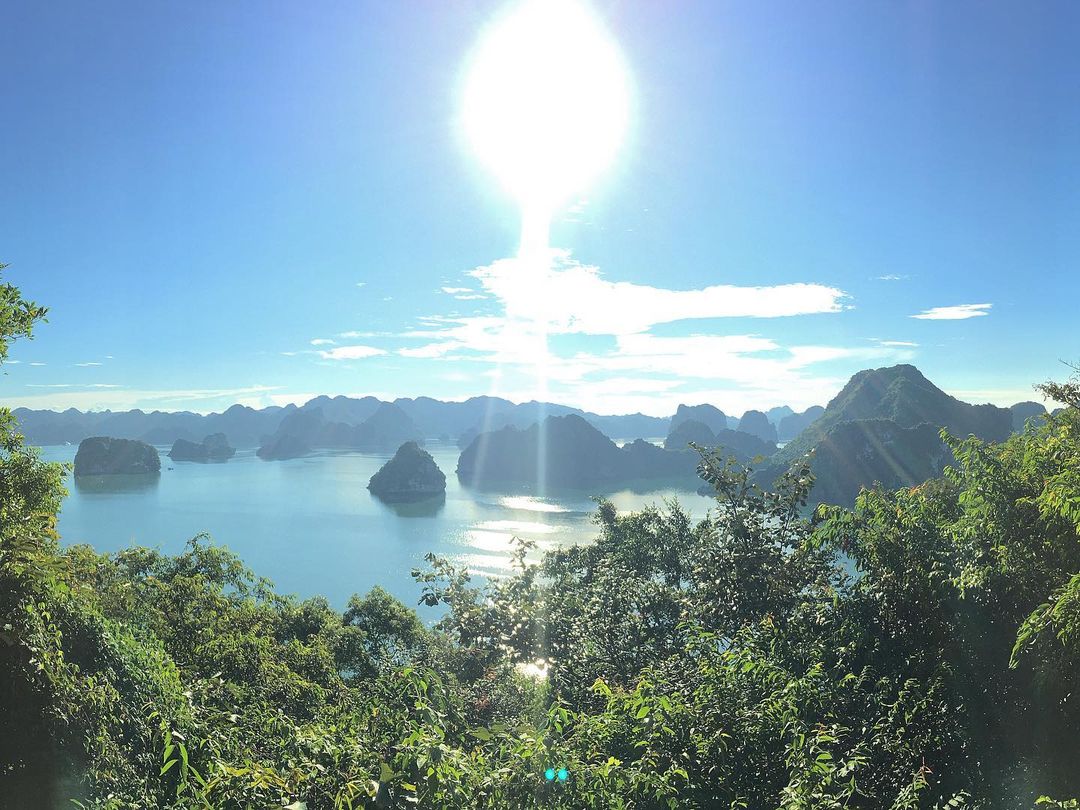 Bearing a golden sandy beach shaped like a crescent moon, a majestic mountain adorned with lush greenery, Ti Top Island creates a perfect setting for different water sports and captivating exploring activities. The island offers an exhilarating climbing adventure up a grand 450-step mountain, rewarding you with a breathtaking panoramic bay view. This awe-inspiring vista serves as the perfect backdrop for capturing timeless moments in this picturesque splendor.
Mesmerizing caves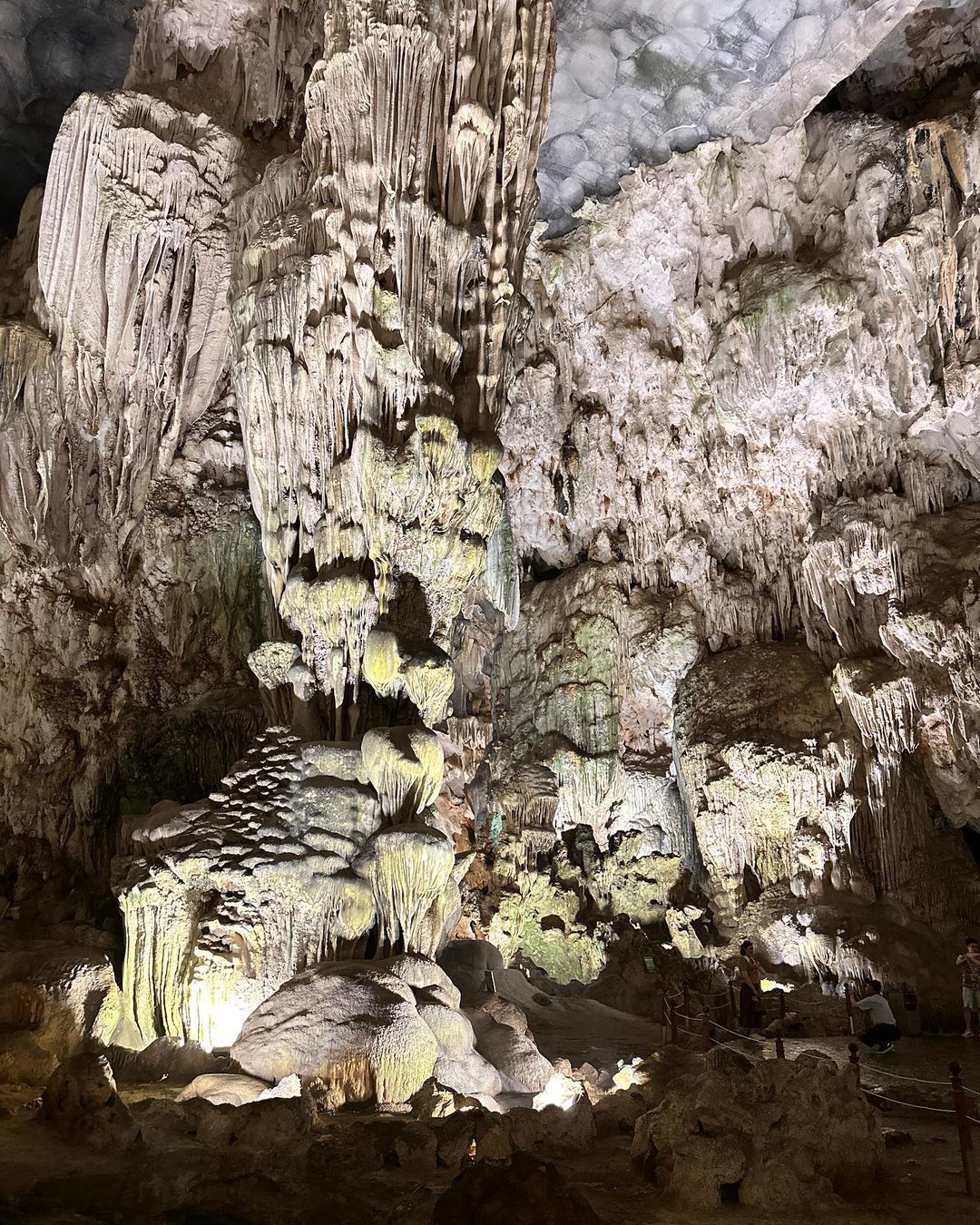 Halong Bay unveils a wide collection of dreamy and mysterious caves and grottoes, from the sparkling Luon cave and Sung Sot Cave to the timeless beauty of Trinh Nu cave, Thien Cung Cave, Me Cung cave, and so on. Each one boasts its own unique allure that is waiting to be discovered. Some caves can be accessed by boat or kayaking, making the exploration even more captivating and memorable
Cua Van fishing village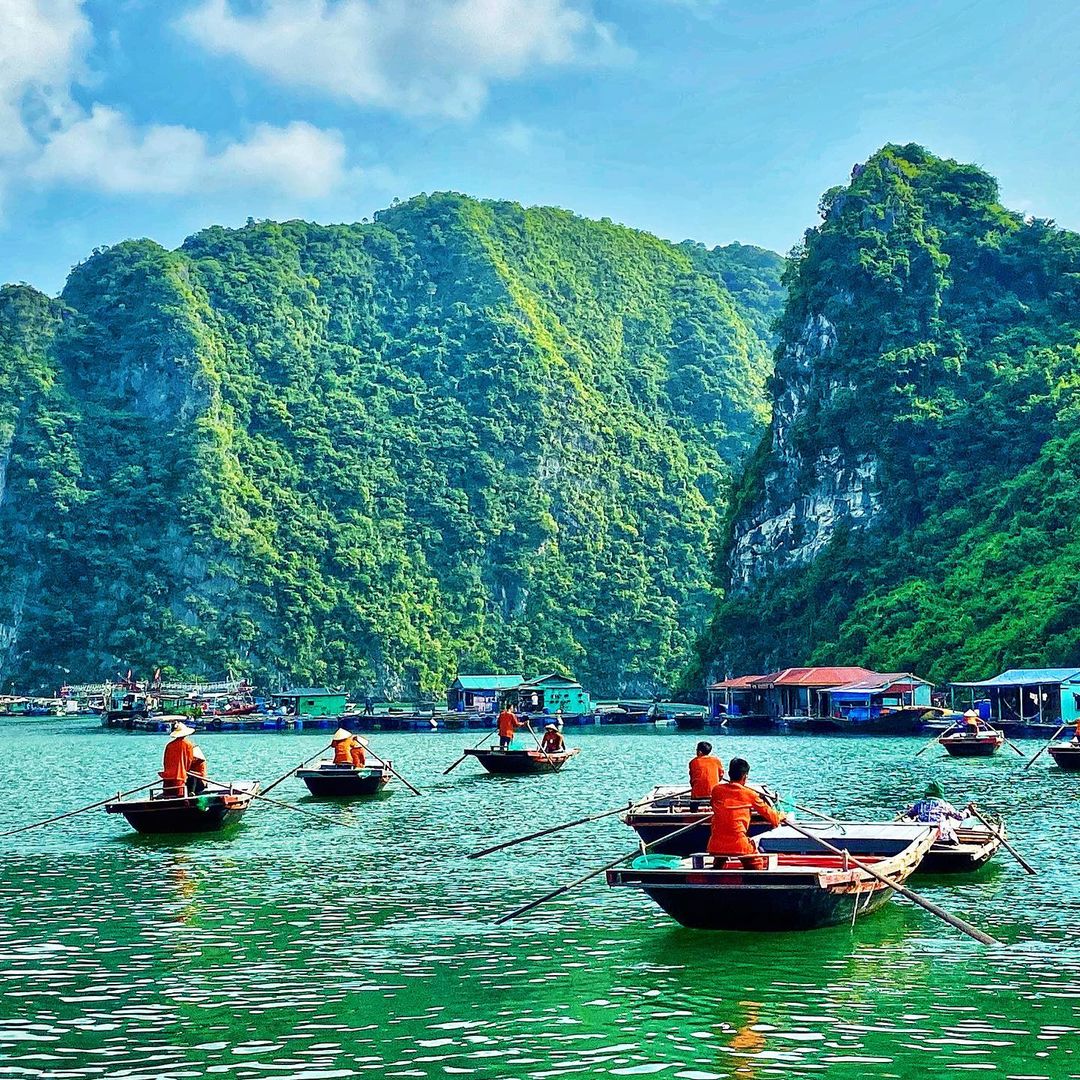 The unique floating village of Cua Van comprises more than 170 peaceful rustic houses on rafts, accessible exclusively by boat. Set against a marvelous scenic background, this poetic village presents a glimpse into the serene fishing lives and rich local historical significance, ensuring tourists a meaningful trip.
Tung Sau pearl farm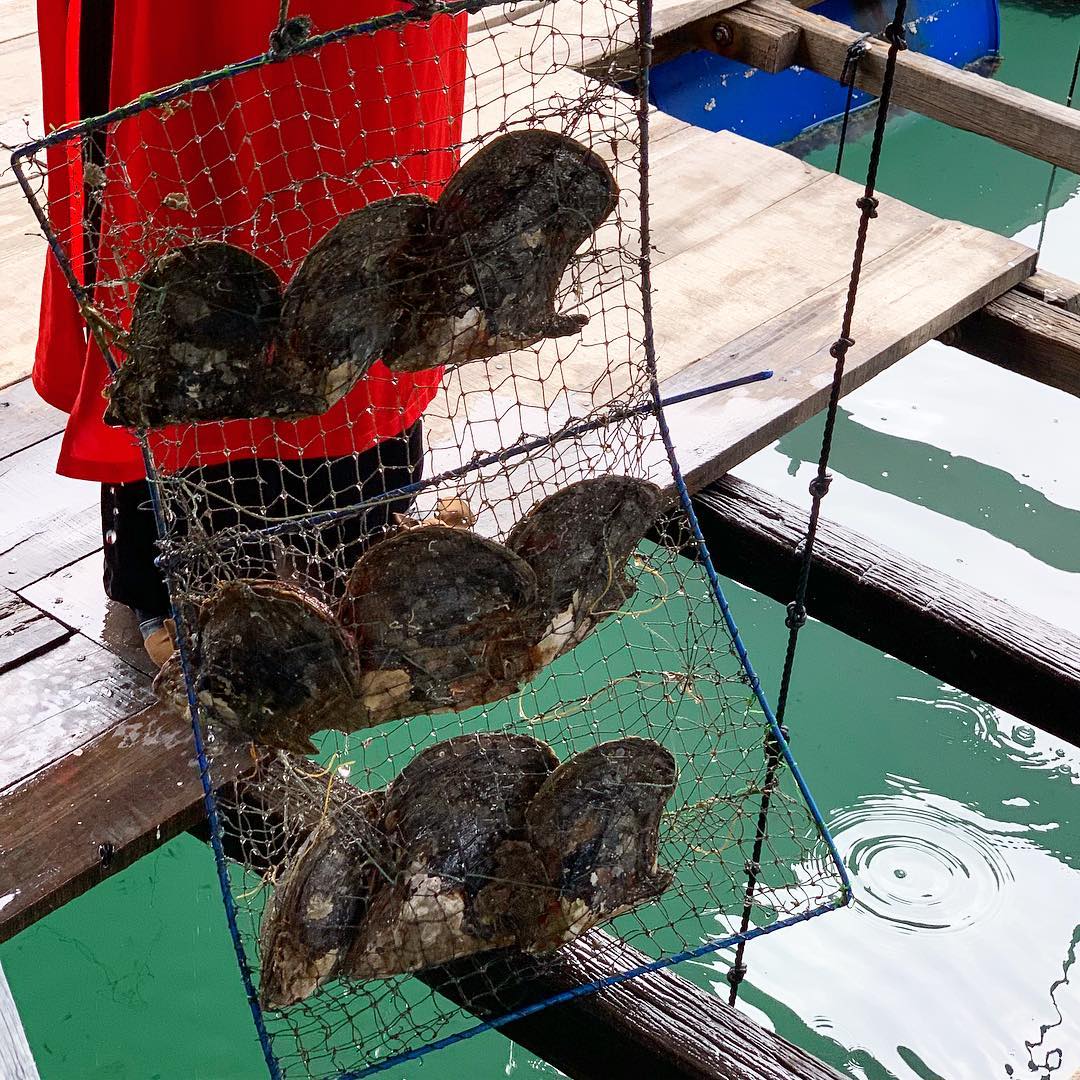 This lovely pearl farm is the place where you can admire the meticulous and sophisticated art of cultivating pearls. This intricate process depends on many different factors and requires immense time and effort, making pearls even more valuable. Exploring the pearl farm provides a rich educational experience, revealing the inner workings of pearl growing, whilst also presenting a showroom of dazzling pearls at the end of the process.
Best things to do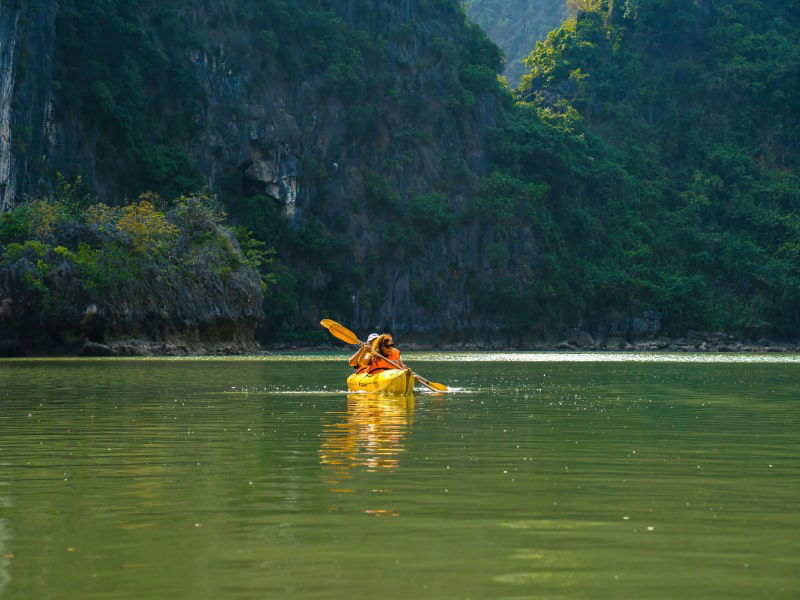 Kayaking
When cruising, one should not miss the exhilarating activity of kayaking, an opportunity to freely glide through the pristine crystal-clear waters and immerse in the marvelous nature surrounding. Kayaking is also the exclusive way to explore hidden caves and marvel at the sheer magnificence of nature. With the calm and serene seas here, the kayaking adventure becomes a truly delightful and unforgettable experience.
Bamboo boat riding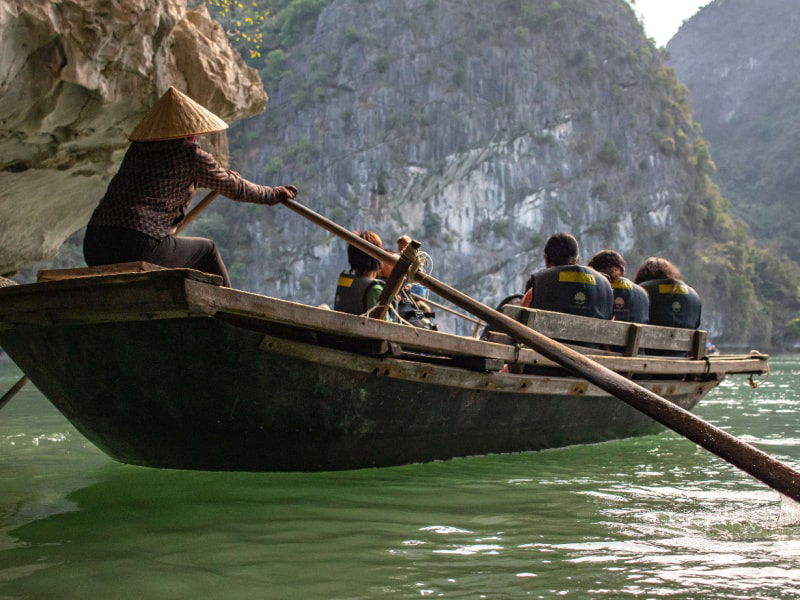 One alternative to kayaking is bamboo boating, a serene experience adding a cultural touch to a meaningful journey. Carrying around 4 to 6 people, these Vietnamese traditional boats are perfect for families or groups of friends yearning to create cherished memories together. Bamboo boat tours offer a tranquil ambiance, allowing tourists to slow down, embrace the present moment, and escape from the daily pace of life.
Mountain climbing
Many cruises also take passengers to TiTop island, where the mountain climbing is a truly rewarding experience with the panoramic view of the bay. The hiking and climbing expedition not only allows you to embark on a fascinating exploration but also provides an opportunity to marvel at the stunning surrounding landscapes.
Onboard activities
Thoughtfully-crafted itineraries ensure an enriching voyage and unforgettable moments on board. From cultural activities like Tai Chi and exploring the insight of Vietnamese cuisines through cooking classes to indulging in soothing spa and massages, every cruise strives to provide guests with a beautiful journey.
A plethora of interesting things await you but options can be overwhelming. To make it easier, here are the 10 best cruises you should consider for your overnight stays.
Best overnight cruises in Halong bay
Two major options for overnight cruises are 2D1N and 3D2N cruises. Whether you spend one night or two nights on the bay, you will feel like you are staying in a floating hotel with full modern facilities. Besides sightseeing trips during the day, overnight cruises are full of the port's offerings in the nighttime. Savoring gourmet dining, indulging in spa massages and nightlife entertainment programs are great activities you can experience onboard.
Paradise Elegance cruise
Overnight is considered a signature of the Paradise Elegance cruise. With a robust nightlife program lasting until late at night, you might not have even a dull moment. This contemporary-design steel vessel has a piano bar with live music show in the sunset, a premium European-style dinner in the dim light, and night activities like squid fishing or drinking cocktails on the deck.
Overnight activities: Sunset party with Happy Hour "buy one get one free" in the bar, live music performances from an international band, a European-style dinner, squid fishing, relaxing.
Room information: 31 cabins with private balconies overlooking the bay. The average room space is from 25sqm to 35sqm. Well-appointed rooms are divided into 4 categories: deluxe balcony cabin, executive balcony cabin, elegance balcony suite, and captain's view terrace suite.
Why we like it:
Rooms are designed in luxurious contemporary style with superior facilities.
The cruise offers exciting night entertainment.
All-inclusive packages cover almost all attentive services and meals in the Vietnamese-European fusion menu.
Stellar of the Seas cruise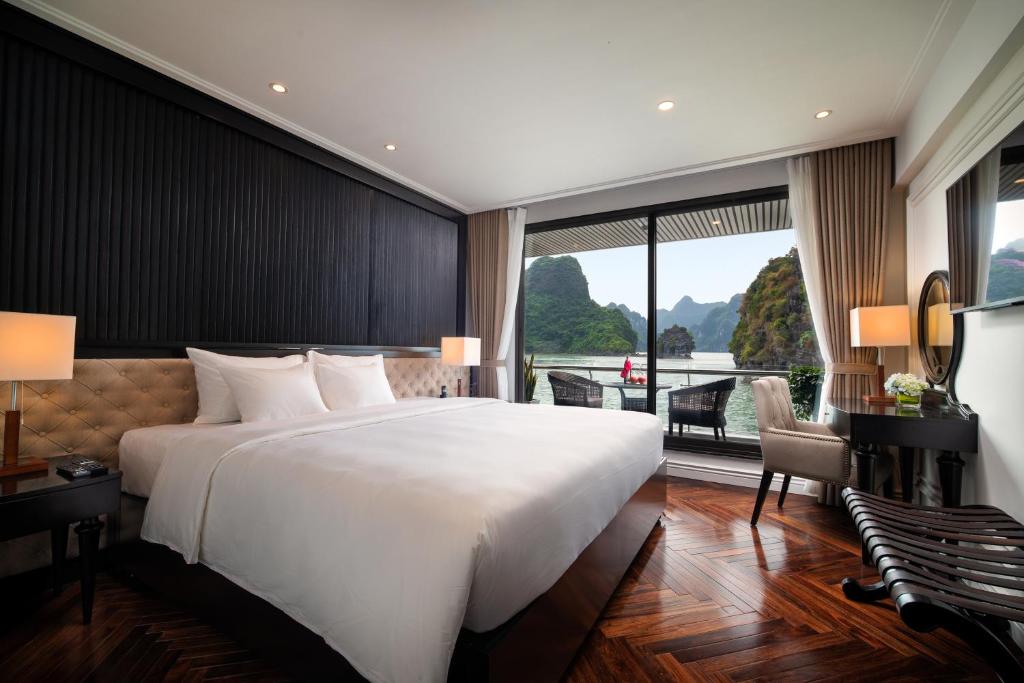 For a really special and romantic nighttime onboard, look no further than the Stellar of Seas cruise. This 5-star cruise is chock-full of the finest modern comforts for evening entertainment such as a panoramic bar, a spa, a wine and cigars cellar, and a 60-seat restaurant with both indoor and outdoor spaces. You and your beloved one can enjoy romantic dining in the restaurant with different styles or a BBQ dinner in the swimming pool area.
Overnight activities: Early evening, you can join a short cooking class, play golf, relax in a footbath with lemon grass and salt, and listen to live music. In the evening, after a sumptuous dinner, you can choose to drink in the wine cellar, or join activities like squid fishing and watching movies.
Room information: There are 22 elegant rooms divided into the junior suite, senior suite, executive suite, and president suite. Accommodations are comfortable and convenient for an indulgent night's sleep. Each room has a private balcony or a sun terrace with an expansive bay view.
Why we like it:
It likes a 5-star floating hotel with top-of-the-range facilities.
Multiple overnight experiences that suit different types of guests.
Contemporary-style rooms with superior services and amenities.
Dining options are plentiful with both romantic indoor and outdoor settings.
Elite of the Seas cruise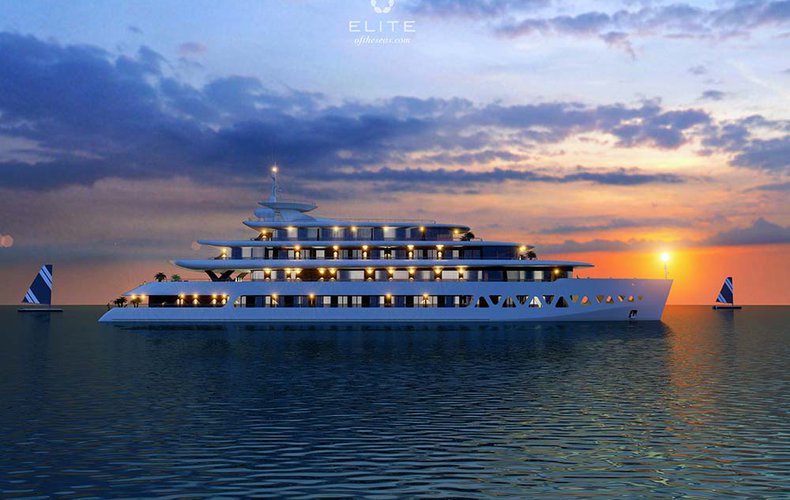 The high-end, luxurious Elite of the Seas cruise is another top choice in the bucket overnight cruise list. The 6-star modern cruise has almost everything you can expect for a wonderful night on the bay. The indoor and outdoor bar is best for a night cocktail. You can also sip premium wines in the wine and cigars cellar, and relax with sauna and spa massages.
Overnight activities: Admiring sunset in the late afternoon, playing golf, relaxing in the seasonal swimming pool, having a BBQ or set menu dinner, drinking in the wine and cigars cellar, taking part in onboard activities like squid fishing, watching movies, and playing board games.
Room information: Elite of the Seas cruise consists of 35 elegant rooms ranging from 23sqm to 60sqm. All rooms have private balconies or terraces, high-quality facilities, and complimentary services such as tea & coffee, fresh fruit, flowers, a bottle of Chile wine, and a 30-minute foot massage.
Why we like it:
Different room categories with complimentary services, suiting various types of guests.
Fun-filled entertainment programs during the day and at night.
Authentic dining restaurant with an open kitchen serving BBQ, buffet, and a la carte menu.
Scarlet Pearl cruise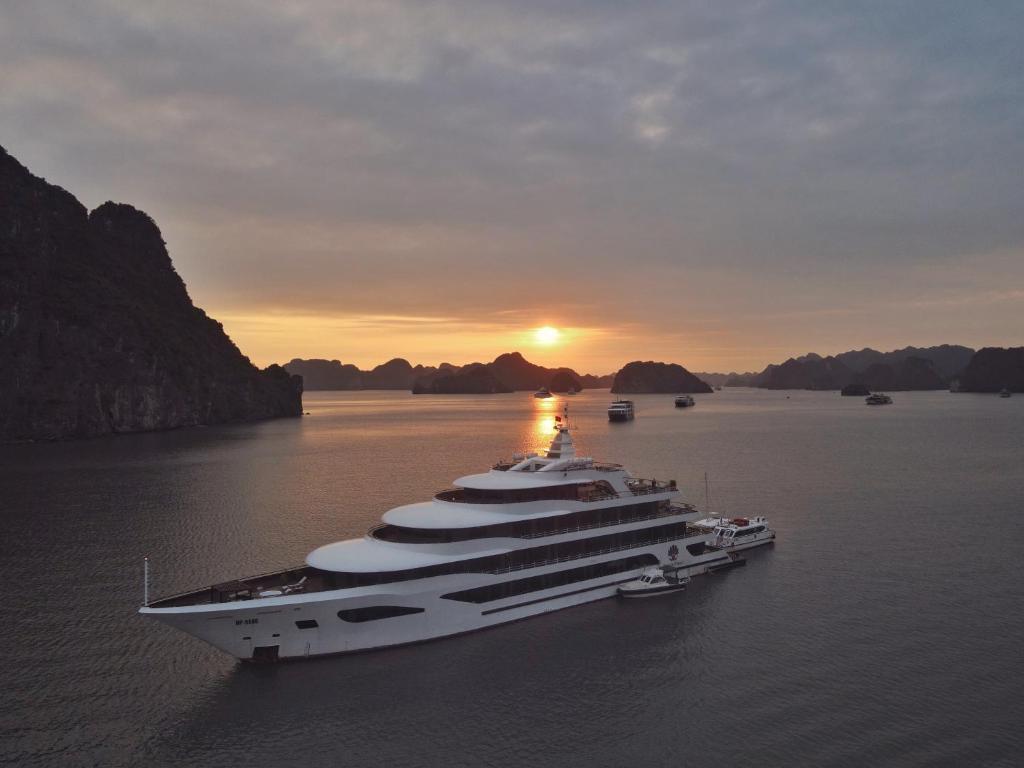 Featuring a modern Catamaran-yacht style, Scarlet Pearl cruise offers a one-of-a-kind cruise experience on Lan Ha bay and Cat Ba island. It is a nightlife-friendly cruise that you will have plenty of time relaxing in the sleeping area.
In the evening, after the sunset party, you will savor a hearty dinner and enjoy entertainment. There are a pampering spa, a classic bar and bistro, and a Pearl museum.
Overnight activities: Watching the sunset on the deck, joining Happy Hour "buy one get one free", sipping cocktails, and eating a delicious meal in a classic Vietnamese and international fusion style.
Room information: The cruise has a total of 23 cabins categorized into 4 themed suites including silver pearl rooms, golden pearl rooms, onyx pearl rooms, and scarlet pearl rooms. The largest room measures up to 150sqm. You can admire stunning views over the bay from the spacious balcony in each room.
Why we like it:
Well-appointed and luxurious rooms are generous and full of top-notch amenities.
The restaurant serves both classic Vietnamese and international specialties.
Akoya spa uniquely uses pearl powder in its treatment services and products.
Heritage Line - Ylang cruise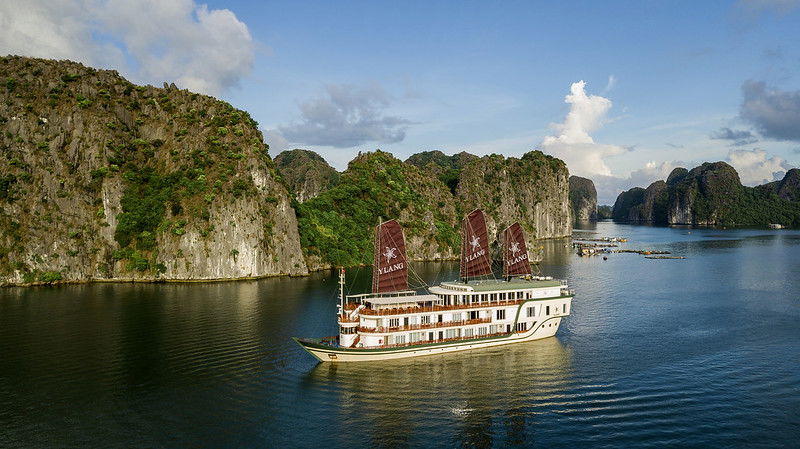 Heritage Line - Ylang cruise looks like a sparkling piece of art at night on a far-flung corner of Lan Ha Bay. In addition to an action-packed itinerary, the cruise has a great reputation for night services and activities. There are an enormous spa with a steam bath and sauna area, a refined restaurant, and a Jacuzzi pool open late at night.
Overnight activities: Joining a tea tasting lesson in the early evening, indulging in a massage session, and having a great, multiple-course dinner.
Room information: There are three types of suites: signature suites, regency suites, and regency suites (premium) with sizes ranging from 40sqm to 54sqm. Suites are designed in traditional Vietnamese style with Indochina touches. The bedroom faces a large balcony with mesmerizing bay views.
Why we like it:
Very large and convenient suites for an upscale overnight stay. The architecture combines Vietnamese and Indochina styles.
High-quality spa services for you to unwind all day long.
Orchid Premium cruise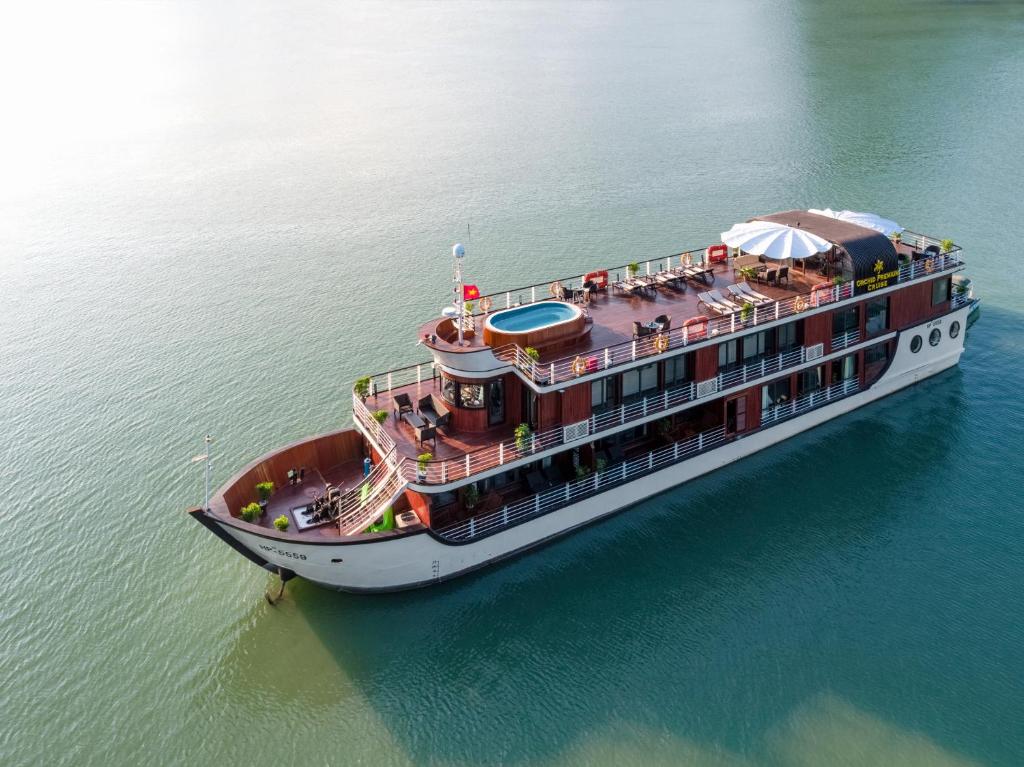 The 5-star Orchid Premium cruise has some of the largest cabins on Halong Bay, making it a top priority for an overnight cruise vacation. The cruise boasts Indochine architecture in combination with French elegance. The upscale cruise makes your overnight stay memorable with elegantly-designed cabins, 24/7 private butler service, cooking demonstration, and night entertainment activities.
Overnight activities: Cooking class, sunset party with Happy Hour "buy one get one free", squid fishing, watching movies at night, playing chess.
Room information: Orchid Premium cruise has five types of cabins: orchid premium suite, family premium terrace suite, premium terrace suite, family terrace suite, and terrace suite. Rooms are very large, from at least 45sqm to 96sqm.
Why we like it:
Extremely spacious rooms with top-of-the-range amenities just like in 5* resort.
Varied onboard entertainment programs keep you entertained all day.
Cuisines in both Asian and European flavors are suitable for different taste buds.
Capella cruise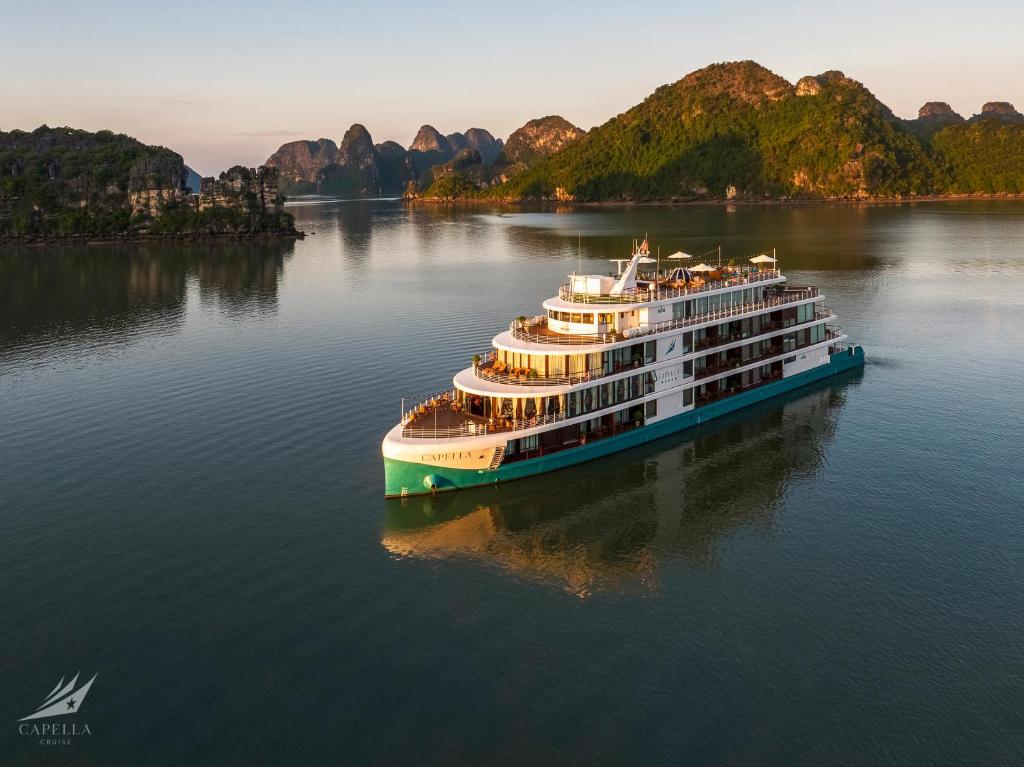 If you are looking for an overnight cruise with a full range of entertainment activities, you should choose the Capella cruise. Capella is a luxurious 5-star cruise with fabulous architecture blending Indochina ambiance with modern yacht style. The cruise has a variety of amenities namely an inflatable water slide, an Oasis and Ocean pool, a mini golf course, a Cigar & Poker Club, and Karaoke. All bring exciting experiences onboard, especially at night.
Overnight activities: Relaxing in Oasis and Ocean pool, playing golf, joining Happy Hour and sunset party, sampling a gourmet dinner, playing in Cigar & Poker club, night squid fishing, watching movies, board games, and singing karaoke.
Room information: 30 cabins on the Capella cruise follow the contemporary luxury concept with supreme indulgence.  Each room has a private balcony or terrace to unwind and breathe sea breezes. Your choices vary from oasis suite, harmony suite, sky suite, sky terrace suite, la suite de Capella, owner suite, harmony family suite, and sky family suite.
Why we like it:
The cruise offers a number of entertainment facilities such as playing cards, board games, singing karaoke, and squid fishing.
There is a unique inflatable water slide and you can enjoy snorkeling or diving.
It also has a generous deck for meetings and events.
Genesis Regal Cruise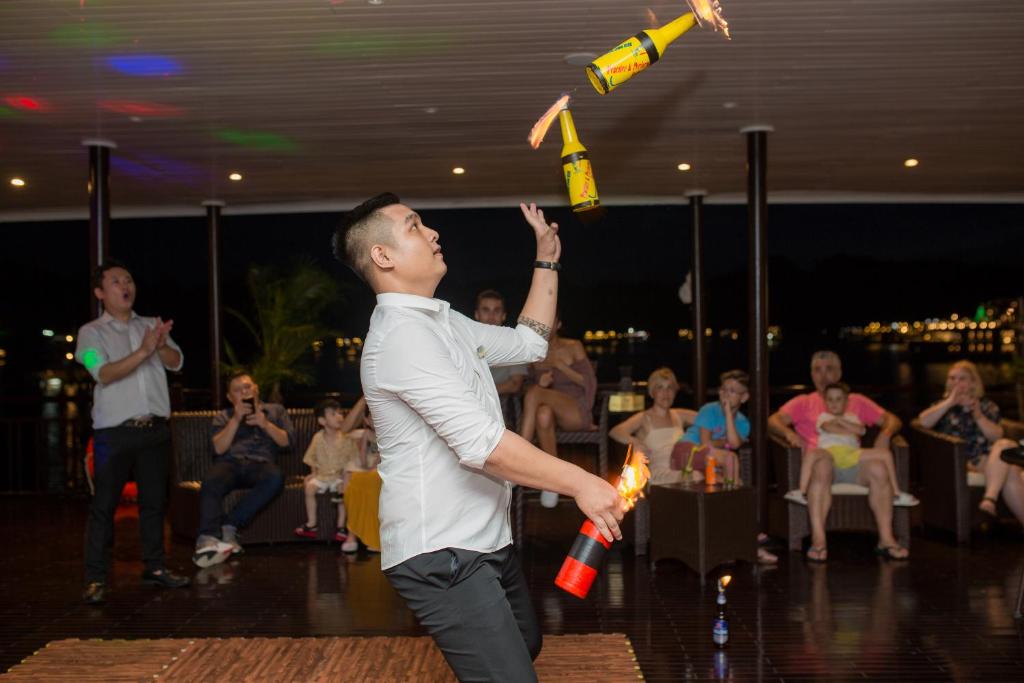 An overnight cruise vacation on Genesis Regal Cruise allows you to discover lesser-known parts of Lan Ha Bay and Cat Ba island. The cruise anchors in the Tra Bau area, a very tranquil and beautiful sleeping location.
For nightlife entertainment, you can relax in the swimming pool and Jacuzzi, in the spa with massage services, eat fruits and cakes while listening to music, and take part in onboard activities.
Overnight activities: Relaxing in the swimming pool or in the spa, enjoying sunset party, having a delicious dinner in the French-Indochine neo-classic restaurant, joining evening entertainment activities like squid fishing, singing karaoke, and watching movies.
Room information: En-suite cabins divided into 7 categories on Genesis Regal cruise are fitted with 5-star services and facilities and have the same size of 32sqm. From the private balcony, you will be able to admire the sweeping views of the bay.
Why we like it:
Luxurious rooms and facilities with different choices (7 categories). You can get support 24/7.
Night entertainment onboard has a lot of fun with typical activities like singing karaoke, watching movies, and squid fishing.
You will explore pristine areas on Lan Ha Bay and Cat Ba island in the same journey.
Heritage cruises Binh Chuan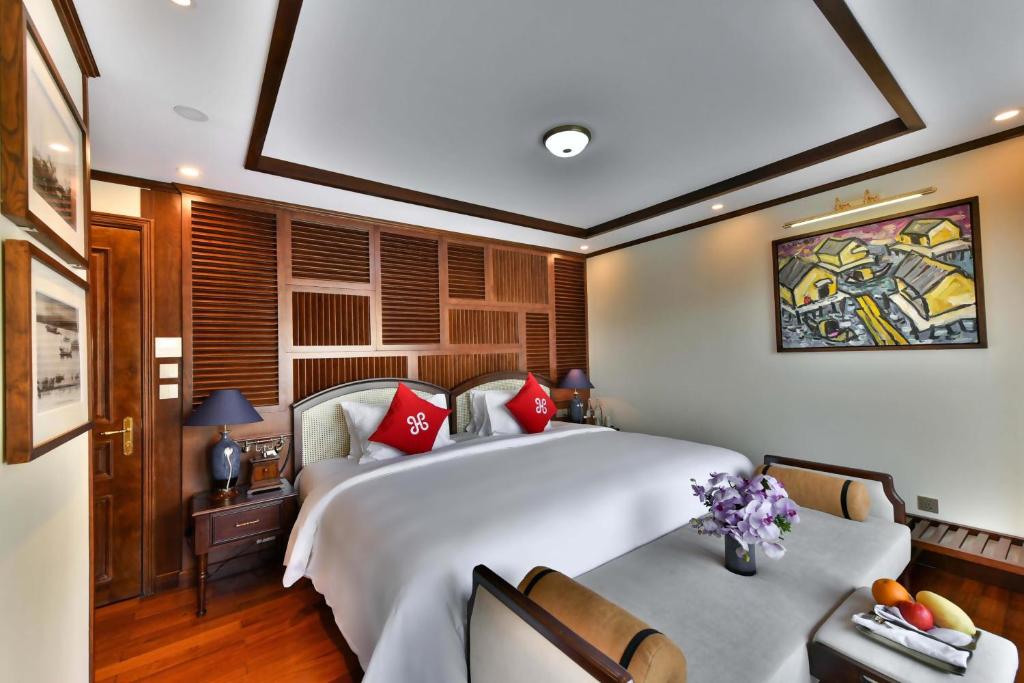 Heritage Binh Chuan is one of the most luxurious and renowned cruises sailing to Lan Ha Bay. The ship features the design style of the ancient cruise ship. When it comes to evening programs, Heritage cruises Binh Chuan offers wonderful culinary experiences in different spots such as L'Indochine restaurant & bar, indoor and outdoor lounges, a wine cellar, and a pool bar.
Overnight activities: Enjoying sunset party over the bay, joining afternoon tea and cooking demonstration, having a gourmet dinner, squid fishing.
Room information: Heritage cruises Binh Chuan is home to 20 air-conditioned suites that feature authentic French-Indochina classical charms and Vietnamese touches. Regal suites are the largest rooms with 46sqm. Each room has  a private balcony with two sun beds.
Why we like it:
Heritage cruises Binh Chuan is an upscale cruise with a sophisticated design that brings a sense of ancientness.
There are many cutting-edge amenities and entertainment programs.
This is among a few cruises with long cruise itineraries up to 4 days and 3 nights.
Sena Cruises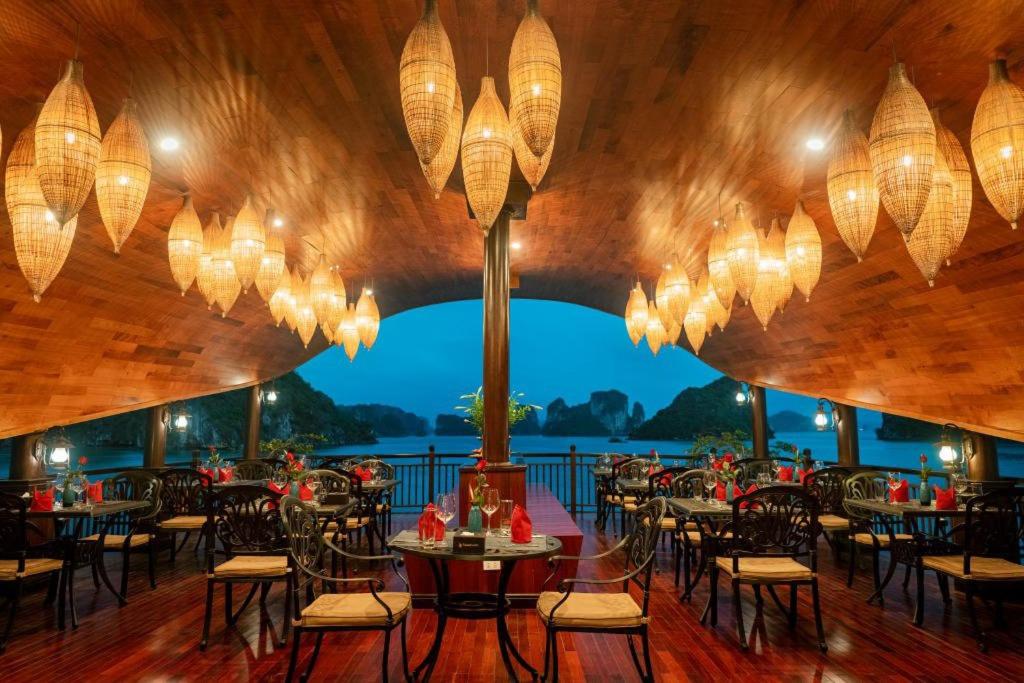 Sena is a luxurious featurinf traditional style and blends with modern comforts. An overnight cruise trip on Sena cruises brings back a lot of fun-filled experiences. You will take time relaxing in the spa, drinking on the sundeck, or taking part in evening entertainment at the end of the day.
Overnight activities: Sunset party and Happy Hour "buy one get one free", cooking class, sipping cocktails, squid fishing, and singing karaoke.
Room information: A total of 16 cabins are designed in traditional style. They are categorized into Sena terrace suite cabins, balcony deluxe cabins, balcony deluxe connecting cabins, balcony executive cabins, and balcony executive connecting cabins. The average room size ranges from 25sqm to 50sqm.
Why we like it:
Sena cruises has optional itinerary to either visit Dark & Bright cave or Three Peaches area on the first day.
Onboard entertainment is plentiful and interesting.
There are many room types that are suitable for different groups.
Questions and Answers
(0)
Be the first to ask a question on this page!
Frequently asked questions
1.

When is the best time to visit Halong Bay?

The bay is a year-round destination with magnificent attractions. However, it is best to visit this place from October to December or from March to May. During these periods, the weather is cool and enjoyable, avoiding the scorching heat of summer as well as the rainy and humid conditions in the early months of the year.
2.

What time and where do cruises pick up from Hanoi?

The pick-up for cruises is normally around 8:00 - 8:45 AM at tourists' hotels in the Hanoi Old Quarter.
3.

Is a day cruise enough to visit the bay?

As there are many alluring attractions with different unique features, a day cruise will only showcase the most highlighting beauty of the bay but also an ideal option for those who have limited time.

However, to fully explore the natural and cultural wonders here and embark on an authentic journey, it is advisable to go on a 2-day or 3-day tour instead.
4.

Do cruises have vegetarian meals?

Yes, all cruises can cater to vegetarians and other special food requirements (allergies, special diets, and so on) on requests.
5.

Can I design my own cruise?

Yes, many cruises offer charter services that allow you to customize your own cruise experience. This option is normally popular for special occasions such as birthdays, weddings, anniversaries, and so on.