Overview of Luxury Cruises
A cruising journey to the natural wonders of Halong bay beckons travelers from all corners of the globe. We understand that each visitor seeks a unique experience, which is why cruise options are always abundant ranging from boutique wooden cruises for a cozy, budget-friendly escape to ultra-luxury charters for the utmost exclusivity. Yet, what better way to experience this captivating landscape than aboard a luxury cruise with the ultimate opulence and life-enriching experiences?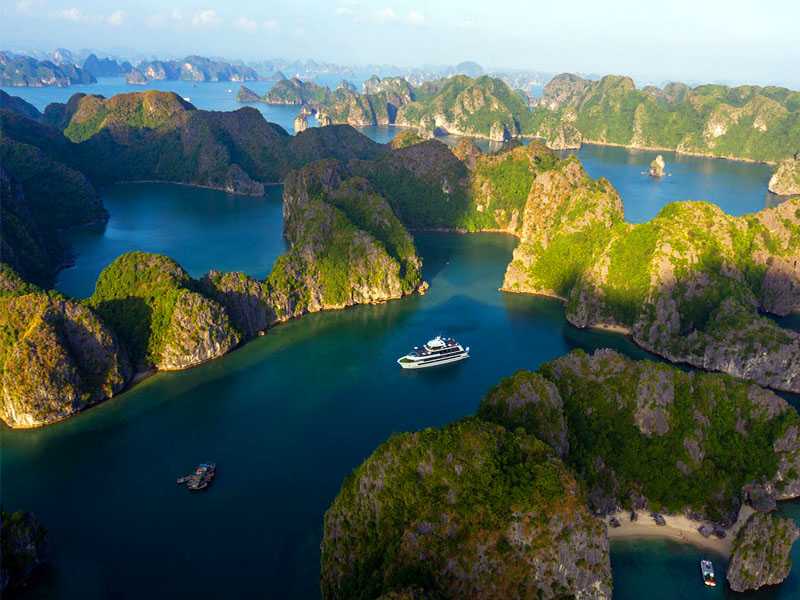 Premium cruise lines particularly cater to affluent tourists in search of sumptuous accommodations, first-rate services, and fine dining options. Enhanced space facilities and an extensive beverage selection list are contributing factors to a top-of-the-range experience. A wide range of fun-filled activities are also expected to be in existence. Furthermore, these cruise operators ensure the highest safety level and suitable children programs for memorable experiences for families.
Key contributors to a luxury cruise
High-quality cabins and suites: Cabins onboard are well-appointed with lavish furnishings and spacious private balconies or terraces overlooking the stunning bay. Bedding must also be comfortable to satisfy the most discerning guests. 
Personalized services: Cabin crew and staff are well-trained to fulfil all your needs with services such as private dining in the room or massage services. Additionally, there are  exceptional services like babysitting or programs for children on these cruises.
Gourmet dining: Delectable dining is also a decisive element in categorizing a high-rated ship. The food menu always includes a diverse range of local and international cuisines, good-quality ingredients, and freshly-caught seafood. Some 5-star cruises on Halong bay such as Ambassador cruise also offer Michellin-star cuisines.
Upscale facilities: Large and opulent vessels usually come equipped with a wide range of elements such as a spa, a fitness center, a swimming pool, a Jacuzzi, a mini-golf course, and a wine and cigar cellar. And you may have access to most of these facilities free of charge.
Wellness and spa facilities: Spas, gym centers, and comprehensive wellness programs like morning tai chi, yoga and meditation are vital aspects of this cruise type. This creates a chance for you to rejuvenate and revitalize just like in 5-star hotels.
Shore excursions: While most cruise itineraries are similar, regardless of the cruise range, hassle-free excursions and a reasonable arrangement of entertainment programs allow you to explore in a more exclusive way.
Common categories for luxurious cruises 
The cruise categorization is generally decided based on the maximum capacity, level of comfort, and services provided:
5-star cruises: Besides a sleek exterior, the cruise interior impresses you with beautifully appointed cabins or suites fitted with modern amenities. Those cruises can accommodate a large number of passengers and provide a vibrating, lively atmosphere. Recommended options for this type of cruise are Paradise Elegance Cruise, Ambassador Cruise, and Elite of the Seas Cruises.
Boutique cruises: They are often smaller vessels with limited passenger capacity, made of wooden materials and provide an intimate experience. Thus, you can be better catered. Itineraries on these cruises tend to focus on off-the-beaten-path destinations with authentic experiences. Some reputation choices are Nostalgia Cruise and Heritage Cruises Binh Chuan.
Private cruises: For utmost privacy, affluent tourists often seek no further than private charter cruises including Legend Halong Private Charter and Bhaya Legend Cruise. With this option, the maximum capacity is often less than 20 guests. You can customize itineraries and control all programs onboard. Those cruises are mostly sought after by VIP guests and small families.
Themed cruises: Some themed-based cruises concentrate on exclusive services. For instance, you can opt for private dining in the wine cellar on Heritage Cruises Binh Chuan, hold parties nearby the massive swimming pool with a light show on Stellar of the Seas Cruise, enjoy special dietary requirements (Halal, Kosher, vegetarian, gluten-free) on Mon Cheri Cruises or organize wedding ceremonies on Era Cruise.
Popular types of passengers
With their diverse design elements that encompass both classic and contemporary attributes, opulent vessels can cater to a wide spectrum of travelers.
Honeymoon couples: A boutique cruise like Orchid or Era Cruise is a perfect setting for couples. The cabin crew would attentively offer a romantic-themed stay and memorable dining for couples to celebrate their love not to mention appealing honeymoon packages.
Multi-generational families: These cruise lines are also suitable for families with young children and the elderly. Enriching programs with educational purposes are given for family bonding and learning together. For example, while children will observing the pearl-making process at Tung Sau pearl farm, adults can explore the bay on a kayak boat.
Small groups of VIPs: If you travel on a business trip, it is best to reserve a charter cruise or large cruise that provides customized services and facilities for business meetings and conferences.
How to choose the best luxury cruise?
These cruises are usually high in price. However, each line still has distinct services and facilities offered. Therefore, while selecting the cruise, regardless of the room rates, you need to take into account several main criteria:
Reputation and reviews: It is essential that you visit the cruise's website. Only reliable ones with clear offers and itineraries should be selected. Apart from that, researching the credibility of the cruise line and reading feedback from previous passengers on Booking.com or Agoda is also important. You should choose cruises with 5* reviews and good recommendations.
Cabins and suites: Check images about the cruise's interior and cabins carefully to make sure you have suitable accommodation options. Examine some features like size, amenities, and views that fit your budget and interest.
Itinerary and destinations: You should have a basic assessment of the cruise itinerary and the destinations to figure out whether these places of interest align with your travel preferences and meet certain clean and safety standards.
Service and personalization: It is recommended to look for a cruise line with a crew-to-guest ratio, as this ensures that the staff can cater to your individual needs.
Onboard amenities and activities: Provisions like spa facilities, fitness centers, enrichment programs, entertainment, and recreational activities bring great value for your money. 
Questions and Answers
(0)
Be the first to ask a question on this page!
Frequently asked questions
1.

Are luxury cruises all-inclusive?

It depends on each cruise line. Some cruises offer all-inclusive packages including beverages and transportation while others do not.
2.

What types of accommodations can I expect on the cruise?

Premium cruises primarily offer spacious, well-fitted suites with private balconies or terraces with majestic bay views. You can also take advantage of a Jacuzzi bathtub and mini bar in the cabin.
3.

What facilities are often provided on these cruises?

Top-notch facilities on high-quality ships may include a restaurant & bar, a swimming pool, a Jacuzzi pool, a gym, a spa, a library, a souvenir shop, an art gallery, a mini-golf course, wine & cigar cellar, and so on.
4.

What are popular onboard entertainment programs on these cruises?

Sophisticated entertainment options that you have access on this cruise category range from live music performances to cooking classes, BBQ parties, morning taichi/yoga sessions, sunset parties, reading books, and watching movies.
5.

Are luxurious cruises family-friendly?

Yes. Most cruises are family-friendly with specialized programs and designated playgrounds for children and suitable itineraries for family activities.