Overview of Couples
Have you ever dreamt of sailing away to Halong bay on a romantic cruise ship with your special one? Choosing the right type of cruise can make your vacation truly exceptional yet not all cruises are suitable for your expectations. Some Halong Bay cruise lines can be overly casual or overcrowded while others may be family-oriented or perfectly fit solo travelers.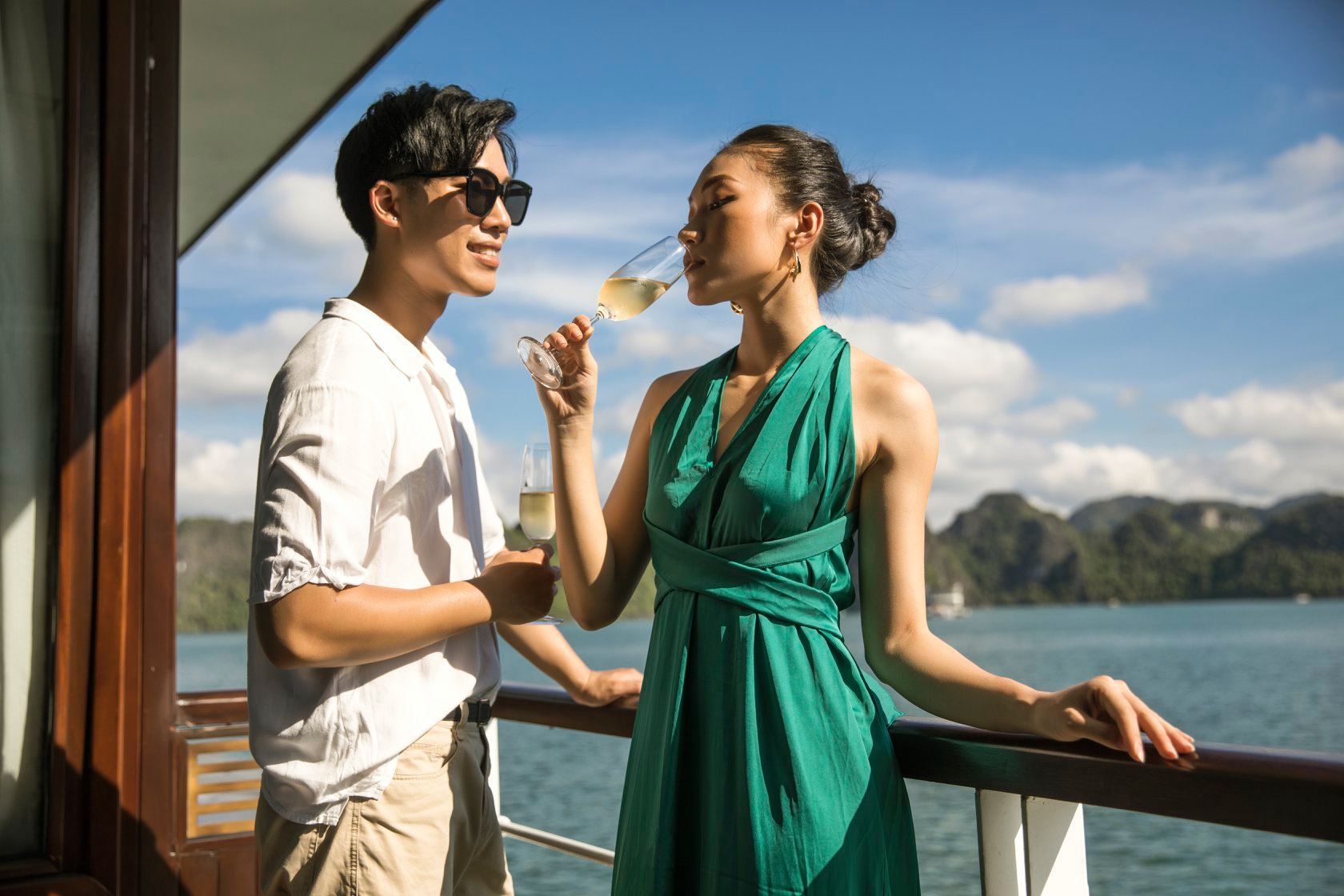 Despite the vast differences in finding cruise excitement, they may be all interested in couple's tailor-made features such as luxurious spa treatments, engaging entertainment options, exciting shore excursions, enriching cultural programs, and fine dining experiences. Indeed, the finest cruises prioritize romance and adult-oriented entertainment. Besides, they excel at providing thoughtful touches to cater to a romantic getaway for both.
Are cruises good for couples?
Obviously yes. Couples' cruises are highly enjoyable because they offer a unique blend of relaxation and shared experiences in an intimate setting:
Abundant leisure time for connection without hassle planning: You and your loved one can escape from the distractions of daily life and just need to indulge in a comprehensive package with accommodations, meals, and entertainment amenities included. Activities are also arranged in detail for a stress-free journey. As a result, you'll save plenty of quality time to strengthen the bond.
Romantic onboard atmosphere and entertainment: A semi-formal ambiance with elegant decor and a cozy atmosphere heightens a sense of romance and intimacy. There are plenty of entertainment programs and activities such as live music, dance performances, themed parties, cocktails, and candlelit dinners.
Utmost in-room privacy and luxurious amenities: Staterooms on opulent cruises for lovebirds are equipped with private balconies, state-of-the-art facilities, and round-the-clock services. To enhance the overall experience, you'll also have access to the spa, gym center, and swimming pool onboard (if any).
Celebratory occasions: Special occasions including anniversaries, honeymoons, and birthday parties can be made more memorable with the tasteful arrangement of crew members on the cruise.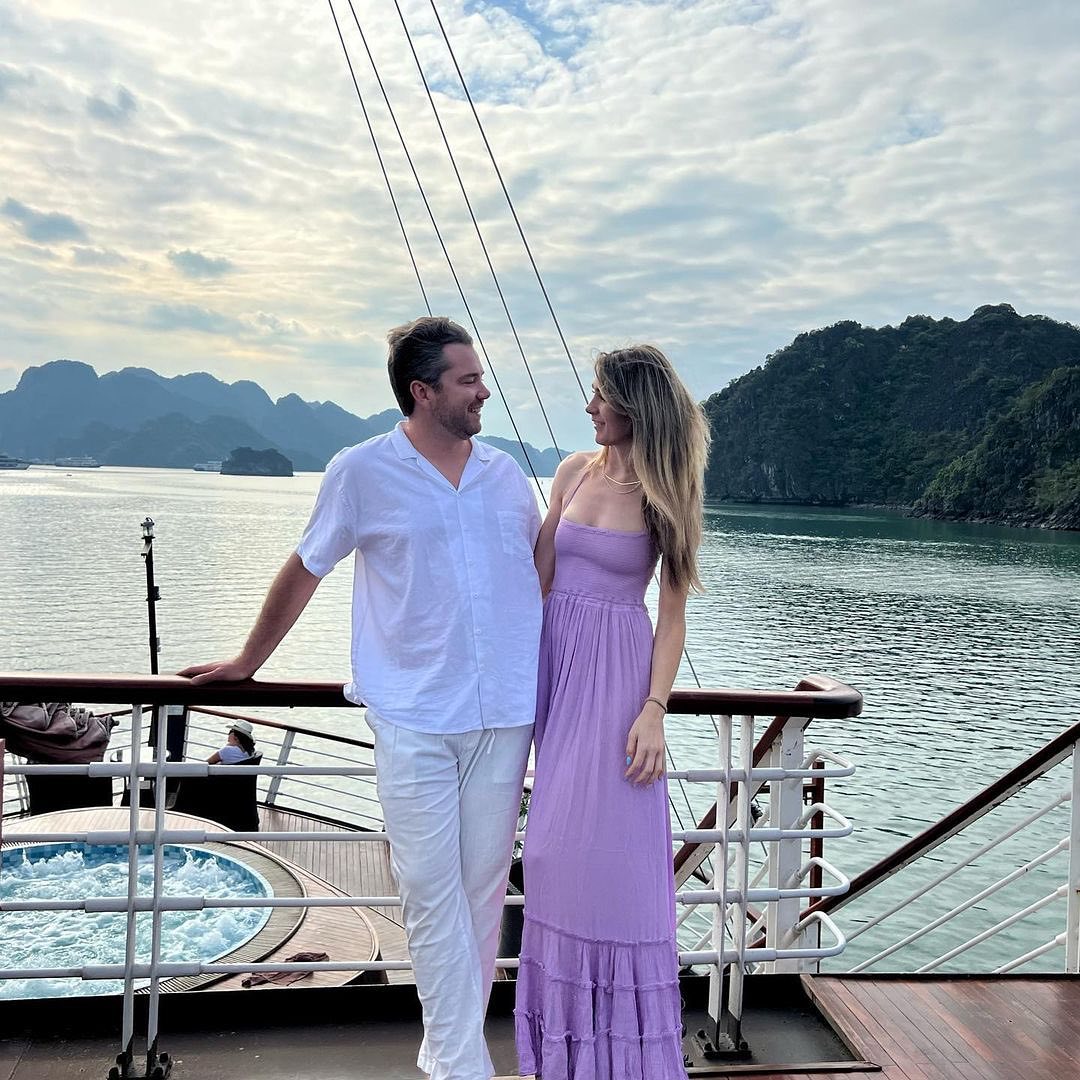 Things to consider before picking a cruise
Prior to selecting a cruise, it is essential that you define your vacation goals and are conscious of your budget. More importantly, discuss with your partner thoroughly to narrow down options to fit expectations and schedules.
Budget: You and your accompany should opt for a cruise slightly below your budget to guarantee ample allocation for extra charges such as drinks, souvenirs, and onshore shopping as well as create a financially comfortable feeling. A reasonably-priced cruise with well-rounded programs is much more preferable than a luxurious vessel causing financial constraints. The price is generally US$200 to US$400 per room per night with many inclusive features.
Onboard activities: Your choices of cruises can be different due to preferable onboard activities and the time you want to spend there. These activities can include romantic dining, spa treatments, stargazing, cooking lessons, sunset parties, morning yoga or tai chi sessions, live music performances, movie nights, squid fishing, photography sessions, and private balcony time. Normally, you can seek those entertainment programs on almost all mid-range and luxurious cruises for honeymooners. Furthermore, some upscale vessels namely Stellar of the Seas, Elite of the Seas, and Heritage Cruise Binh Chuan also accommodate seasonal swimming pool, mini golf course, and wine cellar. 
Destination: Although the Halong bay area has gained a great reputation as a perfect destination for couples, each bay has its own winning point to attract different tourists' preferences. For instance, Halong Bay is more touristy yet comprises a number of renowned attractions such as Fighting Cocks islet, Sung Sot cave, and Titop island. Therefore, you can have a lot of fun and thrilling activities there. Conversely, those preferring tranquility can head to Lan Ha bay with a number of opulent cruises or Bai Tu Long bay with Oriental-style boats.
Activities: Determining activities to take part in during the vacation in advance can help you figure out ideal cruises more effortlessly. Besides, make sure that you have a balance between leisurely pursuits and thrilling adventures to get exceptional experience.
Dining: A romantic experience, especially an exclusive dinner in an intimate setting is perhaps the first priority of many couples. If you place a high value on this aspect, you should look for cruises that accept dinner reservations and special table settings.
Best cruise lines for couples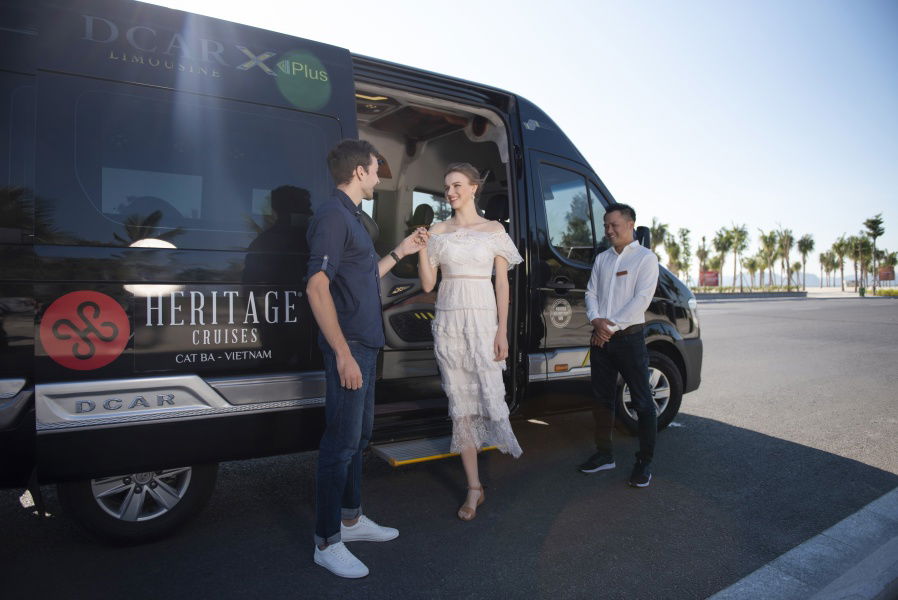 A plethora of cruise operators specialize in itineraries for couples with notable features. Here are some suggestions:
Heritage cruise Binh Chuan
This is among the first and most luxurious boutique cruises on Lan Ha bay that focuses on diverse royal culinary and beverage options, ultimate personalized service, and a sense of intimacy.
Private dining in the wine cellar: This 5-star luxurious cruise boasts a remarkable wine cellar where you can savor dinner with an exceptional array of premium wines and delectable dishes.
Around-the-clock service: Heritage Cruise Binh Chuan stands out for its 24-hour room service; You can arrange an in-room breakfast, special dietary, and pre-arranged celebrations.
Impressive wellness services: There are abundant services for your overall well-being enhancement such as spa massages at White Lotus Spa and reading books at L'Art de l'Annam.
Stellar of the Seas
This is among the top-of-the-line cruises that sail to Lan Ha bay, a quieter neighbor of Halong bay to the south. The cruise is best suited for a private and relaxing getaway for its itinerary to remote and secluded areas.
Spacious accommodations with private balconies: Cabins are well-fitted with fine furnishings and have private balconies or sun terraces for the ultimate lovebirds' escape.
Vivid swimming pool light show: The 50-sqm swimming pool on the cruise will transform into a great space for the light show with romantic LED lights at night making it a marvelous venue for dating.
Exceptional wine cellar: This is among a few cruises with a wine cellar so you savor different kinds of wines and have private dining there.
Mon Cheri Cruise
Mon Cheri is an opulent cruise with services and packages for couples. The vessels feature beautifully appointed cabins that are adorned with wooden furnishings, large glass windows, and dark wood floorings. The honeymoon package is a highlight of this cruise.
Inclusive honeymoon package: With this package, you and your partner will be offered a private car pick-up service from the airport to the hotel, a night in O'Gallery Premier Hotel in Hanoi, two nights on the luxurious Mon Cheri Cruise, round trip transfer by Limousine and a motorbike tour around Hanoi City by night.
Era Cruise
Era Cruise carries an art-decor style where you can indulge in marvelous suites and stellar service. This is among a few luxurious cruises with both day, two-day-one-night, and three-day-two-night itineraries to explore Lan Ha bay.
Perfect ceremony venue: Era Cruise is a well-known option for wedding parties, anniversaries, and special celebrations for couples. Personalized arrangements and food menus are provided for the best couples' experience.
Seaplane experience: To enjoy your romantic holiday in the most exhilarating way, you can embark on a seaplane and admire Halong Bay from a bird's eye view.
Questions and Answers
(0)
Be the first to ask a question on this page!
Frequently asked questions
1.

What factors should I consider to choosing the right romantic cruise?

Some elements to consider such as budget, amenities, cruise duration, type of experience, and itineraries can help your choice of a favorable cruise become easier. For example, you should pick a cruise that offers honeymoon package with private dining and spa treatments to enhance the relaxation level.
2.

When is the best time to travel?

Halong bay is most spectacular during the dry season from October to April when the weather is pleasant and the vision is clear, perfect for outdoor activities and sightseeing trips.
3.

What are special offers for couples on the cruise?

Many cruises provide special offers for honeymooners such as packages, romantic dinners, spa treatments, floral arrangements, and surprise gifts for special occasions.
4.

What should I pack before traveling?

You should pack light with comfortable clothing suitable for the weather, swimwear. sunscreen and cameras to capture unforgettable moments.
5.

Can I arrange a private dinner on the cruise?

Yes. Most romantic cruises offer a candlelit dinner in privacy so you can have an intimate experience and savor meals according to your taste.