Overview of Lan Ha Bay 2 Days
Nestled along the mesmerizing coastline of northern Vietnam, stretching over 7000 ha with around 400 islands and islets, Lan Ha bay is an enchanting gem with timeless allure. Just like its renowned counterpart, Halong Bay, the bay showcases breathtaking natural beauty but offers a more tranquil escape from overcrowding and touristy vibes. With plenty of unspoiled beaches, jade-green waters harmoniously blended with the towering limestone karsts and verdant islands, this pristine bay emerges as a perfect destination for nature enthusiasts and cultural explorers.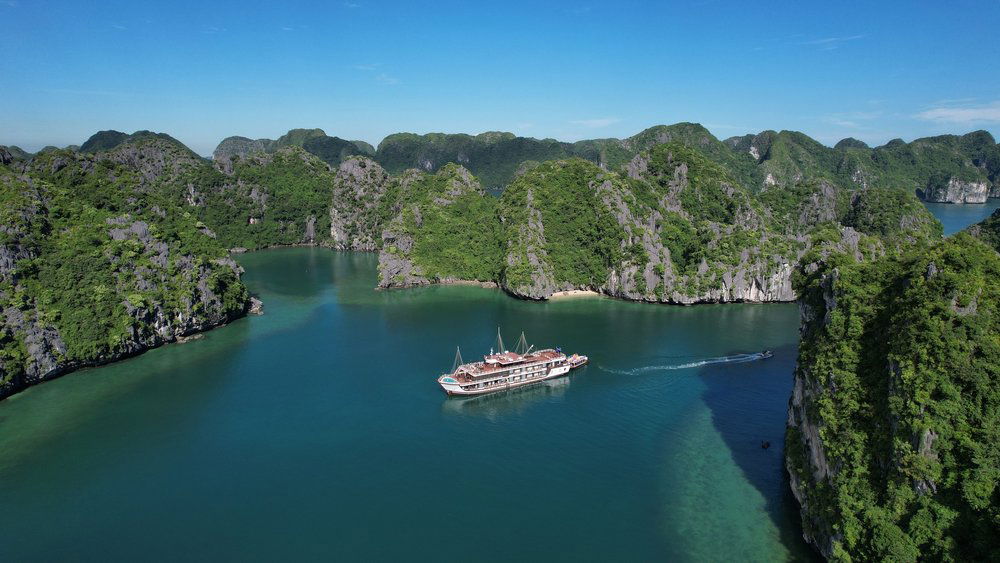 There are several picturesque routes to embark on a 2-day cruise and here is the essential information:
What to expect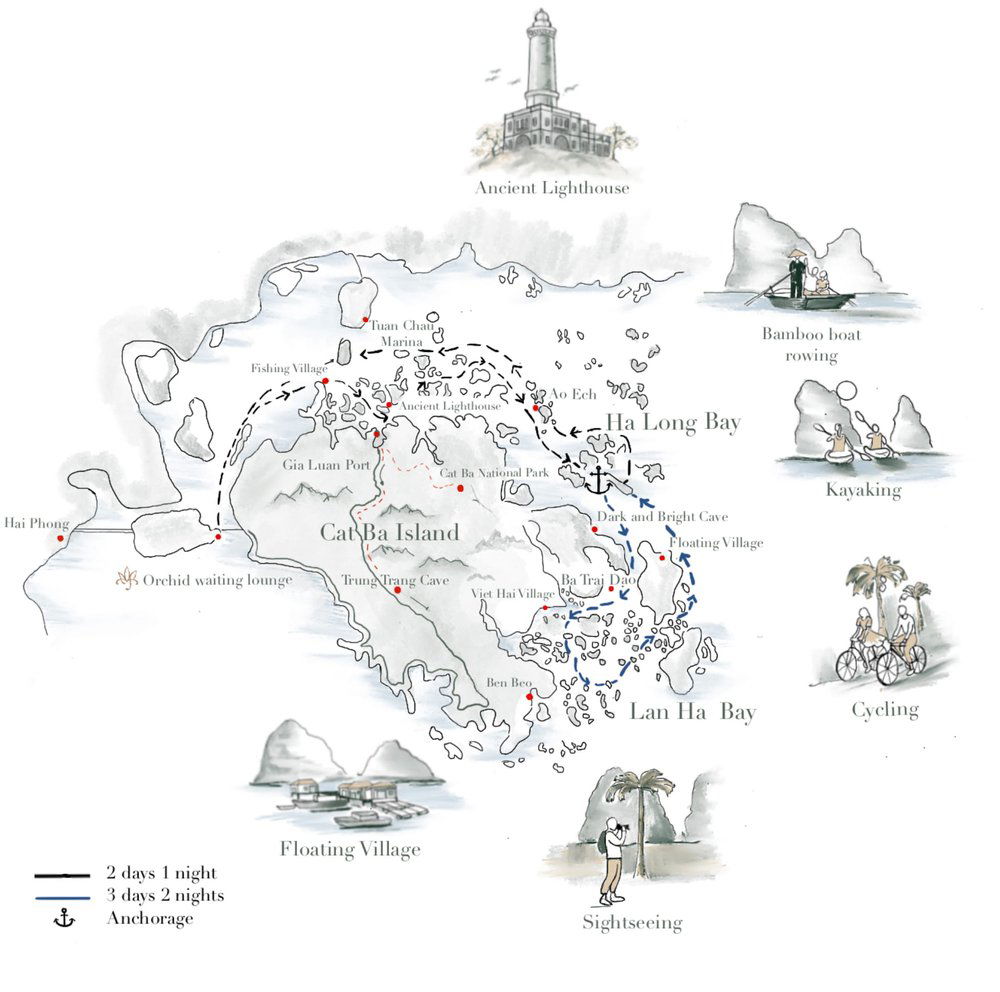 Day 1
Normally, all cruises begin their cruising journey around noon. Upon boarding, you are greeted with a refreshing beverage and treated to a delightful lunch, as the cruise glides through breathtaking limestone karsts, islands, and islets.
In the afternoon, you can expect to embark on fascinating off-deck explorations. While most cruises opt to visit one of the notable attractions - Three Peach beaches, Frog Pond area, Dark & Bright cave, some offer a more immersive combined expedition of Trung Trang cave and Tra Bau area. You will have the opportunity to engage in exciting activities such as kayaking, swimming, bamboo boat riding, caving, and more. After these fulfilling excursions, you return to the cruise and participate in several activities on board - sunset party and cooking demonstration before dinner. 
In the evening, continue your enjoyment with squid fishing, movies, drinks from the bars, or simply relax in cabin.
Day 2
To kickstart a fresh new day, you are encouraged to participate in early Tai Chi sessions. Following a light breakfast, you will proceed to explore the day-two attraction. Due to time constraints, most cruises usually only visit one attraction. 
After the excursion, you have time to pack your belongings, check out, and savor a lovely brunch before fishing cruising experience.
Pros and cons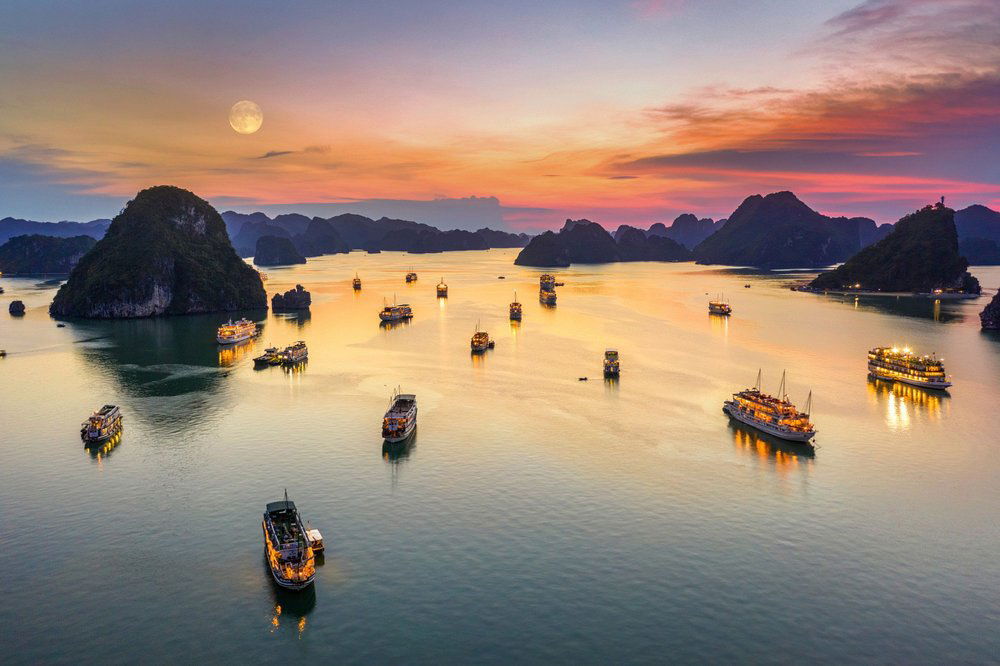 Pros
For those with limited travel time and unable to dedicate 3 days to exploring the bay, a 2-day cruise makes the perfect choice. Also unlike a day tour, taking up a 2-day allows you to immerse in more than just the highlighting of the bays without feeling rushed. 
With a 2-day schedule, you enjoyably experience both the amazing onboard facilities & services and the captivating off-deck excursions. The itinerary creates a perfect balance between making the most of your time and offering an immersive and unforgettable experience in the poetic bay's waters. 
Enjoying unique experiences without repetition
A 2-day cruise offers a wide array of thrilling off-deck activities to explore the surroundings such as kayaking, swimming, bamboo boat riding, hiking, and more. You also have time on board to grasp memorable experiences of cooking classes, Tai Chi, squid fishing, sunset party that a day tour does not include. 
Additionally, compared to a 3-day cruise, some tourists claim that they find activities on board in the evening repetitive. But this does not happen with a 2-day cruise, which ensures that you appreciate every unique & enjoyable moment throughout the cruise.  
Without a doubt, 2-day cruises offer a more affordable price compared to 3-day cruises, and considering the time spent throughout the journey, this cruise type also provides a better value for money than a day tour. Therefore, they are ideal options for budget-conscious travelers, ensuring a worry-free and enjoyable vacation.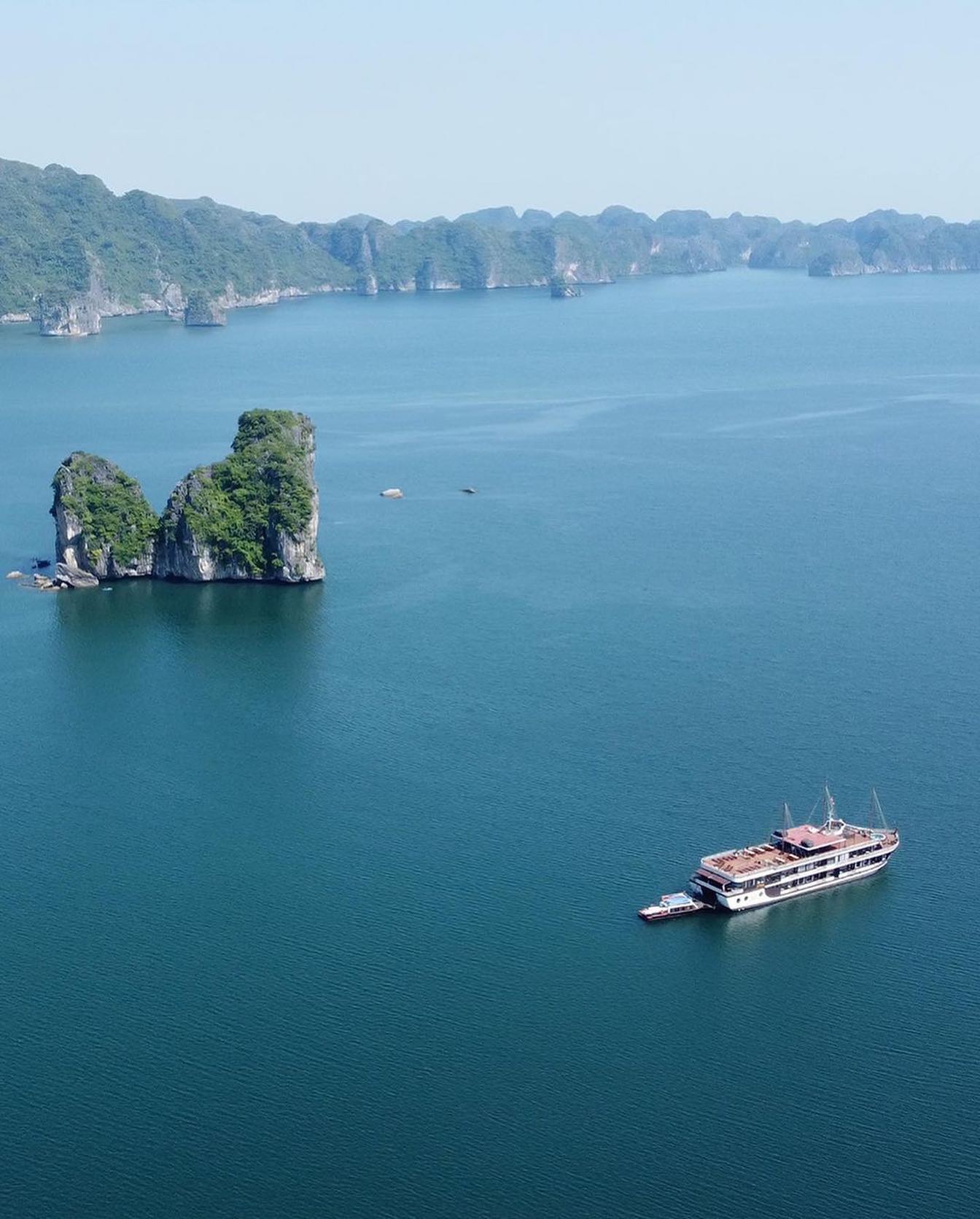 Cons
Highlighting and crowded attractions
2D1N cruises often follow a route that is more well-known and popular to explore the poetic Lan Ha Bay. As a result, especially during the peak season, the bay can be quite crowded with many boats and tourists. On the other hand, longer and less-visited routes are usually included in 3-day itineraries, allowing for a more serene and peaceful experience.
Best 2-day cruises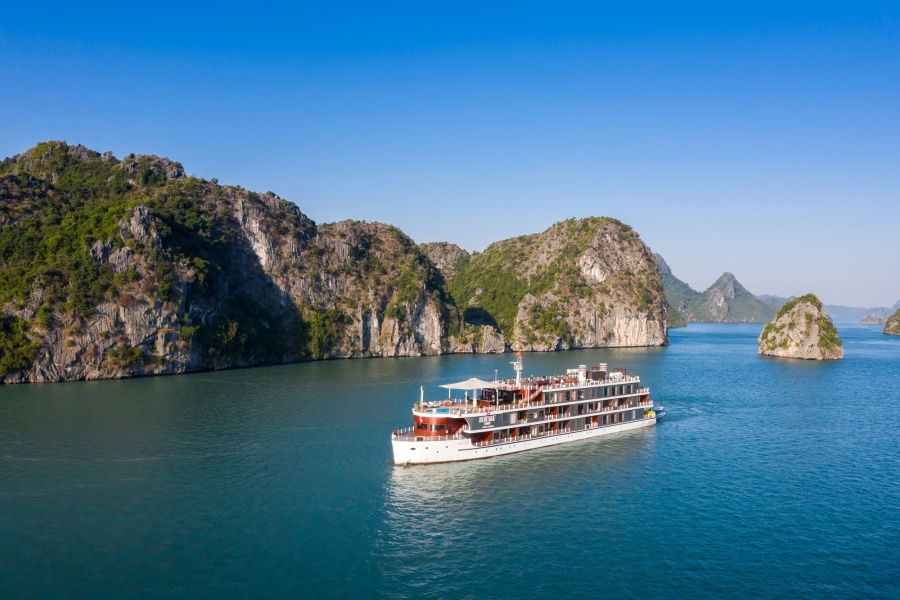 Orchid Classic cruise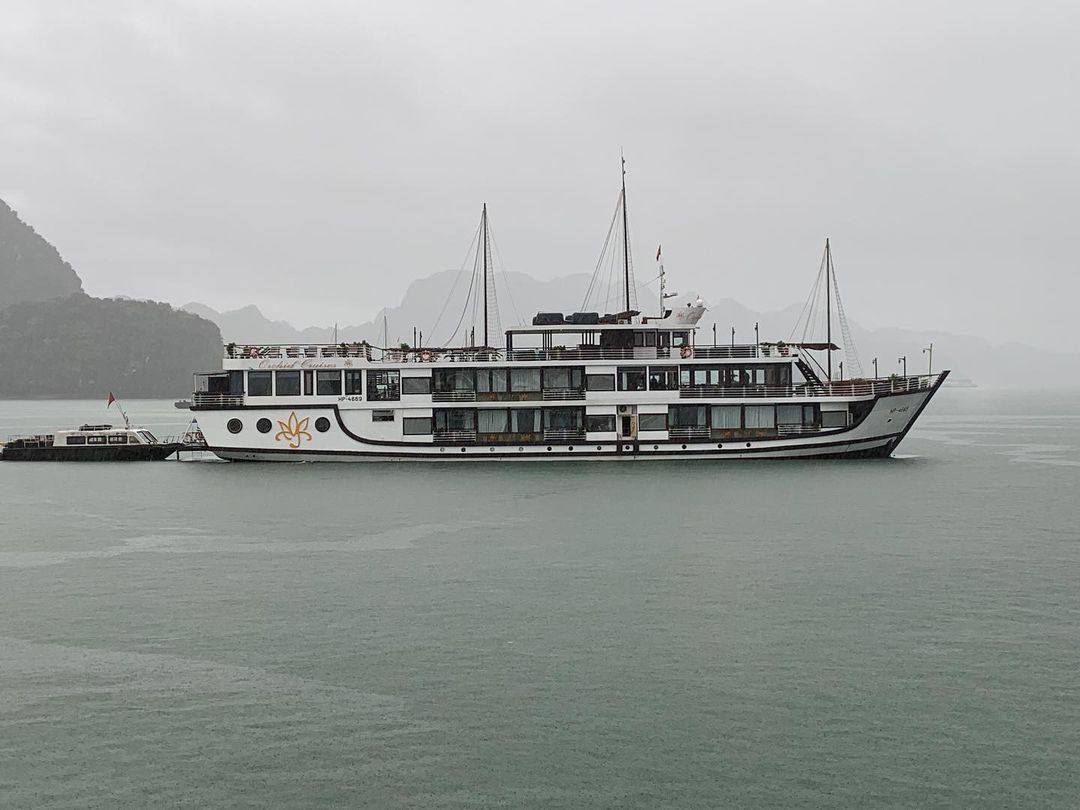 Things we love about Orchid Classic:
Inspired by the elegant traditional Indochine architecture, Orchid Classic exudes an irresistible ambiance with 14 spacious cabins (36-72m2). Each room is adorned with a private balcony, a sea-view bathtub, and features an array of superb amenities.
The boat boasts unparalleled facilities and services, including a fitness center, an expansive sundeck, a luxury bar & restaurant, and more.
Excursions: 
Day 1: Explore Trung Trang cave - Kayak and swim in Tra Bau area
Day 2: Swim and kayak in Frog Pond area
Stellar of the Seas cruise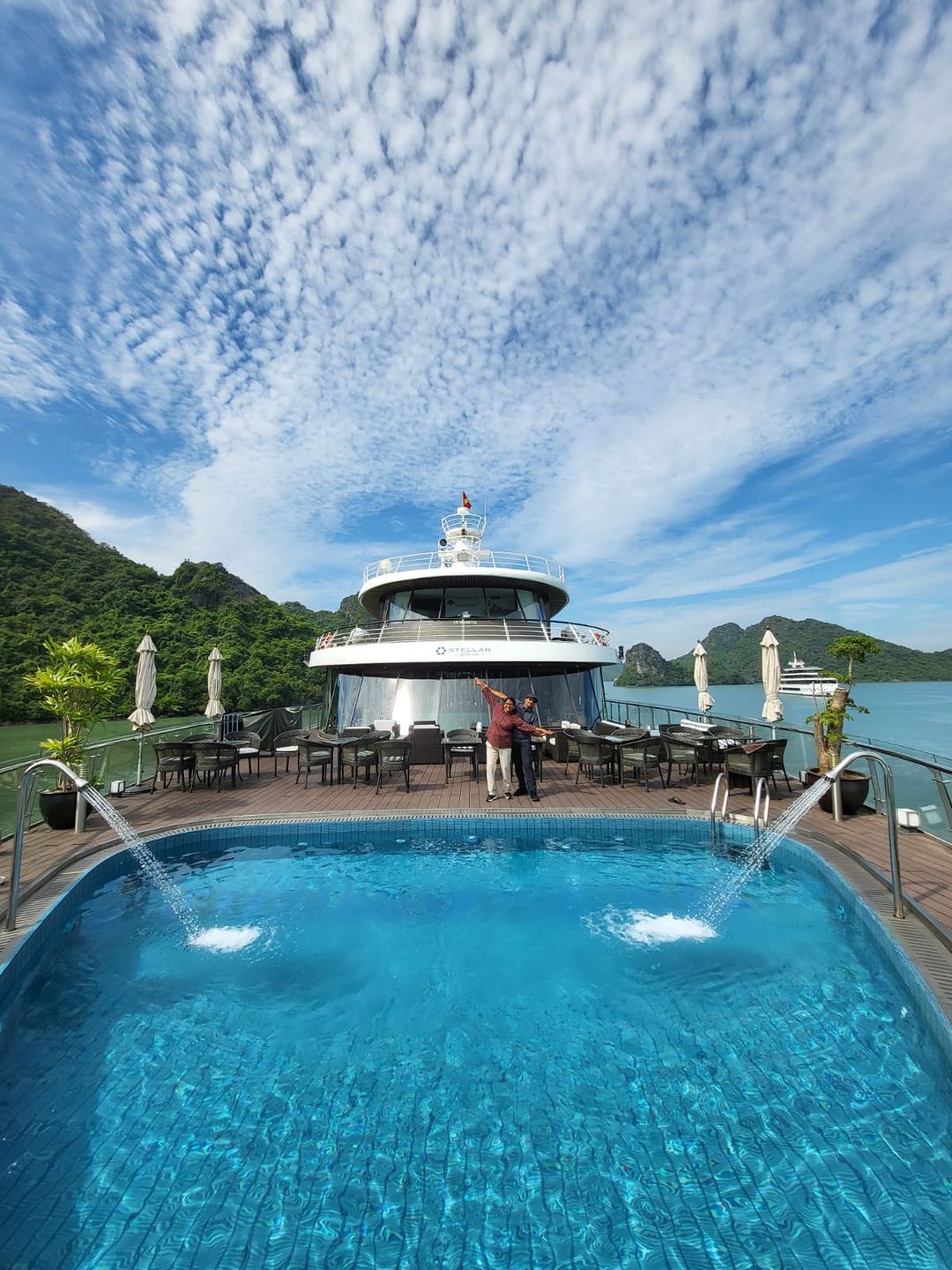 Things we love about Stellar of the Seas:
Stellar of the Seas bears luxury and sophistication, with an array of lavish facilities & services, such as a mini golf course, an outdoor swimming pool, a gym, a wine & cigar cellar, a panoramic bar & restaurant, and more.
The accommodations reflect unparalleled elegance, with triple and family cabins to accommodate varied needs.
Excursions:
Day 1: Kayak/ take a ride on a local bamboo boat to explore Dark & Bright cave
Day 2: Swim and kayak in Frog Pond area
Capella cruise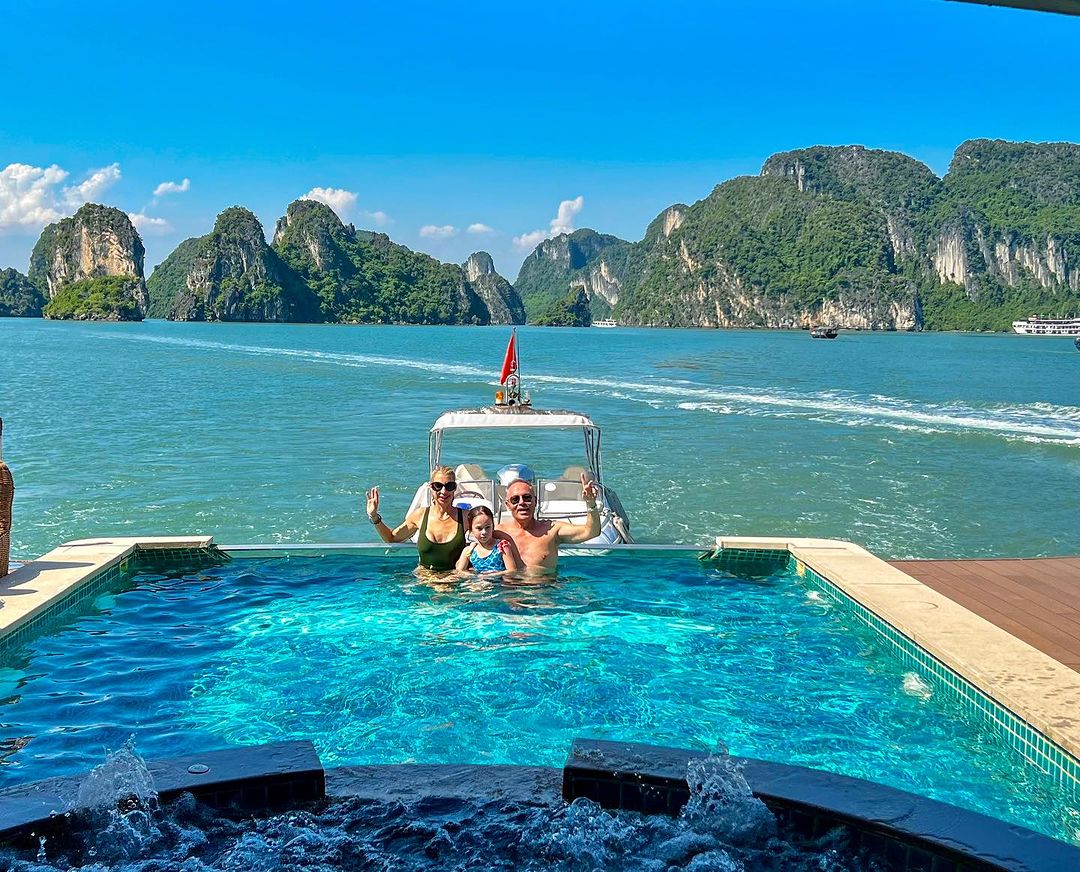 Things we love about Capella: 
Capella, a lavish 6-deck vessel, draws inspiration from the elegant Indochine styles, offering a one-of-a-kind cruising experience. The boat is equipped with a unique waterslide, a mini golf playground, convenient elevators, and an open-air jacuzzi, and more.
All 30 cabins showcase a private balcony, an ocean-view bathtub, as well as a wide range of exquisite amenities including a table & chairs, a minibar, a safety box, a TV, etc.
Excursions: 
Day 1: Visit Frog Pond area, go kayaking and swimming
Day 2: Explore Dark & Bright cave by kayaking and bamboo boating
Heritage Cruise Binh Chuan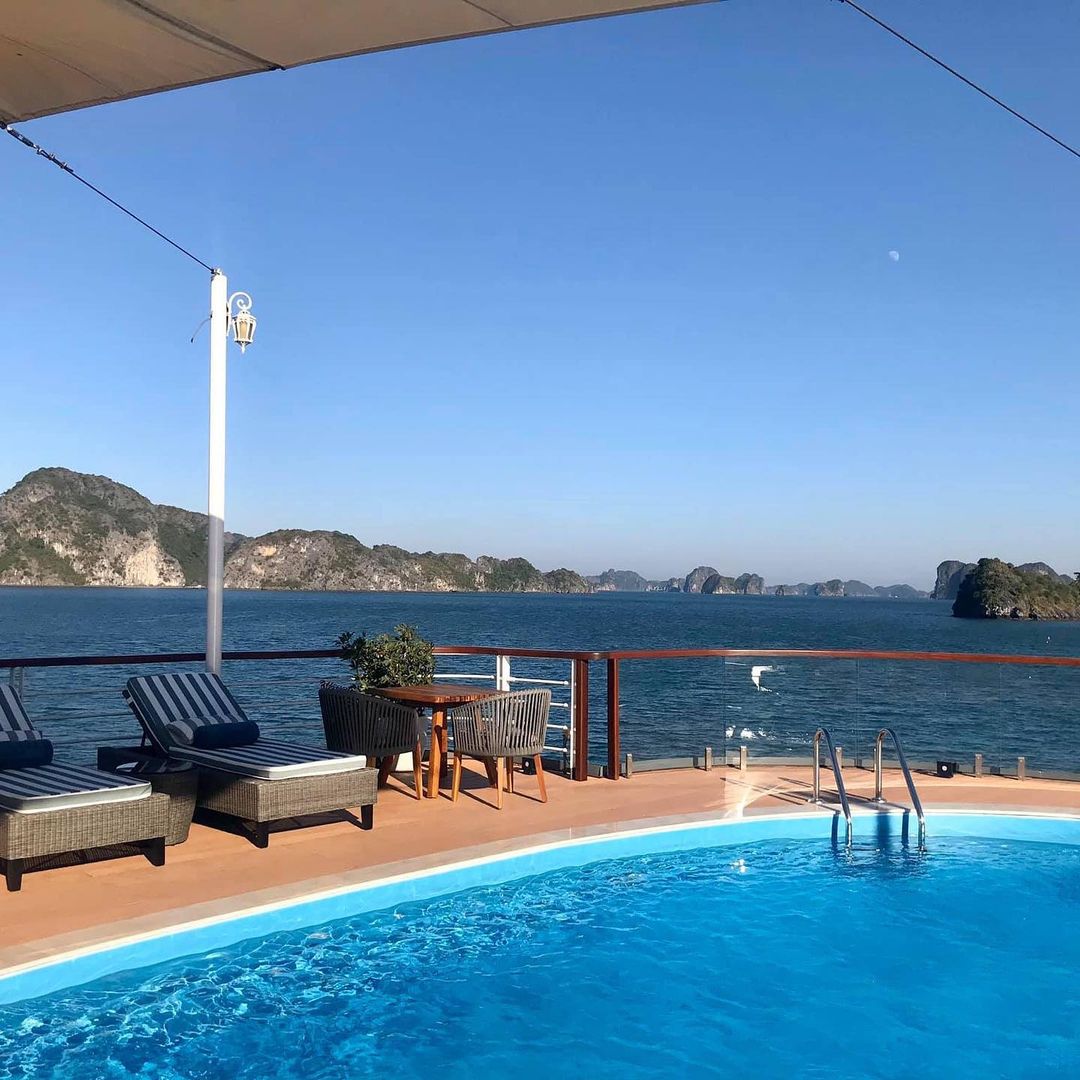 Things we love about Heritage Cruise Binh Chuan: 
The aesthetic vessel, Heritage Cruise Binh Chuan, takes inspiration from the esteemed legacy of Bach Thai Buoi - King of ships, offering a delightful gastronomy experience, top-notch facilities, dedicated services, and meaningful adventures.
Besides its boutique cabins, the cruise also presents an elegant art gallery, a piano lounge, a library, an open-air pool, a fitness center, a spa, and various other outstanding facilities.
Excursions: 
Day 1: Swim in Three Peach beaches or kayak in Tra Bau Area (depending on the weather)
Day 2: Try kayaking/ taking a local boat ride in Dark & Bright cave
Nostalgia Cruise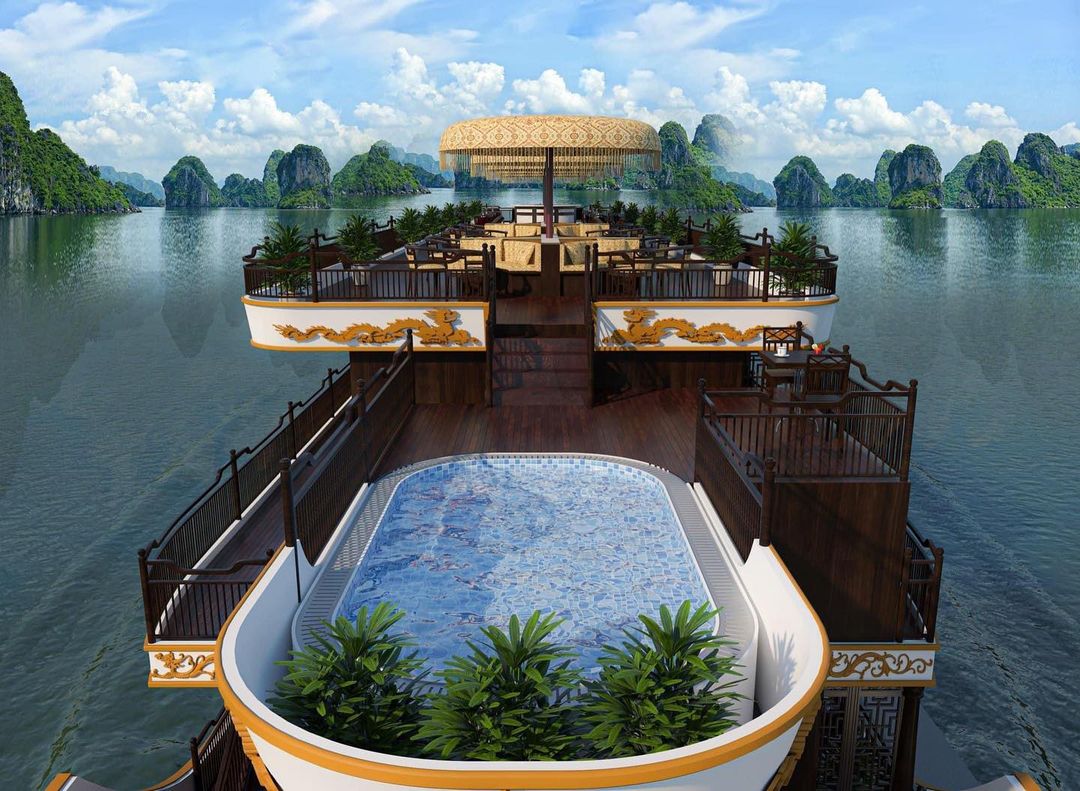 Things we love about Nostalgia:
If you seek a romantic private cruising journey, Nostalgia is the ideal choice with its exclusive 10 lavish cabins. Inspired by the luxurious Indochine style, the boat distinguishes itself through artful facilities, including an outdoor pool, a spa, an elegant bar and dining area, etc.
Charming and aesthetic, each cabin offers various deluxe amenities such as a private balcony/ terrace, an ensuite bathroom with a bathtub, a minibar, a table & chairs, and more.
Excursions: 
Day 1: Go caving in Trung Trang cave - Swim and kayak in Tra Bau area
Day 2: Kayak and relax in Frog Pond area 
Price range 
There are a diverse array of cruises in Lan Ha Bay that meet tourists' varied budget preferences. To be more specific, we categorize the cruises into 3 following groups:
Luxury cruises: ~ USD 160 - 190 per person 
Mid-range cruises:  ~ USD 130 - 150  per person 
Budget cruises: ~ USD 110 - 130 per person
Questions and Answers
(0)
Be the first to ask a question on this page!
Frequently asked questions
1.

How many meals are there in the 2-day packages?

The 2-day-1-night cruises often have 4 meals: 2 lunch, 1 breakfast, 1 dinner. All meals are served on board and included in the package price.
2.

Do 2 day itineraries include a visit to Viet Hai Village?

No, a visit to Viet Hai village on Cat Ba island is only included in the 3-day itinerary. The cruise program for two days usually visit other attractions such as Dark & Bright cave, Tra Bau area, Frog Pond area, etc.
3.

Is there any alternative to kayaking to explore caves?

Cruises in Lan Ha Bay often visit Dark & Bright cave. To explore this lovely attraction, you can choose between kayaking and bamboo boat riding, ensuring a joyful and memorable trip.
4.

Do this itinerary also visit attractions of Halong Bay?

The 2-day cruise for Lan Ha bay often travels through Lan Ha Bay and Halong Bay; but it makes stops specifically to visit attractions in Lan Ha Bay. For 3-or-more-day cruises with longer durations offer opportunities to visit attractions in both bays.
5.

How many attractions do 2-day cruises in Lan Ha Bay visit?

With the duration of a 2-day itinerary, cruises usually visit 2-3 attractions. In the afternoon of the first day, most cruises tend to visit 1 attraction, while some may have the opportunity to visit 2 attractions: Trung Trang cave and Tra Bau area. On the second day, cruises visit 1 more attraction in the morning before finishing the tour.