Overview of Large Groups
Embarking on a journey with a large group of friends and family provides a perfect opportunity to strengthen bonds within each member and create lasting memories. Offering unique excursions, breathtaking nature, and expansive boats, a Halong Bay cruise is a perfect choice for any big group's vacation. A large group can consist of around 10 people, but for special occasions such as parties, weddings, or company events, the number can go up to 100 guests. Whether it is 10 or 100, cruising together offers you numerous benefits. To ensure an unforgettable trip, do not forget to check out the following guide!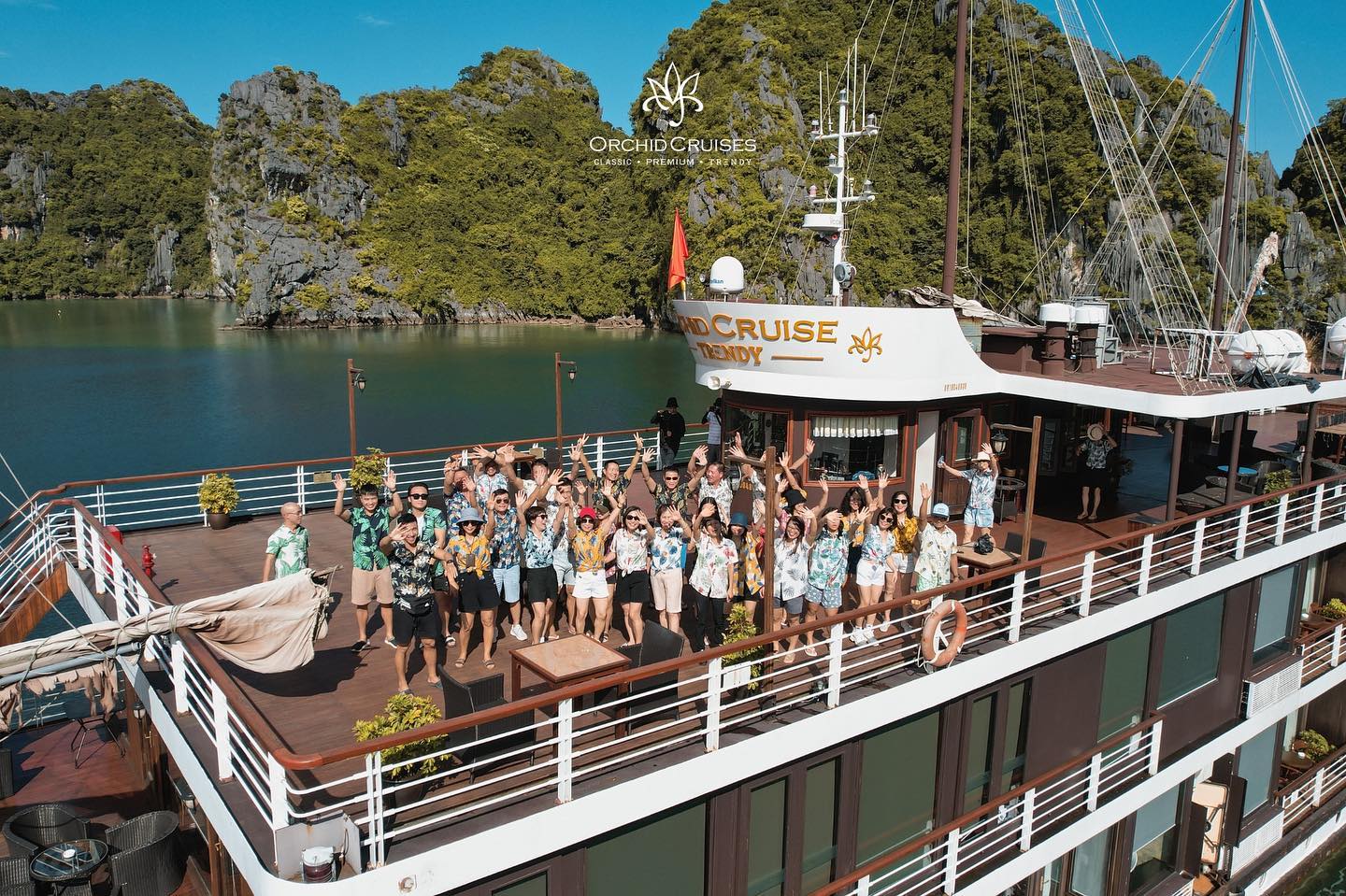 Why cruise in large groups?
Amazing price offers: You and your partners can receive fantastic price offers such as discount rates and added services and amenities. This ensures a more budget-friendly travel experience for everyone involved. 
Saving planning time: Planning a vacation, particularly when traveling with many fellows, can be a challenging task. However, with a cruise trip, you do not have to worry about the planning as each boat meticulously designs its unique fascinating itineraries to explore the bays. Hence, you can truly enjoy every moment of the journey to the fullest. 
Enriched fun and safety: Exploring the wonders of Halong Bay on a cruise is a fulfilling experience, and the trip becomes even more meaningful when shared with friends and family. Engaging in water sports such as kayaking and swimming becomes more enjoyable and secure since group members can always look after each other. Hence, it guarantees a worry-free vacation with priceless moments with your loved ones.
Seizing the charter cruise advantage: Larger groups have the exclusive advantage of booking a charter cruise at reasonable prices, providing them with greater privacy. Hence, the group can make the most of a tailor-made cruise to cherish the precious moments with acquaintences.
Exciting activities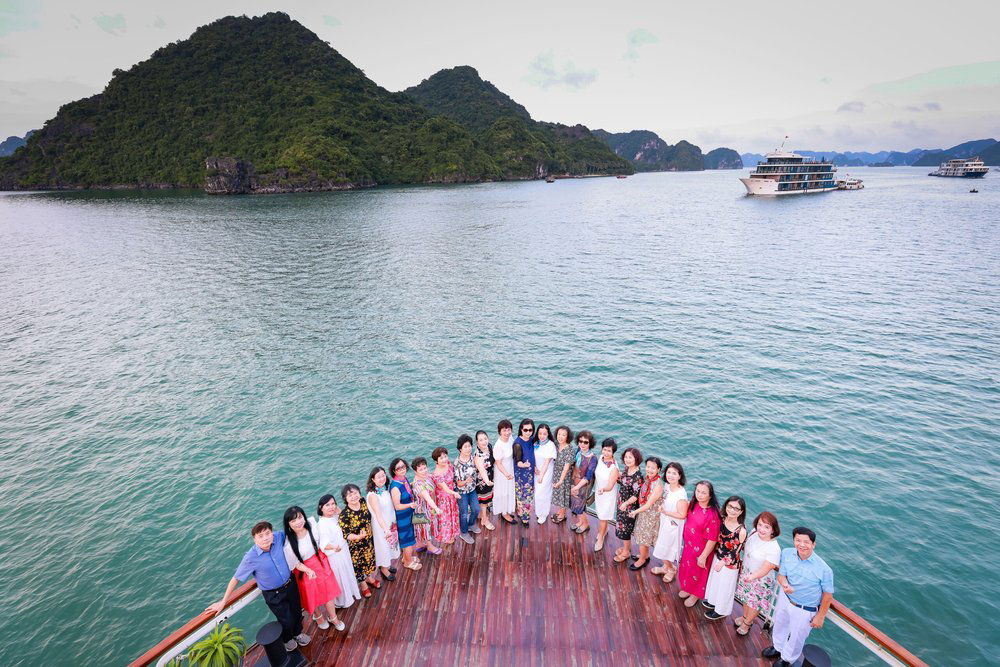 Discovering picturesque destinations: Exploring caves, beaches, and villages becomes even more delightful and convenient with a big group. You can more easily capture great moments in your photos with the help of the group members as well as explore & learn more about nature and culture when sharing experiences with friends and families.  
Tailor-made bonding experiences: There are opportunities to join tailor-made activities designed to strengthen bonds within the group. Many cruises specialize in crafting memorable trips for company trips, family gatherings, and more, offering a diverse range of bonding games and experiences.
Chartered parties: Many cruises boast spacious sundecks and bar areas, with a capacity of more than 100 people, providing the perfect setting for hosting night parties and special events such as birthdays or anniversaries. Surrounded by the gorgeous bay views, passengers can truly enjoy a fulfilling vacation, cherishing precious moments with their loved people.
Tips on a cruise with a group
Having a group leader: With a reliable leader, the group can organize their trip with greater ease and fully embrace every moment of their journey. Traveling with a cruise ensures the maximum enjoyment for every guest, with the primary task of a leader being keeping track of group expenses and addressing any issues by contacting the cruise team.
Packing luggage: Before the trip, it is advisable for the members to discuss and coordinate their packing. One of the benefits of traveling in this way is the ability to travel light by sharing certain items among members, ensuring a more convenient travel experience. 
Looking after each other: When exploring the surrounding destinations, it is essential for individuals to look out for one another to avoid being lost. Especially with groups having kids, it is important to have someone in charge of the children. Many cruises also offer babysitting services, enabling adults to fully immerse in the great experience.  
Perfect cruises for large groups
When choosing a cruise to travel in group, it's important to prioritize spacious accommodations with over 18 cabins for the optimal comfort. Additionally, the cruise should also be able to provide an array of facilities such as large swimming pools, a spacious sundeck with a bar, and an onboard theater catering to group activities and entertainment. Regarding the dining, as different guests have diverse preferences, it is advisable to choose a cruise that offers various dining options to meet the requirements of all tourists.
There are a wide selection of spacious boats in Halong Bay for perfect groups' cruising experiences. Some ideal choices you can consider are:
Genesis Luxury Regal Cruise: a boutique vessel; 20 cabins
Peony Cruise: a modern boat; 20 cabins
Orchid Trendy Cruise: a neoclassic-themed cruise; 20 cabins
Capella Cruise: a modern ship; 30 cabins
Heritage Cruise Binh Chuan: a boutique cruise; 20 cabins
Questions and Answers
(0)
Be the first to ask a question on this page!
Frequently asked questions
1.

Traveling with many friends, should we choose a 2-day or 3-day trip?

The choice depends on your group's personal preferences. If you look for a special place with great views to hold parties or celebrations on board, a 2-day trip would be an excellent option. But if you also want to immerse in the local culture, experience nature, and join authentic off-deck excursions, a 3-day trip is highly recommended.
2.

Which cruises have large swimming pools?

Numerous cruises cater to large groups and boast excellent swimming pools. You can consider the following cruises: Elite of the Seas, Mon Cheri, Capella, Heritage Cruise Binh Chuan, Stellar of the Seas, and so on.
3.

Do the cruise hold special events?

Yes, many cruises can hold varied special events such as birthday parties, meetings & conferences, weddings, anniversaries, and so on. Additionally, many upscale cruises provide the option of chartered cruises to hold such occasions.
4.

Is there a babysitter service on board?

Yes, many cruises provide babysitter services to ensure that adults can fully enjoy their journey. Some cruises also feature a children's playground for kids to interact and make new friends. When traveling with children, it's advisable to consider cruises that offer these facilities.
5.

Can I organize my chartered cruise?

Yes, with chartered cruises, you have the freedom to customize and design your unique cruises. The cruise team is there to assist and provide advice, ensuring that your personalized trip meets your preferences and expectations.