Overview of Small Boat Cruises
With the ever-increasing popularity of Halong Bay, more and more large cruises with modern facilities are being launched. However, besides the need to experience advanced amenities on a large-capacity and majestic cruise, a large part of tourists still want to experience Halong Bay on a small boat to focus on enjoying nature and staying away from the noise.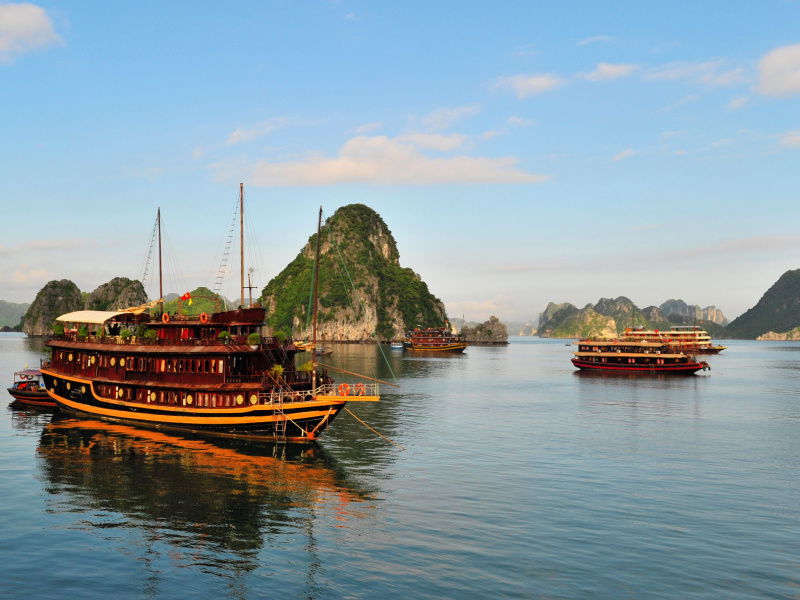 A big boat contains up to 50 cabins while a small boat may include from only 1 cabin for 2 passengers. A small boat can be defined by the capacity of under 10 cabins. Depending on cruise type, small boats may have a wide range of facilities or limited facilities yet never fail to provide an exciting itinerary on Halong Bay.
Why choose small cruises?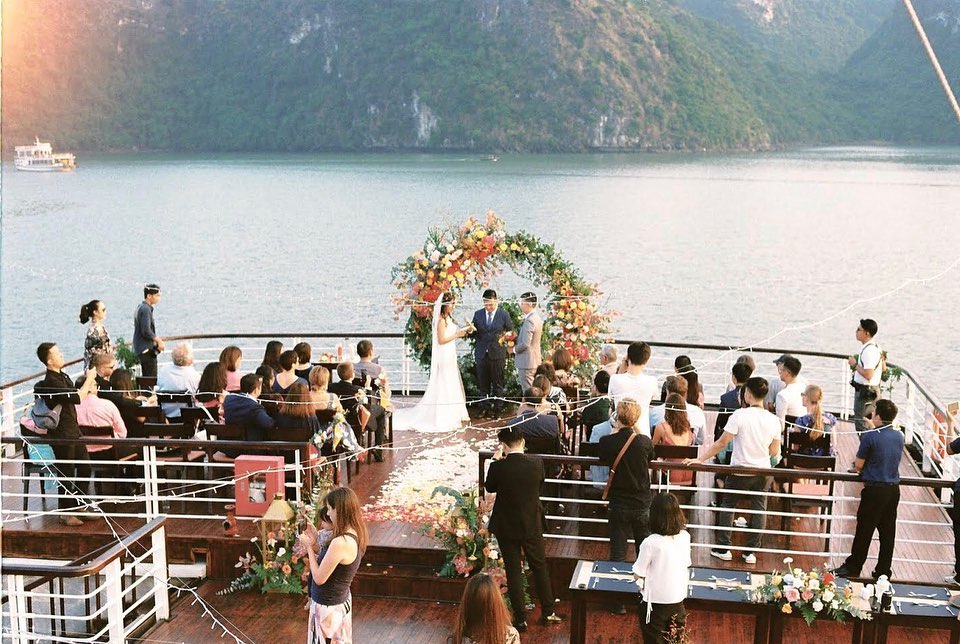 Enhanced privacy
Instead of sharing a large-size boat with dozens of strangers, travelers can enjoy more privacy while cruising on a small boat in Halong Bay. A small boat offers more private space to admire the spectacular view or enjoy personal pleasures in peace such as laying back on the sun loungers, reading a book on the terrace, or sipping a refreshing cocktail from the balcony. Small cruises are best for couples and special occasions such as honeymoons, family adventures, birthday parties, wedding anniversaries, proposals, etc.
Personalized service
Joining a tour with fewer passengers, you certainly get more attention from the crew staff. That means all of your single needs will be well taken care of and your trip will be more comfortable and enjoyable.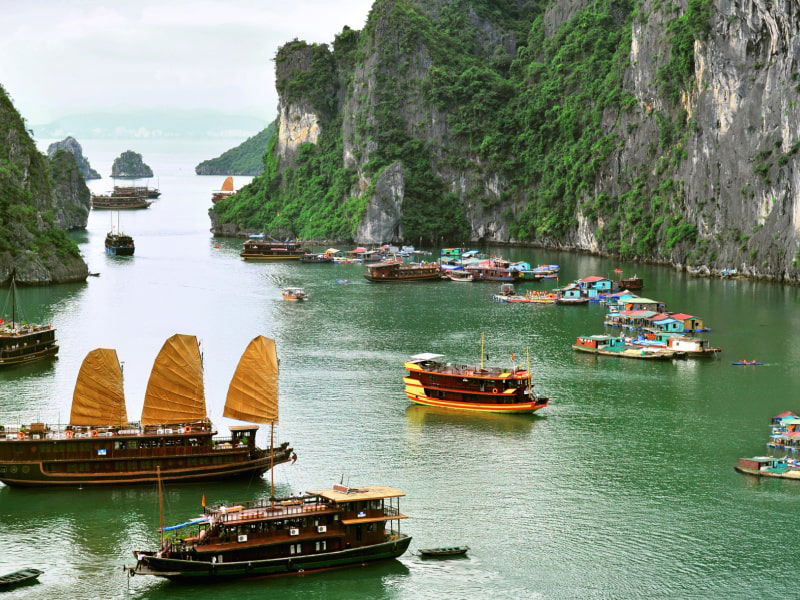 Various activities and programs
Small cruises provide no shortage of activities and programs as big cruises. Guests can swim in the emerald bay, kayak around karst rocks, hike to the mountain, sunbathe on the beach, visit a fishing village by sampan boat, and more. Onboard activities are also provided, namely cooking class, Happy Hour, sunset party, squid fishing, or Taichi session in the morning.
Smooth itineraries
The fewer passengers, the more well-organized the tour is. You will not have to wait for long during check-in or check-out time, the transfer from the boat to attractions on excursions, or any onboard activities included. Smoother itineraries make a more pleasant cruising experience for you.
Facilities & services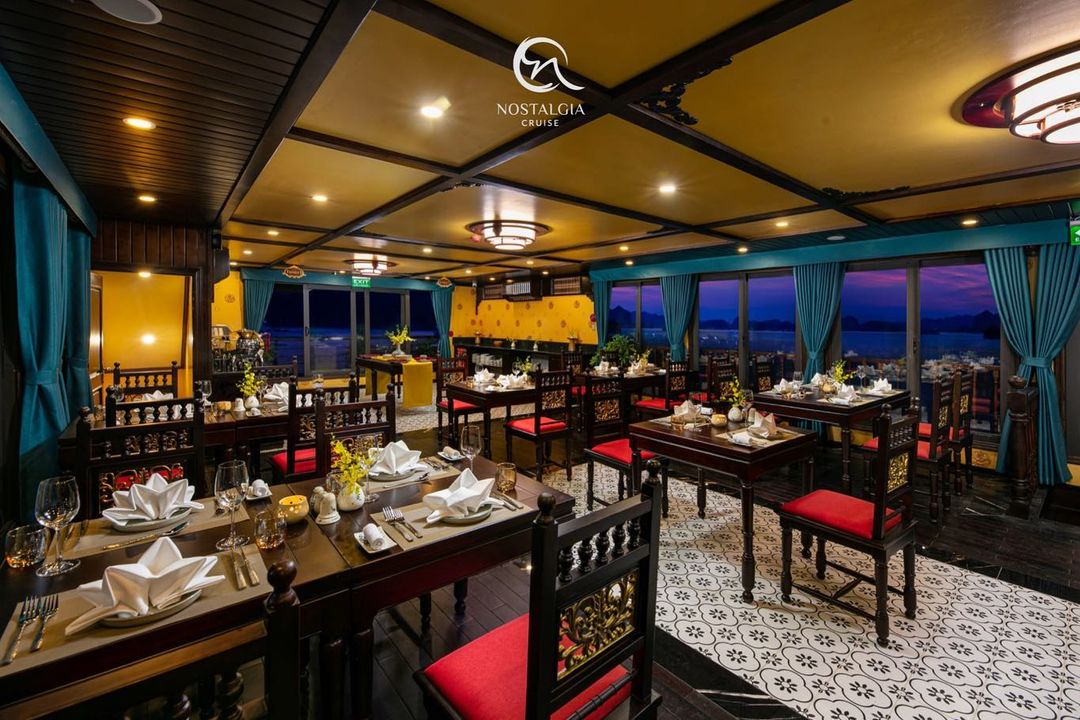 Like many other cruise categories, Halong Bay small cruises are also classified into budget, mid-range, or upscale cruises. Therefore, the diversity of facilities and services is based on the cruise level.
Budget small cruises may include fundamental facilities such as a dining room with a bar, and an airy sundeck for sunbathing or bay admiring. Meanwhile, luxury small cruises can offer top-of-the-range facilities including an outdoor swimming pool, pool bar, spa and fitness center, relaxing lounge, and accommodation with ensuite bathroom and ocean-view bathtub, or private balcony, etc.
Besides, pickup service from your hotel, surprise birthday parties for your loved ones, a candlelit dinner for your proposal, in-room service, conferences, or gala dinners can be requested on Halong small cruises.
Price ranges
The price for small boats depends upon which type it is. However, guests can expect the range from US$180 to 360 per person for a 2 day 1 night itinerary and from US$280 to 380 per person for a 3 day 2 night itinerary. The price may increase a bit in the high season and during holidays.
Best small cruises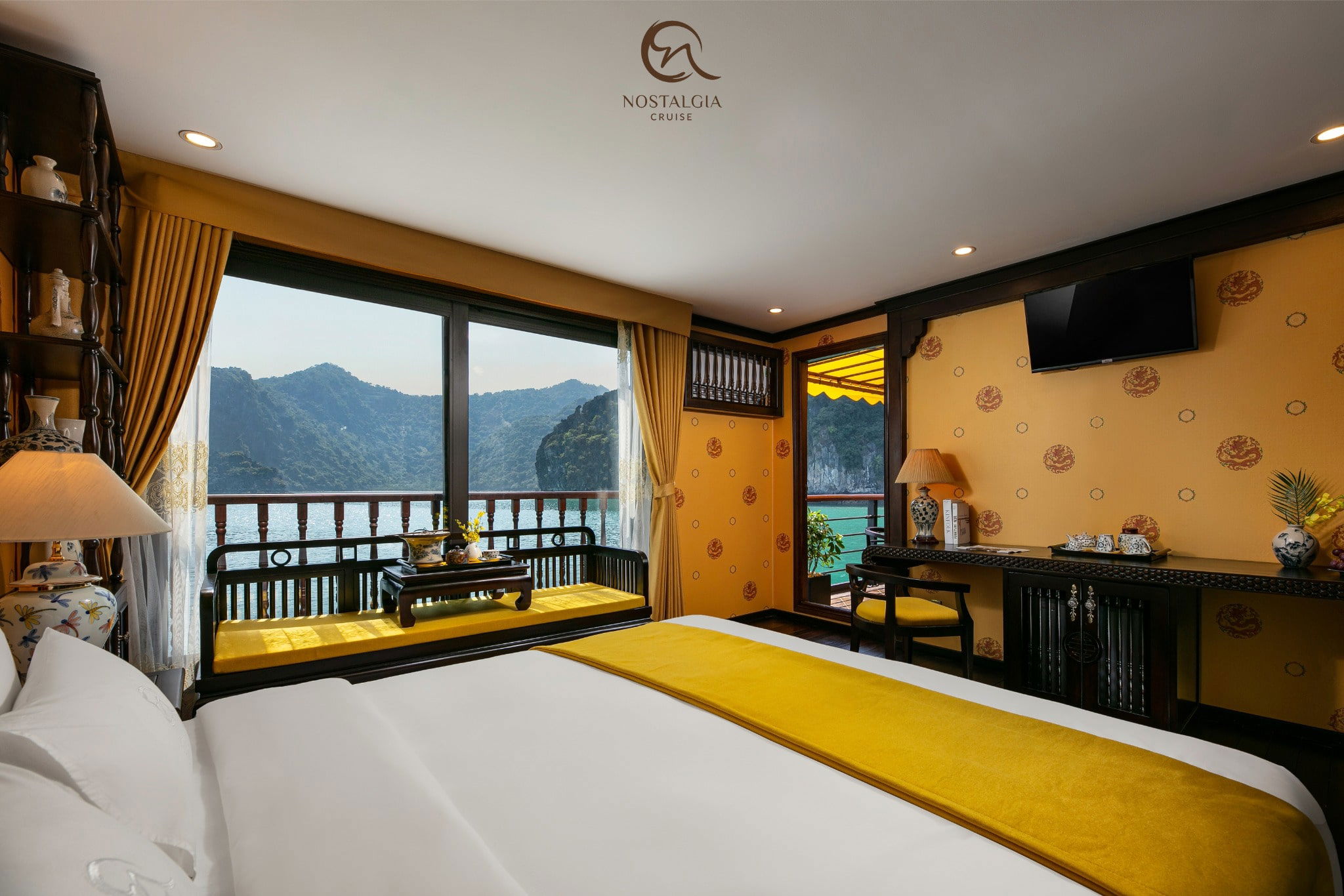 Nostalgia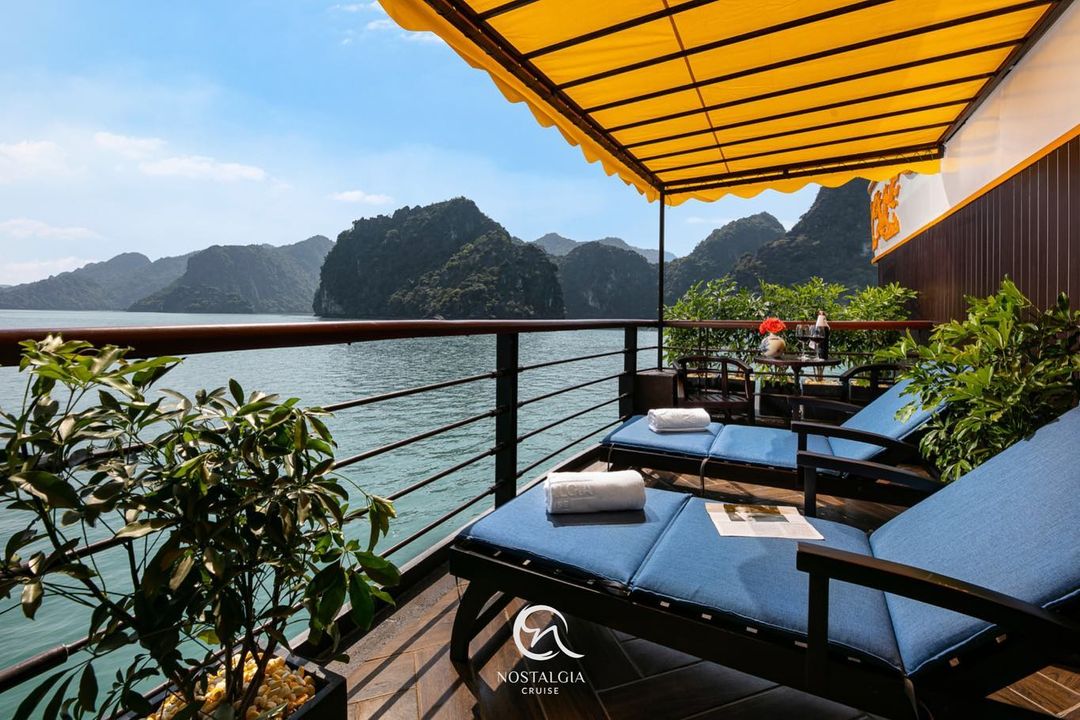 Launched in February 2023, Nostalgia is among the newest small cruises in Halong Bay. The cruise includes 10 well-equipped cabins and state-of-the-art facilities such as a jacuzzi pool on the top deck, luxurious restaurant and bar, and a spa. All cabins boast a private balcony and ensuite bathroom with shower and tub. The cruise sets sail in Lan Ha Bay area with highlights such as Trung Trang Cave, Tra Bau, Ao Ech, and Viet Hai Village.
Year: 2023
Cabins: 10
Price: from US$320/room/night
Orchid Premium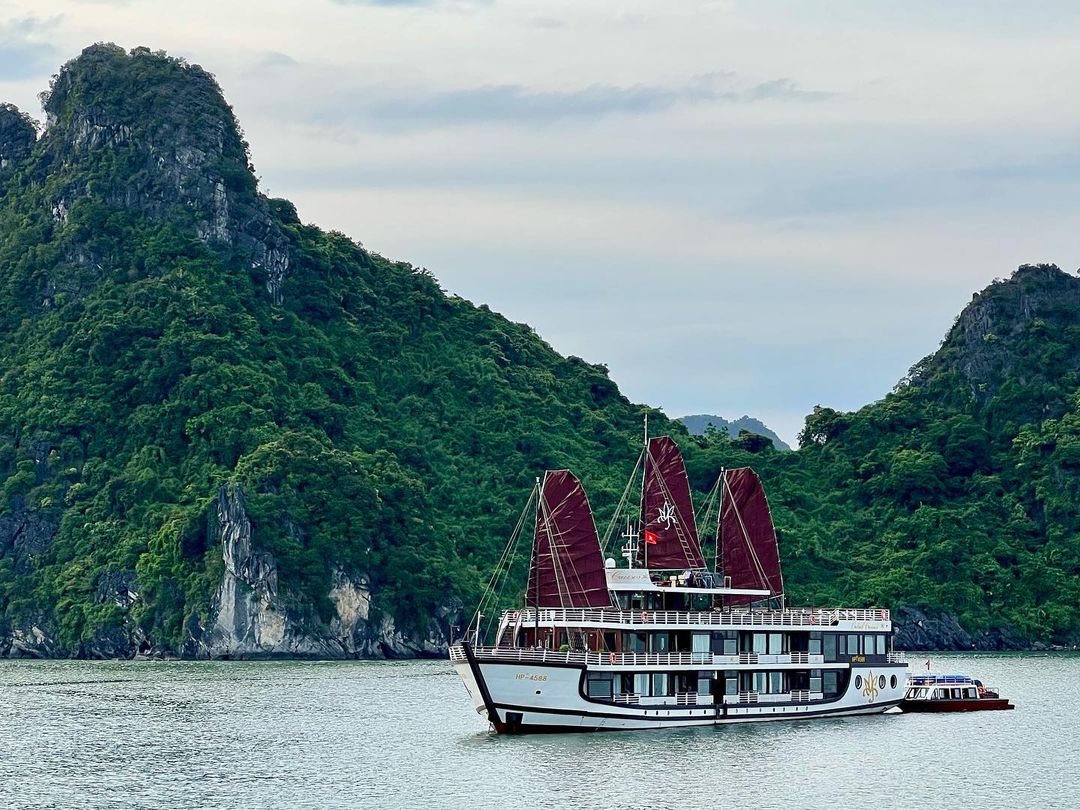 One of the most luxurious small boats must be Orchid Premium Cruise. Visiting Lan Ha Bay, the cruise offers travelers various activities such as swimming in Tra Bau area, kayaking at Ao Ech, and visiting Viet Hai Village by bike or electric car. With only 5 extra-large cabins and modern facilities such as an outdoor pool, restaurant & sky bar, spa & gym, Orchid Premium promises a memorable trip with maximum personalized service.
Year: 2019
Cabin: 5
Price: from US$720/room/night
Emperor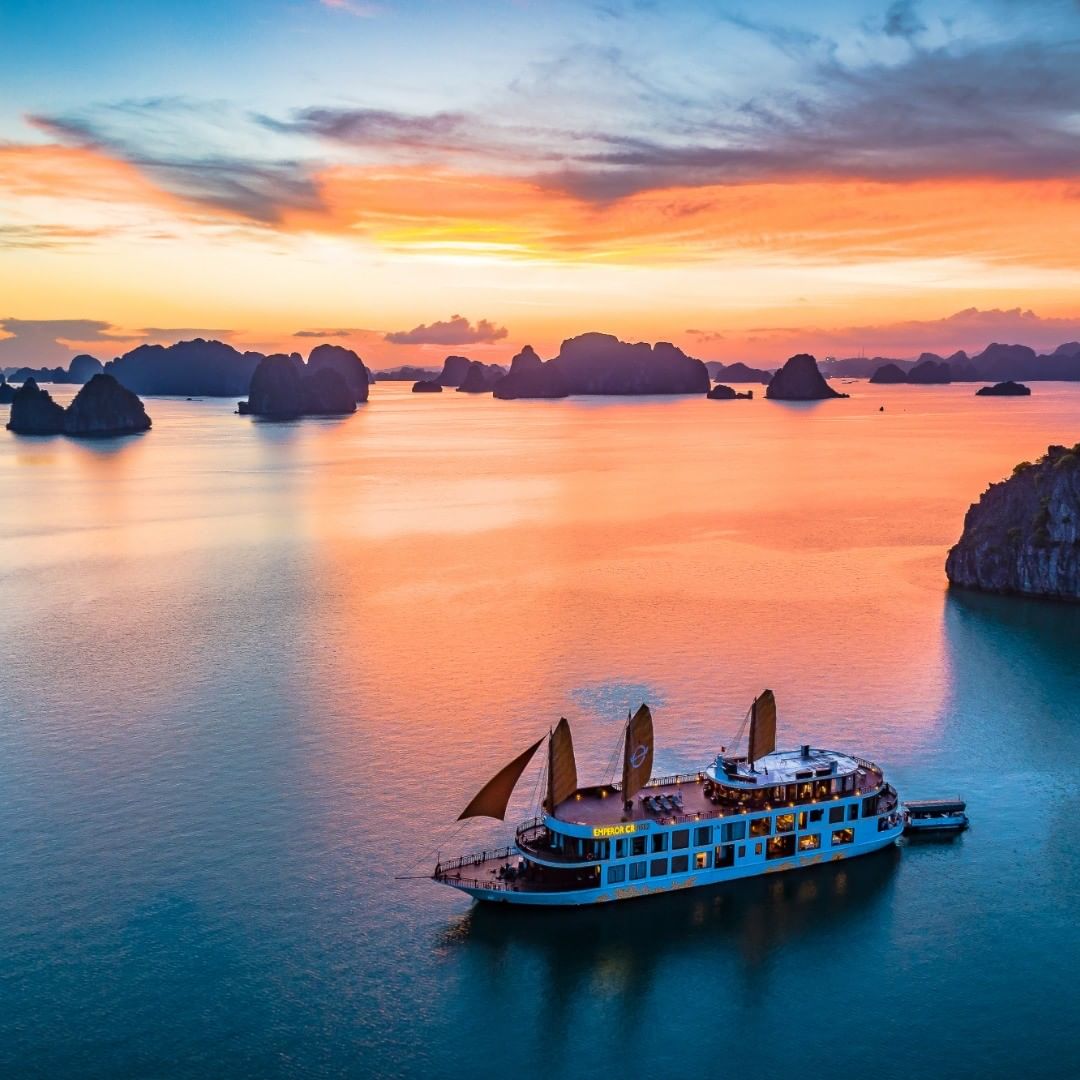 Those who love classical vibes cannot ignore Emperor Cruise. With only 10 cabins meticulously designed in traditional style, the cruise represents the royal lifestyle in the time of ancient King Bao Dai. Guests can experience a myriad of modern facilities like real king and queen such as a restaurant, 2 lounge bars, 2 Jacuzzis, saunas, 2 massage rooms, a library, an internet café, a kids' club, and a gym. Emperor Cruise visits Halong Bay with the most well-known spots such as Me Cung Cave, Titop Island, and Luon Cave.
Year: 2017
Cabin: 10
Price: from US$770/room/night
Heritage Line Violet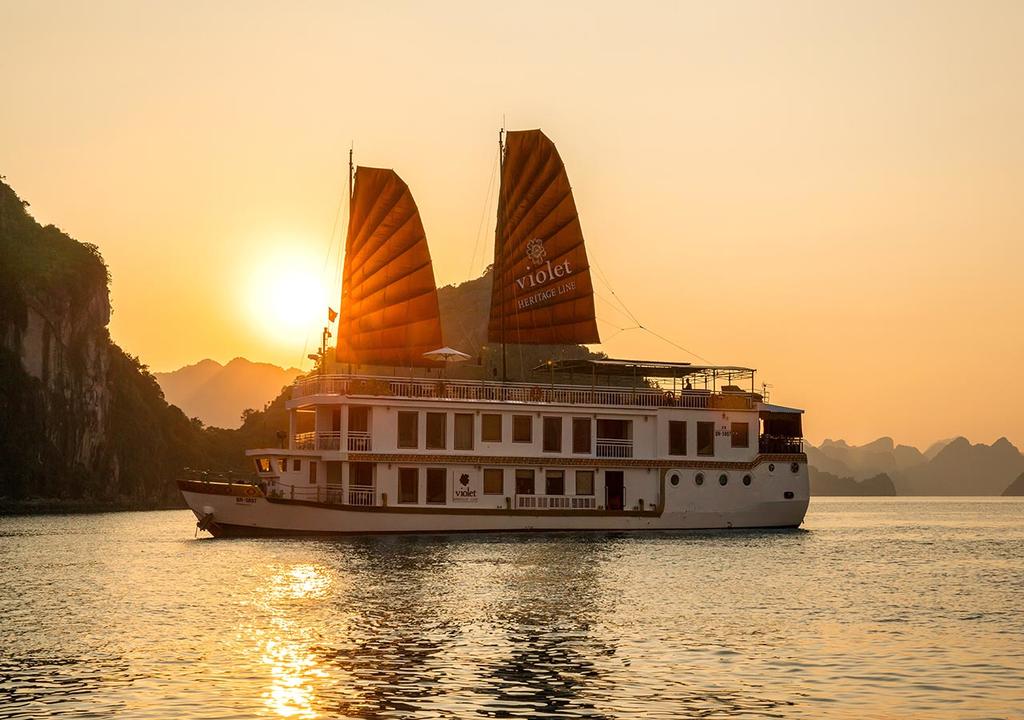 Put into operation in 2009, Heritage Line Violet still wins the heart of the most hardened travelers, especially upscale leisure travelers. The cruise owns 6 fully-furnished cabins with all private balconies, advanced furniture, and amenities. The traditional-style boat offers many modern facilities such as a restaurant with bar, library lounge, a spa with steam bath, and fitness room. Violet Cruise sails to Halong Bay with Sung Sot Cave, Cua Van fishing village, Titop Island, Tien Ong Cave, etc. 
Year: 2009
Cabin: 6
Price: from US$700/room/night
Questions and Answers
(0)
Be the first to ask a question on this page!
Frequently asked questions
1.

Can I book a small cruise for a charter?

Sure. You can surely book a small boat for a charter. Make sure you book early to make sure the whole cruise is available on your preferable travel date.
2.

What food is served on small cruises?

There is usually a fusion of Vietnamese and International cuisine on Halong Bay small cruises.
3.

Are small cruises suitable for the young adult?

It depends on your liking. Some small cruises have limited facilities to focus on natural indulgence while others still offer a variety of modern facilities and services for relaxing and entertaining such as Nostalgia or Orchid Premium. You can refer to facility-filled small cruises or book a charter small boat for a better experience.
4.

Is there a spa on board?

Some small boats including a spa onboard are Nostalgia, Orchid Premium, Heritage Line Violet, and Paradise Peak.
5.

Are all meals and activities included in the price?

Yes. Meals and activities mentioned in the schedule are included in the tour. There are 4 meals in 2-day tours and 7 meals in 3-day tours.