Planning Your First Cruise?
Lan Ha Bay is full of spectacular and untouched seascapes that leave a deep impression on tourists. Thus, it comes as no surprise that making a plan to see all prominent sightseeing spots seems to be an impossible task.
A vast range of Halong Bay day cruises with different traveling time (4 - 8 hours) brings many chances for tourists with limited time to capture the splendor of the bay.
Besides booking a suitable cruise for the first cruise vacation, choosing where to go can also be a difficult task for first-time cruisers. Halong Bay overnight cruises have a dozen fascinating itineraries and the article below will help you to figure out the typical features of 7 best itineraries on Halong Bay so you can choose the right one for you.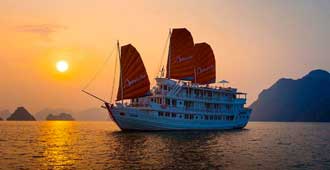 Discover the charming and exotic landscapes of Halong bay on an all-inclusive luxury cruise!
QUESTION FORUM:
Halong Bay: Questions
Free ITINERARY planning with us!
Planning your trip with our Halong local experts, we will help you with:
Accomodation: Find the best hotels/homestay or BnB.
Tours: Connect you to the trusted tour operator in Halong bay.
Cruises: Find the best cruise on your date!
It is all FREE