Swan Cruises
Halong International Cruise Port
Show map
Price from: US$ 143 (Save 9%)
US$ 130 /pax
Booked 4 times in the last 24 hours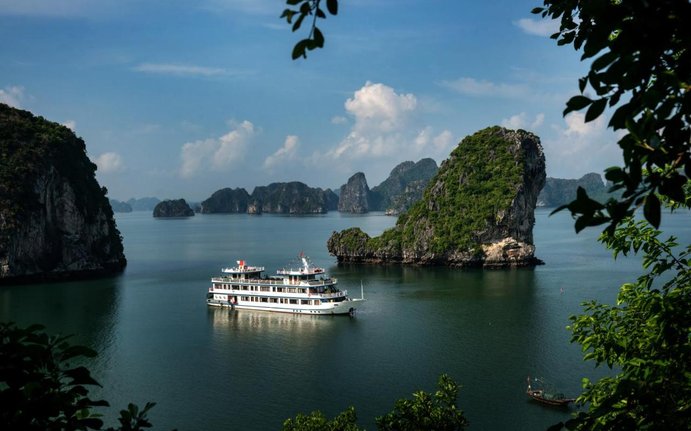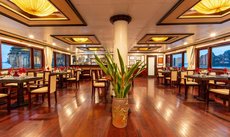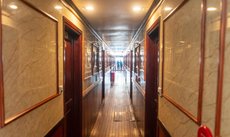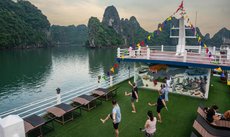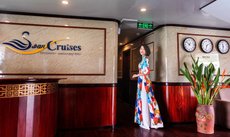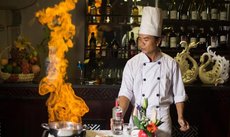 A traditional wooden boat offering off-the-beaten-track journeys to Bai Tu Long Bay.
Cabins feature an oriental design with large windows.
Savor Vietnamese traditional cuisine onboard.
Cruise information
Itinerary:
Bai Tu Long Bay - Cap La - Thien Canh Son Cave
Operator:
SWAN TOURISM., JSC
Rooms & rates
We Price Match
Select date and package options
Clear all
Accommodation Type
Suite Balcony Double or Twin - Full board
Size: 12 m²
Bed options: 1 large double bed
Max: +
Max adults: 2
Max children: 1(up to 12 years of age)
Deluxe Double or Twin Room - Full Board
Size: 12 m²
Bed options: 1 large double bed or 2 single beds
Max: +
Max adults: 2
Max children: 1(up to 12 years of age)
Family Connecting Room 4 adults - Full Board
Size: 24 m²
Bed options: 1 single bed and 1 double bed
Max: +
Max adults: 4
Max children: 1(up to 12 years of age)
Suite
Size: 12 m²
Bed options: 2 single beds and 1 large double bed
Max: +
Max adults: 2
Max children: 1(up to 12 years of age)
Complete all required fields to continue
(Child Policy & Extra Bed Charge )
About Swan Cruises
Swan Cruises Halong is a small-sized boat that has garnered a reputation for offering travelers the very best choices in cozy accommodations, exciting itineraries, and fine cuisine. The cruise voyages are uniquely designed for those who seek authentic discovery in spectacular destinations around Bai Tu Long Bay.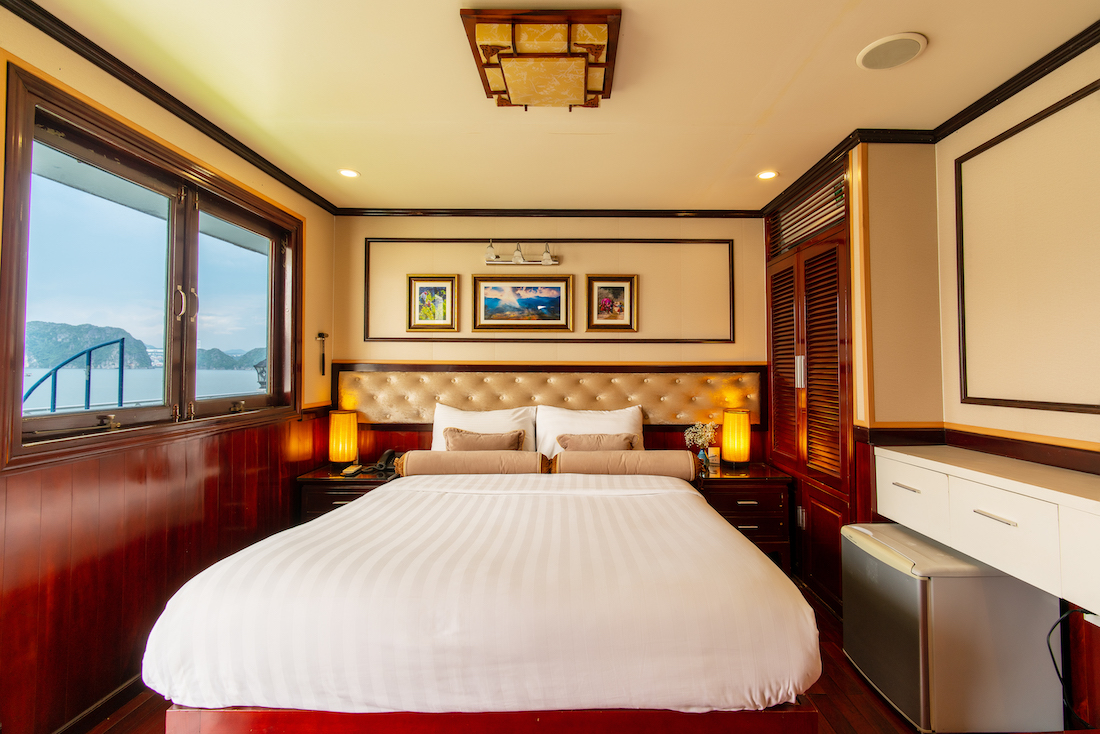 Pros
+ The cruise offers comfortable rooms and decent facilities.
+ It has a lovely sundeck for panoramic bay views.
+ All meals and drinks are delectable.
Cons
- The halfway transfer stop for buying souvenirs is overpriced and unnecessary.
- The rooms next to the engine smell diesel very strongly at night.
- No drinks are included in lunch and dinner.
Bottom Line
Expect an authentic traditional cruising experience and immerse in the pure beauty of Bai Tu Long Bay in Swan Cruise.
Itinerary & activities
The unusual itinerary covers the best parts of Bai Tu Long Bay including Cap La Island, Vung Vieng village, Thien Canh Son Cave and Doan Xa village. Unique shore excursions and thrilling water activities complement these amazing destinations.
Cruise quality
Swan Cruise takes a traditional wooden style as its primary design. As you step onboard, you'll find comfort with a full range of amenities of larger ships but in a 3-star vessel. In addition, the safety and the risky potential to the surrounding environment are the cruise's primary concerns.
Cabin quality
There is a collection of 8 beautiful sea-view cabins categorized into three types: double cabin, triple cabin, and family connecting cabin. All cabins are inspired by traditional culture and local materials such as bamboo. Enjoy indulgent sleep with comfortable bedding, an air-conditioner, and a private bath.
Service & facilities
Regarding service & facilities, Swan Cruise has a team of enthusiastic and experienced staff to support guests. You can find a gourmet dining venue, a large sundeck with tanning chairs and a panoramic bar. Free WIFI is available in all rooms and public areas.
Food & Drink
Swan restaurant sets the scene for a relaxing cruising experience and covers the best Vietnamese culinary delights and fresh local seafood. After dinner, you can choose from some of the finest beverages on the sundeck.
Frequently asked questions
How many cruise itineraries does Swan Cruises Halong offer?
The cruise offers 2D1N and 3D2N itineraries exploring Bai Tu Long Bay.
Is WIFI available on the cruise?
Yes. WIFI is available on the cruise but is sometimes unstable.
What type of food menu is served onboard?
The cruise serves excellent Vietnamese cuisine and fresh seafood onboard.
Does Swan Cruises Halong visit Thien Canh Son Cave?
Yes. Thien Canh Son Cave is included on the last day of the cruise itinerary.
Is shuttle bus transportation included in the price?
The shuttle transportation is not included in the price.
Maps and Itineraries
Halong International Cruise Port
Our guest's experiences (8)
| | | |
| --- | --- | --- |
| 5 star | | 7 reviews |
| 4 star | | 1 reviews |
| 3 star | | 0 reviews |
| 2 star | | 0 reviews |
| 1 star | | 0 reviews |
J
Julia
7 months, 2 weeks ago
The food on board was spectacular and had a lot of delicious seafood and veggie options. Drinks were quite expensive though and were not included in meals. The cabin was okay but seemed smaller than in the advertisement. Still, we had one of the best experiences in Vietnam.
2 people found this helpful
Helpful
We traveled in October and everything from the start to the end was perfect! The bus ride was quite fast but not really smooth. However, Bai Tu Long Bay was awesome and our cabin was nice, clean, with an ensuite bathroom and a lovely balcony. Squid fishing, games, quizzes, cooking demonstrations,... were well-planned social activities, considering everything took place on a quite small boat. Definitely value for money!
2 people found this helpful
Helpful
G
Giorgio
6 months, 3 weeks ago
Our family took a 2D1N stay with Swan Cruise. I must say kayaking, caving, making spring rolls, karaoke,... all the activities were so much fun! We were a group of 14 people and our accommodations were nice and comfy. Absolutely a great trip! We had many fun experiences but also enough free time to enjoy the views. My advice is to fully immerse in nature and put away your electrical devices.
M
Mariana
8 months, 3 weeks ago
Mr. Kien, our tour guide, did a great job of introducing us to all the attractions. He was knowledgeable and spoke excellent English. The boat itself was lovely but they would not let you bring your own beverages on board. Food was plentiful and yummy. Highly recommend this cruise! Only one thing was that everyone should protect the environment, as we saw some trash and plastic in the seas, which really upset us.
A
Antoine Bernard
8 months, 3 weeks ago
Truly wonderful experience! The seascapes were stunning and we were pleased that we chose a 3-day cruise in Bai Tu Long Bay - fewer boats and people. All the staff were awesome and kind. The plan was well arranged and the tour guide was interesting. Food was delicious but drinks were not included in the meals.
M
Mikko Lehtonen
7 months, 3 weeks ago
The tour guide spoke great English and he was very informative and funny. Our trip was perfect and we found a 3D2N more relaxing and less rushed than 2D1N. Although some activities were repeated in the morning such as cooking classes, we had a nice experience. The visit to a fishing village was the highlight of our trip, really tranquil and happy.
3 people found this helpful
Helpful
P
Padma
8 months, 3 weeks ago
A great cruise! We got pick-up and drop-off in Hanoi with some coffee stops, which was a really balanced and efficient ride. Our room was cozy and pleasant, we also had a lovely & clean balcony. Vietnamese food was amazing and we were satisfied with the diversity of drinks on board. Thanks the whole cruise team for this wonderful adventure!
4 people found this helpful
Helpful
T
Tony Smith
4 months, 3 weeks ago
Splendid scenery! Friend crew and exquisite services! I took a 2-day cruise and found the schedule a little bit rushed sometimes, but it kept you fun and busy! I loved it! Kayaking was so much fun and the caves were impressive. I highly recommend you should get up early, do Tai Chi, and watch the sunrise on the seas. Food was delicious but quite repetitive at dinner. Thanks all!
3 people found this helpful
Helpful
Questions and Answers (0)
Be the first to ask a question on this page!
Talk to a cruise expert
Request a call back
Or Email us
Our customers' experiences

My wife and I recently visited Halong Bay on Peony cruise. The price is very reasonable and the vegetarian food …
Chloe (Australia)

I contacted Visit Halong Bay staff for some trip idea and they responded very swiftly with good recommendations.
Nina Ng (Singapore)

My trip to Halong Bay was delayed because of Covid-19 and I am so glad that I made it back …
Christine Nguyen (Australia)
You might also like...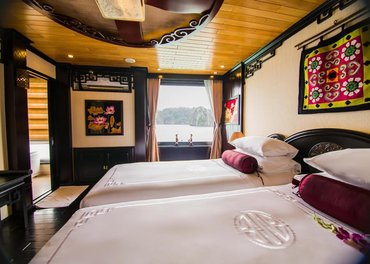 8% OFF
Bai Tu Long Bay
Launched 2014 - Metal - 24 cabins
Outdoor swimming pool
Free kayaking
Spa
Bar
Booked 5 times in the last 24 hours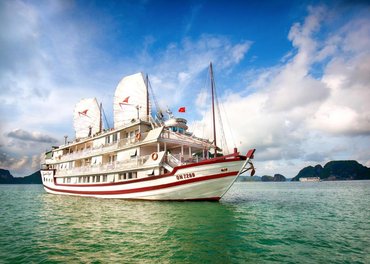 8% OFF
Bai Tu Long Bay
Launched 2014 - Wooden - 16 cabins
Cooking class
Family rooms
Free kayaking
Bai Tu Long Bay route
Booked 6 times in the last 24 hours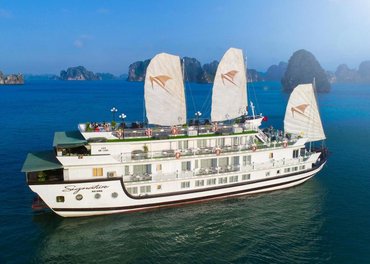 9% OFF
Bai Tu Long Bay
Launched 2013 - Wooden - 12 cabins
Cooking class
Family rooms
All meals included
Bai Tu Long Bay route
Booked 2 times in the last 24 hours