Amanda Cruise
Lot 12, Tuan Chau Harbor, Halong, Quang Ninh
Show map
Price from: US$ 137 (Save 8%)
US$ 125 /pax
Booked 6 times in the last 24 hours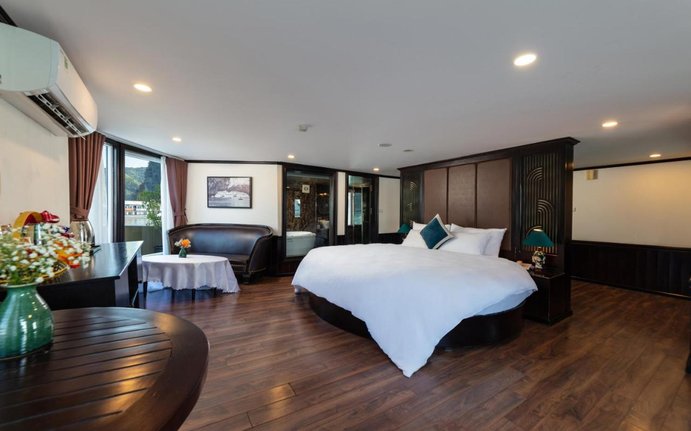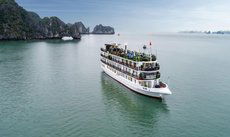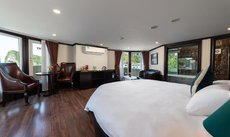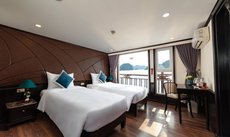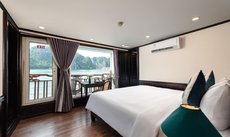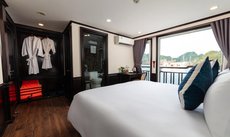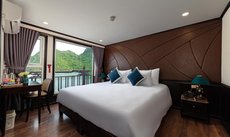 Modern design blended with classical style
Exclusive itinerary to the most signature and unspoiled places of Halong Bay such as Surprise Cave, Trinh Nu Cave, Ba Trai Dao Beach, Bright Cave, etc.
Large and fully equipped cabins
Gala dinners on sundeck
Complimentary herbal foot bath
Cruise information
Itinerary:
Halong Bay - Trinh Nu Cave - Sung Sot Cave
Rooms & rates
We Price Match
Select date and package options
Clear all
Accommodation Type
Junior Suite with Sea View
Size: 30 m²
Bed options: 1 double bed
Deluxe Double or Twin Room
Size: 35 m²
Bed options: 2 single beds or 1 double bed
Deluxe Triple Room
Size: 45 m²
Bed options: 3 single beds or 1 single bed and 1 double bed
Senior suite with Sea View
Size: 45 m²
Bed options: Bedroom : 1 large double bed Living room: 1 sofa bed
Family Junior suite
Size: 70 m²
Bed options: 2 single beds and 1 double bed
Royal Suite with Balcony
Size: 35 m²
Bed options: 1 double bed
Complete all required fields to continue
(Child Policy & Extra Bed Charge )
About Amanda Cruise
Amanda Cruise was launched in 2022 and became an ideal budget cruise for an interesting voyage in Halong Bay. Inspired by classic European cruise ships, the cruise adds modernity to the interior and services to make a pleasant trip for travelers. As soon as embarking on the cruise, guests can admire the charming scenery and join a bunch of activities with the most welcoming support from the team.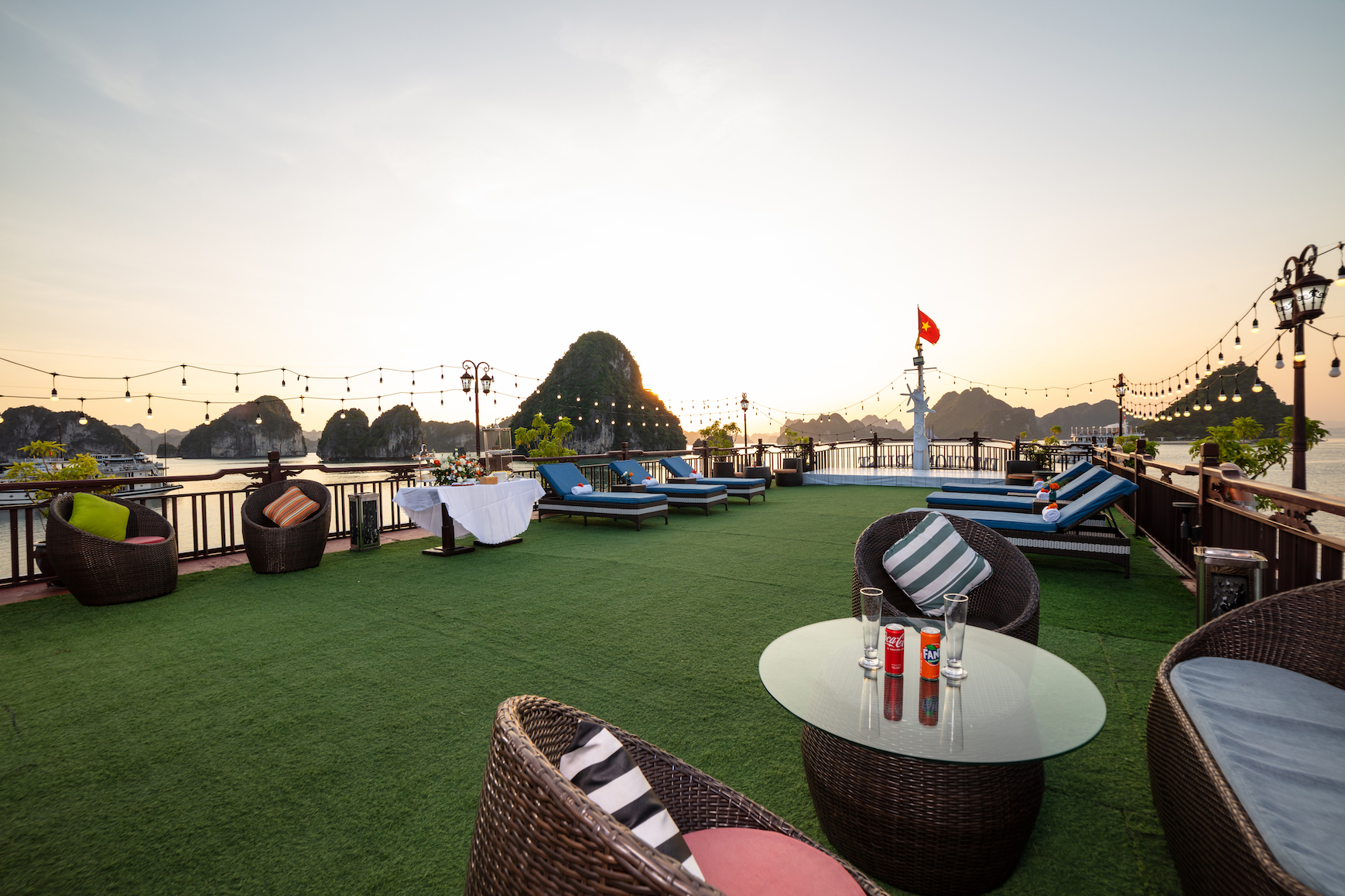 Pros
+ A good diversity of activities
+ Friendly and enthusiastic staff
Cons
- The furniture is a bit aged and the shuttle boat (tender) needs upgrade.
- Not all cabins have a balcony.
- Food quality is average.
Bottom Line
Amanda Cruise wins the hearts of tourists who seek an activity-filled cruising experience at an affordable price.
Itinerary & activities
The cruise takes you to Surprising Cave - the largest and most beautiful cave and Trinh Nu Cave - one of the most pristine caves in Halong Bay. At Trinh Nu Cave area, you will access by a tender and kayak around the cave to watch the majestic rocky island. You also can visit Trinh Nu Beach by walking around 5 minutes through the cave.
For a 2-night itinerary, the day trip to Lan Ha Bay will certainly amaze you with poetic and quiet scenery. Guests will have more time kayaking to visit Dark-Bright Cave and swimming at the most charming beach called Ba Trai Dao. Guests must not miss onboard activities with lots of fun such as squid fishing, cooking class, happy hour, Taichi, etc.
Cruise quality
Amanda Cruise is not a newly built cruise ship yet it strictly complies with the safety requirements. The steel boat includes an extra large sundeck where you can watch the magnificent sunset, chill with your loved ones under the night sky, or enjoy the fresh atmosphere in the early morning with a hot cup of coffee. Spacious cabins are topped with convenient facilities, promising a relaxing trip you expect.
Cabin quality
Around 20 to 60 sqm in size, rooms on Amanda Cruise are situated from the first to the third deck of the vessel. Although amenities are fully provided in all the cabins, Deluxe rooms and Junior Suites have sea-view glass windows while Senior Suite and Royal Suites include a private balcony with a sitting area. Triple and connecting cabins are the best options for group travelers.
Service & facilities
Amanda provides a full range of services from shuttle bus transfer, and en-suite accommodation to tasty meals. A bar filled up with drinks will give extra fun and relaxation for your cruising experience. Amanda also boasts a modern spa where you can pamper yourself at the end of the day with a bunch of body massage and beauty care.
Food & Drink
The culinary adventure on Amanda brings local cuisines to international flavors. Plenty of seafood dishes will be served in all the meals but other options are available to cater to different likings. Amanda Cruise also serves vegetarian or other diets such as gluten-free or dairy-free. Drinks are varied with house wine, champagne, sparkling wine, soft drinks, etc.
Frequently asked questions
Is there a swimming pool on the cruise?
No. There is no swimming pool on Amanda Cruise.
Is the meal buffet or set menu?
Meals are served on both buffet and set menu. Dinners are usually on the set menu while breakfasts and lunches are on the buffet.
What kinds of spa treatments are there?
Spa on Amanda Cruise includes many kinds such as VIetnamese traditional massage, Balinese massage, Hot stone massage, Foot reflexology massage, Anti-aging face massage, etc.
Does the cruise include a shuttle bus?
No. Shuttle bus service is not included in the room rate. You can book it separately. The pick-up and drop-off location is in the Hanoi Old Quarter area.
Does the cruise include a trip to a fishing village?
No. A fishing village is not available in the itinerary of Amanda Cruise. You will visit Surprising Cave, kayak around and discover Trinh Nu Cave in 1-night program. Besides, if you stay for 2 nights, the excursions to Dark-Bright Cave and Ba Trai Dao Beach in Lan Ha Bay will be added.
Maps and Itineraries
Lot 12, Tuan Chau Harbor, Halong, Quang Ninh
Our guest's experiences (8)
| | | |
| --- | --- | --- |
| 5 star | | 6 reviews |
| 4 star | | 2 reviews |
| 3 star | | 0 reviews |
| 2 star | | 0 reviews |
| 1 star | | 0 reviews |
S
Stephen Edwards
9 months, 2 weeks ago
My wife and I just had 1 night on Amanda. The vessel was a bit downgraded and so was the shuttle boat. We booked the cabin Deluxe which was compact yet pretty comfortable. The food was good but we hoped it could be better. The manager was the best host and he made our trip more enjoyable.
3 people found this helpful
Helpful
The trip was really enjoyable thanks to the staff, especially the professional cruise manager Dan. He made sure all guests were well looked after and went the extra mile to fulfill our needs. We really appreciate the room decor for our anniversary. Food was not outstanding yet varied and eye-catching. We could not kayak and decided to relax on board. The cave was giant and beautiful. It was a nice cruising experience.
R
Renee Bull
6 months, 2 weeks ago
A clean and modern boat. The trip was filled with activities such as visiting a cave, swimming, kayaking, cooking, Taichi, etc. Food was excellent and our cabin was nice. The thing we did not like is the tender boat from the cruise to excursions. It was cramped and uncomfortable, especially under the heat of the summer.
2 people found this helpful
Helpful
C
Clarrance
11 months, 2 weeks ago
My family and I booked 2 nights on Amanda Cruise. The vessel was pretty new and included fundamental facilities such as restaurant and bar, and spa. Activities for the first day were okay yet the second day was superb. We had much more time kayaking at Dark-Bright Cave and swimming in untouched areas. The food was flavorful and much of it. The team did a good job and we will remember this trip for long.
3 people found this helpful
Helpful
N
Nick Vosgerau
9 months, 2 weeks ago
Halong Bay was outstanding and an overnight trip was the best way to enjoy it. We had 2 days on Amanda Cruise. Good food. Nice cabin. Excellent service. Friendly and kind staff. Everything met our expectations and we had a memorable time. Highly recommended!
1 people found this helpful
Helpful
L
Lakshmi Raman
8 months, 3 weeks ago
Food was ordinary. We expect better both quantity and quality. The cabin was spacious and nicely equipped. However, the cleanliness could be improved. The staff was friendly and always eager to please guests. Kayaking was good but should be extended. It was very short.
2 people found this helpful
Helpful
K
Kristen
9 months, 3 weeks ago
The ship was older than the picture. Cabin was neat and the bed was comfy. However, the hot water did not work well. Food was yummy. Staff was very friendly, especially the manager.
3 people found this helpful
Helpful
J
Jorge Miguel
7 months, 3 weeks ago
The vessel was nice and very well equipped. We traveled with our little one and the staff was very courteous and helpful. We enjoyed all the activities and found no boring time onboard. Food in all meals was well prepared and nicely presented. The taste was great. We had a Senior Suite on the upper deck. The cabin was lovely with a private balcony and comfortable bedding.
4 people found this helpful
Helpful
Questions and Answers (0)
Be the first to ask a question on this page!
Talk to a cruise expert
Request a call back
Or Email us
Our customers' experiences

My wife and I recently visited Halong Bay on Peony cruise. The price is very reasonable and the vegetarian food …
Chloe (Australia)

I contacted Visit Halong Bay staff for some trip idea and they responded very swiftly with good recommendations.
Nina Ng (Singapore)

My trip to Halong Bay was delayed because of Covid-19 and I am so glad that I made it back …
Christine Nguyen (Australia)
You might also like...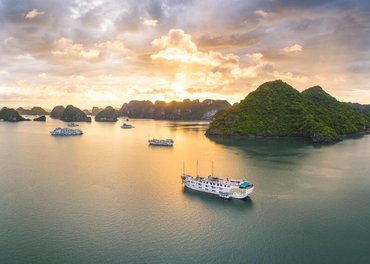 9% OFF
Halong Bay
Launched 2010 - Wooden - 23 cabins
Taichi
Spa
Bar
Halong Bay route
Booked 5 times in the last 24 hours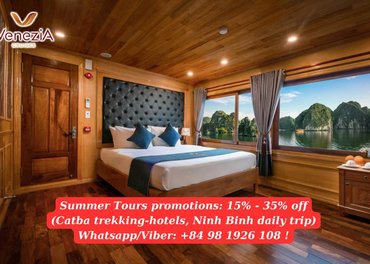 Lan Ha Bay
Launched 2018 - Wooden - 10 cabins
Cooking class
Taichi
Lan Ha Bay route
All meals included
Booked 4 times in the last 24 hours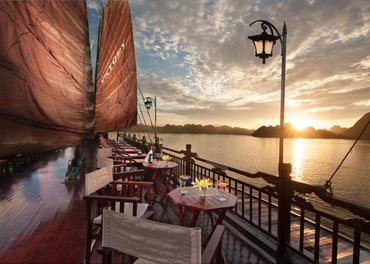 9% OFF
Halong Bay
Launched 2007 - Wooden - 21 cabins
Cooking class
Taichi
Free kayaking
Halong Bay route
Booked 3 times in the last 24 hours