Pelican Glory Cruise
Lot 32, Tuan Chau Island, Ha Long, Vietnam
Show map
Price from: US$ 126 (Save 9%)
US$ 115 /pax
Booked 3 times in the last 24 hours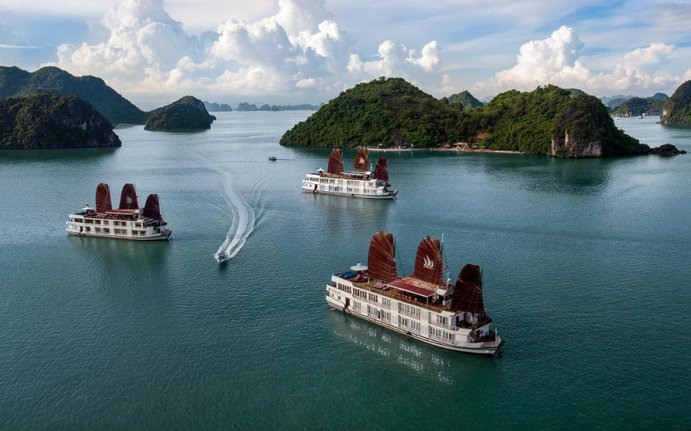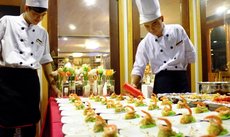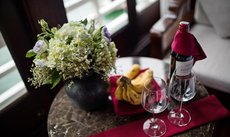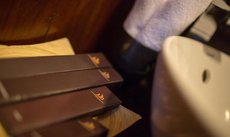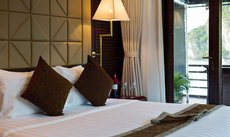 An affordable cruise for the Halong Bay itinerary.
Connected rooms can be requested.
Large sundeck with sunbeds for relaxing.
Spa with varied treatments for body, skin, and nails.
Suitable for birthdays, honeymoons, anniversaries, meetings, conferences, etc.
Cruise information
Itinerary:
Halong Bay - Tung Sau Area - Titop Island - Sung Sot Cave
Rooms & rates
We Price Match
Select date and package options
Clear all
Accommodation Type
Deluxe Double or Twin Room
Size: 18 m²
Bed options: 1 extra-large double bed
Max: +
Max adults: 2
Max children: 1(up to 12 years of age)
Suite Room
Size: 18 m²
Bed options: 1 extra-large double bed
Max: +
Max adults: 2
Max children: 1(up to 12 years of age)
Family Deluxe
Size: 36 m²
Bed options: 2 extra-large double beds
Max: +
Max adults: 3
Max children: 1(up to 12 years of age)
Family Room with Sea View
Size: 36 m²
Bed options: 2 single beds and 1 extra-large double bed
Max: +
Max adults: 4
Max children: 1(up to 12 years of age)
Family Room with Sea View
Size: 36 m²
Bed options: 2 single beds and 1 extra-large double bed
Max: +
Max adults: 4
Max children: 1(up to 12 years of age)
Complete all required fields to continue
(Child Policy & Extra Bed Charge )
About Pelican Glory Cruise
Launched in 2013 and renovated in late 2020, Pelican Glory Cruise is among the best value-for-money cruises in Halong Bay. Owned by the reputable Pelican Group with over 10 years of experience, Pelican Glory Cruise offers appealing itineraries with highlights of Halong Bay. Additionally, modern facilities and services are provided to ensure a relaxing and enjoyable adventure.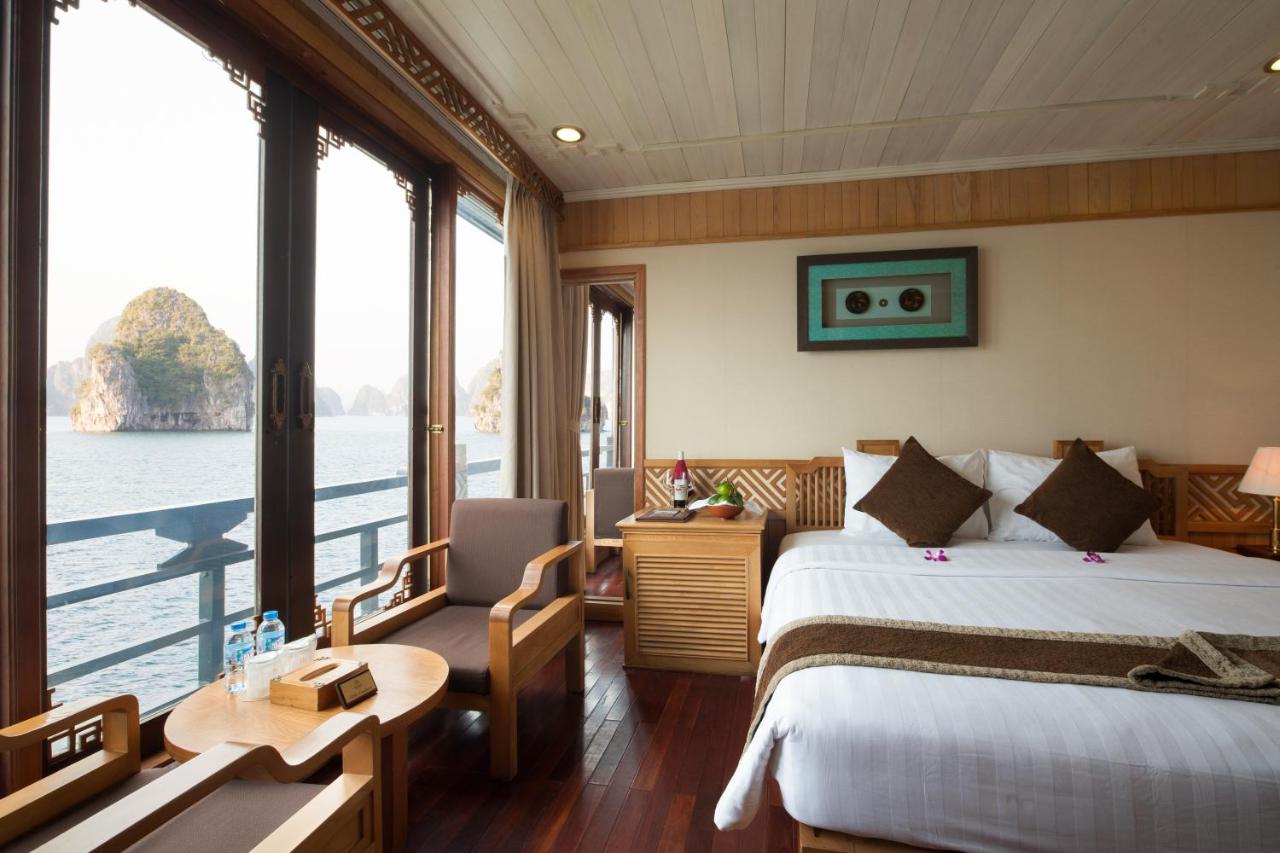 Pros
+ Room is clean and neat.
+ A great variety and quantity of food. Dinner is very good.
+ Staff is welcoming and polite.
Cons
- The program is a bit rushed and the excursions are touristic since all the boats go at the same time.
- Drinks are expensive.
Bottom Line
Pelican Glory Cruise creates a memorable cruising experience full of activities and attentive service.
Itinerary & activities
Setting sail on Halong Bay - the UNESCO-recognized bay, the cruise ensures no boring time with a series of activities. Travelers will kayak around a calm area surrounded by mountains, hike to the top of Ti Top mountain to admire the 360-degree view and swim on the beach, and discover the largest cave in the bay called Surprise Cave. In addition to excursions on the shore, guests can join a cooking class and Happy Hour during sunset, try squid fishing, or relax on the sundeck with a glass of cocktail on hand.
For a longer itinerary, a journey to Cua Van Floating Fishing Village and Tien Ong Cave will give travelers an interesting glimpse of local daily life and the understanding of cave formation dating back millions of years.
Cruise quality
Pelican Glory Cruise is a metal vessel providing a rustic space in the Vietnamese traditional boat style. The addition of modern facilities and personalized service make it the ideal option for a leisure vacation on Halong Bay.
Cabin quality
There are a total of 22 well-equipped cabins on the Pelican Glory Cruise. Guests can admire the bay view from any cabin with full-length glass windows. Featuring the largest area (30 sqm), Royal Suites are the two best cabins including a private balcony with a table and chair, extra large windows from 2 sides, and an ensuite bathroom with tub and shower. Amenities and safety equipment are fully provided in every cabin.
Deluxe cabin: 18 sqm, 1st deck, ocean-view windows, shower, double/twin (can be connected).
Suite Ocean View: 18 sqm, 2nd deck, ocean-view windows, shower, double/twin (can be connected).
Royal Suite: 30 sqm, 2nd deck, private balcony, shower and tub, double bed.
Room amenities:
Sitting area
En-suite bathroom
Air conditioner
Satellite LED TV
Complimentary tea, coffee, water
Safe box
Minibar
Wardrobe
Hair dryer
Cotton bedding
Towels and bathrobes
Eco-friendly toiletries
Luggage storage space
Slippers
Life jackets
Fire extinguisher
Service & facilities
Pelican Glory offers a wide range of facilities from the beginning to the end of the trip. A bus or private car pick-up service ensures guests check in onboard on time. A cozy and intimate restaurant and bar provides a variety of food and drinks from Vietnam and European nations. Sundeck is set up with many sunbeds where you can sunbathe, kick back and read a book, or enjoy the cool breeze when the cruise crosses hundreds of limestone islands.
Fishing equipment, board games, or movies can give you some more fun during your night on the bay. Moreover, if you want to have a pampering time after an active day, a spa with massage treatments, facial care, or manicure/pedicure is available for you to order.
Food & Drink
The restaurant is located on the 2nd deck of the vessel. While savoring plenty of local and fusion dishes, guests can witness the breathtaking view of Halong Bay out of the glass windows. Food is prepared by talented chefs and served by dedicated staff who take care of your food allergies and special diets. The bar is fully stocked with tea, coffee, cocktails, mocktails, wine, beer, fresh juice, and more.
Frequently asked questions
Does the cruise have a pool?
No, Pelican Glory does not have a pool.
How many meals are there on the cruise?
There are 4 meals included in the 1-night program (1 breakfast, 1 lunch, 1 dinner, 1 brunch) and 7 meals in the 2-night program (2 breakfasts, 2 lunches, 2 dinners, 1 brunch).
Is there a family room onboard?
Connecting rooms are available in Pelican Glory. 2 Deluxe cabins or 2 Suites can be interconnected and accommodate 4 adults and 2 children.
Does the Deluxe cabin have a tub?
No. Only Royal Suites have a tub.
Can I order vegetarian and kid menus?
Yes. Vegetarian and kid menus can be ordered onboard. Please inform the cruise organizer prior to your trip for the best assistance.
Maps and Itineraries
Lot 32, Tuan Chau Island, Ha Long, Vietnam
Our guest's experiences (8)
| | | |
| --- | --- | --- |
| 5 star | | 8 reviews |
| 4 star | | 0 reviews |
| 3 star | | 0 reviews |
| 2 star | | 0 reviews |
| 1 star | | 0 reviews |
M
Maria Santos
7 months, 2 weeks ago
Pelican cruise's quality was beyond my expectations for such a reasonable price. We've grasped a lot of useful knowledge about the history of Halong Bay and the lifestyle of local fishermen. Kayaking and visiting caves were the two most recommended activities. The cabin crew was very helpful and supported us whenever we need.
2 people found this helpful
Helpful
I
Ingrid Johansson
7 months, 2 weeks ago
The cruise was neat and clean. We were served a lot of good food, especially on the main courses. The captain and other staff always lightened up our mood. I would recommend a longer journey on this cruise instead of only 2 days. It was overall a good experience for me and my friends.
2 people found this helpful
Helpful
I
Isabella Costa
6 months, 2 weeks ago
I felt grateful that the cruise took care of us very well. Activities onboard and offshore were mostly inclusive. I loved the cooking class and squid fishing at night the most. The cabins were small but neat and tidy. There was no WIFI onboard but that's ok because we wanted to spend more time relaxing and gathering with other members. Thank the cruise for bringing us memorable moments on the bay!
C
Carlos Silva
8 months, 2 weeks ago
My family had a 2-day trip on Pelican cruise and we enjoyed it a lot. The price was affordable and services as well as amenities were sufficient for our entertainment purposes. The staff were friendly and attentive. Unfortunately, the cabins smelled mold.
2 people found this helpful
Helpful
K
Kim Min-joon
7 months, 2 weeks ago
Pelican Cruise had a charming Vietnamese style, showing distinctive features of traditional boats. Cabins were not spacious but had adequate facilities and large windows and balconies viewing the bay. The host was friendly and humorous too, we had a lot of funny stories, and jokes to tell together. The food menu was plentiful and kayaking was definitely the highlight of this trip.
E
Emre Yılmaz
11 months, 3 weeks ago
We did a 2-day trip on Halong Bay with Pelican Cruise and I would rate the cruise quality 3 stars. The cabins and facilities were quite old and not updated. The food was acceptable with not many options for European dishes, mainly Vietnamese dishes. Halong Bay was peaceful but not clean at all. The island was also crowded and dirty somewhere. I would love to be back to the bay but expect improvements of these issues.
1 people found this helpful
Helpful
S
Sofia Kovalenko
5 months, 2 weeks ago
The cruise programs were a bit rushed as we had a lot of things to do at a time and the time for enjoying the scenery was quite short. Despite this, other activities onboard and the services and amenities were appropriate, come just right with the affordable price. The cabins were not spacious but had everything I expect on an independent tour.
2 people found this helpful
Helpful
E
Elena Petrov
9 months, 3 weeks ago
Absolutely great! Pelican Glory was a nice boat with an amazing trip to Halong Bay. The cruise has operated for years thus some parts were running down but still quite safe. What I appreciated the most was the friendliness and helpfulness of all staff and the captain onboard. Feeling happy when travelling with the cruise.
4 people found this helpful
Helpful
Questions and Answers (0)
Be the first to ask a question on this page!
Talk to a cruise expert
Request a call back
Or Email us
Our customers' experiences

My wife and I recently visited Halong Bay on Peony cruise. The price is very reasonable and the vegetarian food …
Chloe (Australia)

I contacted Visit Halong Bay staff for some trip idea and they responded very swiftly with good recommendations.
Nina Ng (Singapore)

My trip to Halong Bay was delayed because of Covid-19 and I am so glad that I made it back …
Christine Nguyen (Australia)
You might also like...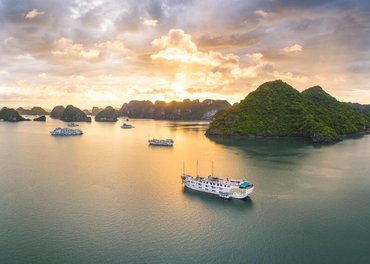 9% OFF
Halong Bay
Launched 2010 - Wooden - 23 cabins
Taichi
Spa
Bar
Halong Bay route
Booked 5 times in the last 24 hours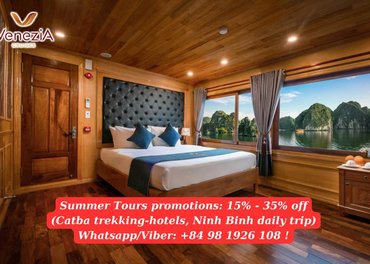 Lan Ha Bay
Launched 2018 - Wooden - 10 cabins
Cooking class
Taichi
Lan Ha Bay route
All meals included
Booked 4 times in the last 24 hours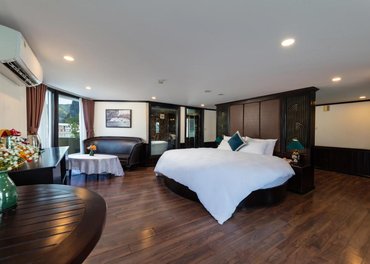 8% OFF
Halong Bay
Launched 2022 - Metal - 25 cabins
Cooking class
Triple room
Taichi
Spa
Booked 6 times in the last 24 hours