Renea Cruises Halong
Halong International Cruise Port, Bai Chay, Quang Ninh
Show map
Price from: US$ 143 (Save 9%)
US$ 130 /pax
Booked 2 times in the last 24 hours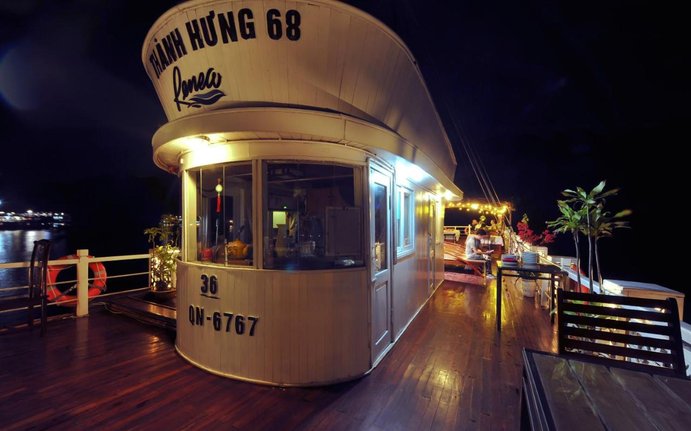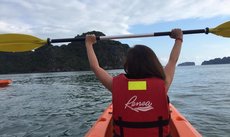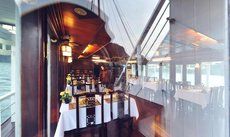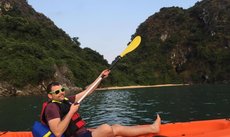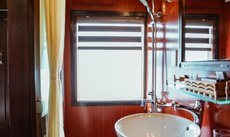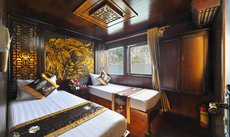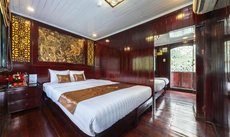 A traditional cruise sailing to less-visited parts of Bai Tu Long Bay.
Cozy cabins with en-suite bathrooms and large windows viewing the bay.
An ideal choice for small groups and families.
You will have a tasty culinary experience with traditional Vietnamese cuisine.
Cruise information
Itinerary:
Thien Canh Son Cave - Cap La Island - Thien Canh Son Cave
Rooms & rates
We Price Match
Select date and package options
Clear all
Accommodation Type
Deluxe Double Room with Sea View
Size: 16 m²
Bed options: 1 extra-large double bed
Max: +
Max adults: 2
Max children: 1(up to 12 years of age)
Deluxe Twin Room with Sea View
Size: 16 m²
Bed options: 2 single beds
Max: +
Max adults: 2
Max children: 1(up to 12 years of age)
Deluxe Triple Room
Size: 20 m²
Bed options: 1 single bed and 1 large double bed
Max: +
Max adults: 3
Max children: 1(up to 12 years of age)
Deluxe Family Room
Size: 34 m²
Bed options: 4 single beds
Complete all required fields to continue
(Child Policy & Extra Bed Charge )
About Renea Cruises Halong
Renea Cruises Halong proudly boasts a mid-range cruise with a nostalgic atmosphere. This boutique wooden junk was operated in 2018, offering life-enriching excursions to several off-the-beaten-track tourist destinations of Bai Tu Long Bay. You can enjoy a peaceful stay onboard with intimate and elegant accommodations.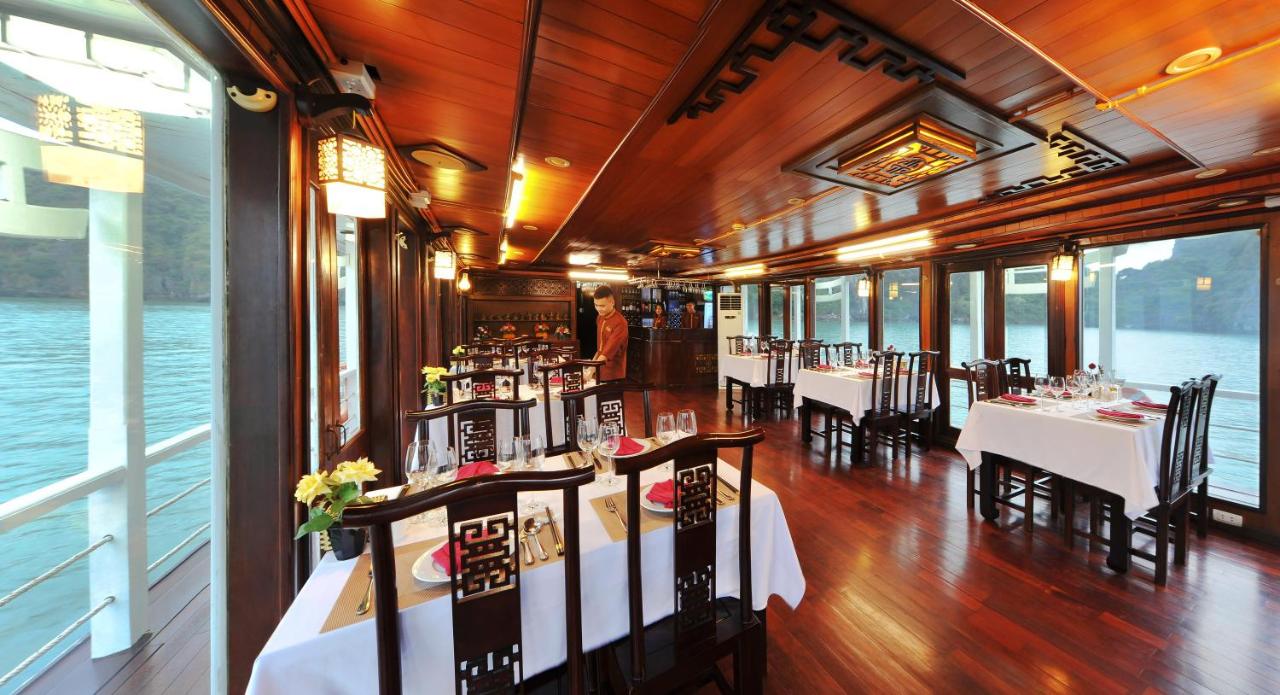 Pros
+ Renea Cruises Halong is relatively small but new and the cabins are in good condition.
+ Meals served onboard are delicious and plentiful, with seafood and traditional Vietnamese specialities.
+ Itinerary is well-planned to avoid crowded parts of the bay, and the water is clean for swimming and kayaking.
Cons
- There is a lack of high-quality amenities onboard.
- The cooking class is a bit boring.
Bottom Line
The ship makes voyages to less-crowded areas and offers suitable activities for both adults and children.
Itinerary & activities
On the itinerary to explore Bai Tu Long Bay, Renea Cruises Halong stops at Cap La Island, a famous kayaking area. Then, a visit to Vung Vieng fishing village brings you the opportunity to interact with local people.
You will also have time for kayaking and swimming in the Cong Dam area and catching a glimpse of Thay cave if the weather permits. The final destination is Thien Canh Son Cave, the most beautiful cave in Bai Tu Long Bay.
Cruise quality
The traditional decoration combines classical features with adequate amenities. This small-sized wooden cruise can host 23 guests and ensure private space for each.
Cabin quality
Renea Cruises Halong is home to only 11 cabins. These traditionally decorated staterooms bring an intimate feeling for a comfortable stay. There is a Jacuzzi in the suite cabin with a private balcony. Meanwhile, the family-connecting cabins are perfect for families with 5 people.
Service & facilities
Decent facilities provided on the ship are a restaurant & bar, a shared lounge, BBQ facilities, and 4-star cabins. You can also experience attentive services, including a 24-hour front desk, spa services, currency exchange, and room service.
Food & Drink
Food is well-prepared in different styles, such as set menu lunch ND a BBQ dinner on the top deck. In addition, most drinks are excluded from the rate and guests can find a lot of it in the cruise bar.
Frequently asked questions
Does Renea Cruises Halong visit Halong Bay?
No. Renea Cruises Halong offers itineraries to Bai Tu Long Bay.
Does the cruise have a swimming pool?
There is no swimming pool on Renea Cruises Halong.
What types of cuisine are served on the cruise?
The cruise's restaurant mainly serves traditional Vietnamese cuisine and several Western dishes.
Does the cruise have a day trip to Bai Tu Long Bay?
No. The cruise provides only 2 and 3-day itineraries to Bai Tu Long Bay.
Is transfer service included in the price?
Shuttle transfer round trip is not included in the total price
Maps and Itineraries
Halong International Cruise Port, Bai Chay, Quang Ninh
Our guest's experiences (8)
| | | |
| --- | --- | --- |
| 5 star | | 5 reviews |
| 4 star | | 3 reviews |
| 3 star | | 0 reviews |
| 2 star | | 0 reviews |
| 1 star | | 0 reviews |
P
Pooja Malhotra
8 months, 2 weeks ago
The ship was old and the cabins were small, less comfortable than I anticipated. It was a bit of a challenge to navigate with multiple people in the same room. Some areas onboard also needed maintenance. The food was just average and expected more options for lunch and dinner.
J
Jennifer Robinson
7 months, 3 weeks ago
The staff were incredibly friendly and helpful. They went out of their way to make sure we had a great time. The cabins were quite small but neat. The food options were quite limited, mainly Vietnamese cuisine. By the way, we enjoyed onboard activities and kayaking in Bai Tu Long Bay.
1 people found this helpful
Helpful
A
Aya Kobayashi
7 months, 2 weeks ago
We were all first-time cruisers but on Renea cruise, we felt welcome and comfortable. The price just fitted the cruise quality but the staff and captain were outstanding. They were very attentive and helpful. Thank the team so much!
A
Ava Martin
9 months, 2 weeks ago
The cruise lacked modern amenities and spacious cabins. However, accommodations were still clean and neat. The staff were accommodating and we had a great sunset party onboard, took a lot of beautiful pictures. Excursions to the bay were memorable with kayaking and swimming. Highly recommend the cruise for adventurers.
3 people found this helpful
Helpful
A
Ananya Gupta
5 months, 2 weeks ago
While the dining options were included, the quality was just above average and not very delicious. The additional costs for drinks were quite high. The staff were friendly and helpful to us. They provided us with clear guidance and organized many funny activities. Bai Tu Long bay was beautiful and pristine, unlike Halong Bay and this was the best part. This cruise is an acceptable option for budget-minded travelers.
1 people found this helpful
Helpful
K
Kaori Mori
6 months, 3 weeks ago
Renea was a budget cruise but very welcoming and accommodating. I had a chance to meet a lot of guests and strike up conversations. Dining options were plentiful but not very yummy. Bai Tu Long Bay was quiet and lacked tourists. We can enjoy our own space on the bay without being bothered by others.
W
William Moore
7 months, 3 weeks ago
I and my family members had a lot of fun onboard. The entertainment and activities onboard were surprisingly enjoyable. I didn't feel like I was missing out on anything just because I was on a budget cruise. There were plenty of things to do such as sunset party, squid fishing, and singing onboard. The cabins were at acceptable quality, not very modern. The food was decent too. It was a general good experience with the price.
R
Robert Harris
9 months, 2 weeks ago
I was amazed by the onboard entertainment and activities onsite which were all funny an amazing. The cruise allowed me to visit multiple beautiful destinations on Bai Tu Long Bay with highlights of visiting the cave. The value for the price I paid exceeded my expectations. The cabin followed traditional style but was very well-maintained.
2 people found this helpful
Helpful
Questions and Answers (0)
Be the first to ask a question on this page!
Talk to a cruise expert
Request a call back
Or Email us
Our customers' experiences

My wife and I recently visited Halong Bay on Peony cruise. The price is very reasonable and the vegetarian food …
Chloe (Australia)

I contacted Visit Halong Bay staff for some trip idea and they responded very swiftly with good recommendations.
Nina Ng (Singapore)

My trip to Halong Bay was delayed because of Covid-19 and I am so glad that I made it back …
Christine Nguyen (Australia)
You might also like...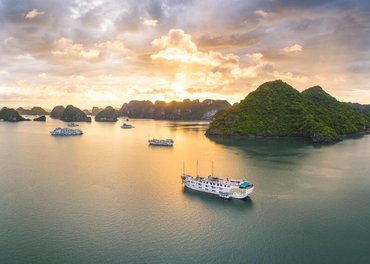 9% OFF
Halong Bay
Launched 2010 - Wooden - 23 cabins
Taichi
Spa
Bar
Halong Bay route
Booked 5 times in the last 24 hours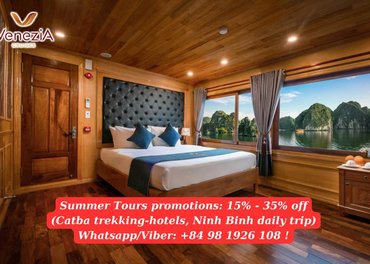 Lan Ha Bay
Launched 2018 - Wooden - 10 cabins
Cooking class
Taichi
Lan Ha Bay route
All meals included
Booked 4 times in the last 24 hours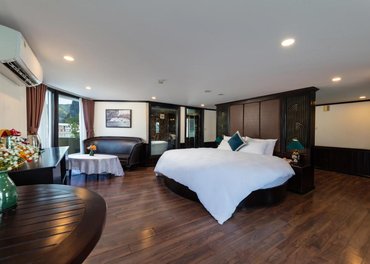 8% OFF
Halong Bay
Launched 2022 - Metal - 25 cabins
Cooking class
Triple room
Taichi
Spa
Booked 6 times in the last 24 hours