Scarlet Pearl Cruises
Halong International Cruise port, 9 Halong road, Bai Chay, Ha Long, Vietnam
Show map
Price from: US$ 192 (Save 8%)
US$ 175 /pax
Booked 6 times in the last 24 hours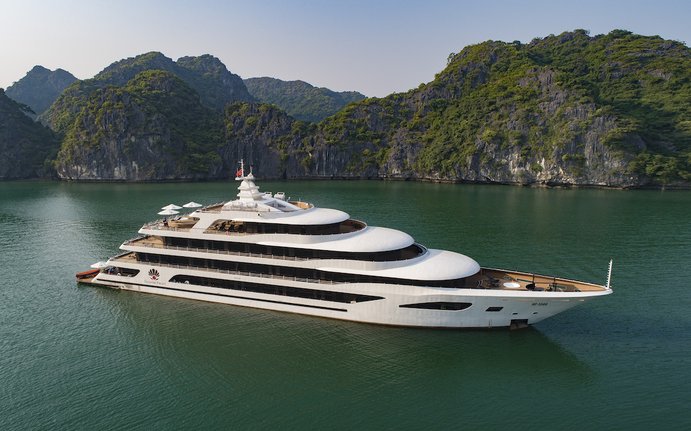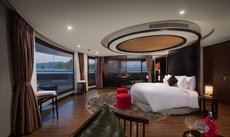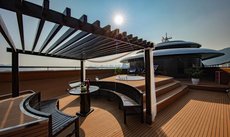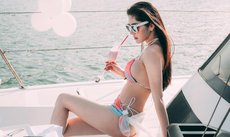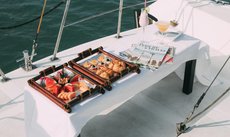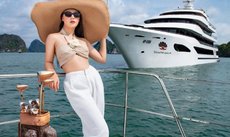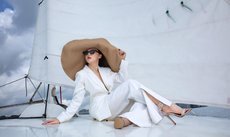 One of the most luxurious cruises in Halong Bay featuring Catamaran style.
4 themed suites are spacious and well-appointed with top-notch services and amenities.
Savor delightful meals with multicultural cuisines while enjoying live music performances.
Superior facilities like spa, bar, gym center, pearl museum, and luxury car transfer are provided.
Cruise information
Itinerary:
Lan Ha Bay - Bright Cave - Ao Ech
Operator:
Scarlet Pearl Ha Long Co., Ltd
Exclusive deals & offers $180 per person for Silver Pearl cabin
Price from: US$ 180 /pax
BOOK THIS DEAL
Included:
Welcome Cocktail
2-day Cruise Itinerary and Program
Entrance and Sightseeing Fees
In-house English-speaking Tour Guide
Luxury Cabins and Suites with A/C
Luxury en-suite Bathroom
Meals on board
Tai Chi Session
Cooking Class
Insurance
Kayaking
Taxes & Service Charges
Notes & Policies:
This promotion is applicable for
This promotion cannot be combined with other promotional programs. To book the promotional package and get detailed advice, please contact the hotline at (+84) 966 311 132 or email: info@visithalongbay.com
Booking period: 25/10/2023 31/12/2023
Stay period: 25/10/2023 - 31/12/2023
Rooms & rates
We Price Match
Select date and package options
Clear all
Accommodation Type
Golden Pearl Suite with Balcony
Size: 40 m²
Bed options: 1 extra-large double bed or 2 single beds
Max: +
Max adults: 2
Max children: 1(up to 12 years of age)
Silver Pearl Suite with Balcony
Size: 28 m²
Bed options: 1 extra-large double bed or 2 single beds
Max: +
Max adults: 2
Max children: 1(up to 12 years of age)
Onyx Pearl Suite with private Sundeck
Size: 60 m²
Bed options: 1 extra-large double bed or 2 single beds
Max: +
Max adults: 2
Max children: 1(up to 12 years of age)
Family Connecting Silver Suite
Size: 56 m²
Bed options: 1 extra-large double bed or 2 single beds
Max: +
Max adults: 2
Max children: 1(up to 12 years of age)
President Scarlet Pearl
Size: 150 m²
Bed options: 1 extra-large double bed
Max: +
Max adults: 2
Max children: 1(up to 12 years of age)
Silver Suite Triple with Ocean View
Size: 28 m²
Bed options: 1 single bed and 1 extra-large double bed or 3 single beds
Complete all required fields to continue
(Child Policy & Extra Bed Charge )
About Scarlet Pearl Cruises
Scarlet Pearl Cruises is a pioneer in the fleet of Catamaran-style yachts in Halong Bay that offers authentic experiences of luxury and modernity. The ultimate in relaxation and enjoyment is brought about through a range of amenities such as a high-quality bar & restaurant, a modern gym center, and a fabulous pearl museum with premium pearls.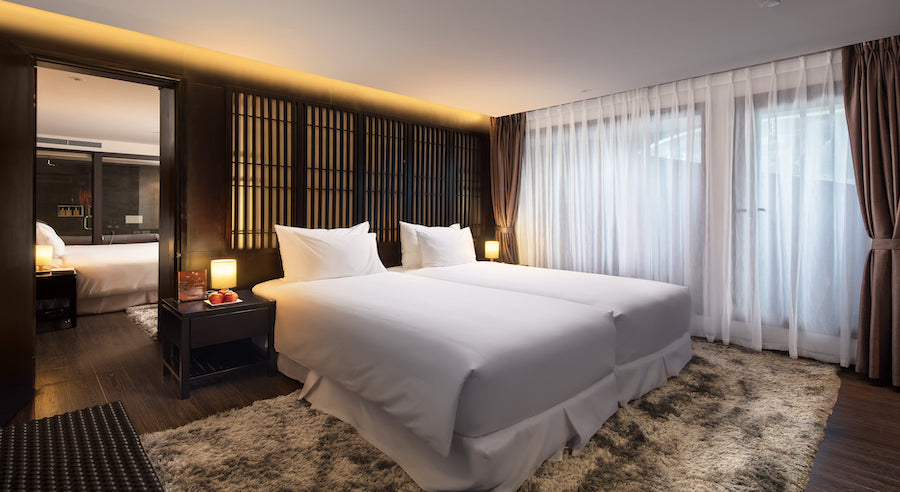 Scarlet Pearl Cruises satisfies various types of guests from ordinary holidaymakers to honeymooners, VIPs, and even celebrities. The cruise would leave you with a good impression not only for its fascinating hospitality and facilities but also for unforgettable memories of excursions on Lan Ha Bay, a more tranquil neighbor of Halong Bay.
Pros
+ Scarlet Pearl Cruises brings guests a luxurious ambiance and a true sense of extravagance.
+ You can immerse yourself in majestic nature and take part in a multitude of water-based activities.
+ The menu is a perfect combination of Vietnam traditional and international flavors completed with refreshing cocktails.
Cons
- Activities can be rescheduled or even canceled due to bad weather.
- The floating fishing village is a bit invasive and exploitative by mass tourism.
Bottom Line
Scarlet Pearl Cruises boasts a top choice for upscale tourists expecting both leisure and adventure in the overnight cruise journey.
Itinerary & activities
The two well-researched itineraries for 2 days and 3 days on Lan Ha Bay are a great appeal to seasoned travelers and adventure seekers. You'll have ample opportunities to embark on a kayak or rowed boat to explore the primitiveness of Sang Cave and Ech Lagoon. The tour continues with an exploration of Viet Hai Village on an electric car or bicycle and the Ba Trai Dao Beach area.
If you prefer a more relaxing time, you can choose to stay aboard and indulge in pampering massage services or simply go shopping for precious pearls.
Cruise quality
Scarlet Pearl Cruises emphasizes unique architectural design while the interior is fitted with state-of-the-art amenities for a comfortable stay.
Cabin quality
Spreading across the yacht is a collection of four exquisite themed suites with full-size windows, large balconies/ terraces, and high-end amenities. You can also find an outdoor Jacuzzi in the 150-sqm Scarlet Pearl room.
Service & facilities
The cruise provides a convenient transfer service by Limousine car that can reduce traveling time to only 2.5 hours on the Expressway. Onboard, spoil yourself with a Japanese-style spa massage session, or capture marvelous night views of the bay with a glass of wine in the Bar Bistro. During the day, you are recommended to wake up early to attend yoga sessions on the sundeck or work out in the gym with new machines.
There is also a pearl museum that presents some of the world's most famous pearls.
Food & Drink
Located on the 3rd deck, Tahiti Pearl is the main Scarlet Pearl's restaurant where you are meticulously served a fusion menu of Vietnam and international cuisines made from fresh ingredients. Cocktails are provided on request to fulfill a romantic dining experience.
Frequently asked questions
Is the cruise safe for children?
Yes, Scarlet Pearl Cruises provides high-quality amenities and reasonable cruising itineraries that allow families with children to stay safe and comfortable.
Are escalators available on the ship?
There are no escalators on Scarlet Pearl Cruises.
Does the cruise have a swimming pool?
There is no swimming pool on the cruise but you can enjoy an outdoor Jacuzzi in the Scarlet Pearl room or other facilities such as a gym center and a spa.
Does Scarlet Pearl Cruises sail to Halong Bay?
Scarlet Pearl Cruises sails to Lan Ha Bay, a lesser-known and more peaceful bay compared to Halong Bay. Highlight destinations include Viet Hai Village, Ba Trai Dao Beach area, and Sang Cave.
Is transportation included in the total price?
Limousine transfer is not included in the total price and you have to pay an additional charge for this service.
Maps and Itineraries
Halong International Cruise port, 9 Halong road, Bai Chay, Ha Long, Vietnam
Our guest's experiences (8)
| | | |
| --- | --- | --- |
| 5 star | | 8 reviews |
| 4 star | | 0 reviews |
| 3 star | | 0 reviews |
| 2 star | | 0 reviews |
| 1 star | | 0 reviews |
N
Natalie Hon
8 months, 4 weeks ago
The ship is beautiful, spacious and modern. Very friendly and polite crew. Shout out to Mr. Chris for his kindness and attention to detail. We really love kayaking and the trip to the beach on Day 2. Lan Ha Bay was engaging and peaceful. Food was mouthwatering and plentiful. It would be best if we had all set menus rather than buffets. We highly recommend everyone to book 3 days/2 nights.
3 people found this helpful
Helpful
J
Josef Ben
10 months, 2 weeks ago
The staff was nice and kind. The program was good with a bunch of activities. The boat itself was stylish and well maintained. However, there were some downsides that need to be improved:
The tender boat was cramped and not comfortable and it took quite a long from the port to the cruise.
Some dishes were not hot, just warm.
The cabin was spacious and well furnished yet the air-con is not very cool compared with the extremely hot weather outside.
4 people found this helpful
Helpful
O
Ong Poh Tiong
8 months, 2 weeks ago
Our room was nice and fully equipped yet the air-con did not work well. The ship was a bit degraded inside yet it did not affect our experience much. There were a variety of activities which were well organized but we felt a bit rushed for a 1-night trip. Staff was caring and kind.
A
Andrew Johnso
11 months, 3 weeks ago
We got 2 nights on the bay. Scarlet Pearl was a nice boat. It has a luxurious and modern design and well-equipped rooms. The sundeck was perfect for watching sunset yet a bit small for all guests. Our Onyx room was amazing, very spacious and included the best view. Food was of medium quality to us. We expect better set menus and hotter dishes.
L
Lily Kemble Welch
9 months, 2 weeks ago
My trip with family was above my expectations. The crew team was all lovely, kind, and always smiled. They tried their best to please us and even surprised us with a birthday cake for my son. He was very excited about that. Our cabin was comfortable with fine pillows and cushions. There were a bunch of activities such as kayaking, swimming, taking a sampan boat, visiting a cave, etc. The cooking demonstration was nice. Once again, we really enjoyed the trip with the Scarlet Pearl team. Thank you very much!
S
Samantha
9 months, 4 weeks ago
The ship was nice and well equipped. Rooms were spacious, clean, and convenient with all necessary amenities. We booked 2 nights and the activities were more varied. The 1-night must be too quick and on the second day, you will just relax and go around by a catamaran. The trip to the village was interesting and the food for Day 2 was excellent. The only minus is the pollution issue on the bay. While cruising, we saw rubbish, diesel, and plastic bags floating. This not only destroys the bay but also annoys your activities.
A
Astik Mahato
9 months, 2 weeks ago
My friend and I had 2 days/1 night on Scarlet Pearl Cruise. The boat is modern and beautiful yet there are some signs of degradation. Our Silver cabin was on the first deck with a lovely balcony and comfy mattress. The staff was friendly and helpful. Food was of high quality yet needed more variety. The menu was better than the buffets.
M
Marc
9 months, 2 weeks ago
The cruise did not have many cabins and it was a great way to relax on the bay. Our cabin was clean and comfortable. We stayed in the Silver Pearl cabin which had a small private balcony. Halong Bay was magnificent and very calm. However, there were too many boats and tourists at the attractions. Activities were varied and suitable for travelers of different ages. Kayaking on the bay was a must-try!
2 people found this helpful
Helpful
Questions and Answers (0)
Be the first to ask a question on this page!
Talk to a cruise expert
Request a call back
Or Email us
Our customers' experiences

My wife and I recently visited Halong Bay on Peony cruise. The price is very reasonable and the vegetarian food …
Chloe (Australia)

I contacted Visit Halong Bay staff for some trip idea and they responded very swiftly with good recommendations.
Nina Ng (Singapore)

My trip to Halong Bay was delayed because of Covid-19 and I am so glad that I made it back …
Christine Nguyen (Australia)
You might also like...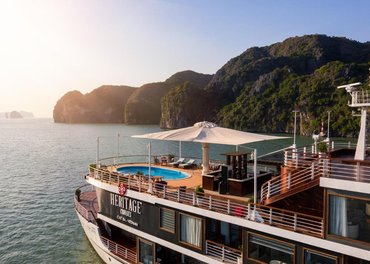 9% OFF
Lan Ha Bay
Launched 2019 - Metal - 20 cabins
Outdoor swimming pool
All cabins with balcony
Lan Ha Bay route
All meals included
Booked 2 times in the last 24 hours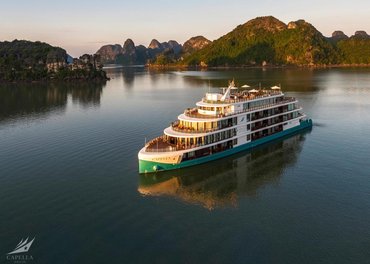 8% OFF
Lan Ha Bay
Launched 2020 - Metal - 30 cabins
All cabins with balcony
Family rooms
Elevator
Fitness centre
Booked 3 times in the last 24 hours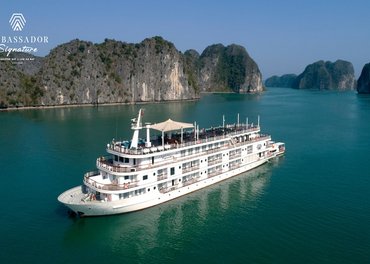 8% OFF
Lan Ha Bay
Launched 2023 - Steel - 39 cabins
All cabins with balcony
Cooking class
Spa
Bar
Booked 10 times in the last 24 hours