Capella Cruise
Tuan Chau harbor, Halong No 20B, Ha Long, Vietnam
Show map
Price from: US$ 214 (Save 8%)
US$ 195 /pax
Booked 3 times in the last 24 hours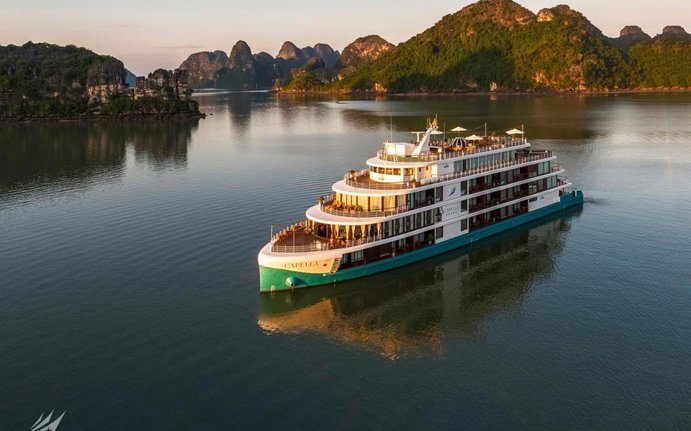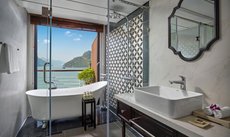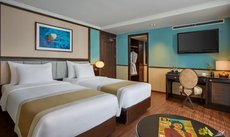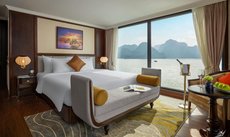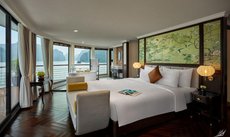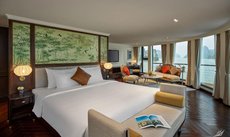 Halong Capella Cruise has a wide range of choices for cruise itineraries.
Charter service is ideal for groups of tourists enjoying optimal privacy.
The cruise is facilitated with excellent amenities for fun-filled entertainment programs.
Have fun with Oasis Pool & Jacuzzi and the water slide.
There are also many options for massages and well-being services on the cruise.
Cruise information
Itinerary:
Lan Ha Bay - Ao Ech - Dark & Bright Cave
Operator:
Viet Star Cruise
Exclusive deals & offers Only $190/pax for Oasis Suite
Price from: US$ 190 /pax
BOOK THIS DEAL
Included:
Welcome Cocktail
2-day Cruise Itinerary and Program
Entrance and Sightseeing Fees
In-house English-speaking Tour Guide
Luxury Cabins and Suites with A/C
Luxury en-suite Bathroom
Meals on board
Tai Chi Session
Cooking Class
Insurance
Kayaking
Taxes & Service Charges
Notes & Policies:
This promotion is applicable for Oasis Suites.
This promotion cannot be combined with other promotional programs. To book the promotional package and get detailed advice, please contact the hotline at (+84) 966 311 132 or email: info@visithalongbay.com
Booking period: Now - 31/12/2023
Stay period: Now - 31/12/2023
Rooms & rates
We Price Match
Select date and package options
Clear all
Accommodation Type
Double/Twin Oasis Suite
Size: 32 m²
Bed options: 1 extra-large double bed or 2 single beds
Max: +
Max adults: 2
Max children: 1(up to 12 years of age)
Double Sky Suite on the third floor
Size: 32 m²
Bed options: 1 extra-large double bed
Max: +
Max adults: 2
Max children: 1(up to 12 years of age)
Double/Twin Harmony Suite on second floor
Size: 32 m²
Bed options: 2 single beds or 1 extra-large double bed
Max: +
Max adults: 2
Max children: 1(up to 12 years of age)
Sky Family Suite
Size: 43 m²
Bed options: 2 single beds and 1 extra-large double bed
Max: +
Max adults: 4
Max children: 1(up to 12 years of age)
La Suite De Capella with private terrace
Size: 57 m²
Bed options: 1 extra-large double bed
Max: +
Max adults: 2
Max children: 1(up to 12 years of age)
Owner Suite at Lan Ha Bay
Size: 92 m²
Bed options: 1 extra-large double bed
Max: +
Max adults: 2
Max children: 1(up to 12 years of age)
Double Sky Terrace Suite
Size: 45 m²
Bed options: 1 extra-large double bed
Complete all required fields to continue
(Child Policy & Extra Bed Charge )
About Capella Cruise
Halong Capella is a new cruise brand on Halong Bay with outstanding facilities and attentive services. You can find on the ship a mini golf course, a Jacuzzi & pool, and a water slide with immense fun. This is among a few cruise lines with a 4-day journey to Lan Ha Bay and Cat Ba Island covering all typical water-based activities.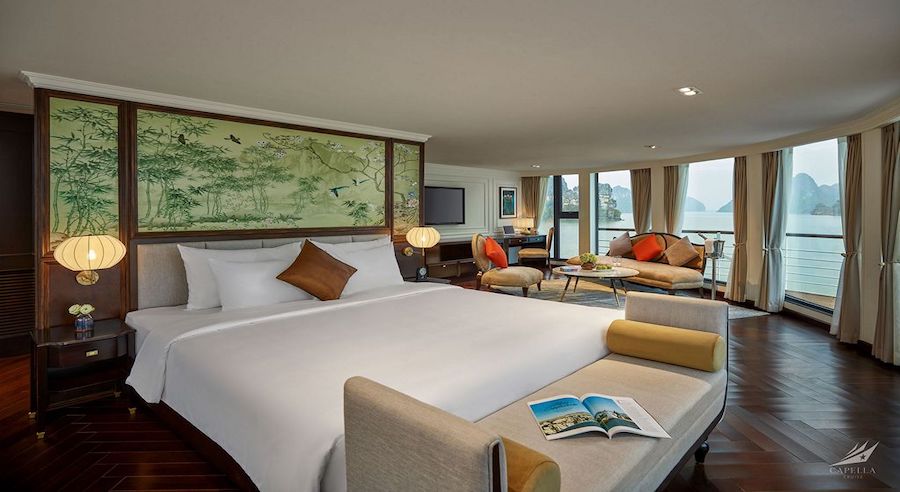 Pros
+ Well-arranged itineraries for an in-depth understanding of the bay's culture and tranquillity.
+ Accommodations have private balcony/ terrace and ocean-view bathtub.
+ Premium facilities onboard provide you with luxury and enjoyment.
Cons
- Check-out time is a bit early.
- WIFI is free but unstable many times during the day.
Bottom Line
Halong Capella Cruise suits all your cruising expectations with both short and long durations.
Itinerary & activities
Cruise's itineraries vary from 2D1N to 4D3N on Lan Ha Bay, exploring prominent tourist attractions such as Frog Lagoon, Viet Hai Village, Ba Trai Dao Beach Area, Cat Ba Island, Trung Trang Cave, and Dark & Bright Cave. You'll have ample opportunities to participate in interesting activities such as cave exploring, sightseeing, swimming, and kayaking.
Cruise quality
Halong Capella Cruise is new, designed in a contemporary style combined with intricate wooden furniture and ornamental details. The exquisite design brings about a luxurious and intimate sense.
Cabin quality
All-suite cabins onboard are divided into different categories to meet the needs of couples, families as well as groups. Each stateroom is thoughtfully appointed with quaint wooden flooring, fabulous wall decor, state-of-the-art amenities and a large balcony or private terrace to soak up bay views.
Service & facilities
Services and facilities onboard all meet international standards. You have access to an inflatable water slide running to the cool seawater. Kids especially love Oasis pool & Jacuzzi while adult guests can sip cocktails in the Spirit of the Sea Lounge, play golf, and listen to music in the Sea Melody Theatre.
Food & Drink
Harmony of the Sea Restaurant has a capacity of 80 guests serving diverse culinary experiences both locally and internationally. Meanwhile, Spirit of the Sea Lounge is a perfect venue for pre-dinner cocktails, movie nights, and sunset parties.
Frequently asked questions
Does Halong Capella Cruise have a swimming pool?
Yes. The cruise has an Oasis pool and Jacuzzi where you can immerse in the cool water.
Is transportation round trip included in the price?
No. Transportation between Hanoi and Halong is not included in the total price.
Are massage services available on the cruise?
Yes. The cruise has Sea Memory Spa offering rejuvenating massage services.
Is WIFI available onboard?
WIFI is accessible free of charge onboard but the connection is weak sometimes.
Is there a gym on Halong Capella Cruise?
Yes. There is a small gym with basic facilities for guests to work out onboard.
Maps and Itineraries
Tuan Chau harbor, Halong No 20B, Ha Long, Vietnam
Our guest's experiences (8)
| | | |
| --- | --- | --- |
| 5 star | | 7 reviews |
| 4 star | | 1 reviews |
| 3 star | | 0 reviews |
| 2 star | | 0 reviews |
| 1 star | | 0 reviews |
M
Mia Walker
8 months, 2 weeks ago
Fabulous! A truly luxury cruising experience! The boat was huge and comfortable. Our group took connecting rooms and it was clean, big, and very relaxing. The staff were absolutely supportive and dedicated. Water slide and kayaking were the best! The schedule was flexible too, so we did not have to join all activities if we did not want to. Only the drinks were a little expensive and wifi had a really weak connection.
3 people found this helpful
Helpful
A
Adil Khan
6 months, 2 weeks ago
We chose a Sky Suite on Capella cruise, which was totally worth it. It was so beautiful, spacious, and had everything we needed. There were plenty of things you could do, both excursions and onboard facilities. About food, the buffets were so good with many delicious high-standard options. Wines were excellent too! The staff also went the extra mile to make guests comfortable and happy! Thank you so much!
3 people found this helpful
Helpful
A
Ayesha Malik
6 months, 1 week ago
This cruise was totally good for value. The services were excellent and our luggage was taken to and from our room by the supportive staff. The boat was very large and there were many areas for me to have a quiet and peaceful space. The views were absolutely splendid. One thing was that the air was quite polluted in some parts, making the exploration sometimes annoying.
3 people found this helpful
Helpful
G
Gabriela Silva
6 months, 2 weeks ago
This cruise was definitely the best experience of ours when traveling in Vietnam. Rooms were very comfortable, clean, and the ocean-view bathtub was so relaxing. My son is a vegetarian and the cruise team were really thoughtful and made sure he had great meals. Activities were well organized and it was a true balance of entertaining and relaxation. The inflatable water slide was unique that other cruises did not have and all kids loved that a lot. Highly recommended!
3 people found this helpful
Helpful
P
Park Ji-hyun
6 months, 2 weeks ago
I highly recommend this Halong Bay cruise - Capella! The boat was modern, clean, and had a lot of facilities. About food, you would feel like you are in a 5-star restaurant with well-presented and delicious dishes. We also suggest taking a 3 days/ 2 nights trip as you will visit Viet Hai Village on the 2nd day and it was amazing. The village was lovely and we took a ride in an electric car as our kids did not know how to cycle yet. Thank you all for this wonderful time in Vietnam.
3 people found this helpful
Helpful
C
Carlos
7 months, 2 weeks ago
I really appreciated the passion and dedication of the cruise team, especially Gin, Tom, and Alex. Thank you all for the spectacular services! We had a large comfortable family room with lovely views. Our kids absolutely loved the water slides. It was safe and fun for children. We enjoyed swimming, kayaking, biking,...; every adventure was amazing!
3 people found this helpful
Helpful
M
Maria
6 months, 1 week ago
We were impressed by the ultimate beauty of Lan Ha Bay and the hospitality of the staff. Lovely cabin and fantastic activities. There was no stable wifi. Cat Ba Island was very beautiful and the water was clear and calm. Drinks were expensive though, we only had 2 daily water bottles and it was not enough for hot summer days. Everything else was perfect!
A
Aisha Patel
6 months, 3 weeks ago
The boat itself was fantastic and it had superb cabins. Vietnamese cuisine was flavorful and delicious too! All the staff were nice, especially Mr.Tom - the cruise manager. However, I suggest they should update the itineraries on their website, since there were some changes about the destinations but we did not know. Halong Bay and Lan Ha Bay were gorgeous though! A perfect trip!
3 people found this helpful
Helpful
Questions and Answers (0)
Be the first to ask a question on this page!
Talk to a cruise expert
Request a call back
Or Email us
Our customers' experiences

My wife and I recently visited Halong Bay on Peony cruise. The price is very reasonable and the vegetarian food …
Chloe (Australia)

I contacted Visit Halong Bay staff for some trip idea and they responded very swiftly with good recommendations.
Nina Ng (Singapore)

My trip to Halong Bay was delayed because of Covid-19 and I am so glad that I made it back …
Christine Nguyen (Australia)
You might also like...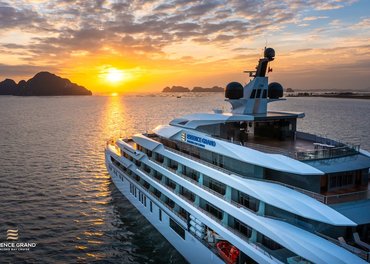 9% OFF
Halong Bay
Launched 2023 - Steel - 55 cabins
Outdoor swimming pool
Ultra luxury
Triple room
Kid-friendly
Booked 10 times in the last 24 hours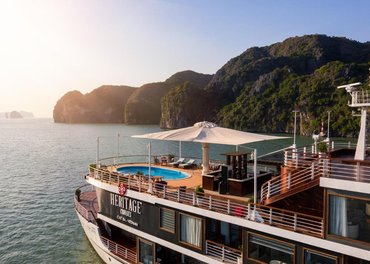 9% OFF
Lan Ha Bay
Launched 2019 - Metal - 20 cabins
Outdoor swimming pool
All cabins with balcony
All meals included
Lan Ha Bay route
Booked 2 times in the last 24 hours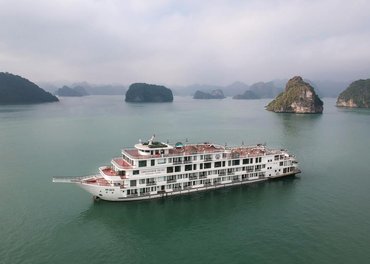 9% OFF
Halong Bay
Launched 2018 - Metal - 46 cabins
Outdoor swimming pool
All cabins with balcony
Elevator
Halong Bay route
Booked 5 times in the last 24 hours