Signature Royal Cruise
Halong International Cruise Port
Show map
Price from: US$ 158 (Save 8%)
US$ 144 /pax
Booked 6 times in the last 24 hours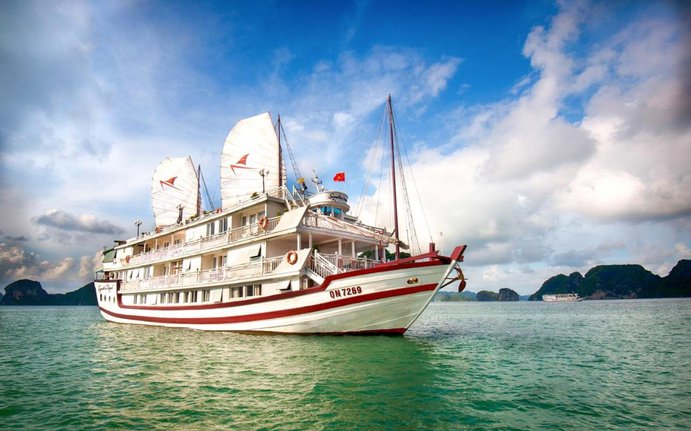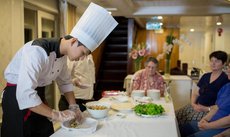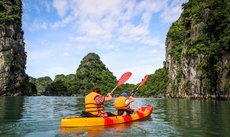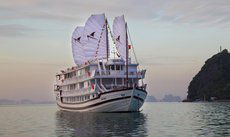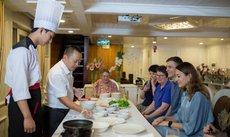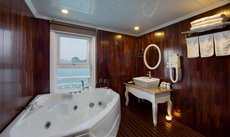 Traditional wooden cruise visiting Bai Tu Long Bay
Spacious accommodation with a private jacuzzi in all rooms
Unique route to visit the most untouched parts - more private and less touristy
Food is abundant with lots of local seafood
Family cabins can accommodate up to 4 adults and 2 children
Rooms & rates
We Price Match
Select date and package options
Clear all
Accommodation Type
Junior Suite with Jacuzzi
Size: 23 m²
Bed options: 1 large double bed or 2 single beds
Max: +
Max adults: 2
Max children: 1(up to 12 years of age)
Senior Suite with Private Balcony
Size: 30 m²
Bed options: 1 large double bed
Max: +
Max adults: 2
Max children: 1(up to 12 years of age)
Elite Family Connecting Suite with Private Terrace
Size: 60 m²
Bed options: 2 large double beds
Max: +
Max adults: 4
Max children: 2(up to 12 years of age)
Signature Royal Suite
Size: 49 m²
Bed options: 1 single bed and 1 large double bed
Max: +
Max adults: 3
Max children: 1(up to 12 years of age)
Exclusive Family Suite with Private Terrace
Size: 51 m²
Bed options: 1 single bed and 1 large double bed
Max: +
Max adults: 3
Max children: 1(up to 12 years of age)
Complete all required fields to continue
(Child Policy & Extra Bed Charge )
About Signature Royal Cruise
Launched in 2014, Signature Royal is among the best wooden cruise ships in Halong Bay. The cruise offers fine bedding and a series of Vietnamese and international delicacies. Besides, its enticing itinerary to Bai Tu Long Bay guarantees ultra relaxation but no shortage of exciting activities throughout the stay.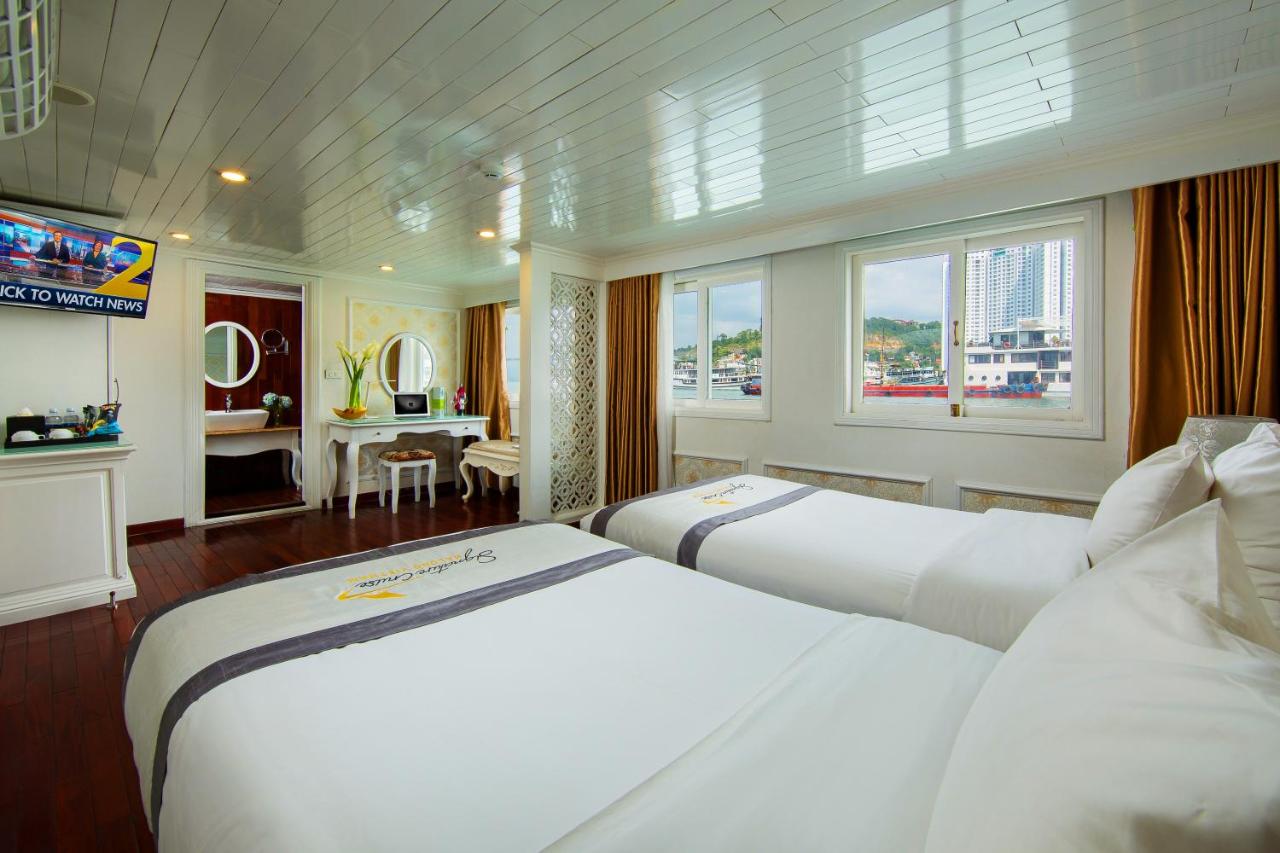 Pros
+ A very relaxing itinerary with fewer boats around.
+ Staff is very welcoming and offers dedicated service.
+ Food is plentiful and varied.
Cons
- Rooms and facilities are a bit outdated and need some refurbishment.
- Wifi does not work well.
Bottom Line
Signature Royal combines modernity in classic style to ensure the most comfortable and expected vacation in Bai Tu Long Bay.
Itinerary & activities
An off-the-beaten-track itinerary makes Signature Royal Cruise a favorite. It cruises to the most pristine parts where guests see not so many boats and are totally immersed in nature. You will see the magical formation of stalactites and stalagmites of Thien Canh Son Cave, local floating houses at Vung Vieng Fishing Village, and join kayaking or a bamboo boat rowed by a local. Besides, swimming in the crystal clear water and sunbathing on the beach, or kayaking at Cong Dam Area is the best part of a 2-night program you may not want to miss.
Cruise quality
The wooden-hull cruise has a steel core and updated equipment accommodating the safety standard of the local authority. Besides well-equipped accommodations, the cruise includes luxurious facilities to provide guests with an enjoyable stay.
Cabin quality
16 deluxe cabins are categorized into 5 types: Junior, Senior, Exclusive Family, Elite Family, and Royal Suite. Junior Suites boast an ocean view window while the others have a private balcony. All cabins are gracefully designed with elegant colors and hand-crafted wooden furniture. Jacuzzi bathtub and soft mattresses are provided in all rooms for extra comfort and relaxation.
Service & facilities
The cruise offers a variety of services and facilities. Guests not only enjoy sumptuous meals at a lavish restaurant, and sip high-quality wine and other drinks from the bar but also have a rejuvenating time at the spa onboard. A sundeck with lots of sunshine, sea breeze, and a breathtaking view of Bai Tu Long Bay is perfect for sightseeing, socializing, cooking class, Happy Hour, etc. The cruise offers shuttle service and event arrangements for birthdays, anniversaries, and more.
Food & Drink
Local seafood accounts for a large portion of every meal on Signature Royal Cruise. However, guests still can request non-seafood or vegetarian options if needed. The stylish restaurant also serves other Western-style dishes and children's menus. There is also a diversity of beverages from the bar.
Frequently asked questions
Is water included in the meals?
Bottles of water in the room are included. Other bottles of water from the bar will be charged.
How much is the spa onboard? What kind are there?
Spa includes some foot and body massage treatments such as Vietnam Foot Massage, Neck-back-shoulder Massage, Back & hot stone, Body Massage with oil, Body Massage with hot stone. The price ranges from VND450,000 - 799,000 per treatment.
What time does the cruise get back to the port?
The cruise gets back to Halong International Cruise Port at around 10:45 to 11:00 am.
Does the cruise sail to Halong Bay?
No. Signature Royal Cruise sails to Bai Tu Long Bay - an extension part of Halong Bay. Bai Tu Long has the most untouched beauty and similar scenery of limestone islands with caves, fishing villages, and beaches as Halong Bay.
How many people can a room accommodate?
Depending on each type, rooms can accommodate 2 - 4 people. In detail:
Junior Suite (28sqm): 2 adults + 1 child, double/twin bed
Senior Suite (30sqm): 2 adults + 1 child, double bed
Exclusive Family Suite (50sqm): 3 adults + 1 child, 1 double + 1 single bed
Elite Family Suite (82sqm): 4 adults + 2 child, 2 double beds, connecting rooms
Royal Suite (55sqm): 3 adults + 1 child, 1 double + 1 single

Maps and Itineraries
Halong International Cruise Port
Our guest's experiences (7)
| | | |
| --- | --- | --- |
| 5 star | | 7 reviews |
| 4 star | | 0 reviews |
| 3 star | | 0 reviews |
| 2 star | | 0 reviews |
| 1 star | | 0 reviews |
C
Chloe
10 months, 1 week ago
I traveled alone on Signature Royal for 1 night. The staff was very friendly and went above and beyond to make me enjoy the trip. I never felt bored during the trip. My cabin was spacious and the bed was comfortable. I love kayaking very much and wish I could spend more time on the bay. Thank you for a great trip!

The cruise does not have a chic look as many new modern cruises yet its traditional style and royal vibe were unique. The cabin was large and clean yet the shower needs to be upgraded. The food was varied and of good quality. The staff was nice.
B
Ben Elliott
6 months, 1 week ago

If you prefer an off-the-beaten-track itinerary on Halong Bay, this cruise could not be more suitable. The ship was a bit run down yet all of our needs were well fulfilled. We had a Junior Suite on the main deck with windows. The room is in good size and well equipped. Food was average yet pretty varied. The trip to the cave and the floating village were very nice and relaxing, not too crowded and very tranquil. Everyone should try!
B
Beatrice
1 year, 2 months ago

The schedule went smoothly and was well organized. We went kayaking to a fishing village on the first day and explored a cave on the second day. While on board, you can watch the bay on the top deck, join a cooking lesson, try squid fishing (which was a bit boring and difficult), and do Taichi in the morning. The staff was friendly. Food was okay, not really excellent.
J
Jordan Lena
1 year, 4 months ago

We chose this cruise for its unique route to Bai Tu Long Bay and the trip was more than expectations. The scenery was spectacular and there were not many other boats like the area we started from. We visited a fishing village on a kayak and it was very peaceful and nice. The boat was clean and well-maintained although it has been operating for years. Staff cannot do better. We were supported at any time we needed and the staff made sure we enjoyed everything from food, cabin, activity, and excursions. This was definitely the best choice for a natural getaway!
3 people found this helpful
Helpful
C
Chee Beng Wooi
1 year, 2 months ago

Compact and clean cabin. Great food. Excellent staff, especially the cruise manager. My wife and I had a lovely trip to Halong Bay. Thank you very much!
2 people found this helpful
Helpful
N
Nancy
9 months, 2 weeks ago

The trip was far above my expectations. The ship was beautifully decorated. Our room was spacious and elegantly designed. We stayed in the Senior Suite which had a private balcony. Food was great. The best part must be the dedicated service from the staff. A special thanks to the cruise manager for his attention to detail and timely support! Would recommend the cruise to everyone.
Questions and Answers (4)
Is March or November a better time to go to Bai Tu Long cruise?
A
Visithalongbay Team
3 weeks, 1 day ago
@elin, March and November are two of the best months to visit Bai Tu Long. March is the Spring with average temperatures ranging from 18 to 24°C while November is Fall with temperatures from 23-27°C. Both months have low rainfall and are suitable for outdoor activities such as hiking, visiting a cave, kayaking, etc. So you can consider the one that suits your schedule the most. Regards,
2 people found this helpful
Hi Like to check if I book a 2d1n or 3d2n cruise, does it include free shuttle bus transfer fr Hanoi Old Quarter area to the cruise? Does it include free kayaking, free taiji, free cooking class, squid fishing too? Or have to pay separately for this? Thanks!
A
Visithalongbay Team
3 weeks, 1 day ago
@elin, The shuttle bus is not included in the tour. The round-trip bus from Hanoi Old Quarter costs US$30/person. However, kayaking, taichi, cooking class, and squid fishing are included in the tour. Regards,
0 people found this helpful
Show more

(02)
Talk to a cruise expert
Request a call back
Or Email us
Our customers' experiences

My wife and I recently visited Halong Bay on Peony cruise. The price is very reasonable and the vegetarian food …
Chloe (Australia)

I contacted Visit Halong Bay staff for some trip idea and they responded very swiftly with good recommendations.
Nina Ng (Singapore)

My trip to Halong Bay was delayed because of Covid-19 and I am so glad that I made it back …
Christine Nguyen (Australia)
You might also like...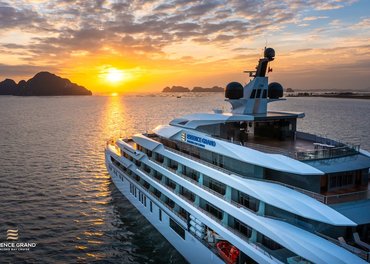 9% OFF
Halong Bay
Launched 2023 - Steel - 55 cabins
Outdoor swimming pool
Ultra luxury
Triple room
Kid-friendly
Booked 10 times in the last 24 hours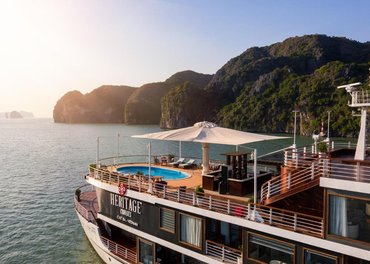 9% OFF
Lan Ha Bay
Launched 2019 - Metal - 20 cabins
Outdoor swimming pool
All cabins with balcony
All meals included
Lan Ha Bay route
Booked 2 times in the last 24 hours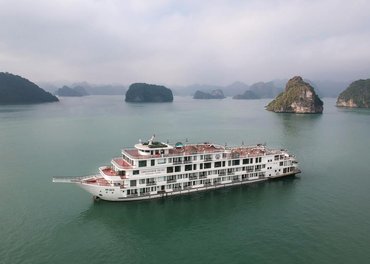 9% OFF
Halong Bay
Launched 2018 - Metal - 46 cabins
Outdoor swimming pool
All cabins with balcony
Elevator
Halong Bay route
Booked 5 times in the last 24 hours