Cat Ba island weather
No alerts in effect
Current conditions
Updated: 17:32 PM Thursday 07 December 2023
Feels like: 22°C
Pressure: 1016 kPa
Sea level: 1016 hPa
Humidity: 57%
Wind: 19.66 km/h
Visibility: 10000 m
Thursday
07 Dec
21°C
Clouds
Friday
08 Dec
22°C
Clouds
Saturday
09 Dec
23°C
Rain
Monday
11 Dec
24°C
Clouds
Wednesday
13 Dec
23°C
Rain
Hourly forecast today:
18:00 PM
21° / 22°
21° / 22°
Scattered Clouds
Humidity: 57 % Wind: 19.66 km/h
19:00 PM
21° / 22°
21° / 22°
Scattered Clouds
Humidity: 58 % Wind: 20.16 km/h
20:00 PM
20° / 22°
20° / 22°
Scattered Clouds
Humidity: 59 % Wind: 19.01 km/h
21:00 PM
20° / 21°
20° / 21°
Scattered Clouds
Humidity: 60 % Wind: 17.17 km/h
22:00 PM
20° / 21°
20° / 21°
Scattered Clouds
Humidity: 62 % Wind: 15.88 km/h
Humidity: 64 % Wind: 16.78 km/h Sunrise: 06:15 AM Sunset: 17:10 PM Normals: Max 20°C. Min 20°C.
Averages and extremes
Highest temperature (1930-2023)
40,5°C (1985)
Lowest temperature (1930-2023)
6,7°C (2016)
Highest record of rainfall
152,5 mm (2008)
Wettest month
Jul, Aug, Sept (12-14 days)
Driest month
December (1-2 days)
Yesterday's Data
Total Precipitation:
1.73 mm
Overview of Cat Ba island weather
Similar to its neighboring Halong Bay area, Cat Ba island features a tropical monsoon climate - a typical climate of northern Vietnam. Throughout the year, there are four distinct seasons: spring, summer, autumn, and winter. Yet, the two most popular weather patterns are hot, moist season and dry, cold season.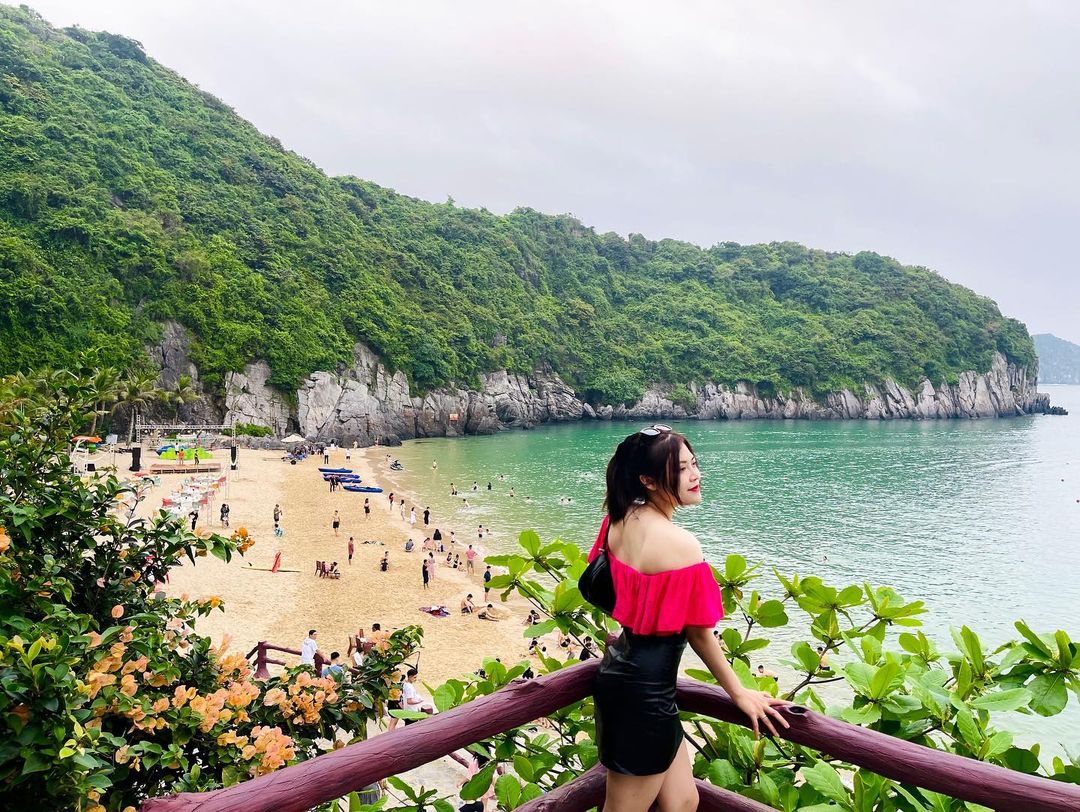 The average temperatures on Cat Ba island range between 25°C - 28°C. The humidity level is relatively high at around 80% corresponding with high precipitation of 1700 - 1800 mm per year.
Below is a more detailed guide about Cat Ba island weather with essential weather information that can help you arrange a smooth upcoming vacation to the island.
Weather by seasons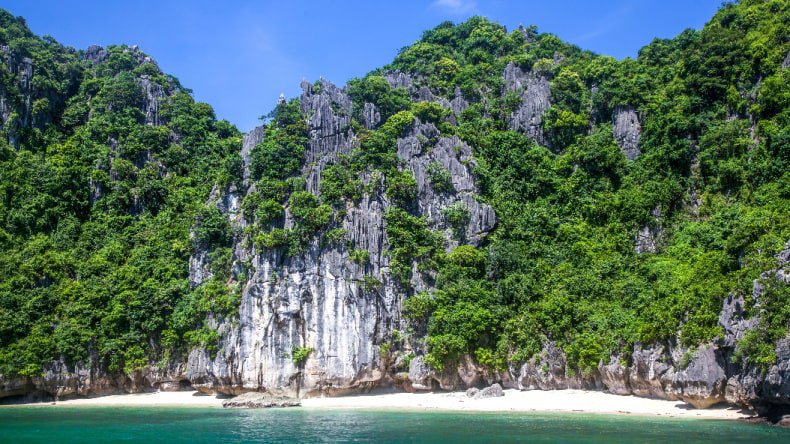 Spring (Late February-April)
Weather: Spring weather in Cat Ba island is characterized as cool and enjoyable. The average temperature is from 18°C to 26°C. It is pretty cloudy and humid with frequent drizzles. The sea temperature is warm which enables you to engage in water-based activities.
Things to do: Kayaking, swimming, mountain climbing, cruising, and cycling.
Summer (May-August)
Weather: The average temperature is quickly on the rise in summer. The temperatures can surge to 35°C. You may feel very hot, stuffy, and sweltering. Alongside substantial rainfall, the humidity level and number of sunshine hours are very high. You can soak up 8 hours of sunlight during the daytime. The weather cools down a bit at nighttime.
Especially during July and August, storms and typhoons occur more frequently which may affect your outdoor trips.
Things to do: Swimming, snorkeling/scuba diving, kayaking, cruising, and indoor activities like visiting museums and pagodas.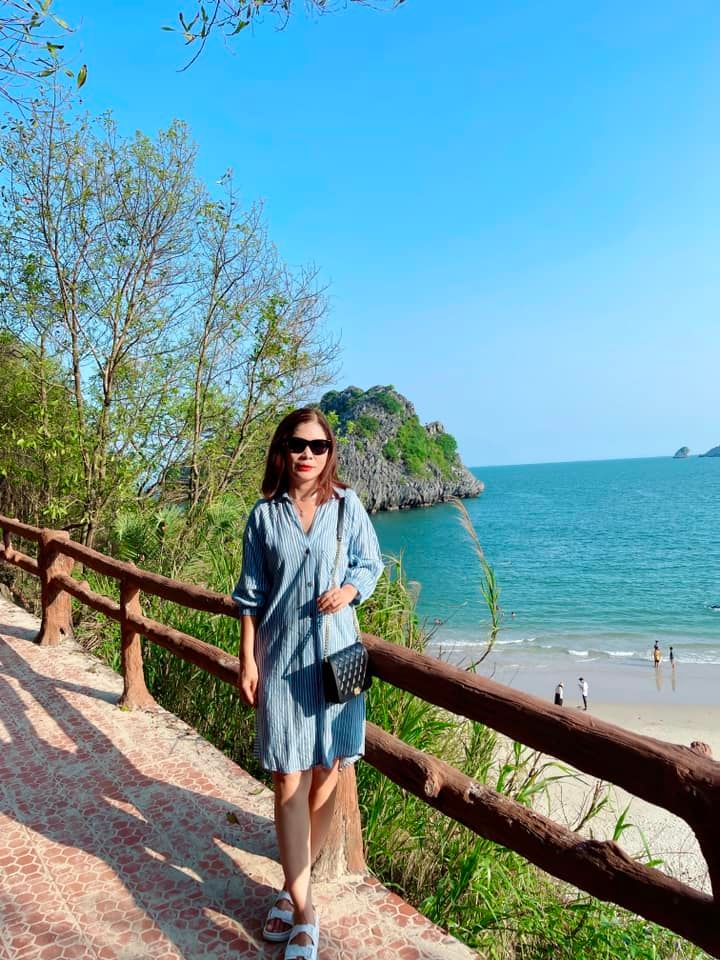 Autumn (September - November)
Weather: Autumn is one of the most favorable seasons of the year. These transitional months offer mild weather with lows of 20°C and highs of 30°C. The chances of heavy downpours and storms decline significantly thus you can freely enjoy outdoor activities.
Things to do: Kayaking, mountain climbing, snorkeling/scuba diving, cruising, trekking, cycling.
Winter (December - January)
Weather: Winter is known as the coldest and driest period of time in the year. It is cold in the daytime with temperatures of around 13°C and 22°C and can be more chilly at night. The average humidity drops to around 70% and the number of sunshine hours per day also reduces to 6 hours making Cat Ba island foggy in the early morning.
Things to do: Cruising, trekking, mountain climbing, cycling, visiting pagodas, and playing at the amusement park.
Monthly climate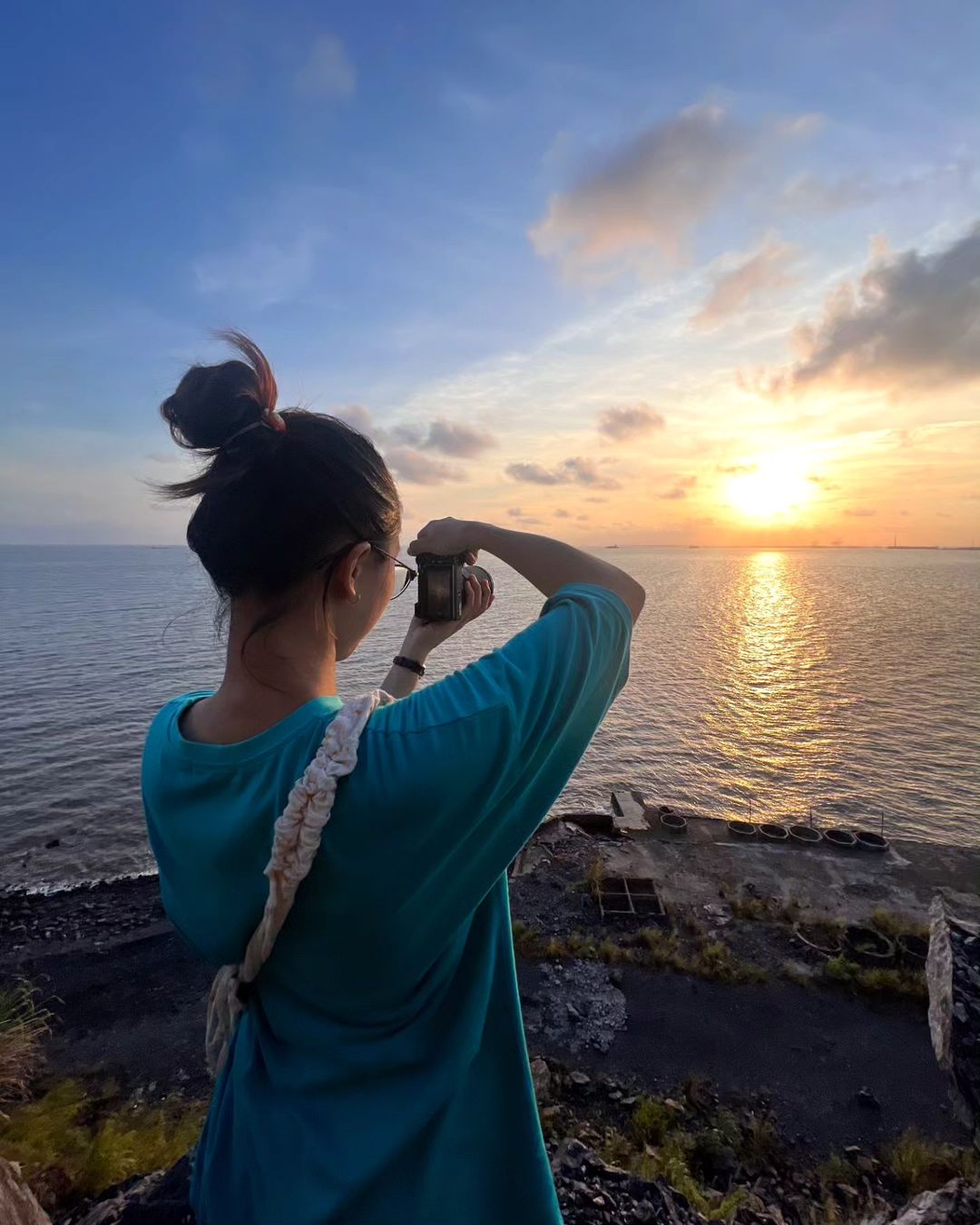 January
January is the start of a new year and is affected greatly by winter weather. It is pretty cold with temperatures from 13°C to 19°C. Low humidity level and precipitation of only 20mm make it dry.
February
February is a transitional month when Cat Ba island enters spring. The temperature is a bit warmer (15°C to 20°C). Drizzle rains happen frequently but it is still possible to take up outdoor activities.
March
The weather in March is very warm as the temperature can reach 22°C during the day. There are also more rainny days and the rainfall increase to 40mm over 15 wet days. This ideal weather is extremely suitable for swimming, kayaking, and cruising with warm seawater.
April
Spring is almost over when the average temperature rises to a high of 26°C. Occasional rains also happen to increase the precipitation to 80mm per month. The higher number of sunshine hours provides a clear vision for outdoor activities.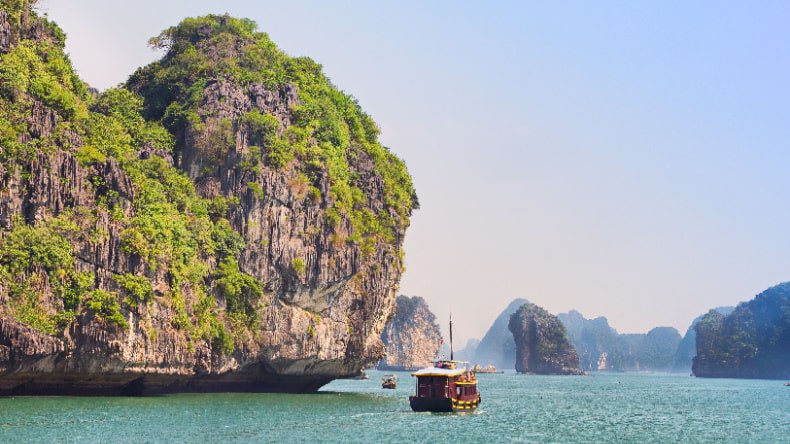 May
May is considered the arrival of summer as well as one of the best times to visit Cat Ba island. There are more sunny and warm days. The temperatures range between 26°C to 35°C. It is a bit hot and moist but still ideal for water-based activities and outdoor trips.
June
June is generally a hot month on Cat Ba island when the temperature can reach a peak of 36°C but it is still endurable. The amount of rainfall climbs to 235mm and there is a possibility of storms but not too often. Hot and moist weather makes swimming, kayaking, and snorkeling appealing activities for travelers.
July
Together with June, July is one of the hottest and wettest months of the year. The average temperature is around 37°C. Rains are more frequent leading to a rainfall of 250mm. The number of sunshine is also at its peak of 8 hours per day. Seasonal storms and typhoons may affect your cruise vacations thus you should shift to some indoor activities.
August
The amount of rainfall on Cat Ba island in August can hit the highest point of 280mm monthly. The weather is also scorching hot during the daytime. It is not really ideal for taking an overnight cruise trip. Instead, you should opt for cycling, trekking, or other indoor activities.
September
The temperatures start cooling down in September with lows of 24°C and highs of 30°C. Rains also occur less frequently so you can freely enjoy activities like swimming, cruising, canoeing, and kayaking.
October
October marks the arrival of autumn with much cooler temperatures and more pleasant weather. The highest temperature is only around 28°C and sometimes it can drop to 21°C. You can expect more dry and sunny days for outdoor trips.
November
November is generally the peak tourist season for visitors to Halong Bay thanks to enjoyable weather conditions. The average temperatures are from 20°C to 25°C. The humidity level is also quite low. It can be much chilly at night requiring you to pack sweaters and winter clothes. Rains are less frequent and there are only some drizzle rains.
December
Winter already comes to Cat Ba island as you can experience cold weather and a modest amount of rainfall. The temperate is around 13°C to 20°C. This is an ideal time for you to enjoy a cruise vacation and other fascinating activities like kayaking, trekking, and mountain climbing.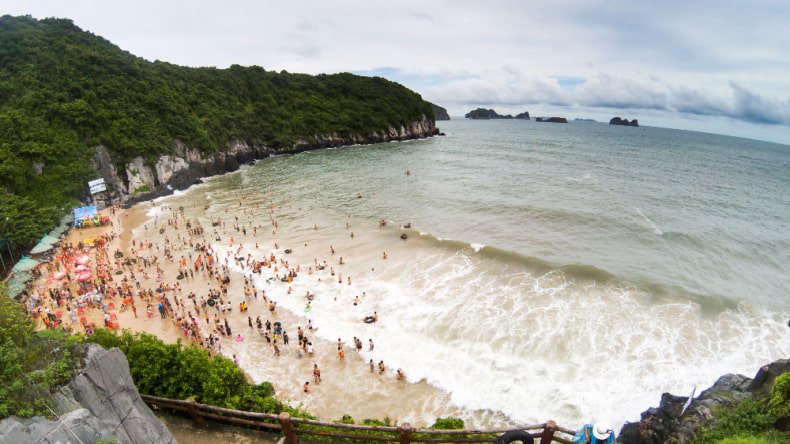 Best time to visit
November to March is a wonderful time for international travelers to flock to Cat Ba island. During this period of time, you can immerse in stunning landscapes with clear skies and outdoor activities without worrying about sudden downpours or domestic tourist crowds. Additionally, the seawater temperatures are not too cold in spring which allows you to enjoy kayaking, swimming, and snorkeling on the island.
Local tips
The weather in Cat Ba island is predictable most of the time but you still should check the weather forecast before departure carefully.
If you intend to travel during the peak tourist season from November to March, you should book services far in advance to avoid price rises and overbooking.
It is best to visit Cat Ba during spring or autumn to chill in comfortable weather, explore the national park, and join wonderful outdoor activities.
Summertime on Cat Ba island is best for a beach vacation or a cruise trip but you should pay attention to the possibility of storms.
Weather averages by month
| Month | High / Low (°C) | Rain |
| --- | --- | --- |
| January | 20°C / 12°C | 4 days |
| February | 20°C / 14°C | 6 days |
| March | 22°C / 16°C | 6 days |
| April | 27°C / 20°C | 7 days |
| May | 29°C / 22°C | 8 days |
| June | 32°C / 24°C | 12 days |
| July | 31°C / 25°C | 12 days |
| August | 31°C / 25°C | 13 days |
| September | 31°C / 24°C | 12 days |
| October | 27°C / 21°C | 8 days |
| November | 26°C / 18°C | 6 days |
| December | 21°C / 14°C | 2 days |
Frequently asked questions
1.

What are the rainiest months in Cat Ba island?

July and August are the months with heavy rain and rough seas. The average precipitation can reach 132mm.
2.

What is the hottest month in Cat Ba island?

June is Cat Ba Island's hottest month, with an average high of 32°C (about 89.6°F) and a low of 25°C (about 77°F).
3.

What is the coldest month in Cat Ba island?

From December through the beginning of the following year, Cat Ba Island experiences its coldest temperatures and the highest occurrence of fog. Temperatures can drop below 10°C (50°F).