Ambassador Cruise
Halong international port (Sun Group), Ha Long, Vietnam
Show map
Price from: US$ 198 (Save 9%)
US$ 180 /pax
Booked 5 times in the last 24 hours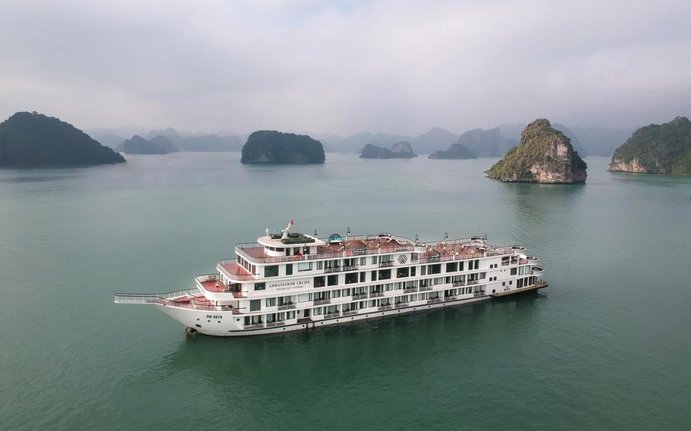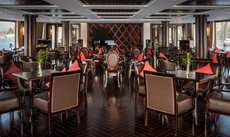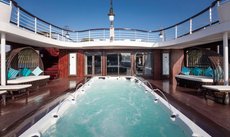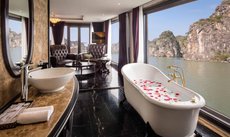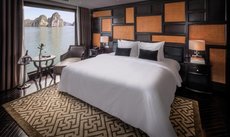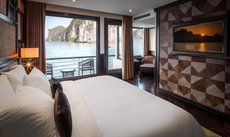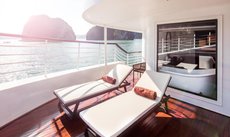 Ambassador is one of the largest and most luxurious vessels on Halong Bay
The cruise's restaurant provides a diverse range of culinary options with Michelin Star quality
Extra large twin sundecks for the best 360-degree view
Outdoor jacuzzi pool with plenty of modern facilities
Cruise information
Itinerary:
Halong Bay - Tung Sau Area - Titop Island - Sung Sot Cave
Exclusive deals & offers Only $155/pax for Deluxe room
Price from: US$ 155 /pax
BOOK THIS DEAL
Included:
Welcome Cocktail
2-day Cruise Itinerary and Program
Entrance and Sightseeing Fees
In-house English-speaking Tour Guide
Luxury Cabins and Suites with A/C
Luxury en-suite Bathroom
Meals on board
Tai Chi Session
Insurance
Taxes & Service Charges
Excluded:
Transfer from Hanoi to the cruise port and back
Visa, Airfares and Hotel Accommodation
Kayaking
Beverages
Beauty Spa Services and Massage
Surcharge for New Year and Christmas
All other services not clearly mentioned above
Notes & Policies:
Applicable for Ambassador Deluxe Cabin.
This promotion cannot be combined with other promotional programs. To book the promotional package and get detailed advice, please contact the hotline at (+84) 966 311 132 or email: info@visithalongbay.com
Booking period: Now - 30/4/2024
Stay period: Now - 30/4/2024
Rooms & rates
We Price Match
Select date and package options
Clear all
Accommodation Type
Ambassador Deluxe
Size: 30 m²
Bed options: 1 extra-large double bed or 2 single beds
Max: +
Max adults: 2
Max children: 1(up to 12 years of age)
Ambassador Premium
Size: 30 m²
Bed options: 1 extra-large double bed or 2 single beds
Max: +
Max adults: 2
Max children: 1(up to 12 years of age)
Ambassador Suite
Size: 42 m²
Bed options: 2 single beds or 1 extra-large double bed
Max: +
Max adults: 2
Max children: 1(up to 12 years of age)
Ambassador Captain Suite
Size: 45 m²
Bed options: 2 single beds or 1 extra-large double bed
Max: +
Max adults: 2
Max children: 1(up to 12 years of age)
Presidential Suite
Size: 90 m²
Bed options: Bedroom : 1 extra-large double bed Living room: 1 sofa bed
Max: +
Max adults: 2
Max children: 1(up to 12 years of age)
Complete all required fields to continue
(Child Policy & Extra Bed Charge )
About Ambassador Cruise
As you'd expect from a giant cruise ship with 46 spacious cabins, Ambassador Cruise offers everything on a large scale. Moreover, embark on Ambassador Cruise, you'll join an enchanting itinerary through Halong Bay to discover a wealth of culture hidden amongst limestone karsts and admire primitive areas.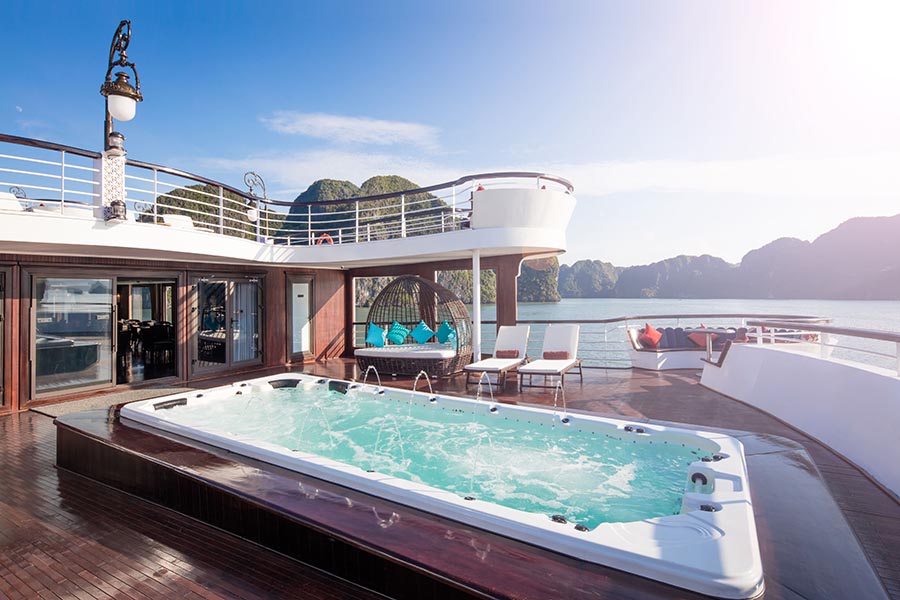 Pros
+ Ambassador Cruise is one of the largest cruises in Halong Bay.
+ Outdoor Jacuzzi
+ This is among the cruises featuring Michelin Star Chef (John Burton-Race).
Cons
- Pricier than most of the other cruises.
Bottom Line
Ambassador Cruise smashes another size record in the cruise industry and brings you the most wonderful experiences.
Itinerary & activities
The cruise takes you to attractions including Fighting Cocks Islet, Sung Sot Cave, and Tung Sau Pearl Farm. Additionally, onboard entertainment and interesting activities at the destinations also contribute to the excitement of the journey.
Cruise quality
Since its debut, Ambassador has been renowned for a giant cruise ship featuring a classic, chic and stylish design. With a range of exquisite accommodations and modern amenities, you can enjoy world-class hospitality and top-notch relaxation.
Cabin quality
Ambassador Cruise sets a new capacity record of 46 luxurious cabins. You'll be spoiled with premium facilities including air-conditioners, en-suite bathrooms, bathtubs, and private balconies.
Service & facilities
Ambassador Cruise puts focus on providing unique services and facilities. Significantly, Ambassador Cruise occupies the largest sundeck in Halong Bay (87m²) to cater to 120 people. Also, there are a swimming pool on the sundeck and a restaurant.
Food & Drink
Ambassador's restaurant serves delectable food options including an international buffet for lunch, a la carte menu for dinner with 40 dishes featuring European and Asian influences as well as other special requests and diets. Meanwhile, the sundeck is a wonderful place for diners to enjoy drinks and admire spectacular views.
Frequently asked questions
Is kayaking included in the price?
No. The kayaking service is excluded from the price. It cost VND 460,000/kayak
Do I have to pay for the transportation service?
Yes. Transportation service is not included in the price.
Is there a swimming pool onboard?
There is an outdoor Jacuzzi pool on the cruise.
What destinations does the cruise visit?
The cruise explores Halong Bay with famous tourist destinations such as Titop Island, Surprise Cave, and Tung Sau Pearl Farm.
Do I need to pay for entrance and sightseeing fees?
No. Entrance and sightseeing fees are all included in the total price.
What is excluded from the price?
Please find the exclusions below:
Transportation
Drinks on meals
Spa and massage services
Laundry service
Kayak (VND 460,000/kayak)
Tip and other services which are not mentioned in Inclusions
Maps and Itineraries
Halong international port (Sun Group), Ha Long, Vietnam
Our guest's experiences (8)
| | | |
| --- | --- | --- |
| 5 star | | 7 reviews |
| 4 star | | 1 reviews |
| 3 star | | 0 reviews |
| 2 star | | 0 reviews |
| 1 star | | 0 reviews |
N
Natalia Ivanova
6 months, 1 week ago
Sung Sot Cave was impressive and beautiful, one of the best places I have ever visited. The services were also excellent and made up for the bad weather. The bays were nice and the waters were clear and tranquil. We were especially impressed by the views, food, and music. Such a luxurious experience!
8 people found this helpful
Helpful
I
Isabella Rossi
5 months, 3 weeks ago
The cruise team was supportive and attentive all the time. My vegetarian requests were also catered to amazingly. Everyone worked hard to make us feel comfortable. Kayaking and caving were definitely the highlights of the trip! Meals were diverse and delicious. Definitely recommend this cruise for all my friends.
L
Leila Mendoza
5 months, 2 weeks ago
Tung Sau Pearl Farm was amazing and informative. We were very fortunate to have a great tour guide with amazing English. The services were exceptionally superb and food was awesome with a luxury ambiance. Cabin was clean, neat, large, and beautiful. Halong Bay was a bit crowded but the cruise was well organized and all activities were fascinating!
2 people found this helpful
Helpful
L
Lukas
9 months, 3 weeks ago
A beautiful vacation! We had lovely experiences - enjoying the magnificent seascapes, tasty Vietnamese cuisines, cozy rooms, and nice staff. We really appreciated all the efforts for this lovely trip and wanted to stay longer with the cruise! The dinner was fabulous and we all enjoyed it a lot. But the cruise seems to end earlier than other cruises and the pace of the cruise was quite rushed.
6 people found this helpful
Helpful
S
Sophie Lefebvre
6 months, 1 week ago
Wonderful! We loved the night show and all other facilities on board. There were many things to do and we never felt bored. Everything was amazing, but only the food did not really meet our high expectations with some quite bland dishes. The staff took great care of us and were all really welcoming. Thanks so much!
1 people found this helpful
Helpful
D
Diego Lopez
6 months, 1 week ago
Our family spent 2 nights on Ambassador Cruise and it was totally value for money. The buffet meals were amazing with diverse flavors. The boat itself was spacious and had a lot of space. My kid especially loved the outdoor jacuzzi, which was really fun and safe. The places we visited were unique and tranquil. However, the information about itineraries some staff provided us was inconsistent and made me confused, luckily then the manager confirmed it.
3 people found this helpful
Helpful
C
Carlos Silva
6 months, 3 weeks ago
We had such a nice vacation on Ambassador Cruise. The rooms were comfy and modern but it could have been nicer if they cleaned the balcony better. The cabins had everything you needed so it was unnecessary to bring a lot of stuff. The complimentary coffee daily was nice and pleasant. Food was delicious too. A very beautiful time in Halong Bay!
M
Mika Nguyen
6 months, 1 week ago
The activities were fun and really balanced to me - including visiting a pearl farm, saving, cooking class, Tai Chi,... Everyone was great, especially Hazel and Nicole. The bays were spectacular just like in photos and I highly recommend paying extra for the upper deck rooms to have nicer views. Time was tight though, but you did not have to join all the experiences.
4 people found this helpful
Helpful
Questions and Answers (0)
Be the first to ask a question on this page!
Talk to a cruise expert
Request a call back
Or Email us
Our customers' experiences

My wife and I recently visited Halong Bay on Peony cruise. The price is very reasonable and the vegetarian food …
Chloe (Australia)

I contacted Visit Halong Bay staff for some trip idea and they responded very swiftly with good recommendations.
Nina Ng (Singapore)

My trip to Halong Bay was delayed because of Covid-19 and I am so glad that I made it back …
Christine Nguyen (Australia)
You might also like...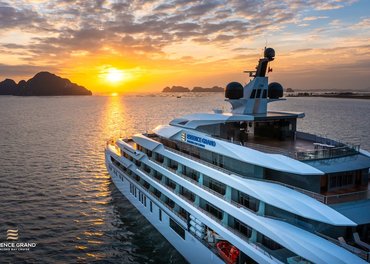 9% OFF
Halong Bay
Launched 2023 - Steel - 55 cabins
Outdoor swimming pool
Ultra luxury
Triple room
Kid-friendly
Booked 10 times in the last 24 hours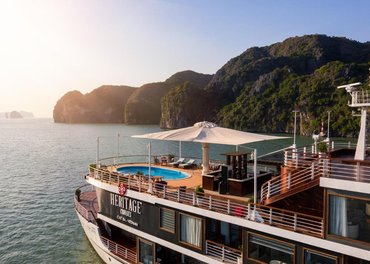 9% OFF
Lan Ha Bay
Launched 2019 - Metal - 20 cabins
Outdoor swimming pool
All cabins with balcony
All meals included
Lan Ha Bay route
Booked 2 times in the last 24 hours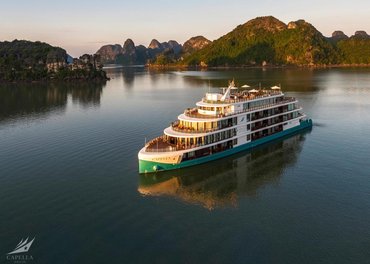 8% OFF
Lan Ha Bay
Launched 2020 - Metal - 30 cabins
All cabins with balcony
Family rooms
Elevator
Fitness centre
Booked 3 times in the last 24 hours