Essence Grand Cruise
Halong International Cruise Port
Show map
Price from: US$ 745 (Save 9%)
US$ 677 /pax
Booked 10 times in the last 24 hours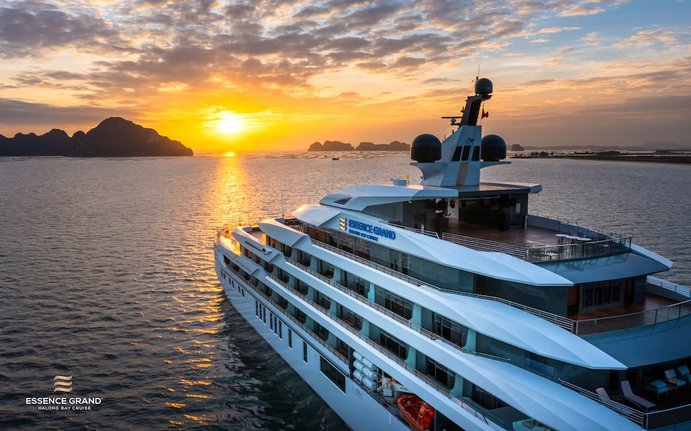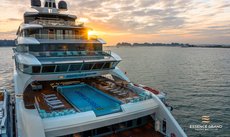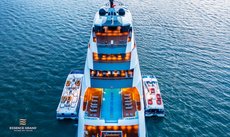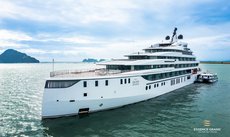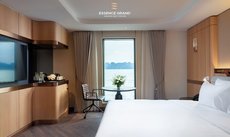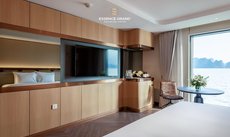 Ultra-luxury cruise newly launched in Halong Bay
Varied room types with large area and high-end amenities
Unique itinerary: Cua Van Floating Fishing Village, Surprise Cave
The largest outdoor saltwater pool on the bay
A great variety of facilities: poker club, kid's club, wine & cigar lounge, karaoke room, spa & treatment, 3D golf Simulator, function rooms, etc.
Cruise information
Itinerary:
Halong Bay - Cua Van Fishing Village - Surprise Cave
Operator:
Viet Thuan Group
Rooms & rates
We Price Match
Select date and package options
Clear all
Accommodation Type
Ocean Suite
Size: 30 m2
Bed options: Double Bed, 2 beds
Ocean Suite Triple
Size: 43 m2
Bed options: 3 bed, 1 Double Bed + 1 Single Bed
Ocean Balcony Suite
Size: 45 m2
Bed options: Double Bed, 2 beds
Veranda Suite
Size: 45 m2
Bed options: Double Bed, 2 beds
Executive Suite
Size: 45 m2
Bed options: Double Bed, 2 beds
Essence Suite
Size: 80 m2
Bed options: Double Bed
Signature Suite
Size: 100 m2
Bed options: Double Bed
Oceania Suite
Size: 95 m2
Bed options: Double Bed
Owner's Suite
Size: 150 m2
Bed options: Double Bed, 2 beds
Complete all required fields to continue
(Child Policy & Extra Bed Charge )
About Essence Grand Cruise
Scheduled to be launched in November 2023, Essence Grand is the biggest and most luxurious cruise in Halong Bay. With modern techniques and systems, premium interior, and especially heart-warming and professional service, the cruise brings a top-quality natural getaway with second-to-none experiences.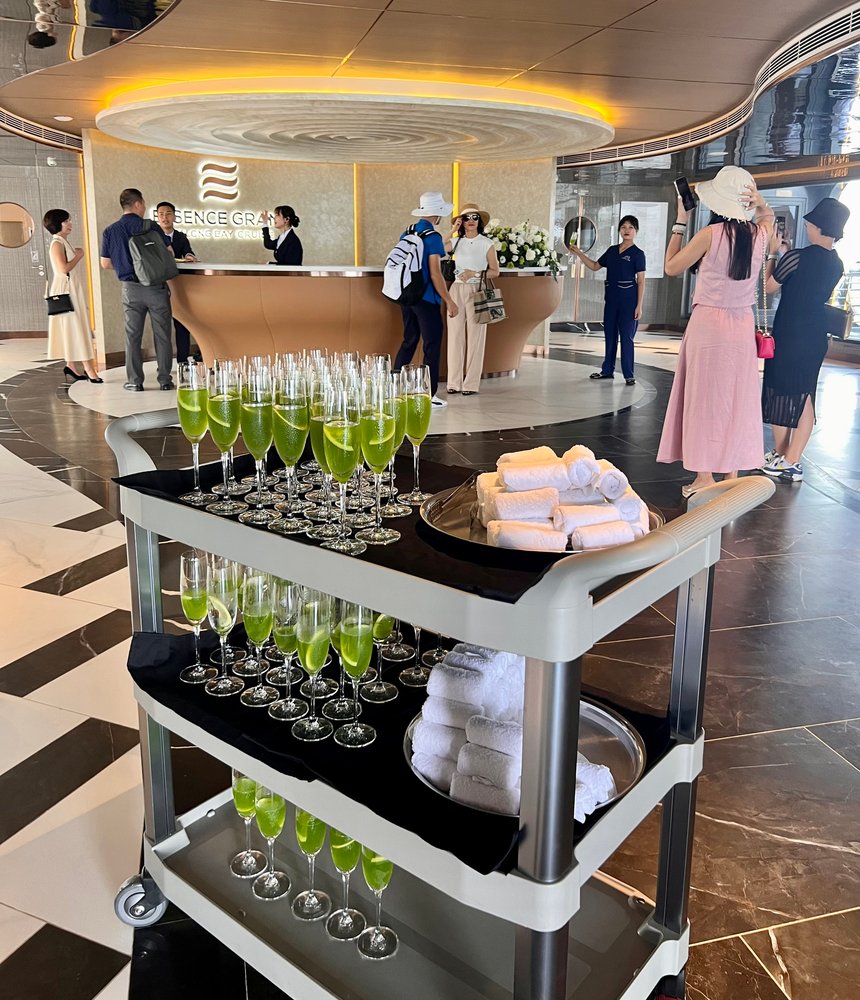 Pros
+ Spacious and well-furnished cabins
+ Many options for onboard activities with modern facilities
+ Excellent service from staff
+ Unique itinerary: Cua Van Fishing Village is the highlight
Cons
- Not all cabins have a private balcony
Bottom Line
Essence Grand Cruise - The exceptional 5-star floating hotel that surpasses adventurers' expectations in Halong Bay!
Itinerary & activities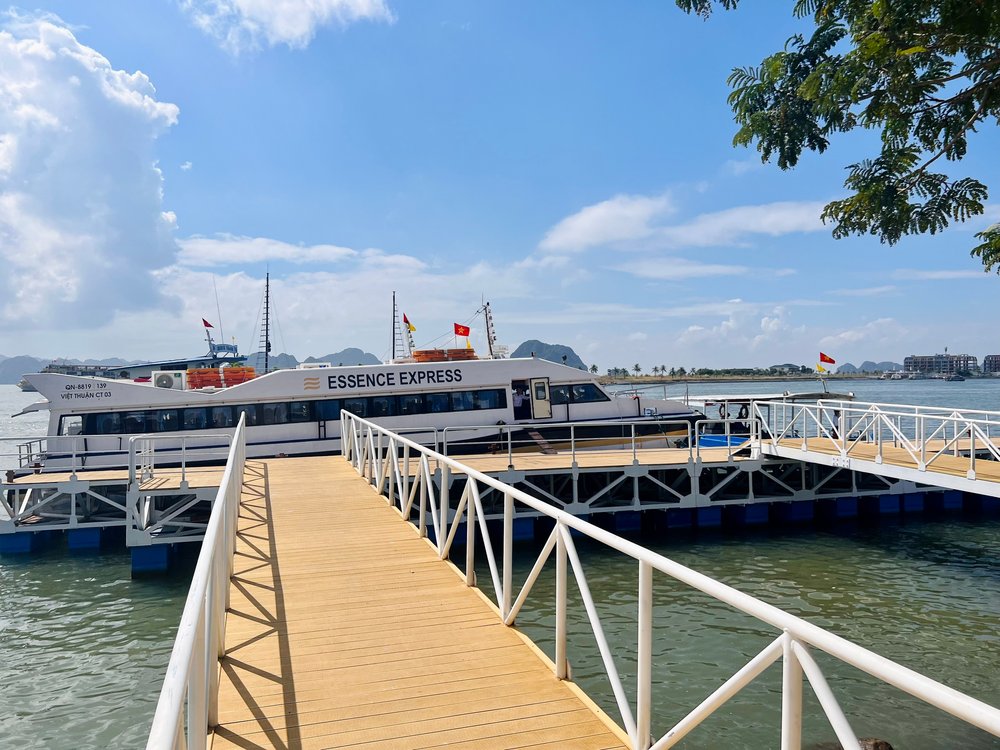 The cruise offers 2 day and 3 day itineraries with a bunch of activities. 2-day guests will discover Surprise Cave - the most beautiful and biggest cave and visit Cua Van Village - the most ancient floating fishing village in Halong Bay. The 3-day gives you a chance to access the most pristine part - Bai Tu Long Bay. Here you will visit Vung Vieng Fishing Village and Thien Canh Son Cave.
Onboard activities are varied for you to choose from such as massage, squid fishing, poker club, singing karaoke, swimming in the outdoor pool, playing golf, etc.
Cruise quality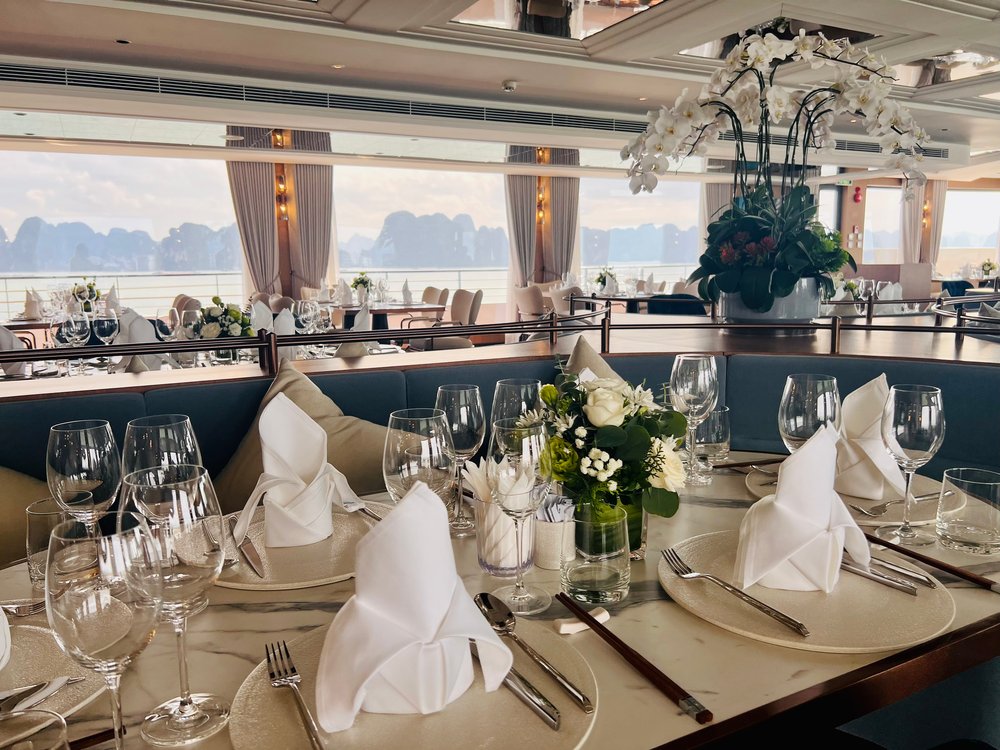 With the latest technologies, Essence Grand Cruise's design guarantees the highest safety for all passengers. Additionally, the steel boat was constructed with high-quality materials, fuel, paint, and a sustainable interior to save resources as well as reduce the affections on the environment and marine life.
Cabin quality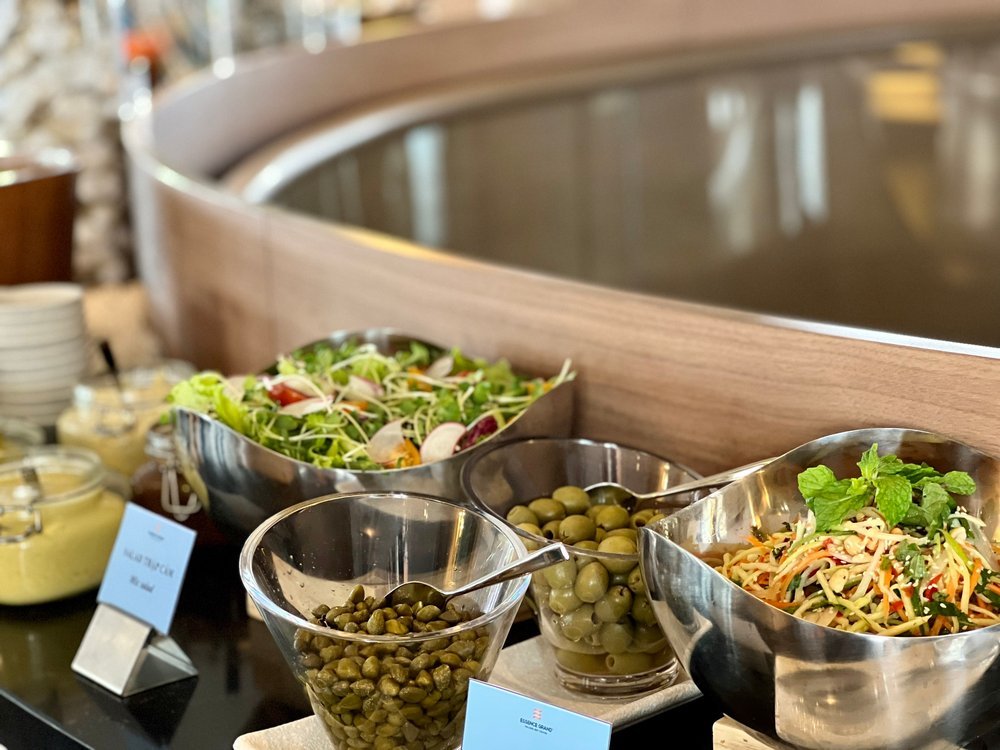 Cabins are located from the 1st to the 4th deck of the vessel. There are up to 8 cabin categories that accommodate solo travelers, couples, triples, groups of 4, or families with kids. Depending on the type, cabins have a floor-to-ceiling window or balcony. However, all cabins ensure you find the most convenience and comfort with its amenities. The Owner Suite is the most luxurious cabin with an extra large area (150m2) and a private terrace (200m2).
Service & facilities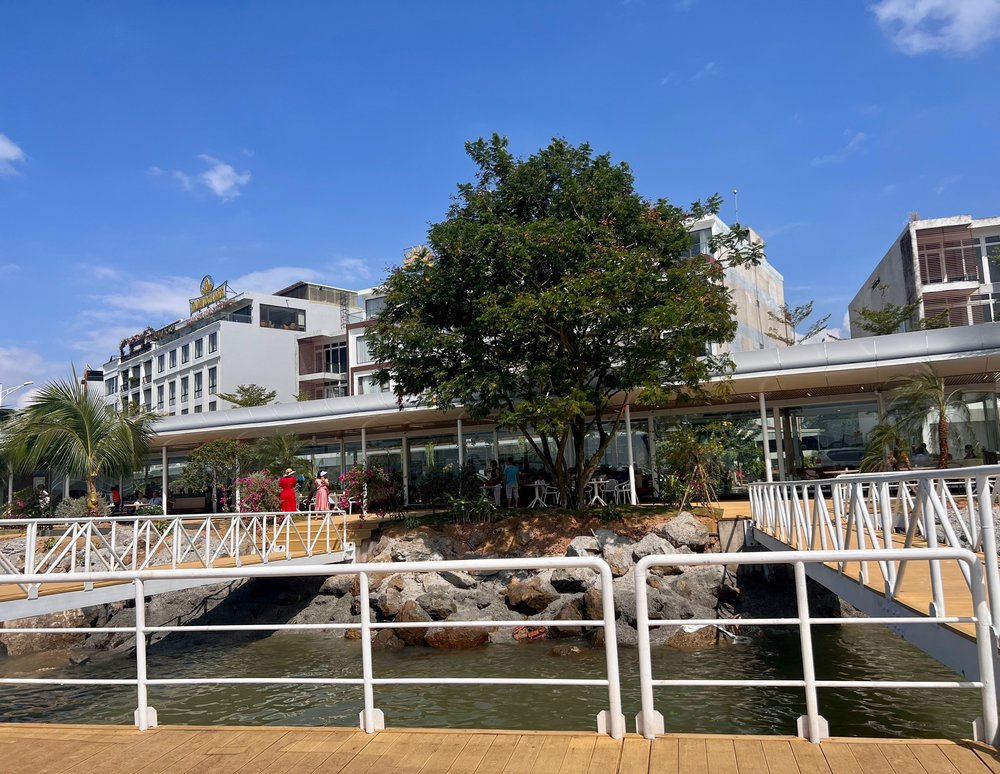 No need to look far for a place with all-in-one service like Essence Grand. Visitors not only stay in the premium cabin, savor Vietnamese and International quintessences but also experience the top-of-the-range facilities namely the largest 4-season saltwater swimming pool in Halong Bay, Voyage Wine & Cigar Lounges with opulent beverages, a 3D Golf Simulator, a spa center with jacuzzi, sauna, steam room and treatment rooms, and more. In addition, there is a kid's club where your little ones can have fun moments with safe toys and games.
Food & Drink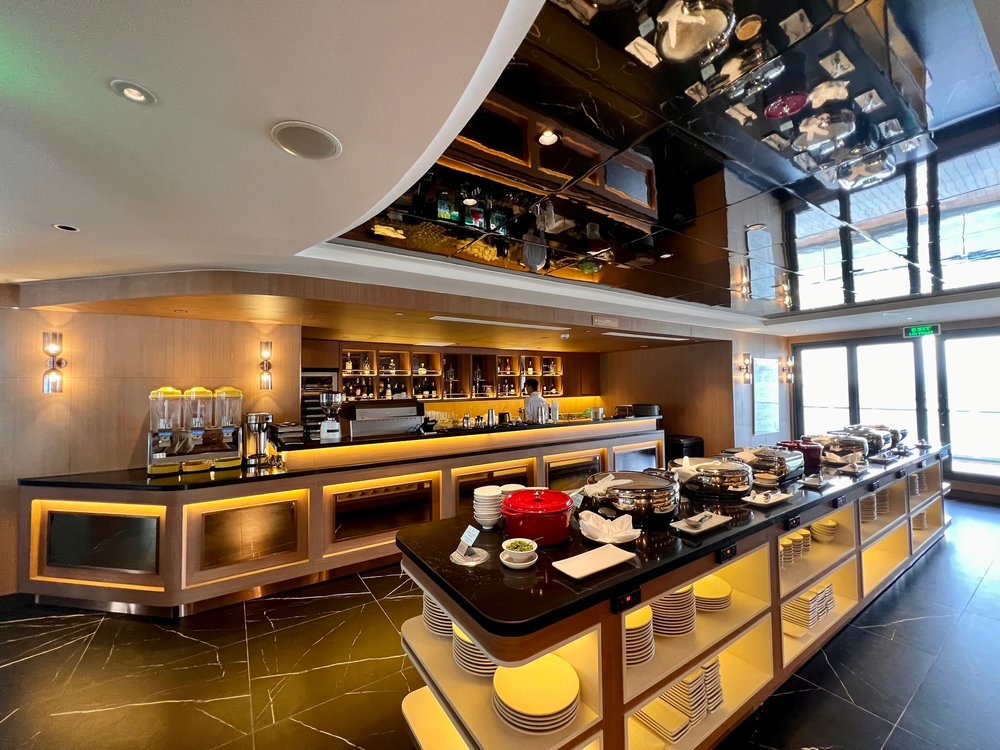 Gourmets will be amazed by the Asian - European cuisine onboard. Located on the 5th floor, the Dining on the Bay restaurant is the perfect place for sumptuous meals and breathtaking views. Plenty of finest beverages are served in 2 bars, 1 indoor bar and 1 bar by the pool.
Frequently asked questions
How many rooms does the cruise have?
There are a total of 55 cabins on Essence Grand.
Does the cruise serve a kid's menu?
Yes. Kid's menu is available upon request.
Are all services such as spa, karaoke,...included in the price?
No. Please check the exclusions below:
Transportation: Hanoi – Halong – Hanoi
Additional beverages not listed in the cruise price
La Spa (spa and massage)
Karaoke, cigar lounge, use of conference facilities, 3D golf simulator
Tips and other personal expenses
VAT tax & service charge
Peak season surcharge
Is there a triple room?
Yes. The cruise has Ocean Triple Rooms with ocean-view windows on the 1st deck.
Can I stay on board if I cannot visit the cave?
Sure. All activities are optional and you can stay onboard to relax and experience other facilities onboard.
Maps and Itineraries
Halong International Cruise Port
Our guest's experiences (2)
| | | |
| --- | --- | --- |
| 5 star | | 2 reviews |
| 4 star | | 0 reviews |
| 3 star | | 0 reviews |
| 2 star | | 0 reviews |
| 1 star | | 0 reviews |
4 images from customer




I was on the cruise when they were on debut, and the overall experience was great with good food, spacious, and clean cabins.
I've been on a few boats in Halong Bay, but this is the most beautiful boat I've experienced.
Likes:
- Beautiful cruise, spacious and clean cabin
- Delicious food
Dislikes:
- Excessive food
- Weak Wi-Fi in some areas
Original (Vietnamese):
Tôi đã từng đi một vài tàu ở Hạ long nhưng đây là còn tàu đẹp nhất mà tôi trải nghiệm.
Thích:
- Tàu đẹp, phòng rộng, thoáng, sạch sẽ
- Đồ ăn ngon
Không thích:
- Đồ ăn quá dư thừa
- wifi yếu ở 1 số khu vực




2 people found this helpful
Helpful
Questions and Answers (8)
Q
Joyce Tsai
1 week, 6 days ago
Hello, how is the rate calculated for the owner's suite that can accommodate 4? Is it different to the rate for 2? Thanks.
A
Visithalongbay Team
1 week, 5 days ago
@Joyce Tsai, The rate for 2 is different from the rate for 4. Please provide us with your travel date so we can send you the quote. Looking forward to hearing from you. Regards,
0 people found this helpful
Q
Joseph MNcDermott
4 weeks ago
I would like to confirm that the owners suite has two bedrooms?
A
Visithalongbay Team
4 weeks ago
@Joseph, Yes The Owner Suite has 2 bedrooms and can accommodate up to 4 persons. Regards,
0 people found this helpful
Q
Fauchille Alban
1 month ago
Hi, vey limited information/review on Essence Grand Cruise. Well noted on the only possibility to do 2D/1N cruise for now. Travelling with our 2 kids (8y and 11y old), we'll have to book 2 cabins or 1 is feasible with extra bed (example: triple room with 1 extra bed). Thanks
A
Visithalongbay Team
1 month ago
@Fauchille, A triple room with an extra bed is suitable for your family. Other types of cabins are also possible with an extra bed in case one of your kids shares the bed with parents. Regards,
1 people found this helpful
Q
Chris Goodman
1 month ago
Is the 3D2N itinerary available for this cruise?
Dear Chris,
Unfortunately, the 3-day, 2-night itinerary is not available until January next year. If your travel date is on or after January 2024, you can book a 3D2N trip.
2 people found this helpful
Show more

(06)
Talk to a cruise expert
Request a call back
Or Email us
Our customers' experiences

My wife and I recently visited Halong Bay on Peony cruise. The price is very reasonable and the vegetarian food …
Chloe (Australia)

I contacted Visit Halong Bay staff for some trip idea and they responded very swiftly with good recommendations.
Nina Ng (Singapore)

My trip to Halong Bay was delayed because of Covid-19 and I am so glad that I made it back …
Christine Nguyen (Australia)
You might also like...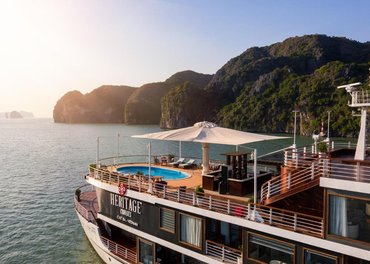 9% OFF
Lan Ha Bay
Launched 2019 - Metal - 20 cabins
Outdoor swimming pool
All cabins with balcony
All meals included
Lan Ha Bay route
Booked 2 times in the last 24 hours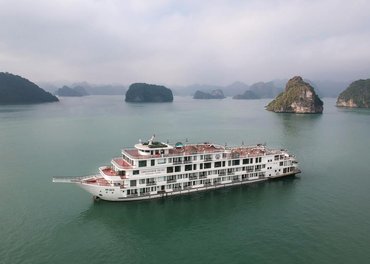 9% OFF
Halong Bay
Launched 2018 - Metal - 46 cabins
Outdoor swimming pool
All cabins with balcony
Elevator
Halong Bay route
Booked 5 times in the last 24 hours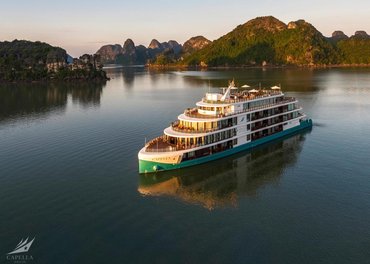 8% OFF
Lan Ha Bay
Launched 2020 - Metal - 30 cabins
All cabins with balcony
Family rooms
Elevator
Fitness centre
Booked 3 times in the last 24 hours