Athena Royal Cruise
Ha Long International Port, Ha Long, Vietnam
Show map
Price from: US$ 194 (Save 9%)
US$ 176 /pax
Booked 5 times in the last 24 hours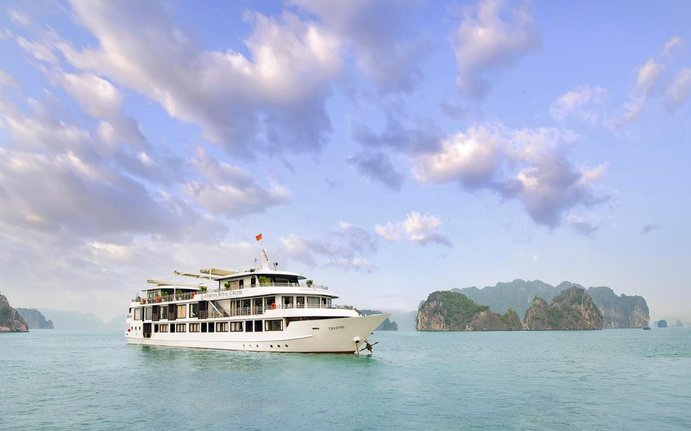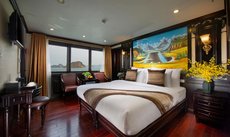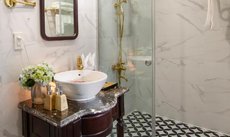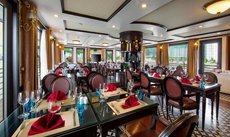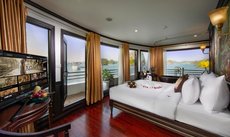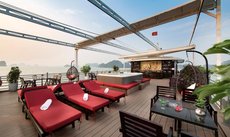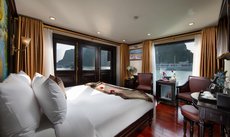 Athena Royal Cruise features quintessential royal design for the utmost opulence.
The elegantly designed restaurant specializes in both European and Asian cuisines with large portions.
Embark on typical cruise itineraries to well-known attractions on Halong Bay.
This is a family-friendly cruise with a special policy for children.
Cruise information
Itinerary:
Halong Bay - Sung Sot Cave - Titov Island - Luon Cave
Rooms & rates
We Price Match
Select date and package options
Clear all
Accommodation Type
Executive Suite with Private Balcony
Size: 25 m²
Bed options: 2 single beds and 1 extra-large double bed
Max: +
Max adults: 2
Max children: 1(up to 12 years of age)
Elegant Suite With Private Balcony
Size: 28 m²
Bed options: Bedroom 1: 1 extra-large double bed Bedroom 2: 2 single beds
Max: +
Max adults: 2
Max children: 1(up to 12 years of age)
Premium Double Suite with Private Balcony
Size: 30 m²
Bed options: 1 extra-large double bed
Max: +
Max adults: 2
Max children: 1(up to 12 years of age)
Family Connecting Suite With Private Balcony
Size: 50 m²
Bed options: 2 single beds and 1 large double bed
Max: +
Max adults: 4
Max children: 2(up to 12 years of age)
Athena Royal Suite with Panoramic View and Private Balcony
Size: 45 m²
Bed options: 1 extra-large double bed
Max: +
Max adults: 2
Max children: 1(up to 12 years of age)
Complete all required fields to continue
(Child Policy & Extra Bed Charge )
About Athena Royal Cruise
Athena Royal Cruise comes in royal style and features the marvelous essence of an upscale ship. Unparalleled services and authentic Vietnamese cuisine allure you onboard. Meanwhile, with a well-researched itinerary, you can immerse yourself in the rich culture and history of Halong Bay.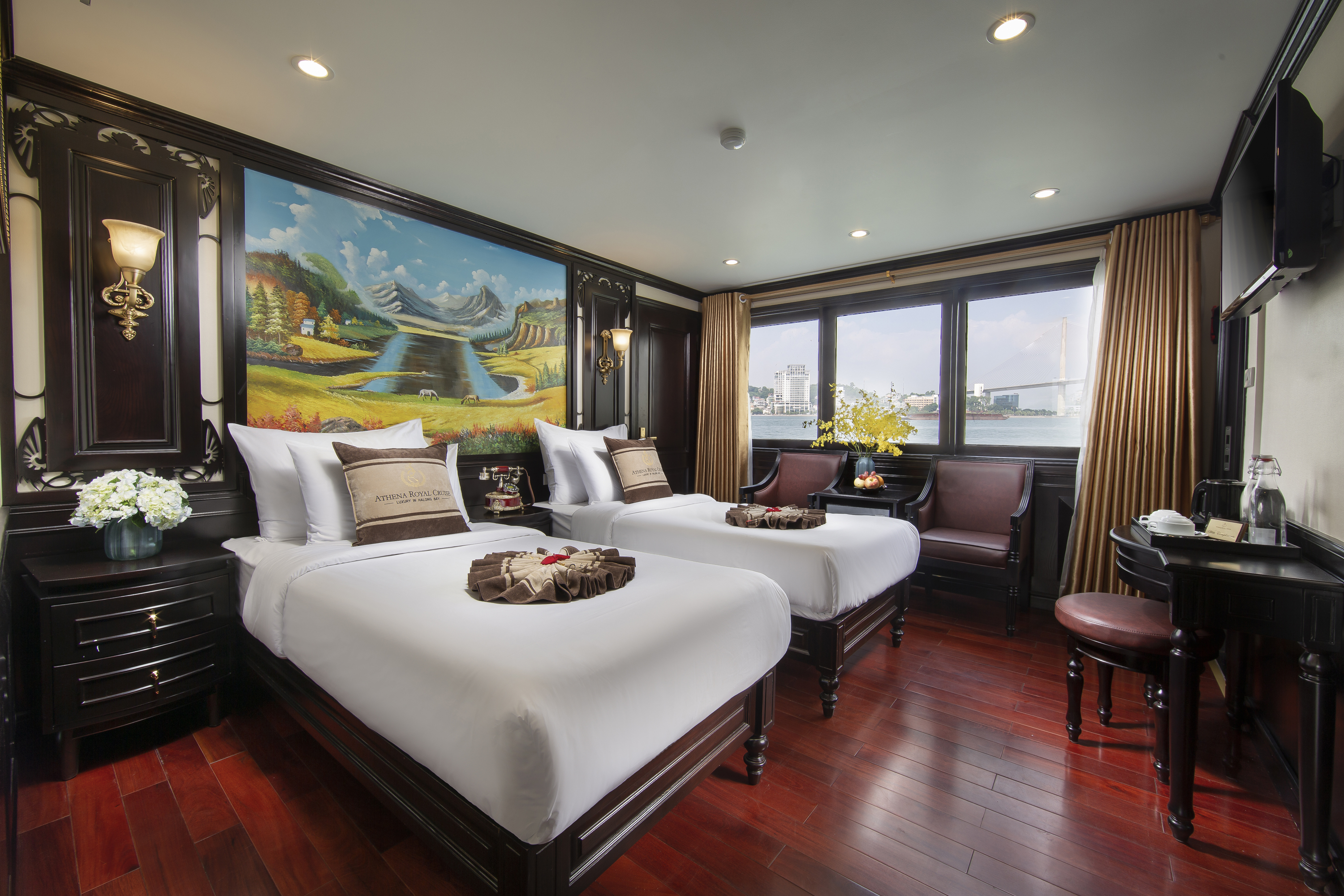 Pros
+ Athena Royal Cruise offers a premium cruising experience on Halong Bay.
+ Cabin rooms are ample, well-appointed, and have fantastic views.
+ Indoor restaurant and bar serve a fusion menu of European and Asian cuisines.
Cons
- The WIFI connection is unstable in some parts of the cruise.
- Halong Bay is touristy and not clean.
Bottom Line
Athena Royal Cruise appeals to independent travelers, couples, and families with kids who are looking for a mid-sized ship and luxurious accommodations.
Itinerary & activities
Athena Royal Cruise provides 2-day and 3-day itineraries to Halong Bay which are also the most exploited routes. During the journeys, you'll explore Sung Sot Cave, Titop Island, and Luon Cave with exciting activities such as swimming, kayaking, and climbing mountains.
Cruise quality
Athena Royal Cruise exudes authentic Vietnamese architecture combined with modern facilities. Besides high safety standards and a chic interior, the property also delivers a diverse range of superior services and warm hospitality from the cabin crew.
Cabin quality
Featuring a classic design, 22 all-suite staterooms are clean and neat with an ample size. Deluxe in-suite amenities, namely a flat-screen TV, kettle, en-suite bathroom with a bathtub, and a seating area, are well-appointed in the room. Some cabins also have comfortable balconies.
Service & facilities
Entertainment programs on Athena Royal Cruise are abundant, with morning tai chi, cooking class, and squid fishing. To maximize the optimal luxury stay, you are granted wellness services in a sauna and a spa. Additionally, impeccable and personalized services such as shuttle transfer, room service, and car rental are available at your convenience.
Food & Drink
A buffet breakfast is served every morning, while lunch and dinner comprise a set menu with an abundance of Vietnamese and international dishes.
Frequently asked questions
Does Athena Royal Cruise have a swimming pool?
Yes. There is a jacuzzi pool on the top deck of Athena Royal Cruise.
Is kayaking free when travelling on the cruise?
Yes. Kayaking is included in the total price.
Are spa services available onboard?
Yes. There is a spa and a sauna where you can indulge in pampering spa services.
Is a transfer service available?
Transfer service is provided at an additional charge.
Are family cabins available on Athena Royal Cruise?
Yes. Family rooms are available on the cruise and 01 child under 5 years old is free of charge per cabin.
Maps and Itineraries
Ha Long International Port, Ha Long, Vietnam
Our guest's experiences (8)
| | | |
| --- | --- | --- |
| 5 star | | 8 reviews |
| 4 star | | 0 reviews |
| 3 star | | 0 reviews |
| 2 star | | 0 reviews |
| 1 star | | 0 reviews |
S
Sterling
7 months, 2 weeks ago
The vessel was pretty and well-maintained. The lunch buffet could be better. Other meals were excellent. The staff was definitely the highlight of the trip. They were caring and extremely friendly. Activities were diversified with cooking, taichi, swimming, kayaking, hiking, etc. The cooking class was interesting. The cave tour was a bit chaotic.
4 people found this helpful
Helpful
T
Tang Sheng
1 year, 3 months ago
It was our dad's 60th birthday and the trip exceeded our expectations. We booked 2 Elegant Suites on the second deck. They were spotless and clean. We had a nice balcony and all necessary amenities. The ship includes a jacuzzi on the top deck for relaxing. My mom and I booked a massage and it was pretty good. Cuisine was incredible. We had a lunch buffet and dinner set menu. All meals were well prepared and beautifully decorated. At dinner, the staff brought a cake and sang a happy birthday song for my dad's birthday. Thank you so much for that. This is among the best tours on our Vietnam trip. Once again, thank you to the whole team!
3 people found this helpful
Helpful
M
Max
7 months, 2 weeks ago
The ship itself was nice but a bit aged. The furniture was well maintained. Our cabin was clean, spacious and well equipped. We feel very welcomed and were taken care of by a dedicated team. Food was fantastic and lots of it. We will come back without a doubt.
A
Aline Heinze
6 months, 2 weeks ago
The activities were a bit too much and the cave and island were overcrowded. We love spending time on the sundeck and our balcony. The bay was gorgeous. The food was plentiful and flavorful. Staff could not be more friendly and helpful. Special thanks to Mr Morning, Linh, An. Everyone was great.
3 people found this helpful
Helpful
S
Sourav Mahato
8 months, 2 weeks ago
Nice staff. Spacious and clean cabin. Plentiful food. Vegetarian menu was yummy. Varied activities. Perfect scenery. Just a small downside is about the rubbish on the water. Other things were all excellent. Thank you!
M
Melissa Jean
3 months, 3 weeks ago
My mother and I booked 1 night. Our cabin has a balcony and the view was spectacular. The food was good yet we expected more local food. The cave was majestic and beautiful. We also tried kayaking for the first time and it was interesting.
1 people found this helpful
Helpful
C
Chen Chiu Hua
6 months, 1 week ago
Everything went smoothly although it seems all cruises ran on the same schedule and the attractions were very crowded. The excursions on Day 2 (3d2n) were much better. Less rushed and less crowded. We visited a floating village, kayaking, and swimming in quiet and peaceful areas. The staff was nice and attentive, especially the guide. Food was a mix of local and Western cuisine. We enjoyed it all. Highly recommend everyone to book 2 nights.
2 people found this helpful
Helpful
N
Neha Gupta
6 months, 2 weeks ago
Had 2 days/1 night on Athena Royal and things were well organized. The staff treated us like family and the manager was very dedicated. The food was tasty and they cater vegetarian food as well. The excursions were amazing with Surprising Cave, Titov Island, and Luon Cave. The kayaking was a bit short and crowded but we enjoyed it a lot. Overall a good trip and highly recommended.
Questions and Answers (0)
Be the first to ask a question on this page!
Talk to a cruise expert
Request a call back
Or Email us
Our customers' experiences

My wife and I recently visited Halong Bay on Peony cruise. The price is very reasonable and the vegetarian food …
Chloe (Australia)

I contacted Visit Halong Bay staff for some trip idea and they responded very swiftly with good recommendations.
Nina Ng (Singapore)

My trip to Halong Bay was delayed because of Covid-19 and I am so glad that I made it back …
Christine Nguyen (Australia)
You might also like...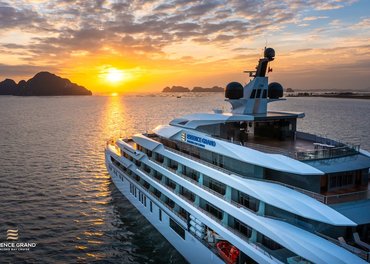 9% OFF
Halong Bay
Launched 2023 - Steel - 55 cabins
Outdoor swimming pool
Ultra luxury
Triple room
Kid-friendly
Booked 10 times in the last 24 hours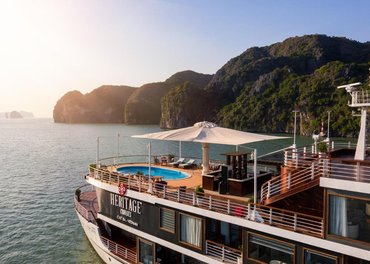 9% OFF
Lan Ha Bay
Launched 2019 - Metal - 20 cabins
Outdoor swimming pool
All cabins with balcony
All meals included
Lan Ha Bay route
Booked 2 times in the last 24 hours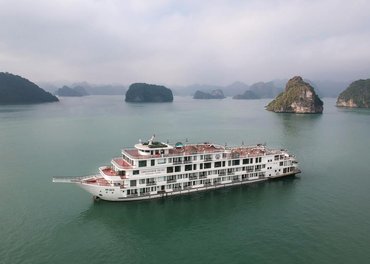 9% OFF
Halong Bay
Launched 2018 - Metal - 46 cabins
Outdoor swimming pool
All cabins with balcony
Elevator
Halong Bay route
Booked 5 times in the last 24 hours