Elite of the Seas
Block 24, Tuan Chau Harbor, Halong, Quang Ninh
Show map
Price from: US$ 297 (Save 9%)
US$ 270 /pax
Booked 6 times in the last 24 hours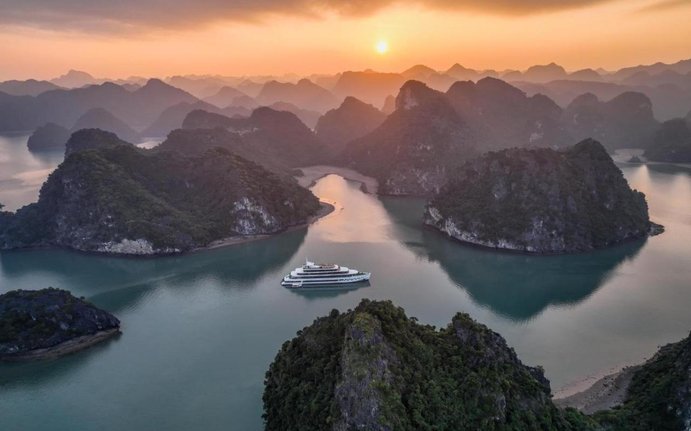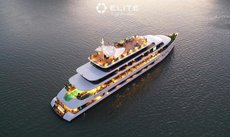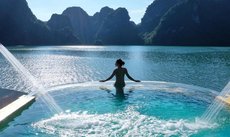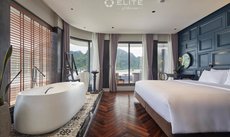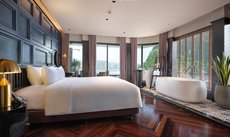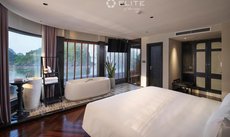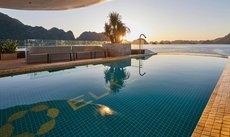 A prominent cruise brand on Halong Bay with 6-star services and amenities.
Cabins are elegant, and spacious, and can exceed all your expectations for a luxurious stay.
A wide range of choices for cruise itineraries with a duration of up to 5 days and 4 nights.
Enjoy a relaxing time with top-notch amenities such as a mini golf course, panoramic bar, spa, outdoor swimming pool, wine & cigars cellar, and fitness room.
Cruise information
Itinerary:
Lan Ha Bay - Ao Ech - Dark & Bright Cave
Rooms & rates
We Price Match
Select date and package options
Clear all
Accommodation Type
Elite Junior Suite
Size: 23 m²
Bed options: 1 extra-large double bed
Elite Junior Suite Premium
Size: 35 m²
Bed options: 1 extra-large double bed
Elite Senior Suite
Size: 25 m²
Bed options: 1 extra-large double bed
Elite Senior Suite Premium
Size: 26 m²
Bed options: 1 extra-large double bed
Elite Executive Suite
Size: 25 m²
Bed options: 1 extra-large double bed
Elite President Suite
Size: 55 m²
Bed options: Bedroom : 1 extra-large double bed Living room: 1 sofa bed
Elite Executive Premium Suite
Size: N/A
Bed options: 1 extra-large double bed
Complete all required fields to continue
(Child Policy & Extra Bed Charge )
About Elite of the Seas
Spend several days on the Elite of the Seas cruise and you will be into its contemporary, luxurious, and quintessential style. Outstanding services and facilities such as a massive swimming pool, chic restaurant, and top-notch spa characterize this brand-new vessel. Apart from the premium onboard experiences, the itineraries to Lan Ha Bay are also action-packed and enjoyable.
Pros
+ Elite of the Seas is one of the newest and most luxurious cruises in Halong Bay.
+ The fine dining restaurant offers a variety of Vietnamese traditional cuisine, BBQ, and a buffet menu.
+ Enjoy your access to many amenities such as the swimming pool, spa, fitness center, and mini-golf course.
Cons
- Pricier than most other ships.
- Itineraries unnecessarily include a lot of activities.
Bottom Line
The launch of the Elite of the Seas Cruise redefines the luxury cruise excursion and brings a fantastic experience.
Itinerary & activities
Elite of the Seas Cruise is well-suited to different types of travelers. First-timers with little time traveling can opt for its 2D1N cruise while seasoned travelers who love a long, luxurious, laid-back excursion in Lan Ha Bay are provided with a journey of up to 5 days and 4 nights. Those cruise options provide jaw-dropping sceneries of Lan Ha Bay with famous tourist attractions including the Ao Ech area, Viet Hai floating village, and Dark & Bright Cave. You will be immersed in thrilling water-based activities like swimming, kayaking, bamboo rowing boat, and cave exploring, and also have more time for relaxation.
Cruise quality
Elite of the Seas Cruise is tastefully designed with modern & quintessential style. This large steel ship has an impressive white exterior and cutting-edge Japanese engine and facilities.
Cabin quality
35 staterooms on this opulent ship are the best choice for an indulgent night's sleep. Cabins are categorized into different types and the largest one is 60sqm. You can unwind on the private terrace with a panoramic bay view, enjoy complimentary tea & fruits, a 30-minute foot massage, and other modern in-room facilities.
Service & facilities
A range of the finest amenities for your utmost convenience including a luxurious restaurant & bar, a wine and cigar cellar, a mini-golf course, a seasonal swimming pool, a sauna & spa, and a children's playground are provided onboard.
Food & Drink
In the cruise's main restaurant, you're served traditional Vietnamese food, buffet, BBQ, and a la carte menu. Seating options are flexible with indoor and outdoor dining areas. Meanwhile, the bar is always fully stocked with sumptuous cocktails, internationally-sourced wines, coffee, and other refreshments.
Frequently asked questions
Does an extra bed cost an additional fee?
Yes, you need to pay an additional charge for an extra bed.
Is Elite of the Seas Cruise family-friendly?
Yes. The ship has family rooms and a playground for kids.
Is the pool open all year round?
Yes. It is a four-season pool so it is open all year round
Does the cruise have one day trip?
No. Elite of the Seas Cruise does not offer a one-day trip. There are 2 days/1 night, 3 days/2 nights, 4 days/3 nights, and 5 days/4 nights.
Does the cruise serve vegan food?
Yes. Vegan food can be requested on Elite of the Seas cruise.
Maps and Itineraries
Block 24, Tuan Chau Harbor, Halong, Quang Ninh
Our guest's experiences (7)
| | | |
| --- | --- | --- |
| 5 star | | 7 reviews |
| 4 star | | 0 reviews |
| 3 star | | 0 reviews |
| 2 star | | 0 reviews |
| 1 star | | 0 reviews |
A
Anna Scott Weston
8 months, 4 weeks ago
A new and stylish ship. Elite of the seas offers a variety of modern facilities and activities that keep us entertained and relaxed all the time. The cabin was excellent and we love sitting on the balcony to watch the gorgeous sunset. The bay was incredible and definitely the highlight of the trip. Service onboard was great and everyone tried hard to please guests and take care of their requests. Although the price was high, it was well worth every penny. highly recommended!
1 people found this helpful
Helpful
S
Susanne Jensen
7 months, 3 weeks ago
We celebrated our anniversary on the cruise. The room was fantastic and beautifully decorated. Our butler Brian did an excellent job. He was very attentive and took good care of us. The food was generous with 7-8 courses per meal. The cocktails were brilliant. However, drinks were expensive overall. We had a nice caving tour and fun kayaking and swimming in the bay. Cooking class was good but could be something different. The staff also made a video of us by drone which was awesome. It was a perfect time in Halong Bay.
2 people found this helpful
Helpful
R
Robyn Bouchard
8 months, 2 weeks ago
Pros: The view of the bay, the staff, multiple-course meals, new vessel with most updated facilities and services, varied activities. Cons: quality of food could be better, more options for vegans, the air-conditioning in our cabin was not very good.
3 people found this helpful
Helpful
B
Boris Garic
8 months, 2 weeks ago
The bay was breathtaking and food was 10/10. The lunch and dinner were delicious and eye-catching. There were plenty of activities such as kayaking, swimming, biking, cooking demonstration and modern facilities for relaxing such as golf, sauna, spa, jacuzzi pool. A special thanks to Tommy and Harry for their great service. All the staff were friendly and went above and beyond.
5 people found this helpful
Helpful
S
Stuart
7 months, 3 weeks ago
My husband and I book 1 night on Elite of the Seas. The staff could not do better for us. They were very hospitable and helpful from start to finish. Our Senior Suite Premium has all amenities we need. The highlights of the trip were the sumptuous meals and spectacular scenery. However, 1 night was short as you only stayed on board for nearly 24 hours and the boat did not cruise very far to the ocean. 2-night could be better.
8 people found this helpful
Helpful
R
Ratchanok
8 months, 2 weeks ago
My family had 2 nights on Elite of the Seas. The welcome at the port was a bit chaotic but the program went smoothly after that. The scenery was fabulous and the ship included all state of the art facilities such as a swimming pool, mini golf, sauna and spa, bar. Taking photos by drone was a bonus. Our cabin was very clean and luxurious. The bed and pillow were upscale and soft. Thank you to the team!
J
Joshua Atkins
7 months, 3 weeks ago
The food was brilliant. Every dish was tasty and beautifully presented. We had an 8-course dinner which was way too much. Activities were diversified and well organized. The staff was very friendly and well-behaved. Would certainly recommend it to everyone
3 people found this helpful
Helpful
Questions and Answers (4)
Q
Fauchille Alban
1 month ago
Hi, several questions related to Elite of the seas: Depending on the departure date, it will be 2D/1N or a 3D/2N, correct? Willing to start our cruise on the 30th, what will be the duration in our case? Furthermore, how to accomodate 2 adults and 2 kids. We'll have to take 2 rooms or some rooms are big enough to add extra bed? Thanks
A
Visithalongbay Team
1 month ago
@Fauchille, You can book your trip on the 30th for either 2 days or 3 days. Both 2-day and 3-day guests will go on Elite of the Seas at the same time. However, the 3-day guests will start the excursions by a speed boat at around 10 am and only return to the main vessel at around 4:30 pm.
As for accommodation, if your kids are under 11 years old, you can book a cabin with an extra bed (1 shares the bed with parents). Otherwise, you can book 2 cabins with connecting doors for more comfort. Regards,
2 people found this helpful
Q
Kleber Flügel
1 month, 1 week ago
Hello, we are looking to book the elite of the seas from the 27.11.23 till the 29.11.23 (3days, 2 nights). But our flight from BKK TG560 arrives at 09:35 at Hanoi Int. Airport. Do you think it is enough time to arrive at time to check at the boat? Can you tell me when the boad leaves the harbour. Many thanks
A
Visithalongbay Team
1 month, 1 week ago
@Kleber, if your flight arrives at 9:35 am, we are afraid that you do not have enough time to make a cruise on the same day. It takes around 2.5 hours from Hanoi International Airport to Halong and most cruise departs from 12:00 - 12:15 pm including Elite of the Seas Cruise. Besides, guests need to be ready at the port no later than 11:45 am for check-in procedure. As a result, we recommend you take the cruise the next day or manage to change your flight earlier if possible. Regards,
0 people found this helpful
Show more

(02)
Talk to a cruise expert
Request a call back
Or Email us
Our customers' experiences

My wife and I recently visited Halong Bay on Peony cruise. The price is very reasonable and the vegetarian food …
Chloe (Australia)

I contacted Visit Halong Bay staff for some trip idea and they responded very swiftly with good recommendations.
Nina Ng (Singapore)

My trip to Halong Bay was delayed because of Covid-19 and I am so glad that I made it back …
Christine Nguyen (Australia)
You might also like...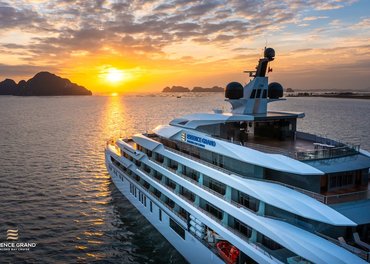 9% OFF
Halong Bay
Launched 2023 - Steel - 55 cabins
Outdoor swimming pool
Ultra luxury
Triple room
Kid-friendly
Booked 10 times in the last 24 hours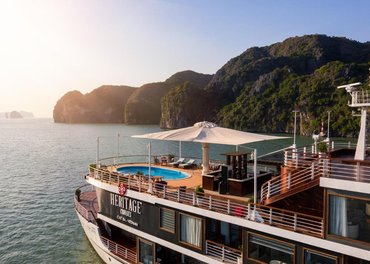 9% OFF
Lan Ha Bay
Launched 2019 - Metal - 20 cabins
Outdoor swimming pool
All cabins with balcony
All meals included
Lan Ha Bay route
Booked 2 times in the last 24 hours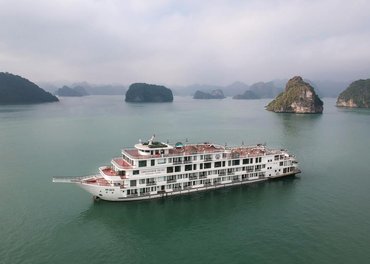 9% OFF
Halong Bay
Launched 2018 - Metal - 46 cabins
Outdoor swimming pool
All cabins with balcony
Elevator
Halong Bay route
Booked 5 times in the last 24 hours