Emperor Cruise
Lot 28, Tuan Chau International Marina, Ngoc Chau street, Tuan Chau island, Ha Long, Vietnam
Show map
Price from: US$ 324 (Save 8%)
US$ 295 /pax
Booked 3 times in the last 24 hours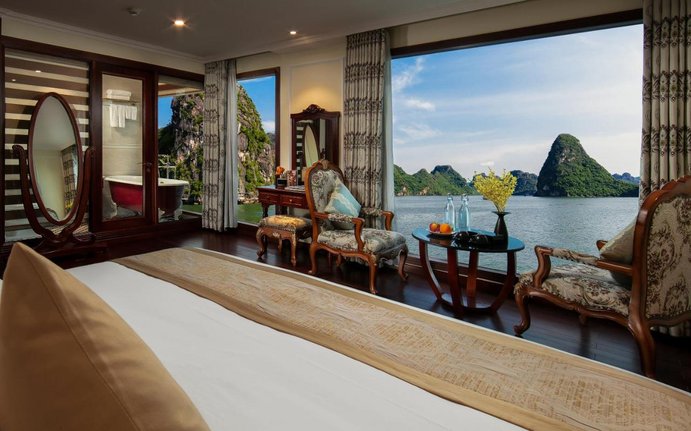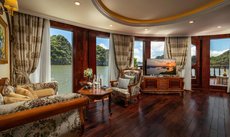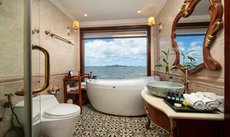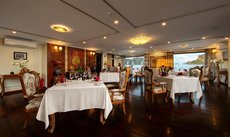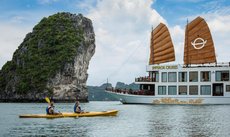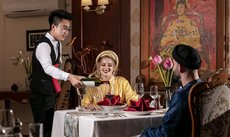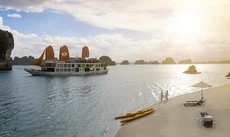 The cruise is luxuriously furnished with premium amenities.
There is a wide selection of shared cruises and charter ones.
Those who are not pressed for time have a chance to soak up an extended vacation of up to 5 days in Hanoi and Halong Bay.
Staff are friendly and helpful almost 24/24.
Cruise information
Itinerary:
Halong Bay - Me Cung Cave - Tung Sau Area - Luon Cave
Rooms & rates
We Price Match
Select date and package options
Clear all
Accommodation Type
Special Offer - Signature Suite
Size: 43 m²
Bed options: 1 extra-large double bed
Special Offer - State Suite
Size: 50 m²
Bed options: 1 extra-large double bed
Special Offer - Royal Suite
Size: 72 m²
Bed options: 1 extra-large double bed
Complete all required fields to continue
(Child Policy & Extra Bed Charge )
About Emperor Cruise
Emperor Cruises Legacy Halong treats you to a luxurious all-inclusive cruise experience. All-suite accommodations, top-notch services, and exquisite upscale dining options set the cruise apart from other lines. The ship even exceeds your expectations with engaging enrichment programs and destination-focused excursions around Halong Bay.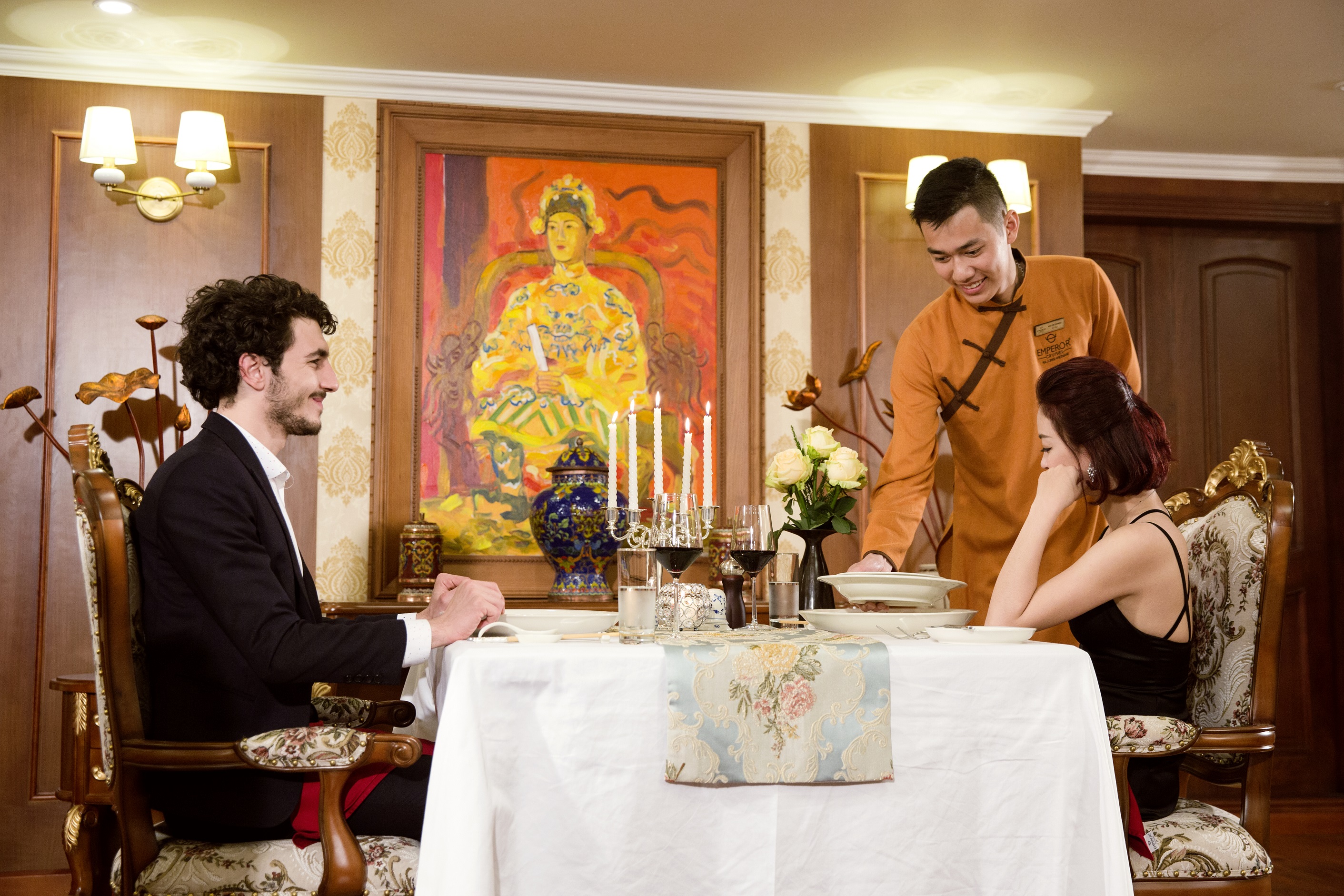 Pros
+ The traditional imperial cruise ship has a limited number of cabins ensuring privacy and comfort, especially for families.
+ Regal-style cabins are equipped with en-suite bathrooms and private balconies viewing the bay.
+ There is a broad range of exciting activities and unlimited access to sauna and spa services.
+ Luxury trains, helicopters, seaplanes, and private yachts can also be arranged.
Cons
- The program is a bit rushed in the morning.
- Halong Bay is polluted and touristy.
- It should have a briefing about the itinerary and activity options onboard.
Bottom Line
This large, sleek vessel allures upscale travellers, especially families with children, with outstanding features and many child services.
Itinerary & activities
Emperor Cruises Legacy Halong explores the most famous tourist destinations on Halong Bay with beaches, lagoons, and caves. You'll immerse in fascinating activities such as kayaking, swimming, and cave visiting.
More interestingly, the cruise provides long trips to visit Hanoi and Halong Bay as well as private trips for the charter cruise.
Cruise quality
The property is new and beautiful, with continual improvements. Well-heeled travellers especially love the ultimate luxury found in Emperor Cruises, which combines 5-star services with classic elegance.
Cabin quality
10 suites onboard are spacious, and well-appointed with private balconies for panoramic sea views, personal butler service, and a number of amenities such as an en-suite bathroom, stylish bed, fancy carpeting, and stunning artworks. The mini-bar is replenished daily with complimentary drinking water and soft drinks. Significantly, the sitting area is a beautiful place for reading bookings and enjoying the sunset.
Service & facilities
The ship specializes in offering extraordinary modern comforts and personalized, all-inclusive services. The spacious sundeck provides superb views for sunbathing and wine tasting. Meanwhile, the restaurant serves guests mouth-watering cuisines in a royal atmosphere. There are also outdoor furniture, a terrace, BBQ facilities, and spa facilities.
Food & Drink
The restaurant appeals to its guests with plenty of culinary delights in Vietnamese and international styles.
Moreover, the lounge bar brings you a wide selection of cocktails, spirits, wines, and beers to enjoy after mealtime.
Frequently asked questions
How large are the cabins onboard?
Cabins on Emperor Cruises Legacy Halong are pretty spacious, measuring from 35-70sqm.
Does the cruise have a playground for children?
Yes. There is a kid's corner for children to play on the cruise.
Does the cruise have a spa?
Yes. Emperor Cruises has 02 massage rooms.
Where does the cruise visit?
The cruise provides excursions to Halong Bay for 2 days/1 night and both Halong and Lan Ha Bay for 3 days/2 nights.
How many cabins does the cruise have?
There are 10 luxurious en-suite cabins onboard.
Maps and Itineraries
Lot 28, Tuan Chau International Marina, Ngoc Chau street, Tuan Chau island, Ha Long, Vietnam
Our guest's experiences (8)
| | | |
| --- | --- | --- |
| 5 star | | 7 reviews |
| 4 star | | 1 reviews |
| 3 star | | 0 reviews |
| 2 star | | 0 reviews |
| 1 star | | 0 reviews |
F
Freya Nielsen
8 months, 2 weeks ago
Trip to Halong bay was unrivaled with Emperor cruise and its team. Suites are spacious and contained a lot of modern facilities. There were also a lot of child services, making it a great option for families with children. The food was plentiful and can be adjusted for different requirements. Hope to back this cruise again!
2 people found this helpful
Helpful
V
Viktor Novák
8 months, 3 weeks ago
Emperor cruise was a great option seamlessly combining opulence with adventure. The shore excursions were thrilling. The onboard amenities were also top-notch for a healthy lifestyle. The most significant highlight was the cruise's personalized services that we always felt comfortable.
2 people found this helpful
Helpful
L
Liam Andersson
9 months, 3 weeks ago
The onboard restaurant was a great dining venue, especially for couples. The wine selection was exceptional, and the sommeliers' expertise added to the dining experience. Suites were superior and beautifully decorated. From bedroom, I could look out the bay and breathe fresh atmosphere. A very indulgent experience. Thank the cruise and the team so much.
1 people found this helpful
Helpful
D
David Kowalski
8 months, 2 weeks ago
Emperor cruise was an absolute delight for our family. Activities for kids and families were outstanding creating long-lasting memories together. We appreciated the attention to safety, and the staff's warmth and professionalism. We stayed and were served carefully in spacious suites and enjoyed delectable meals.
2 people found this helpful
Helpful
J
James Lee
6 months, 2 weeks ago
Emperor cruise offered fine dining options and common activities to gather all guests onboard. Very wonderful memories with new friends onboard. The cabin was clean and neat, I slept very well onboard. The cruise was generally a good experience.
L
Léa Dubois
8 months, 2 weeks ago
I traveled solo on Emperor cruise but this luxury cruise erased all my worries. The attention to detail was exceptional, and I never felt alone. The crew went above and beyond to make me feel welcome and part of a community. The onboard activities were fun-filled and enrichment programs were entertaining and educational as well. Thank the team so much.
L
Luca Andersen
8 months, 3 weeks ago
Took a two-day tour with Emperior cruise and every day was a new adventure both onboard and during the shore excursions. We enjoyed relaxing on the deck, indulging in spa treatments, and trying luck with squid fishing. Can't wait to sail with them again!
N
Nikolai Ivanov
1 year, 2 months ago
Emperor cruises made our anniversary like an absolute dream with luxurious experience. From the moment we stepped onboard, we were treated like royalty. The stateroom was elegant, the gourmet dining was exquisite, and the personalized service from the staff made us feel truly pampered.
Questions and Answers (0)
Be the first to ask a question on this page!
Talk to a cruise expert
Request a call back
Or Email us
Our customers' experiences

My wife and I recently visited Halong Bay on Peony cruise. The price is very reasonable and the vegetarian food …
Chloe (Australia)

I contacted Visit Halong Bay staff for some trip idea and they responded very swiftly with good recommendations.
Nina Ng (Singapore)

My trip to Halong Bay was delayed because of Covid-19 and I am so glad that I made it back …
Christine Nguyen (Australia)
You might also like...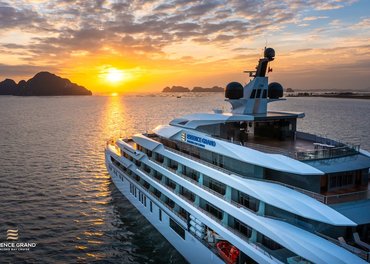 9% OFF
Halong Bay
Launched 2023 - Steel - 55 cabins
Outdoor swimming pool
Ultra luxury
Triple room
Kid-friendly
Booked 10 times in the last 24 hours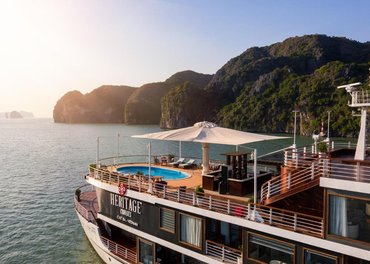 9% OFF
Lan Ha Bay
Launched 2019 - Metal - 20 cabins
Outdoor swimming pool
All cabins with balcony
All meals included
Lan Ha Bay route
Booked 2 times in the last 24 hours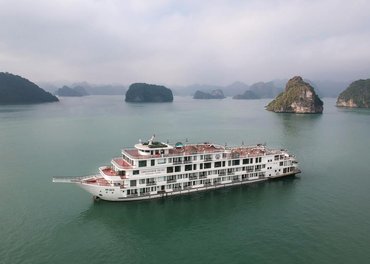 9% OFF
Halong Bay
Launched 2018 - Metal - 46 cabins
Outdoor swimming pool
All cabins with balcony
Elevator
Halong Bay route
Booked 5 times in the last 24 hours