Era Cruises
No 26, Terminal 2, Tuan Chau Harbor, Halong, Quang Ninh
Show map
Price from: US$ 181 (Save 9%)
US$ 165 /pax
Booked 6 times in the last 24 hours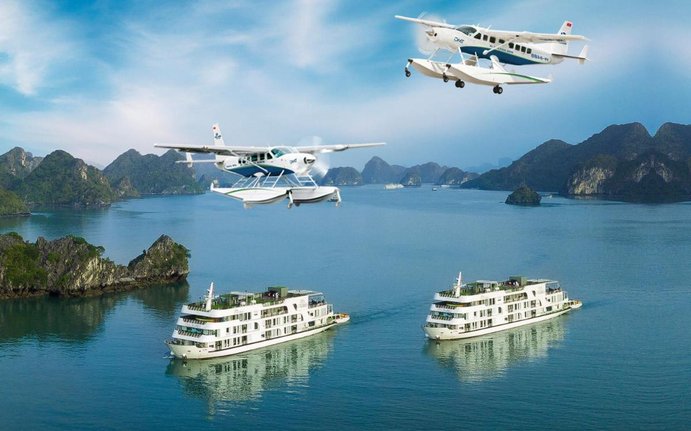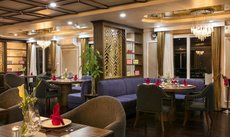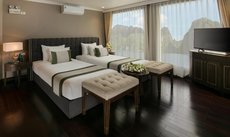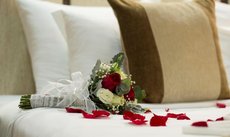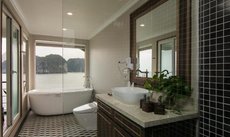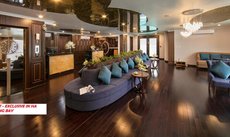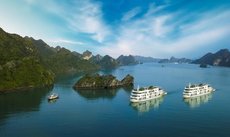 Cruise with luxury decoration and fine dining service.
All cabins are extra large and own a private terrace.
A series of modern facilities such as a restaurant, sky bar, mini cinema, coffee lounge, shop, etc.
Friendly for wheelchair users with an elevator onboard.
Cruise information
Itinerary:
Lan Ha Bay - Tra Bau/Ao Ech - Dark Bright Cave
Rooms & rates
We Price Match
Select date and package options
Clear all
Accommodation Type
Terrace Suite
Size: 45 m²
Bed options: 2 single beds or 1 extra-large double bed
Max: +
Max adults: 2
Max children: 1(up to 12 years of age)
King Terrace Suite
Size: 52 m²
Bed options: 1 extra-large double bed
Max: +
Max adults: 2
Max children: 1(up to 12 years of age)
Garden Sea Family Suite
Size: 55 m²
Bed options: 1 single bed and 1 large double bed
Max: +
Max adults: 3
Max children: 1(up to 12 years of age)
The Era Suite
Size: 73 m²
Bed options: 1 extra-large double bed
Max: +
Max adults: 2
Max children: 1(up to 12 years of age)
Complete all required fields to continue
(Child Policy & Extra Bed Charge )
About Era Cruises
Era Cruise was launched in 2017 and became one of the largest cruises in Halong Bay. The ship boasts the most updated safety equipment in regard to international standards and a full range of services. Era Cruise offers an engaging itinerary through Lan Ha Bay with the most pristine and beautiful spots and exciting activities such as swimming, kayaking, biking, etc.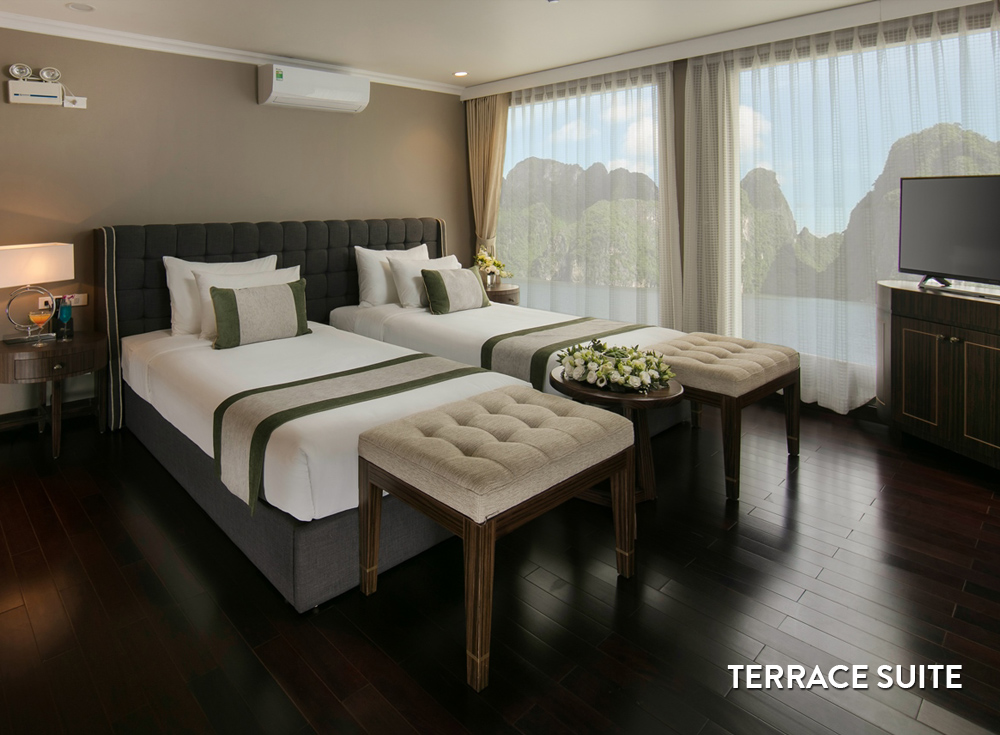 Pros
+ Cabins have a very large area.
+ Full range of services and state-of-the-art facilities.
+ Elevator and medical service available onboard.
Cons
- The ship and cabin are old and some parts of the interior need to be upgraded.
- Wifi does not work.
Bottom Line
Among pioneer cruises offering 5-star experience on Lan Ha Bay, Era Cruise always makes great efforts to satisfy travelers with its unique program and personalized service.
Itinerary & activities
Departing from Tuan Chau International Port, Era Cruise follows the less tourists itinerary and discovers Lan Ha Bay - the extension part of Halong Bay. Travelers have a chance to admire majestic limestone islands, dip into the crystal clear water, and float around on a kayak to feel the peace of the ocean. A 5-km biking trip around Viet Hai Village and quiet moments lazing on Ba Trai Dao Beach on the 2-night program must be the highlight. Plus, getting through a cave that is half submerged by water on a rowing boat is unmissable on Era Cruise.
Cruise quality
The double-hull ship guarantees the utmost safety and a worry-free vacation for all passengers. Era Cruise also adds a variety of exclusive facilities to make guests' stay comfortable, enjoyable, and memorable.
Cabin quality
Proud to be one of the few yachts offering the largest rooms in the bay, Era certainly satisfies visitors with the quality of the cabin. Cabin size ranges from 47 up to 74 square meters. All come with a private terrace with sun loungers, flat-screen TV, safe box, air-conditioning, ironing facilities, sofa, ensuite bathroom with jacuzzi tub, etc. Floor-to-ceiling windows are a huge plus for guests to watch the panoramic view of the bay right from the bed.
Service & facilities
The adventure with Era Cruise is filled with luxurious service and facilities such as a restaurant and bar, sky bar, coffee lounge, spa, shop & lobby, Starry mini cinema. Whether guests want to burn some calories during holiday to stay healthy or want to unwind on the rooftop sundeck or rejuvenate body and mind, Era Cruise makes sure you are well taken care of.
Moreover, Era Cruise offers medical service 24/24 onboard. Although the medical facilities onboard are still limited, the staff always go out of their way to ensure the best cruising experience for all travelers.
Food & Drink
Gastronomy on Era Cruise is a mixture of local and international cuisine, from hearty buffets to a flavorful set menu, from seafood to the highest-quality meat. Vegetarian options are available if you request. Drinks are plentiful at the bar. The sky bar is perfect for relaxing with friends and family under the starry sky.
Frequently asked questions
Is there an elevator onboard?
Yes. Era Cruise has an elevator.
Which cabin is best for 3 people?
Garden See Family Suite is the best cabin for 3 people. It has a double bed and a single bed and a nice view of the bay. Other cabins can sleep 3 people with an extra bed (additional charge required)
How long does it take for each excursion?
Each excursion lasts for 1 to 1.5 hours.
Does the cruise provide a kid menu?
Yes. Era Cruise provides a kid menu. Besides, if children have any allergies or special requests for food, guests should inform the cruise organizer in advance.
Is the trip all-inclusive?
No. The trip is not all-inclusive. The rate includes accommodation onboard, all meals and activities such as kayaking/swimming/bamboo boat… in the program, bottles of water in the cabin, and welcome drink. Other personal expenses such as beverages from the bar, minibar, spa & massage service, shuttle bus round trip from/to Halong are not included.
Maps and Itineraries
No 26, Terminal 2, Tuan Chau Harbor, Halong, Quang Ninh
Our guest's experiences (8)
| | | |
| --- | --- | --- |
| 5 star | | 7 reviews |
| 4 star | | 1 reviews |
| 3 star | | 0 reviews |
| 2 star | | 0 reviews |
| 1 star | | 0 reviews |
T
Taylor
6 months, 2 weeks ago
What a nice trip! The bay was gorgeous with perfect weather. Kayaking and swimming were excellent. Food, rooms, and programs all met our expectations. We booked 1 night yet highly recommend everyone to book 2 nights to enjoy more activities and attractions. The staff was well-trained and worked professionally. Overall a must-try when you go to Hanoi for a few days.
L
Lucy Pugsley
8 months, 1 week ago
We traveled with a little girl and the staff was welcoming and helpful. They were very accommodating to our food requests for the little girl and we highly appreciate that. The manager Duc and his team did an excellent job. Our guide Minh always took care of us and was very informative. The bay was magnificent and the staff really made our trip more enjoyable. Thanks a lot!
3 people found this helpful
Helpful
L
Louise Olivia
9 months, 3 weeks ago
Beautiful scenery and great service! Era ship was nicely furnished and clean. We participated in many activities and they were all interesting. The buffet lunch was varied and the dinner set menu was 10 out of 10. Thank you to the Era team.
2 people found this helpful
Helpful
My family and I chose 1 night on Era Cruise. The cruise manager always provided a quick response to our needs and his team was also very friendly and well behaved. We went kayaking and swimming on the first day and visited a cave by bamboo boat on the second day. Everything was nice and fun. The view was extraordinary. Food was tasty and they served delicious vegan food as well. Our King Terrace cabins were super large and clean. The cons are rubbish on the water and the costly drinks. However, it was really an experience to remember!
2 people found this helpful
Helpful
J
Jenna Rose
7 months, 3 weeks ago
Lots of fun during our 2 day trip on Era Cruise. The ship was well maintained and its cabins were really spacious. We booked a Terrace Suite and the view from our bedroom was amazing. Food was plentiful yet could be improved a bit. Overall, we had a great time on the bay. Thank you!
3 people found this helpful
Helpful
W
Walling Nguyen
6 months, 1 week ago
The ship is spacious yet does not look very new as the pictures and luxurious as the others cross by. We booked the Terrace Suite with a nice view and balcony. The bed is large, comfy and soft. Food variety could be improved and there were way too many activities. You can skip any if you want and spend the time relaxing on your private balcony or on the top deck. Expensive drinks and even water.
2 people found this helpful
Helpful
S
Stephen
8 months, 3 weeks ago
We stayed on Era Cruise for 1 night. The vessel was a bit downgraded yet its cabins were clean and fully-equipped. Food was the highlight of the trip with lots of seafood dishes. They served up other dishes as well and your special diet such as vegetarian, non-seafood, non-gluten, etc. The program on Lan Ha Bay was interesting with swimming, kayaking, and caving. Some staff do not speak good English yet all of them were friendly and tried their best to make our stay more comfortable. Thank you!
3 people found this helpful
Helpful
C
Camille
7 months, 3 weeks ago
There were 4 of us and we booked the cabin Terrace on the first deck. Cabins were spacious and fully equipped. The staff were very friendly and made sure we enjoyed our stay. A special thanks to Mr. Duc, the cruise manager. Food was great and plentiful. The bay was nice with lots of rocky islands. Kayaking on the bay was a must-try activity.
2 people found this helpful
Helpful
Questions and Answers (0)
Be the first to ask a question on this page!
Talk to a cruise expert
Request a call back
Or Email us
Our customers' experiences

My wife and I recently visited Halong Bay on Peony cruise. The price is very reasonable and the vegetarian food …
Chloe (Australia)

I contacted Visit Halong Bay staff for some trip idea and they responded very swiftly with good recommendations.
Nina Ng (Singapore)

My trip to Halong Bay was delayed because of Covid-19 and I am so glad that I made it back …
Christine Nguyen (Australia)
You might also like...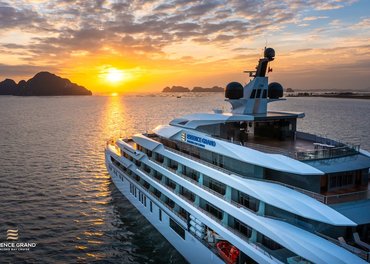 9% OFF
Halong Bay
Launched 2023 - Steel - 55 cabins
Outdoor swimming pool
Ultra luxury
Triple room
Kid-friendly
Booked 10 times in the last 24 hours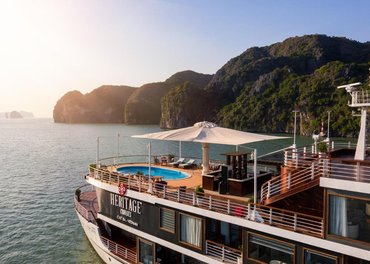 9% OFF
Lan Ha Bay
Launched 2019 - Metal - 20 cabins
Outdoor swimming pool
All cabins with balcony
All meals included
Lan Ha Bay route
Booked 2 times in the last 24 hours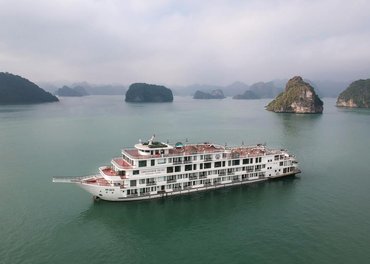 9% OFF
Halong Bay
Launched 2018 - Metal - 46 cabins
Outdoor swimming pool
All cabins with balcony
Elevator
Halong Bay route
Booked 5 times in the last 24 hours