Athena Cruise
Halong International Cruise Port
Show map
Price from: US$ 181 (Save 8%)
US$ 165 /pax
Booked 4 times in the last 24 hours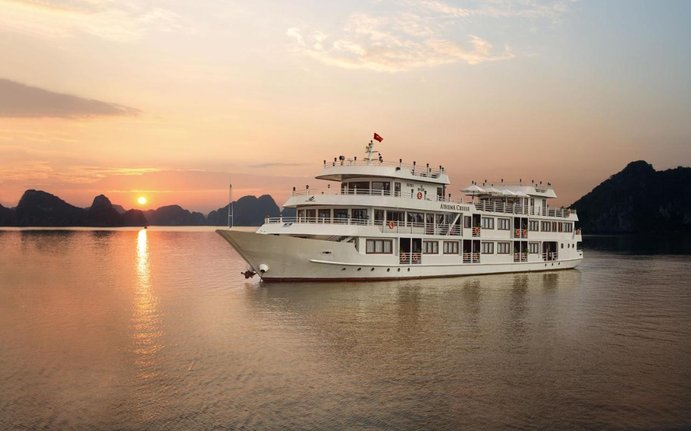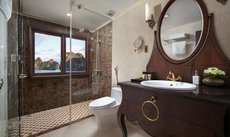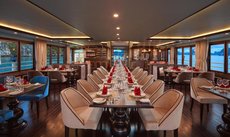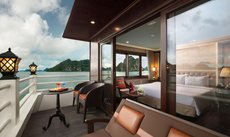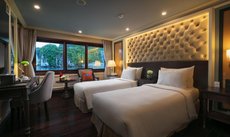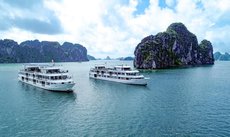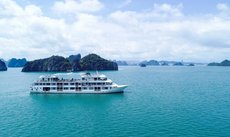 Spacious accommodation with a private balcony.
A wide selection of Vietnamese and International cuisine.
Modern facilities such as a coffee lounge, restaurant & bar, sundeck bar, spa.
Highlights in the 1-night and 2-night itinerary: Surprise Cave, Titop Island, Luon Cave, Tung Sau, and Maze Cave.
Family-friendly cruise with triple and connecting cabins
Cruise information
Itinerary:
Halong Bay - Luon Cave - Titop Island - Sung Sot Cave
Rooms & rates
We Price Match
Select date and package options
Clear all
Accommodation Type
Executive Double or Twin Room with Balcony
Size: 25 m²
Bed options: 1 extra-large double bed or 2 single beds
Max: +
Max adults: 2
Max children: 1(up to 12 years of age)
Elegant Double or Twin Suite with Balcony
Size: 28 m²
Bed options: 1 extra-large double bed
Max: +
Max adults: 2
Max children: 1(up to 12 years of age)
Athena Terrace Suite
Size: 32 m²
Bed options: 1 extra-large double bed
Max: +
Max adults: 2
Max children: 1(up to 12 years of age)
Connecting Grand Suite
Size: 48 m²
Bed options: 2 single beds and 1 extra-large double bed
Max: +
Max adults: 4
Max children: 2(up to 12 years of age)
Triple Suite with Ocean View
Size: 32 m²
Bed options: 1 single bed and 1 large double bed
Max: +
Max adults: 3
Max children: 1(up to 12 years of age)
Complete all required fields to continue
(Child Policy & Extra Bed Charge )
About Athena Cruise
Officially launched in June 2017, Athena Luxury Cruise is one of the noteworthy luxury options in Halong Bay. Operated by Athena Group with over 10 years of cruising experience, the cruise offers deluxe accommodation, featured cuisine, and a full range of services and activities. Furthermore, the hospitable staff always goes above and beyond to make guests enjoy the journey to the fullest.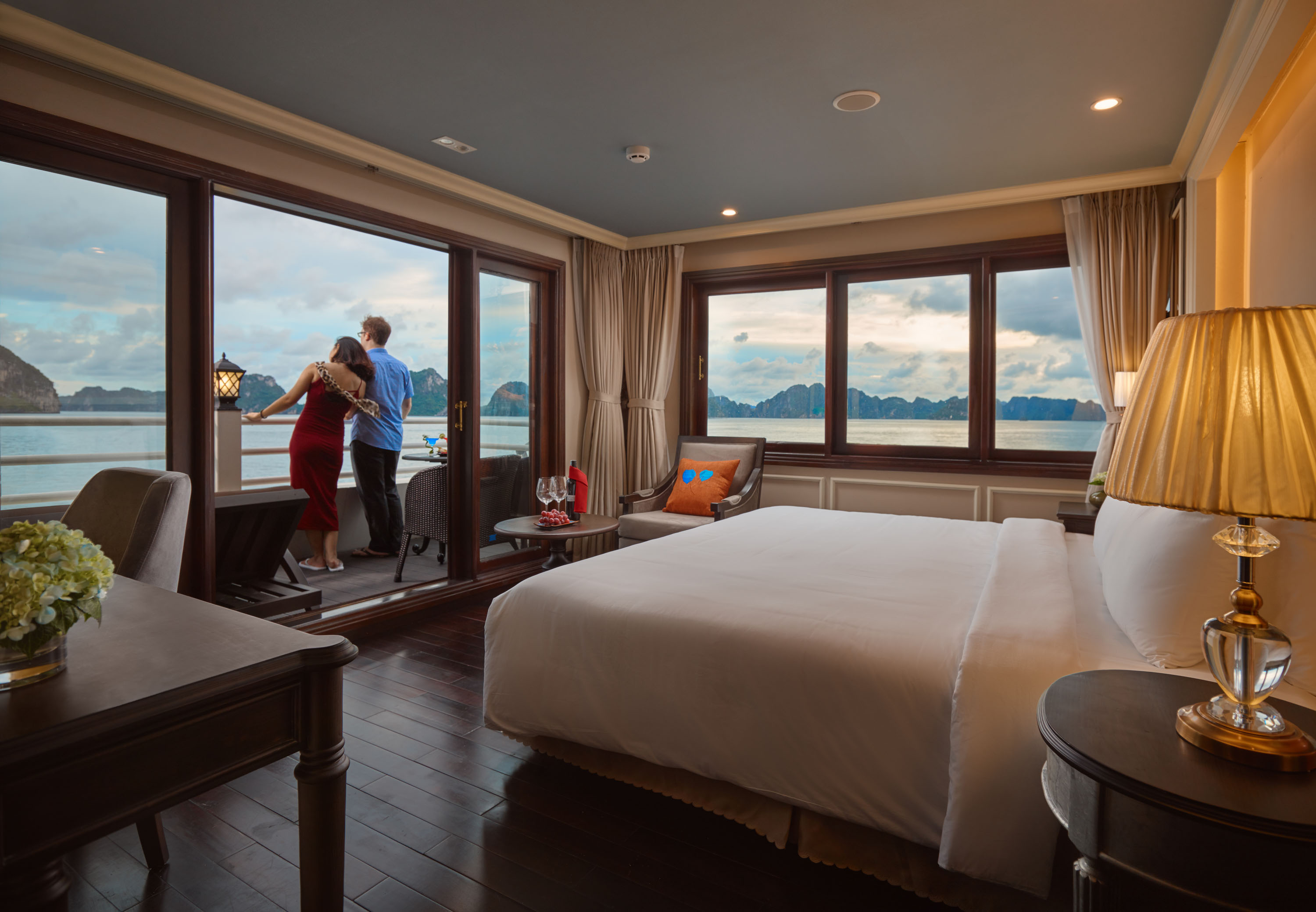 Pros
+ The vessel is a bit aged but the interior is well maintained.
+ Staff is friendly and helpful, especially the tour guide.
+ There are a lot of activities on and off the boat.
Cons
- English of the service staff needs to be improved.
- Titop Beach is overcrowded and not preferable for swimming.
- Drinks are expensive.
Bottom Line
Get ready to jump into a luxury cruising experience with a lot of activities on Athena Luxury Cruise!
Itinerary & activities
Cruise itinerary ensures you entertain and relax at the same time. You can join in plenty of activities at the most renowned spots of Halong Bay such as hiking at Surprise Cave and Titop Mountain, swimming at the beach, kayaking, or taking a bamboo boat at Luon Cave.
For a 2-night itinerary, a small boat will take you to the further parts including Me Cung (Maze) cave - one of the most ancient caves and Tung Sau area - a calm area for kayaking.
Kayaking / Bamboo boat
Swimming
Cave tour
Cooking class
Happy Hour
Taichi
Film entertainment
Board games
Squid fishing
Massage
Cruise quality
The iron hull ship provides high safety and a well-maintained look. Besides, elegant interior and luxurious accommodation wins the heart of both leisure travelers and corporate travelers alike.
Cabin quality
All cabins on Athena Luxury come with a balcony or sun terrace, giving the best private moments for travelers. 21 graceful cabins are divided into 5 types to match the needs of different types of travelers. Travelers find an abundance of luxurious amenities including controlled air – conditioning, LCD TV, wooden furniture, working desks, wardrobes, safebox, luggage shelves, toiletries, hair dryer, fully stocked minibar, electric kettle, etc.
| | | | | | |
| --- | --- | --- | --- | --- | --- |
| Cabin | No. of cabins | Area | Location | Balcony | Bed type |
| Executive | 10 | 25 sqm | 1st deck | Yes | Dbl/twn |
| Elegant Suite | 6 | 28 sqm | 2nd deck | Yes | Dbl/twn |
| Terrace Suite | 2 | 30 sqm | 2nd deck | Yes | Dbl |
| Family Triple Suite | 2 | 30 sqm | 1st deck | Yes | 1 dbl + 1 sgl |
| Family Connecting Suite | 1 | 45 sqm | 2nd deck | Yes | 1 dbl + 1 twn |
Service & facilities
A number of state-of-the-art facilities and services ensure a comfortable journey from start to finish. Guests can book a shuttle service to be picked up and dropped off at your hotel. A spacious private lounge welcomes you for luggage check-in at the port.
While being onboard, travelers are invited to enjoy modern facilities from a stylish restaurant with a panoramic view, a sundeck bar with a varied drink menu, and a coffee lounge for relaxing to a spa with an assortment of body and facial treatments.
Shuttle service
Private check-in lounge
Restaurant and bar
Coffee lounge
Sundeck bar
Sundeck with sunbeds
Profector and meeting equipment
Spa and massage
Food & Drink
Athena Luxury Cruise promises to delight travelers' taste buds in their culinary adventures. Food for lunches and breakfasts is buffet style while dinners are sumptuous set menus. A bunch of Vietnamese delicacies are blended with international cuisine in every meal. Better still, great care for guests' allergies and diets is always the top priority of service staff.
The bar is fully stocked with varied beverages such as spirit, brandy, soft drinks, cocktails, beer, etc.
Frequently asked questions
Which cabin is suitable for 3 adults and 2 children?
Family connecting cabins are the best for your family. The cabin includes 1 double bed and twin beds that accommodate a maximum of 4 adults and 2 children.
Is there an elevator onboard?
No. There is no elevator on Athena Luxury Cruise.
Can I skip the cave tour?
Sure. Guests can choose to join any excursion or activities or just relax onboard.
Is a passport needed to bring onboard?
Yes. Guests are required to bring a passport or ID card for check-in onboard.
Is a pet allowed onboard?
No. Pets are not allowed onboard.
Maps and Itineraries
Halong International Cruise Port
Our guest's experiences (8)
| | | |
| --- | --- | --- |
| 5 star | | 8 reviews |
| 4 star | | 0 reviews |
| 3 star | | 0 reviews |
| 2 star | | 0 reviews |
| 1 star | | 0 reviews |
J
John Clitus
8 months, 1 week ago
I traveled alone with this cruise on a 2-day tour and I really loved the experience! The staff were so attentive and caring, they helped arrange for me to sit with other solo travelers when having meals. And I had such a good time and did not feel awkward at all. The drink was a little bit expensive though. Halong Bay was stunning and squid fishing was so much fun.
P
Patrick Alonso
8 months, 3 weeks ago
The ship was beautiful and modern. I loved its cleanliness and elegant look. Meals were delicious and catered well to vegetarians like me. We were a little disappointed that we could not order any food outside of the meal times. We did enjoy the views, hospitality, and activities though!
T
Timmy Ryder
8 months, 2 weeks ago
Our family stayed in the family triple suite and we felt so pleased thanks to this large and convenient cabin. However, its view was quite limited as it was located on the 1st deck. We had some troubles with the A/C in our room at first but then the staff really did their best to make us feel comfortable again. Thanks a lot! The views were perfect and activities were fun, especially the boat rowing and caving.
4 people found this helpful
Helpful
Without a doubt, the staff were so helpful and professional with services as well as the food was delicious. We also got a great room, very clean and elegant. However, I must state some following drawbacks: it was a little noisy sometimes when I stayed in my room, and the drinks were delicious but quite overpriced. We suggest more soundproof systems for the cabins and lower the drink prices please. Overally, I highly recommend this cruise to anyone!
B
Ben Roger
7 months, 3 weeks ago
We were so happy to choose Athena Luxury and it was even more beautiful and memorable to us when we celebrated my birthday on the cruise. The hospitality, food and drinks, cleanliness and comfort were absolutely 5 on 5. We also loved all the activities, they were fascinating but very balanced at the same time. The highlight of the trip was my birthday party on board. The crew prepared a very beautiful cake to surprise us, which was so lovely and thoughtful of them. Thank you all and we really appreciate all the services and love we got during the stay on Athena Luxury boat.
Thanks Athena Luxury for this memorable trip. The manager was so kind and thoughtful and so were all the staff. The suite we stayed in was large and pleasant. It was on the ground floor but still offered magnificent views. However, the lunch buffet had limited options and I suggest the cruise add more flavors and dishes. The dinner, happy hour, brunch, etc. were amazing though!
C
Carwyn Benedict
8 months, 3 weeks ago
A great cruising experience! Would recommend everyone to visit Halong Bay for once as its beauty was really charming. Some of the service staff did not understand English and at dinner, the serving was quite slow due to a large number of guests. However, still an enjoyable trip thanks to excellent experiences of kayaking, spa treatments, film entertainment, and so on.
L
Lily Carter
8 months, 3 weeks ago
The ship was well maintained and I must compliment their modern facilities and attentive services! The bays were magnificent, especially at sunset. Unfortunately, we could not see the sunrise clearly because of the fog. Mr. Tim was really knowledgeable and helped us a lot during the cruise and so were all other lovely staff. The 2-day schedule was quite busy but we still wanted to stay longer on the boat for more adventures. Thanks for this wonderful and memorable experience!
Questions and Answers (0)
Be the first to ask a question on this page!
Talk to a cruise expert
Request a call back
Or Email us
Our customers' experiences

My wife and I recently visited Halong Bay on Peony cruise. The price is very reasonable and the vegetarian food …
Chloe (Australia)

I contacted Visit Halong Bay staff for some trip idea and they responded very swiftly with good recommendations.
Nina Ng (Singapore)

My trip to Halong Bay was delayed because of Covid-19 and I am so glad that I made it back …
Christine Nguyen (Australia)
You might also like...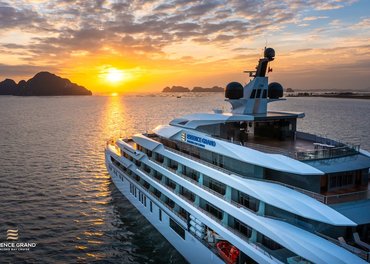 9% OFF
Halong Bay
Launched 2023 - Steel - 55 cabins
Outdoor swimming pool
Ultra luxury
Triple room
Kid-friendly
Booked 10 times in the last 24 hours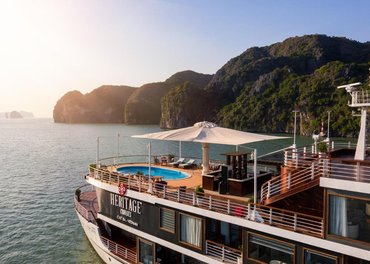 9% OFF
Lan Ha Bay
Launched 2019 - Metal - 20 cabins
Outdoor swimming pool
All cabins with balcony
All meals included
Lan Ha Bay route
Booked 2 times in the last 24 hours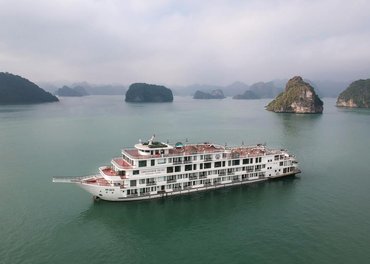 9% OFF
Halong Bay
Launched 2018 - Metal - 46 cabins
Outdoor swimming pool
All cabins with balcony
Elevator
Halong Bay route
Booked 5 times in the last 24 hours