Paloma Cruise
Hon Gai Wharf, 6 Le Thanh Tong, Ha Long, Vietnam
Show map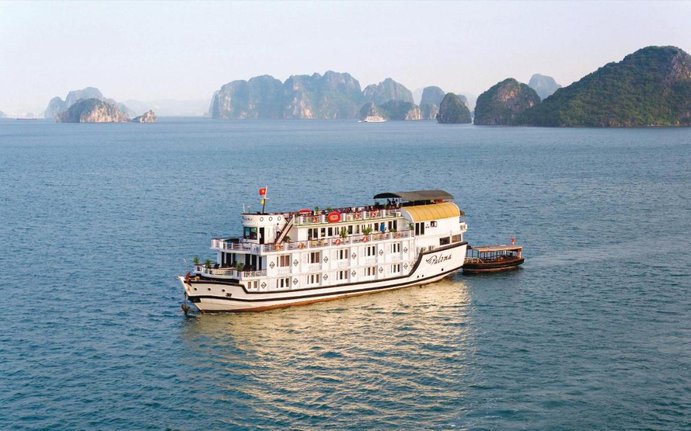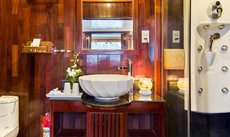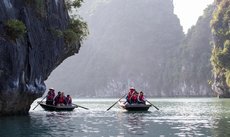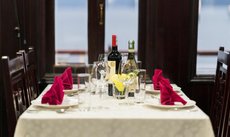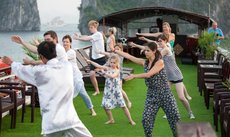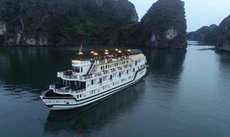 Rooms & rates
We Price Match
Select date and package options
Clear all
Accommodation Type
Premium Ocean View Double/Twin Cabin
Size: 16 m²
Bed options: 2 single beds or 1 large double bed
Family Executive Suite Cabin
Size: 27 m²
Bed options: 1 single bed and 1 large double bed
Paloma Suite
Size: 23 m²
Bed options: 1 large double bed
Deluxe Ocean View Double/Twin Cabin
Size: 14 m²
Bed options: 2 single beds or 1 large double bed
Complete all required fields to continue
(Child Policy & Extra Bed Charge )
Maps and Itineraries
Hon Gai Wharf, 6 Le Thanh Tong, Ha Long, Vietnam
Our guest's experiences (9)
| | | |
| --- | --- | --- |
| 5 star | | 7 reviews |
| 4 star | | 1 reviews |
| 3 star | | 0 reviews |
| 2 star | | 0 reviews |
| 1 star | | 0 reviews |
O
Oliver Olsen
6 months, 3 weeks ago
It was a great cruise and value for money. Positives: relaxing bed, powerful shower, flexible schedule that you do not have to join all activities if you don't want. Negatives: wifi connection was weak, the rooms needed better maintenance, I had to share tables with other guests too. If you seek something cozy and tranquil, you should definitely choose this Paloma cruise!
L
Lucas Dupont
8 months, 2 weeks ago
Paloma Cruise was comfortable and lovely. The seas on the day we cruised were a little bit rough and I was at first quite tired after transferring from Hanoi. But everything was nice on board and the price was reasonable too. Meals were okay. We had pancakes, eggs, a lot of fruit,... for breakfast. Lunch and dinner were more delicious. Making spring roll classes were fun too and the instructor was very calm, funny, and talented. Overall, we really enjoyed our trip!
A
Alexander Petrov
8 months, 3 weeks ago

It was my 28th birthday when I joined the cruise and it was truly memorable. Nature was magnificent at its best and so was the weather. Paloma staff were friendly and attentive. We loved the cave tour as well as kayaking. I took a 1-day tour and it was a little short. I really wish I would have expanded it to 2 days.
I
Isabella Rossi
6 months, 1 week ago
I would highly recommend this cruise, especially to the elderly as it was really tranquil, relaxing, and the staff were really thoughtful. Meals were catered to my diet requests as well. We listened to classical music while on board, went for a walk on a serene island, had great drinks,... The rooms were cozy too. I will definitely come back some day.
1 people found this helpful
Helpful
L
Liam Brown
7 months, 2 weeks ago
Our 2-day cruise included caving, kayaking (the best part), and boat rowing in a fishing village too. I loved Vietnamese seafood. The downside was that my A/C ran quite noisily and sometimes unresponsive. Also the wifi connection was slow. But the staff were so supportive and activities were so much fun.
3 people found this helpful
Helpful
O
Olivia Muller
8 months, 3 weeks ago
We traveled with our 1-year baby for 2 days on the Paloma Cruise. Clean cabins, delicious food, stunning bays, and lovely crew. Though two of our family could not join kayaking, we stayed on board and relaxed too. I loved it because the cruise schedule was flexible and could be changed to meet our requirements, especially for the baby. It was a very nice ship, highly recommended!
2 people found this helpful
Helpful
D
Diego Silva
6 months, 2 weeks ago
We were so happy to see Bai Tu Long Bay with Paloma. There were so many other boats but we loved this cruise for its hospitality, coziness, and well-planned schedule. However, the food was average to us and the room was good but nothing special. The whole trip was totally worth the price!
2 people found this helpful
Helpful
B
Bertha Julie
8 months, 1 week ago
My wife and I spent 1 night on the cruise for our Honeymoon and we were surprised by how large and beautiful our room was, Vietnamese food was delicious and the views were incredible. We took so many lovely photos. The visit to the caves was amazing as the scenery was so impressive, kayaking was fun, and squid fishing was captivating. The staff were so lovely and they even prepared a surprise cake to congratulate us on our wedding. That was so sweet of them! Thank you for this perfect vacation!
2 people found this helpful
Helpful
Questions and Answers (0)
Be the first to ask a question on this page!
Talk to a cruise expert
Request a call back
Or Email us
Our customers' experiences

My wife and I recently visited Halong Bay on Peony cruise. The price is very reasonable and the vegetarian food …
Chloe (Australia)

I contacted Visit Halong Bay staff for some trip idea and they responded very swiftly with good recommendations.
Nina Ng (Singapore)

My trip to Halong Bay was delayed because of Covid-19 and I am so glad that I made it back …
Christine Nguyen (Australia)
You might also like...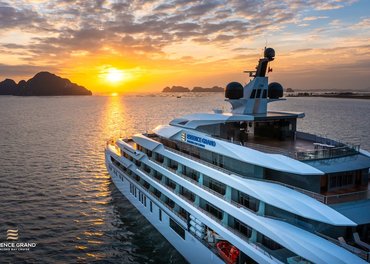 9% OFF
Halong Bay
Launched 2023 - Steel - 55 cabins
Outdoor swimming pool
Ultra luxury
Triple room
Kid-friendly
Booked 10 times in the last 24 hours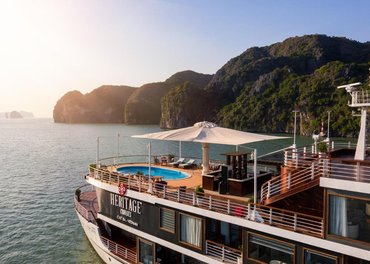 9% OFF
Lan Ha Bay
Launched 2019 - Metal - 20 cabins
Outdoor swimming pool
All cabins with balcony
All meals included
Lan Ha Bay route
Booked 2 times in the last 24 hours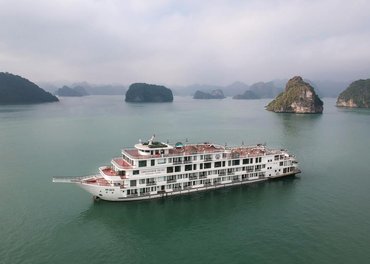 9% OFF
Halong Bay
Launched 2018 - Metal - 46 cabins
Outdoor swimming pool
All cabins with balcony
Elevator
Halong Bay route
Booked 5 times in the last 24 hours