Heritage Line Violet Cruise
Tuan Chau Marina Terminal Station, Ha Long, Vietnam
Show map
Price from: US$ 500 (Save 9%)
US$ 455 /pax
Booked 2 times in the last 24 hours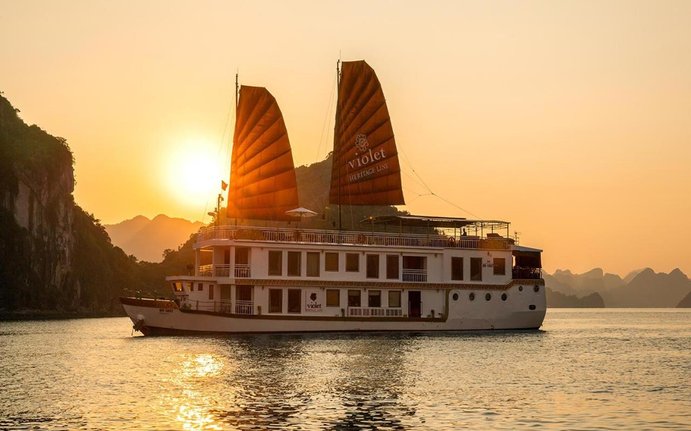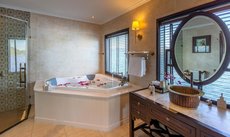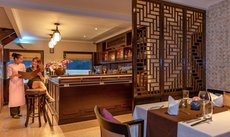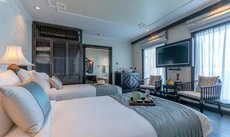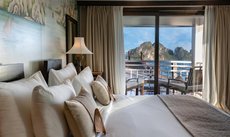 Heritage Line - Violet Cruise provides 5-star accommodations and premium services on Halong Bay.
You will stumble upon exquisite French-Indochina architectural design.
A delightful food menu with a highlight of Asian cuisine awaits you onboard.
Abundant wellness and entertainment activities onboard.
Cruise information
Itinerary:
Halong Bay - Cua Van Fishing Village - Tien Ong Cave - Titop Island
Rooms & rates
We Price Match
Select date and package options
Clear all
Accommodation Type
Junior Suite
Size: 32 m²
Bed options: 1 extra-large double bed
Imperial Suite
Size: 38 m²
Bed options: Bedroom : 1 extra-large double bed Living room: 1 sofa bed
Complete all required fields to continue
(Child Policy & Extra Bed Charge )
About Heritage Line Violet Cruise
A quintessential expedition ship at its core, Violet Cruise is notable for its small passenger count, luxurious accommodations, and impeccable services. More significantly, the balance between French-Indochina design and modern comfort makes this small vessel outstanding. Violet Cruise creates an ordinary itinerary that allows visitors to explore Halong Bay up close.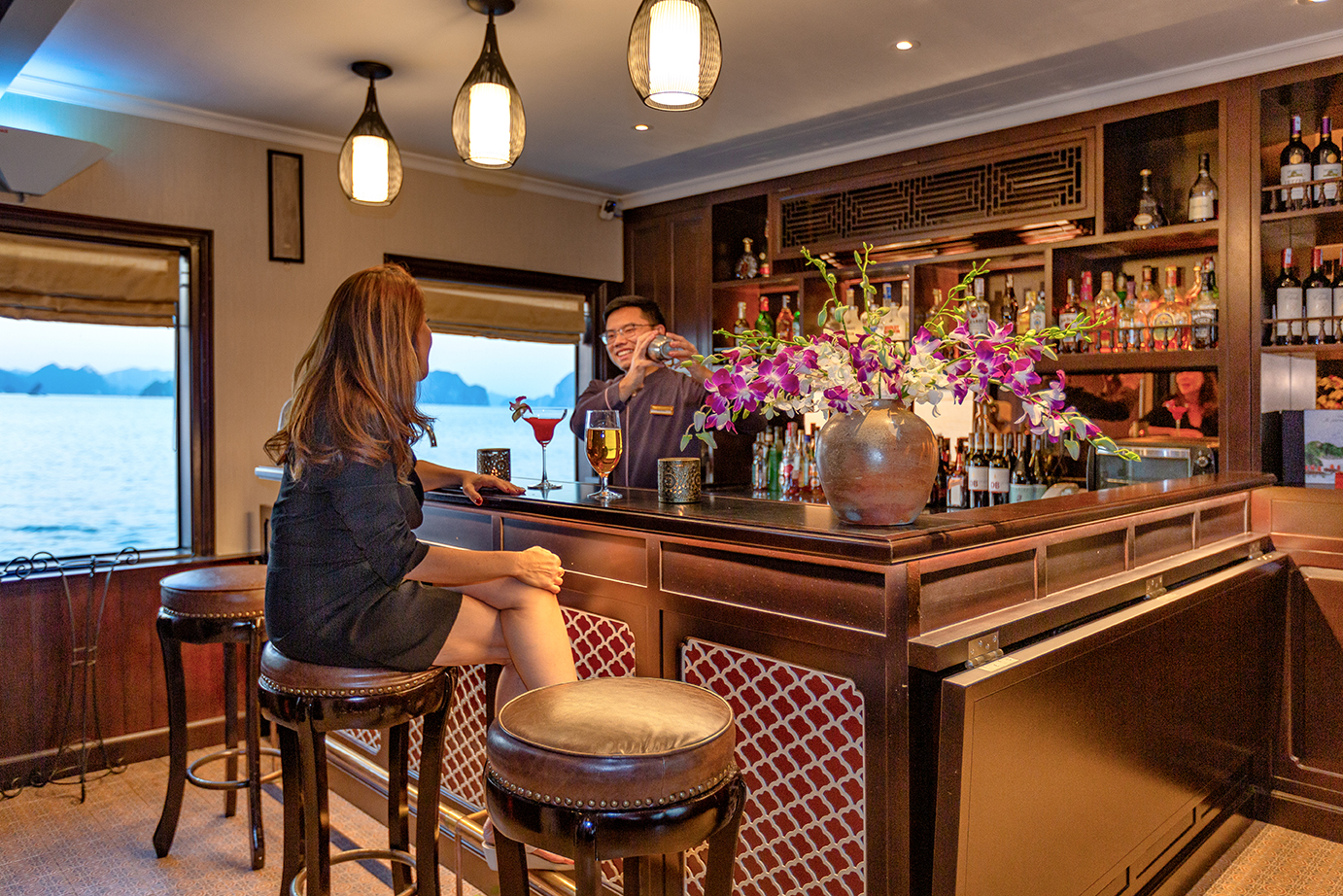 Pros
+ Heritage Line - Violet cruise is exclusive with beautifully designed suites and up-to-date in-room amenities.
+ Services are good and staff are friendly and helpful.
Cons
- The itinerary is a bit rushed. It would be better to have more time for swimming.
- Halong Bay is disappointedly touristy and dirty.
Bottom Line
This boutique boat offers small expedition groups the ultimate in laid-back luxury and comfort.
Itinerary & activities
Violet Cruise offers a well-researched sailing route to the most remarkable landmarks of the bay. You will take a pleasant bamboo boat to visit Cua Van floating village where houses a museum and various floating homes. A trip to Tien Ong Cave and Sung Sot Cave is appealing for beautiful stalagmites and stalactites. Also, learn the pearl growing process at the Halong Pearl Farm and swim in Titop Beach.
Cruise quality
Resembling old-fashioned Asian junk, the 12-guest traditional boat features wooden floors and opulent furnishings. Being opened for years, the ship is not new, but you still enjoy a comfortable stay with subtle interior decoration and high-quality cabins.
Cabin quality
Sustainable design and state-of-the-art amenities inside 6 staterooms bring you a relaxing and classy experience. All cabins are spacious and well-appointed with a 6sqm private balcony and a Jacuzzi.
Service & facilities
The cruise's services and facilities can rival larger vessels that you have access to an elegant restaurant, a lounge with library and souvenir shop, a top-notch sundeck with spectacular bay views, an inviting spa, and a rooftop bar. Furthermore, upscale life onboard is complete with vibrant sunset parties, 24-hour front desk service, and amazing spa & massage services.
Food & Drink
Following colonial design, the cruise restaurant specializes in local seafood and Vietnamese specialties. You are welcome to savor a light breakfast, a buffet lunch, and a set-menu dinner. Meanwhile, an extensive selection of international beverages is provided in the sundeck bar. Moreover, the sunset party is a great chance for drinking and enjoying some snacks.
Frequently asked questions
Which bay does Violet Cruise visit?
The cruise visits Halong Bay with prominent attractions such as Cua Van Fishing Village, Titop Island, Tien Ong Cave, and Sung Sot Cave.
Is the transfer service included in the total price?
Transfer service is not included in the total price.
How many cabins does the cruise have?
The cruise is home to 6 spacious suites full of luxurious amenities.
Does the cruise offer a 2-day cruise itinerary?
Yes. Violet Cruise has a 2-day journey exploring renowned tourist destinations on Halong Bay.
Does Violet Cruise have a spa?
Yes. The cruise has two spa rooms for pampering massage services.
Is kayaking included in the price?
Kayaking is only included in the 3 day/2 night tours.
Maps and Itineraries
Tuan Chau Marina Terminal Station, Ha Long, Vietnam
Our guest's experiences (10)
| | | |
| --- | --- | --- |
| 5 star | | 9 reviews |
| 4 star | | 1 reviews |
| 3 star | | 0 reviews |
| 2 star | | 0 reviews |
| 1 star | | 0 reviews |
B
Brian Robert
1 year, 1 month ago
Without hesitation, I recommend this cruise as a 100% must-experience journey. The suites were elegant and stunning in Indochina style. Activities and relaxation onboard were beyond amazing. However, what truly set this voyage apart was the exceptional crew. The staff were friendly and very helpful. Thank Violet cruise and the crew so much!
I
Isabella Ferri
8 months, 3 weeks ago
Violet Cruise was definitely one of the best choices for luxurious cruises on Halong Bay. It had a very lovely team of staff, attentive services and delectable food. All programs and activities onboard made it memorable for us for a lifetime!
2 people found this helpful
Helpful
Y
Yang Yun
7 months, 1 week ago
The cruise hospitality was incredible. We were served delightful meals and beverages onboard. The cruise excursions brought us an authentic and tranquil appreciation of the bay's beauty. We actively participated in a lot of water-based activities and had a lot of fun. Appreciate the team at Heritage for this remarkable experience!
S
Sakura Tanaka
8 months, 2 weeks ago
We've just back from the cruise last week! The culinary offerings were exceptional with a full range of seafood delights and a captivating spring roll crafting session. Regrettably, the one drawback was the pollution in the bay with pretty much plastic bottles and waste. Hope this situation will soon be improved.
2 people found this helpful
Helpful
L
Laura Fischer
8 months, 3 weeks ago
The trip was well-rounded for a family cruise vacation on Halong Bay. We traveled in a group of four people, including two children aged 11 and 13. The journey was arranged appropriately and left an indelible mark on our memories. The crew encompassed everything well in a warm-hearted and helpful manner. Spa services provided us with a revitalizing experience while our kids also had their own places to play.
2 people found this helpful
Helpful
Y
Yuki Watanabe
7 months, 3 weeks ago
We embarked on Violet Cruise from the 10th to the 12th of June 2023, and the tour was exceptional, leaving us reluctant to part ways. The journey was well-researched to cover the best parts of Halong Bay with fun-filling activities. Really appreciate the ship and the crew. Hope to visit again!
2 people found this helpful
Helpful
A
Alexander Müller
9 months, 3 weeks ago
The trip and adventures were awesome! I had a pleasant visit to the fishing village and the island. There were a lot of activities to do there and I especially enjoyed the marvelous cave. The food onboard was acceptable with adequate portions but I expected more options for European dishes because I could not get used to Asian-style food.
3 people found this helpful
Helpful
G
Giulia Rossi
5 months, 2 weeks ago
I and my friends had a pleasant trip to Halong Bay with Violet Cruise. Everything comes just right and enjoyable. We really look forward to seeing the cruise and cabin staff again, they were so amazing and helpful!
1 people found this helpful
Helpful
A
Alejandro Rodríguez
9 months, 2 weeks ago
The cruise was modern and very tidy, attentive to every detail. The spacious balcony brought us an intimate and relaxing atmosphere. The food menu was good with multi-course meals and sumptuous drinks. Highly recommended this cruise.
3 people found this helpful
Helpful
A
Alexandre Dupont
7 months, 3 weeks ago
I and my family were thoroughly delighted by this overnight cruise. We booked it through visithalongbay.com and received a good rate. The culinary offerings were exceptional too, and we relished the short trips to the floating village, caves, and the pre-dinner light cooking demonstration. Undoubtedly, this is an experience to cherish and remember fondly.
2 people found this helpful
Helpful
Questions and Answers (0)
Be the first to ask a question on this page!
Talk to a cruise expert
Request a call back
Or Email us
Our customers' experiences

My wife and I recently visited Halong Bay on Peony cruise. The price is very reasonable and the vegetarian food …
Chloe (Australia)

I contacted Visit Halong Bay staff for some trip idea and they responded very swiftly with good recommendations.
Nina Ng (Singapore)

My trip to Halong Bay was delayed because of Covid-19 and I am so glad that I made it back …
Christine Nguyen (Australia)
You might also like...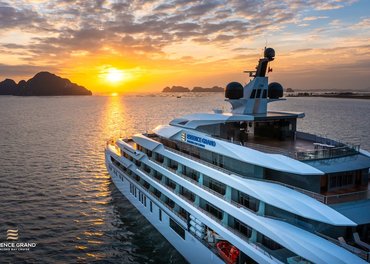 9% OFF
Halong Bay
Launched 2023 - Steel - 55 cabins
Outdoor swimming pool
Ultra luxury
Triple room
Kid-friendly
Booked 10 times in the last 24 hours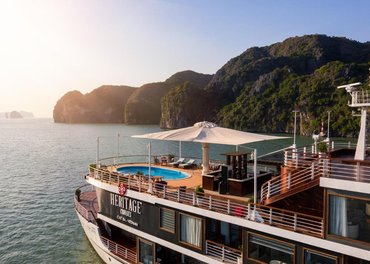 9% OFF
Lan Ha Bay
Launched 2019 - Metal - 20 cabins
Outdoor swimming pool
All cabins with balcony
All meals included
Lan Ha Bay route
Booked 2 times in the last 24 hours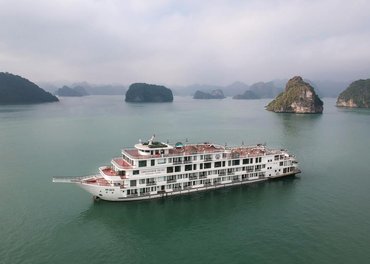 9% OFF
Halong Bay
Launched 2018 - Metal - 46 cabins
Outdoor swimming pool
All cabins with balcony
Elevator
Halong Bay route
Booked 5 times in the last 24 hours