Indochine Cruise
No 22, Port 2, Tuan Chau Wharf, Ha Long, Vietnam
Show map
Price from: US$ 174 (Save 9%)
US$ 159 /pax
Booked 6 times in the last 24 hours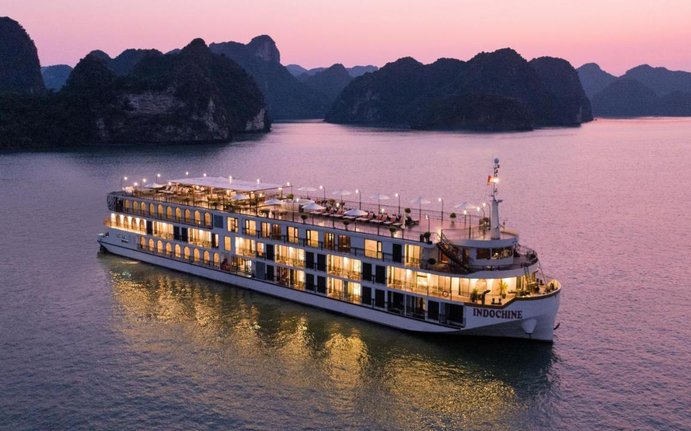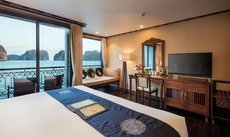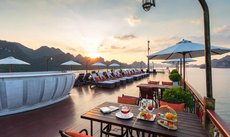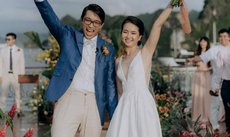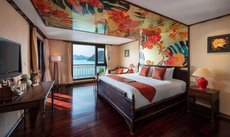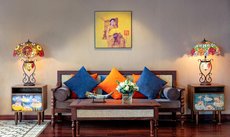 The luxurious cruise offers high-quality and attentive services at an affordable price.
The cruise is facilitated with 43 cabins which are suitable for various types of travellers.
Well-researched itineraries take you to the best parts of Lan Ha Bay, with abundant water-based activities.
Cruise information
Itinerary:
Lan Ha Bay - Dark & Bright Cave - Trung Trang Cave
Operator:
Huong Hai Group
Rooms & rates
We Price Match
Select date and package options
Clear all
Accommodation Type
Junior Suite with Ocean View
Size: 32 m²
Bed options: 1 large double bed or 2 single beds
Max: +
Max adults: 2
Max children: 1(up to 12 years of age)
Suite with Sea View
Size: 42 m²
Bed options: 1 large double bed or 2 single beds
Max: +
Max adults: 2
Max children: 1(up to 12 years of age)
Executive Suite
Size: 54 m²
Bed options: 1 extra-large double bed
Executive Suite
Size: 54 m²
Bed options: 1 extra-large double bed
Presidential Suite
Size: 80 m²
Bed options: Bedroom : 1 extra-large double bed Living room: 1 sofa bed
Presidential Suite
Size: 80 m²
Bed options: Bedroom : 1 extra-large double bed Living room: 1 sofa bed
Complete all required fields to continue
(Child Policy & Extra Bed Charge )
About Indochine Cruise
Launched in 2019, Indochine Cruise is among the largest vessels in Lan Ha Bay. The provides absolute luxury and a laid-back atmosphere onboard. You'll be thoroughly entertained by a variety of prominent facilities and programs. This 5-star cruise also provides an elaborate list of fantastic destinations that escort visitors to the poetic and tranquil Lan Bay Bay.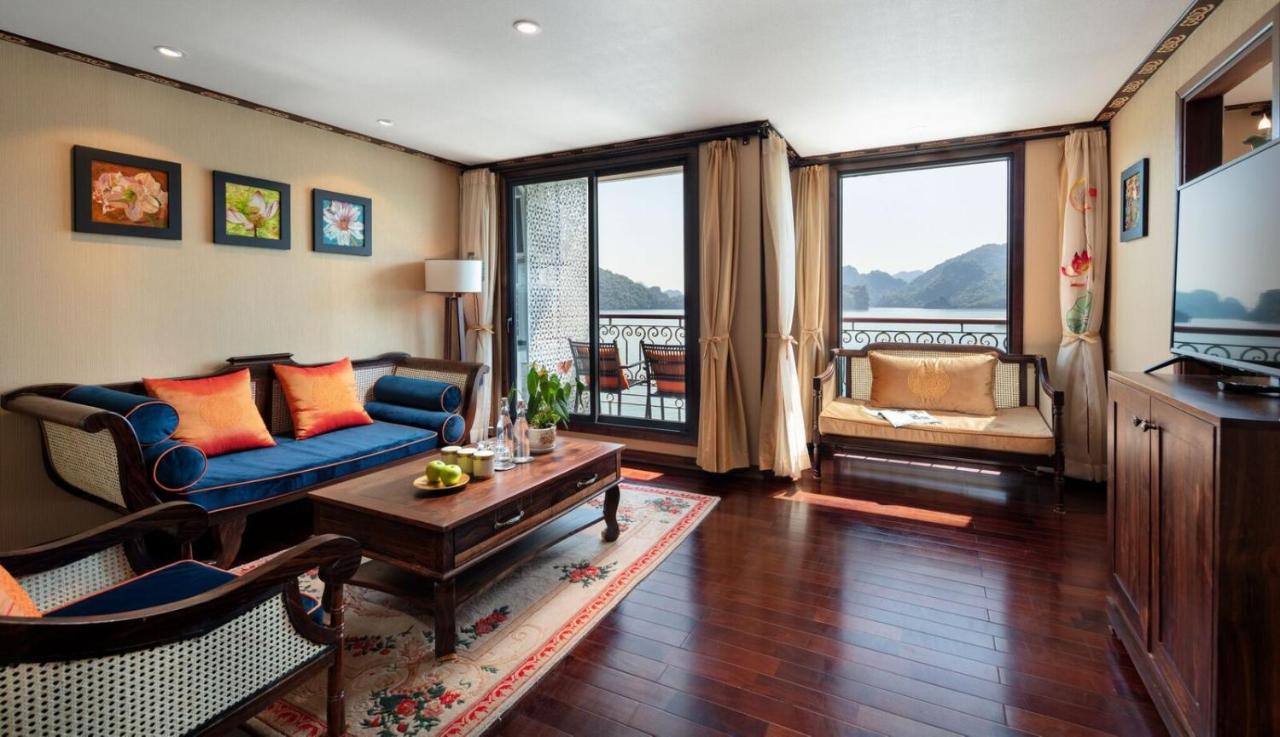 Pros
+ The cruise is in good condition and beautifully decorated.
+ Cabins are spacious and offer great views.
+ The sundeck is spacious and there is a broad range of recreational amenities.
+ Staff are very kind and helpful.
Cons
- The check-out time is a bit early.
Bottom Line
Romantic and contemporary Indochine staterooms will make families with children and honeymooners feel content.
Itinerary & activities
If you're looking for 2 days of partying indoors and outdoors, Indochine Cruise is the optimal choice for you. On the first day, you'll explore Dark & Bright Cave on a bamboo rowing boat or kayak. On the second day, you will visit Viet Hai Fishing Village, kayak around Tai Queo Area, and swim in Ba Trai Dao Beach Area. The last day is the time for you to visit Trung Trang Cave, apart of Cat Ba Island. On-board activities are also abundant, namely tai chi, cooking class, massage services, and evening entertainment.
Cruise quality
Indochine Cruise is primarily made of steel while the interior features exquisite decoration items and quaint wooden furnishings. The ship is especially suitable for those who wish for a real luxurious sailing.
Cabin quality
43 cabins have a unique and upscale decoration but most include French glass windows, exterior balconies, and private marble bathrooms with a Jacuzzi tub and massage shower. Complimentary mineral water and WIFI are available in the room.
Service & facilities
Indochine Cruise Lan Ha Bay has a large sundeck that can host many organized activities, 2 upscale restaurants, a spa & fitness centre for wellness activities, a Jacuzzi, a plunge pool, a library, and an internal room.
Additionally, business travellers can also take advantage of the lounge and meeting conference room on the boat.
Food & Drink
Tonkin and An Nam restaurants are inspired by a vintage colonial style. These dining areas serve breakfast buffets as well as lots of Vietnamese and Western specialities for lunch and dinner.
There is also a bar that is fully stocked with sumptuous local and international drinks for you to enjoy and admire captivating Lan Ha Bay views late at night.
Frequently asked questions
Is the cruise suitable for children?
Yes. Indochine Cruise Lan Ha Bay is particularly suitable for families with children with its family triple cabins.
Is elevator available on the ship?
Yes. There is an elevator on the cruise.
Does the cruise have a spa?
Yes. The cruise has a spa for massage services and also a Jacuzzi Plunge Pool.
What is the cruise's maximum capacity?
Indochine Cruise Lan Ha Bay can accommodate a maximum number of 110 guests.
Is transportation included in the total price?
Transportation is not included in the total price.
Maps and Itineraries
No 22, Port 2, Tuan Chau Wharf, Ha Long, Vietnam
Our guest's experiences (10)
| | | |
| --- | --- | --- |
| 5 star | | 10 reviews |
| 4 star | | 0 reviews |
| 3 star | | 0 reviews |
| 2 star | | 0 reviews |
| 1 star | | 0 reviews |
A
Ahmed Khalil
7 months, 3 weeks ago
The room was gorgeous and comfortable. My room had a spacious private balcony, ideal for watching the bay. I enjoyed Vietnamese food and fresh seafood on the cruise so much. Other activities on the boat such as cooking or tai chi were not always really worth it. But I still was satisfied with the service and the sunset views on the bay.
3 people found this helpful
Helpful
J
James Thompson
5 months, 2 weeks ago
Thank the cruise and whole team for bringing me a wonderful experience. I did a 3-day trip so I had abundant time to experience all activities there. The itinerary was well-planned making us not feel tired. The crew were all so helpful and attentive too. Very enjoyed this cruise, a great choice for solo traveler.
L
Liam Wilson
6 months, 2 weeks ago
Such an amazing weekend on Lan Ha Bay with Indochine cruise. Everything was perfect, from the transportation to the staff, food and the cruise itself. The food was delectable but lacked choices for international cuisines. Above all, I really loved my cabin and the activities onboard. This is absolutely a must-go boat.
2 people found this helpful
Helpful
C
Carlos Hernandez
8 months ago
Right after we got on the ship, the staff was very friendly to us and provide informative guidance. We chose Junior suite for the stay and it was very nice with a large balcony. The atmosphere was so fresh and cool, especially in the early morning. Lan Ha Bay was amazingly peaceful and beautiful, much less touristy than Halong Bay.
2 people found this helpful
Helpful
K
Kim Ji-eun
6 months, 3 weeks ago
I had a wonderful trip on this overnight cruise. The executive suite was spacious and fully appointed with luxurious amenities. The captain was friendly and always willing to give us all the necessary information for the most enjoyable experience. The food was great, as well as the activities. Kayaking was definitely a highlight. Expect to back to this cruise next time!
2 people found this helpful
Helpful
A
Alessia Conti
6 months, 1 week ago
Indochine cruise was superb. The ship was very clean and neat. We were served excellent food, high-quality services and facilities. The cabin was decorated beautifully with traditional details. The staff were very helpful throughout our trip with amazing service. All outdoor activities like kayaking and swimming were thrilling.
3 people found this helpful
Helpful
M
Markus Müller
6 months, 3 weeks ago
I and my family had an amazing trip for 2 days and 1 night. I was really impressive by the cruise's Indochine style which was very delicate and luxurious. There were many interesting activities onboard and offshore to do and we were served sumptuous food in all meals. The captain and other cruise members were nice. Definitely recommend this cruise to my friends.
2 people found this helpful
Helpful
H
Hiroshi Tanaka
7 months, 3 weeks ago
The cruise was enjoyable and had numerous activities to entertain. The atmosphere on the cruise was intimate and relaxing while Lan Ha Bay was rustic and very peaceful. All services were meticulously provided and activities like kayaking and swimming were very funny. The resort is busier than we anticipated with numerous cruises operating there. The quality of food and drink on board was acceptable and the staff were very attentive.
R
Rodrigo Silva
6 months, 3 weeks ago
We went on Indochine cruise for a honeymoon vacation of 2 days and 1 night. The experience in general was great. The room was beautifully decorated for couples and had very comfortable bed. Food was delicious and offered plentiful throughout the day. We particularly loved the breathtaking landscapes of Lan Ha Bay with amazing trips to the cave.
Z
Zhang Mei
7 months, 3 weeks ago
Indochine was an exceptional cruise on Lan Ha Bay. We stayed for 3 days and had a beautiful room with a large balcony overlooking the bay. Activities and services on the boat were 5 stars. The staff were nice and catered to our every need. Tai chi session on the deck was also highly recommended for the elderly.
Questions and Answers (0)
Be the first to ask a question on this page!
Talk to a cruise expert
Request a call back
Or Email us
Our customers' experiences

My wife and I recently visited Halong Bay on Peony cruise. The price is very reasonable and the vegetarian food …
Chloe (Australia)

I contacted Visit Halong Bay staff for some trip idea and they responded very swiftly with good recommendations.
Nina Ng (Singapore)

My trip to Halong Bay was delayed because of Covid-19 and I am so glad that I made it back …
Christine Nguyen (Australia)
You might also like...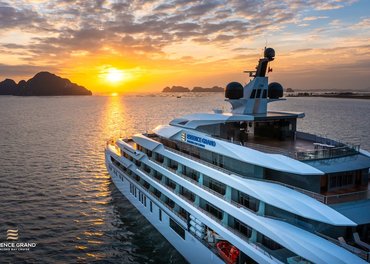 9% OFF
Halong Bay
Launched 2023 - Steel - 55 cabins
Outdoor swimming pool
Ultra luxury
Triple room
Kid-friendly
Booked 10 times in the last 24 hours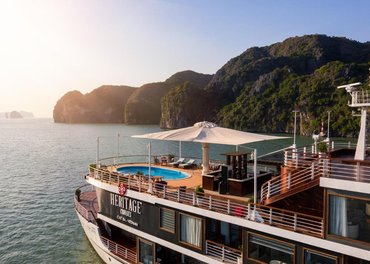 9% OFF
Lan Ha Bay
Launched 2019 - Metal - 20 cabins
Outdoor swimming pool
All cabins with balcony
All meals included
Lan Ha Bay route
Booked 2 times in the last 24 hours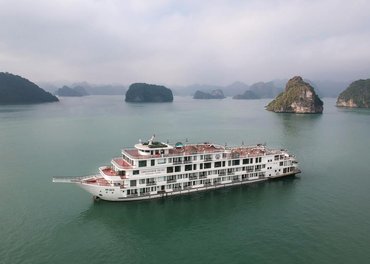 9% OFF
Halong Bay
Launched 2018 - Metal - 46 cabins
Outdoor swimming pool
All cabins with balcony
Elevator
Halong Bay route
Booked 5 times in the last 24 hours