Indochine Premium Cruise
Block 22, Tuan Chau Harbor, Halong, Quang Ninh
Show map
Price from: US$ 209 (Save 9%)
US$ 190 /pax
Booked 10 times in the last 24 hours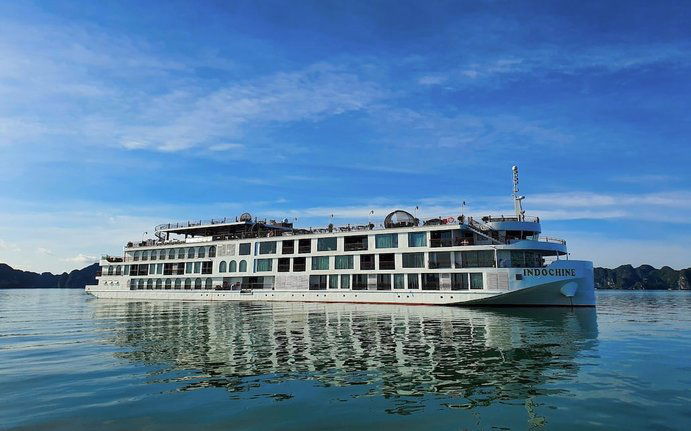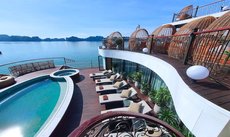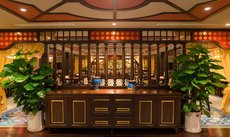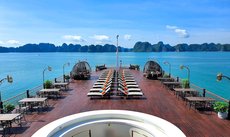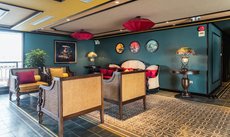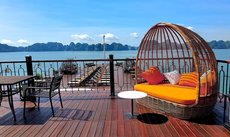 Facilities for disabled guests
One of the newest luxury cruises in Halong Bay
Upscale facilities such as mini golf course, pool, spa & massage, kid club, and wine & cigar cellar
All rooms with balcony and large space (from 34 sqm)
Disability friendly with an elevator from the lobby to sundeck, large corridor and other specially designed amenities.
Cruise information
Itinerary:
Halong Bay - Titop Island - Sung Sot Cave
Operator:
Indochina Sails
Rooms & rates
We Price Match
Select date and package options
Clear all
Accommodation Type
Junior Suite with balcony
Size: 34 m2
Bed options: Double Bed, 2 beds
Suite with balcony
Size: 46 m2
Bed options: Double Bed, 2 beds
Executive Suite with balcony
Size: 56 m2
Bed options: Double Bed, 2 beds
President Suite with Panorama Bay view
Size: 115 m2
Bed options: Double Bed
Complete all required fields to continue
(Child Policy & Extra Bed Charge )
About Indochine Premium Cruise
Debuting in August 2023, Indochine Premium Cruise is among the latest 5-star cruises in Halong Bay. The cruise exudes the European classical design mixed with the Asian traditional features and offers a myriad of top-of-the-range facilities. Cruising with Indochine Premium is the best way to experience Halong Bay with the utmost comfort.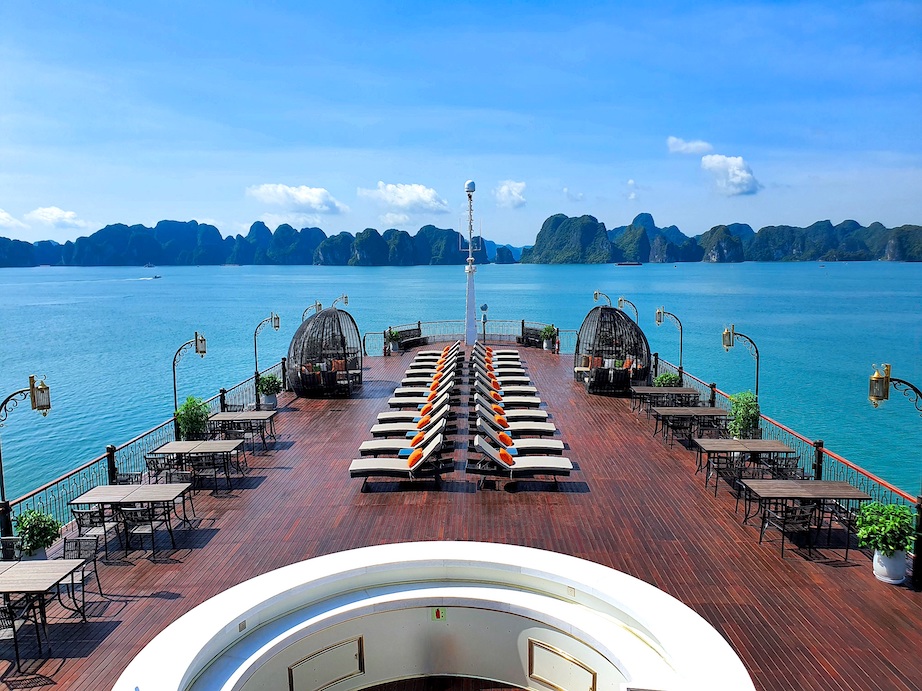 Pros
+ Handcrafted products by artisans added to Indochina design make the ship not only elegant and luxurious but also unique.
+ Facilities are top quality and friendly to the disabled.
+ Rooms are spacious and very nicely decorated.
Cons
- Wifi is weak
Bottom Line
With the most advanced services and facilities, Indochine Premium will make your cruising experience far beyond your expectations!
Itinerary & activities
The cruise offers 2-day and 3-day trips on Halong and Lan Ha Bay. The 2-day includes excursions to Titop Island and Surprise Cave with hiking, swimming, and climbing activities. For those who want to experience both, a 3-day itinerary adds the trip to Dark-Bright Cave, Ba Trai Dao Beach, and a local pearl farm. Besides, guests can join a fruit and vegetable carving lesson by the skillful chef and other activities such as board games or fishing squid.
Cruise quality
The metal vessel was built with the highest safety material and equipment. Moreover, the experienced crew team will bring you peace of mind throughout the trip.
Cabin quality
The vessel includes 37 deluxe cabins which are divided into 4 categories: Junior Suite (34 sqm), Suite (46 sqm), Executive Suite (56 sqm), and President Suite (115 sqm). The Junior Suites and Suites are available with connecting rooms for groups of friends or families. Rooms are located from the 1st to 3rd deck and boast a private balcony and modern amenities such as sofa bed, premium bedding, safe box, wardrobe, air-con, etc. Except for Junior Suites, the others offer a relaxing bathtub in the ensuite bathroom.
Service & facilities
Get ready to experience a bunch of state-of-the-art facilities on Indochine Premium such as a restaurant and bar, relaxing lounge, spacious outdoor swimming pool, 2 sundecks, gym, spa & massage, kid club, mini golf course, and wine cigar cellar. The large space with stage, LED, projector, and special theme décor on request make the cruise perfect for special events of families or holidays such as Christmas or New Year.
Food & Drink
Located on the main deck, the 350-sqm Tonkin Restaurant promises a flavorful menu in set or in buffet style. You can savor the highest quality of seafood from Halong Bay and quintessence from Asian to European cuisine. Cochinchine Lounge is the ideal place to indulge in the gentle melodies, sip a cup of coffee or favorite cocktail, and admire the gorgeous view of the heritage bay.
Frequently asked questions
How many people can a Junior Suite accommodate?
A Junior Suite can accommodate 2 to 3 guests. However, the 3rd person will stay in an extra bed with a surcharge.
Is there a family room onboard?
There is no family room yet Junior Suites and Suites are available with connecting rooms which can accommodate 4 to a maximum of 6 guests with extra beds.
Are the spa and fitness included in the price?
You can use the fitness room without a surcharge, however, the spa is excluded from the tour price.
Does the cruise serve vegetarian food?
Yes. Vegetarian food is served upon request and should be informed in advance of the tour.
Where does the cruise depart?
The cruise departs from Tuan Chau Marina, Halong, Quang Ninh.
Maps and Itineraries
Block 22, Tuan Chau Harbor, Halong, Quang Ninh
Our guest's experiences (0)
| | | |
| --- | --- | --- |
| 5 star | | 0 reviews |
| 4 star | | 0 reviews |
| 3 star | | 0 reviews |
| 2 star | | 0 reviews |
| 1 star | | 0 reviews |
Questions and Answers (6)
Q
Amitanshu
3 days, 21 hours ago
Hi I am interested in booking 2D/1N on Indochina Premium Cruise for 2 Adult / 1 infant. I had few questions. 1. Is the cruise available on 30th March 2024 2. What is tye cancelation policy if our plans change? 3. Are infants allowed on bamboo sampan boats for cave visit
A
Visithalongbay Team
3 days, 5 hours ago
@Amitanshu, We are sorry that the cruise is fully booked on 30th March 2024. If possible, please consider the cruise on 31st March 2024. The rate for 1 Junior Suite is US$390/room for 2 adults and 1 child under 5 years old.
Please find the cancelation policy due to plan change as follows:
- More than 30 days prior to check-in: free of charge
- From 30 to 7 days prior to check-in: 10% of total rates
- From 6 to 3 days prior to check-in: 50% of total rates
- Less than 3 days prior to check-in: 100% of total rates
- No-Show: 100% of total rates
For the sampan boat trip to the cave, infants are surely allowed to join, no worries.
If you need further assistance, feel free to contact us. Regards,
1 people found this helpful
Q
Jesmin Ashraf
1 week, 2 days ago
Do you provide vegetarian food? Do you provide shuttle bus from cat Bi Airport to Block 22, Tuan Chau Harbor, Halong, Quang Ninh.
A
Visithalongbay Team
1 week, 2 days ago
@Jesmin Ashraf, All the cruises provide vegetarian food so no worries. For pick-up, kindly note that all shuttle buses only pick guests up from Hanoi center. If you start from Hai Phong or Halong city, it is most convenient for you to take a taxi. We also provide a private car at the cost of US$45/car/way for 2 persons. Regards,
0 people found this helpful
Q
Nga Pham-Le
2 weeks, 6 days ago
Hi we are a family of 5, can we book 2 rooms for 2 with one extra bed?
A
Visithalongbay Team
2 weeks, 6 days ago
@Nga Pham-Le, You can surely book 2 rooms and 1 extra bed for your family of 5. Regards,
0 people found this helpful
Show more

(04)
Talk to a cruise expert
Request a call back
Or Email us
Our customers' experiences

My wife and I recently visited Halong Bay on Peony cruise. The price is very reasonable and the vegetarian food …
Chloe (Australia)

I contacted Visit Halong Bay staff for some trip idea and they responded very swiftly with good recommendations.
Nina Ng (Singapore)

My trip to Halong Bay was delayed because of Covid-19 and I am so glad that I made it back …
Christine Nguyen (Australia)
You might also like...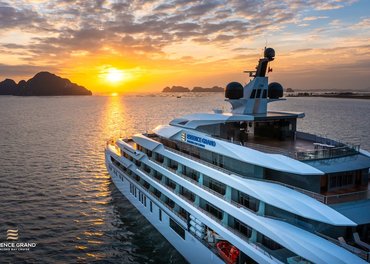 9% OFF
Halong Bay
Launched 2023 - Steel - 55 cabins
Outdoor swimming pool
Ultra luxury
Triple room
Kid-friendly
Booked 10 times in the last 24 hours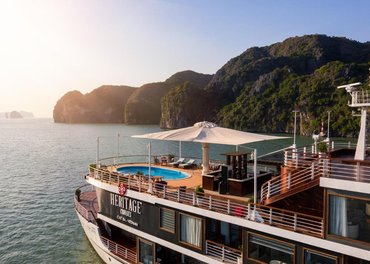 9% OFF
Lan Ha Bay
Launched 2019 - Metal - 20 cabins
Outdoor swimming pool
All cabins with balcony
All meals included
Lan Ha Bay route
Booked 2 times in the last 24 hours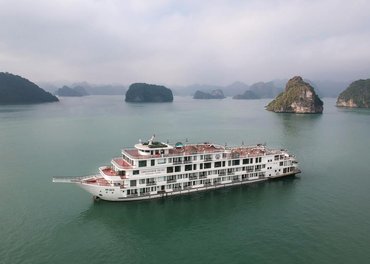 9% OFF
Halong Bay
Launched 2018 - Metal - 46 cabins
Outdoor swimming pool
All cabins with balcony
Elevator
Halong Bay route
Booked 5 times in the last 24 hours