La Regina Legend Cruise
Tuan Chau Marina, Ha Long Bay, Ha Long, Vietnam
Show map
Price from: US$ 159 (Save 9%)
US$ 145 /pax
Booked 2 times in the last 24 hours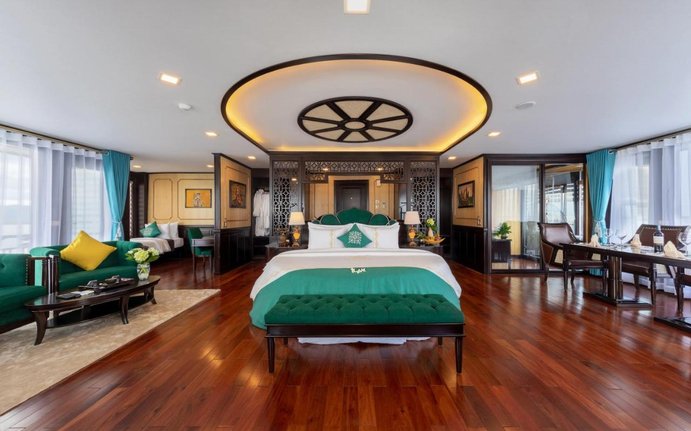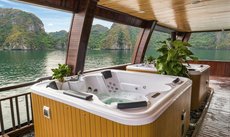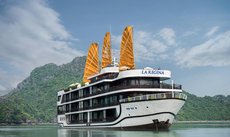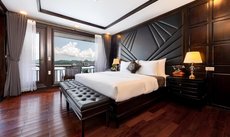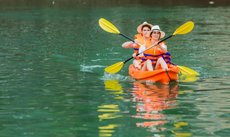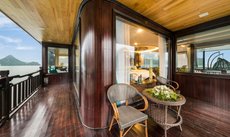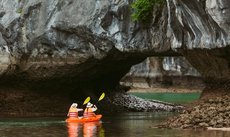 Generous cabins are well-appointed with premium services and in-room amenities.
Itineraries are well-planned to include almost all highlights of Lan Ha Bay and Cat Ba Island.
The cruise provides access to a range of recreational activities.
Cruise information
Itinerary:
Lan Ha Bay - Dark & Bright Cave - Trung Trang Cave
Operator:
Sen Hoang Gia Company Limited
Rooms & rates
We Price Match
Select date and package options
Clear all
Accommodation Type
Princess Suite Private Balcony Free Whirlpool Bath
Size: 45 m²
Bed options: 1 single bed and 1 large double bed or 3 single beds
Max: +
Max adults: 3
Max children: 1(up to 12 years of age)
Queen Triple Private Balcony Free Whirlpool Bath
Size: 54 m²
Bed options: 4 single beds
Max: +
Max adults: 4
Max children: 1(up to 12 years of age)
Queen Regent Suite Terrace - Spa Bath
Size: 135 m²
Bed options: 1 single bed and 1 large double bed
Max: +
Max adults: 3
Max children: 1(up to 12 years of age)
Complete all required fields to continue
(Child Policy & Extra Bed Charge )
About La Regina Legend Cruise
La Regina Legend Cruise is a 5-star vessel boasting elegant Indochina-traditional style. The cruise has gained a good reputation for exclusivity and gigantic suites. With in-depth knowledge of Lan Ha Bay and Cat Ba Island, the ship specializes in hassle-free tours suitable for all small groups, families, couples, and individual travelers.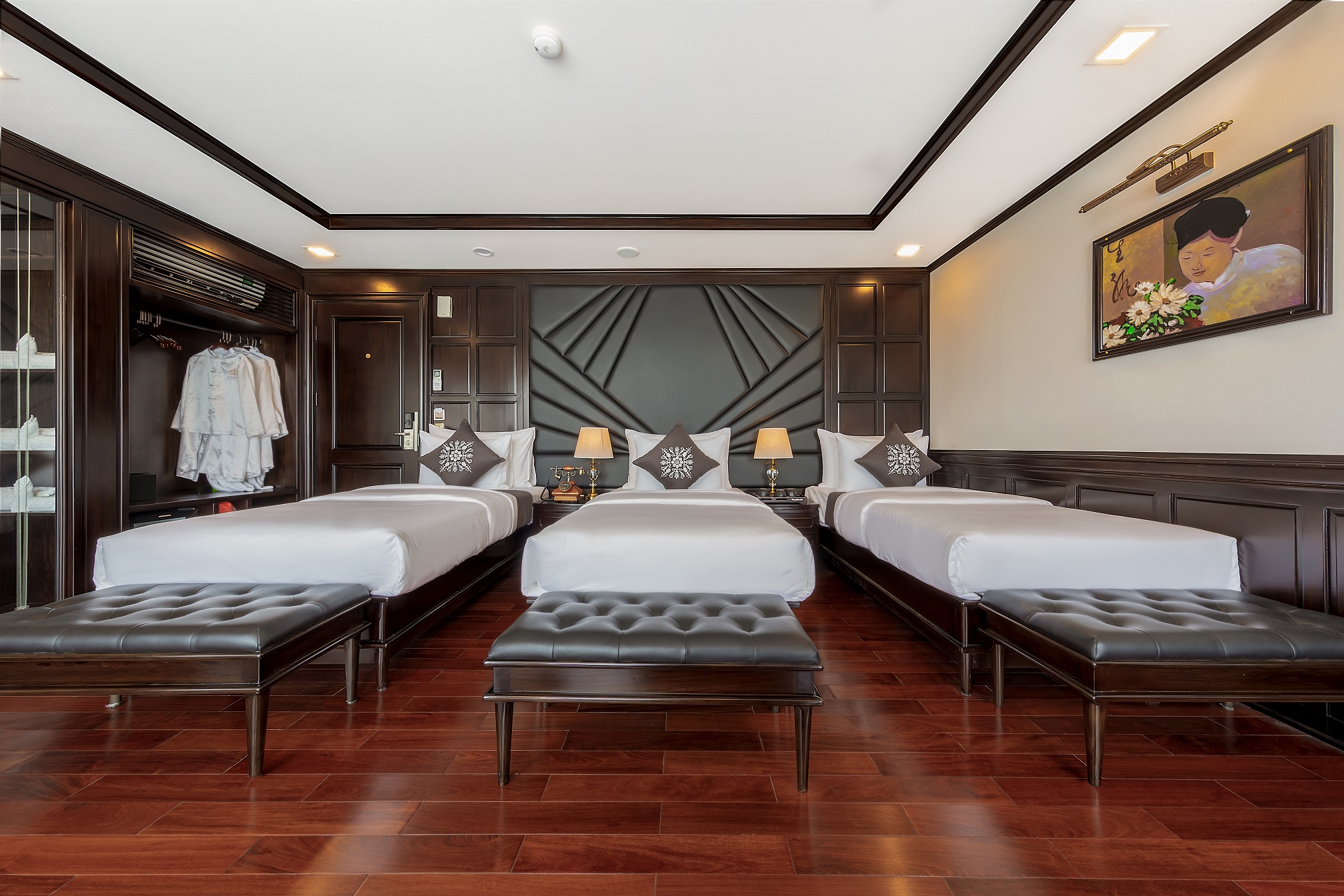 Pros
+ Cabins are among the largest ones on Halong Bay and are furnished with luxury facilities.
+ Enjoy well-researched journeys to picturesque and unspoiled attractions on Lan Ha Bay.
+ Get entertained with a plethora of onboard entertainment and underwater activities.
Cons
- The food menu is not diverse.
- WIFI is not accessible in some places on the ship.
Bottom Line
La Regina Legend Cruise promises to bring you a laid-back luxury environment and interesting shore excursions.
Itinerary & activities
From Tuan Chau Marina, La Regina Legend Cruise sets sail to stunning seascapes in Lan Ha Bay and Cat Ba Island. During your voyage, you'll be able to immerse in the cool waters of Ba Trai Dao Beach and admire the tranquil scenery of Viet Hai Village, Dark & Bright Cave, and Cat Ba World Biosphere.
Cruise quality
The design of La Regina Legend Cruise reflects a signature mixture of Indochina and traditional design. A collection of ornately wooden details and state-of-the-art furniture also contribute to the comfort and luxury of the rooms.
Cabin quality
Large and well-furnished queen suite cabins on La Regina Legend Cruise are divided into four categories with elegance and exclusivity in every detail. Each room comes with a balcony overlooking the sea, a private bathroom with a bathtub and other modern facilities. The largest cabin is 135m2 while the smallest one is 45m2.
Service & facilities
The cruise's restaurant is decorated with paintings of Vietnamese queens. Additionally, there is a wood-paneled library, a large sundeck, a gymnasium, and a tender for sightseeing which all bring you the ultimate in enjoyment and relaxation.
Food & Drink
La Corona restaurant and bar serves a fusion menu of Vietnamese and international cuisines. Additionally, you can appreciate the magic landscapes and taste the best beverages from Le Magia Cafe.
Frequently asked questions
Are children free of charge in the room?
Only one child under 5 years old is free of charge per room.
How many guests does the cruise's restaurant accommodate?
La Corona restaurant has a maximum capacity of 100 guests.
How many cruise itineraries does the cruise provide?
The cruise provides 2-day and 3-day itineraries to Lan Ha Bay and Cat Ba Island.
Is morning tai chi available on the cruise?
Yes. You can wake up early to enjoy morning tai chi on the sundeck.
Does the cruise offer spa services?
Yes. Spa massages are available at an additional charge.
Maps and Itineraries
Tuan Chau Marina, Ha Long Bay, Ha Long, Vietnam
Our guest's experiences (6)
| | | |
| --- | --- | --- |
| 5 star | | 6 reviews |
| 4 star | | 0 reviews |
| 3 star | | 0 reviews |
| 2 star | | 0 reviews |
| 1 star | | 0 reviews |
J
Jamie
8 months, 3 weeks ago
Cabin was comfortable and clean although there were some downgrades in the furniture. Food was great. The staff was amiable and attentive. The bay is calm and peaceful. Kayaking and swimming were fun.
S
Stuart James
10 months, 3 weeks ago
What a nice experience! We booked 2 nights to visit further parts and more relaxing time and it was the right choice. A bunch of activities were included such as kayaking, swimming, sampan boating, biking, caving, and cooking class. Food was varied. The staff was welcoming and helpful. Lan Ha Bay was magnificent!
H
Holly Olsen
8 months, 2 weeks ago
The bay was stunning. Our cabin was spacious with a balcony. The staff was nice but should improve their English. The manager was kind and went above and beyond to satisfy us. The interior and facilities were a bit run down. Food was average.
4 people found this helpful
Helpful
D
Donna
8 months, 2 weeks ago
Vegetarian food needs to be improved. The activities were pretty nice. We expect longer cruising time. The boat normally just moved from the dock to the attractions or from one point to another and anchored there and then moved to the sleeping area after the visit. Staff was friendly and courteous, especially Mr Duy cruise manager. Scenery was spectacular.
4 people found this helpful
Helpful
T
Taciana
6 months, 2 weeks ago
The food was delicious. The ship was not as new as the pictures but well maintained and fully equipped. The dining area was luxurious and had an amazing view from the glass door. I have an allergy to seafood and the staff prepared all non-seafood meals for me. However, water should be provided during meals. Activities were varied yet the duration was short and there was nothing special to do after dinner.
3 people found this helpful
Helpful
D
Diane Moore
8 months, 2 weeks ago
We had a wonderful 2 days 1 night on the La Regina Legend boat. It was our honeymoon and the staff made us really special. We stayed in the Princess suite premium. It was romantically decorated and had wooden furniture and floor, a well furnished bathroom and a nice view. We enjoyed all the food and activities. There are 2 open jacuzzis at the back of the vessel and massage room for relaxing. We would love to come back soon. Thank you!
3 people found this helpful
Helpful
Questions and Answers (0)
Be the first to ask a question on this page!
Talk to a cruise expert
Request a call back
Or Email us
Our customers' experiences

My wife and I recently visited Halong Bay on Peony cruise. The price is very reasonable and the vegetarian food …
Chloe (Australia)

I contacted Visit Halong Bay staff for some trip idea and they responded very swiftly with good recommendations.
Nina Ng (Singapore)

My trip to Halong Bay was delayed because of Covid-19 and I am so glad that I made it back …
Christine Nguyen (Australia)
You might also like...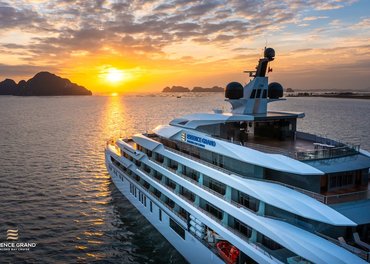 9% OFF
Halong Bay
Launched 2023 - Steel - 55 cabins
Outdoor swimming pool
Ultra luxury
Triple room
Kid-friendly
Booked 10 times in the last 24 hours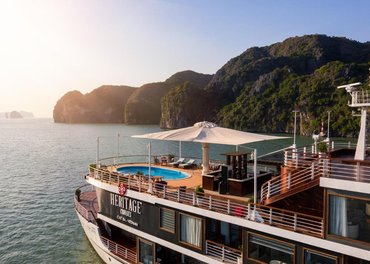 9% OFF
Lan Ha Bay
Launched 2019 - Metal - 20 cabins
Outdoor swimming pool
All cabins with balcony
All meals included
Lan Ha Bay route
Booked 2 times in the last 24 hours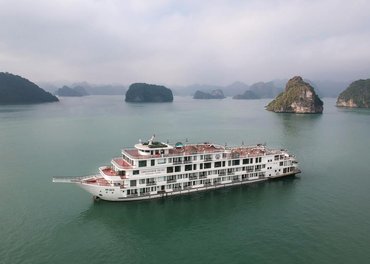 9% OFF
Halong Bay
Launched 2018 - Metal - 46 cabins
Outdoor swimming pool
All cabins with balcony
Elevator
Halong Bay route
Booked 5 times in the last 24 hours