Le Theatre Cruises
Tuan Chau Wharf , Ha Long, Vietnam
Show map
Price from: US$ 181 (Save 9%)
US$ 165 /pax
Booked 4 times in the last 24 hours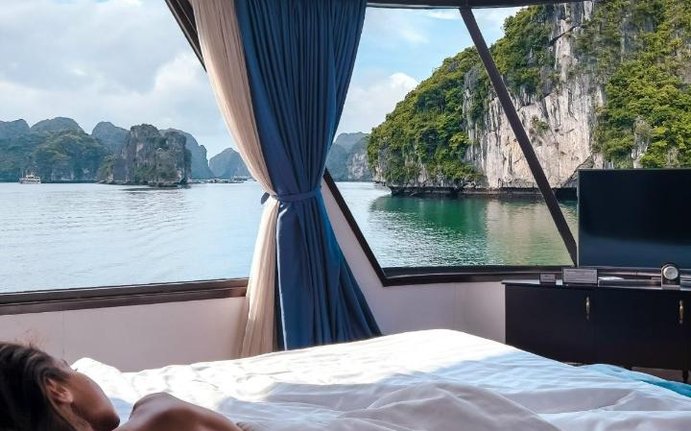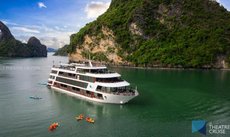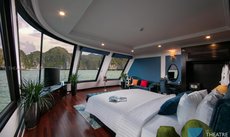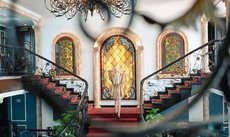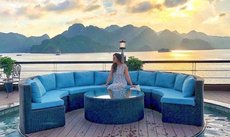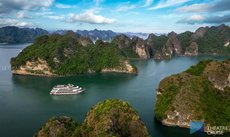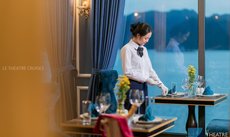 Classic but elegant interior design with focus on traditional specifics.
All rooms with ocean view balcony and ensuite bathroom.
An enticing itinerary visiting the most untouched part of Lan Ha Bay such as Bright Cave, Ao Ech Area, Viet Hai Village, etc.
Vietnamese and International cuisine is combined in meals onboard
Spacious sundeck with a pretty design is best for events such as weddings, birthdays, seminars, etc.
Cruise information
Itinerary:
Lan Ha Bay - Ao Ech - Bright Cave
Operator:
HMT . Tourism Joint Stock Company
Rooms & rates
We Price Match
Select date and package options
Clear all
Accommodation Type
Junior Suite
Size: 25 m²
Bed options: 2 single beds or 1 large double bed
Max: +
Max adults: 2
Max children: 1(up to 12 years of age)
Junior Connecting Suite
Size: 50 m²
Bed options: 2 single beds and 1 double bed or 2 large double beds
Max: +
Max adults: 4
Max children: 1(up to 12 years of age)
Executive Suite
Size: 30 m²
Bed options: 1 extra-large double bed
Max: +
Max adults: 2
Max children: 1(up to 12 years of age)
Family Suite
Size: 35 m²
Bed options: 3 single beds or 1 single bed and 1 large double bed
Max: +
Max adults: 3
Max children: 1(up to 12 years of age)
Panorama Suite
Size: 40 m²
Bed options: 1 extra-large double bed
Max: +
Max adults: 2
Max children: 1(up to 12 years of age)
Le Theatre Suite
Size: 40 m²
Bed options: 1 extra-large double bed
Max: +
Max adults: 2
Max children: 1(up to 12 years of age)
Economy Single Room
Size: 30 m²
Bed options: 1 single bed
Complete all required fields to continue
(Child Policy & Extra Bed Charge )
About Le Theatre Cruises
Le Theatre Cruise is among the top 5-star cruises exploring the poetic Lan Ha Bay area to the South of Halong Bay. The vessel includes 21 ensuite cabins in the neoclassic style which suit solo travelers, couples, and small to multi-generation families. Better still, the well-organized program, sumptuous meals, and attentive service are reasons why travelers cannot refuse a stay on Le Theatre Cruise.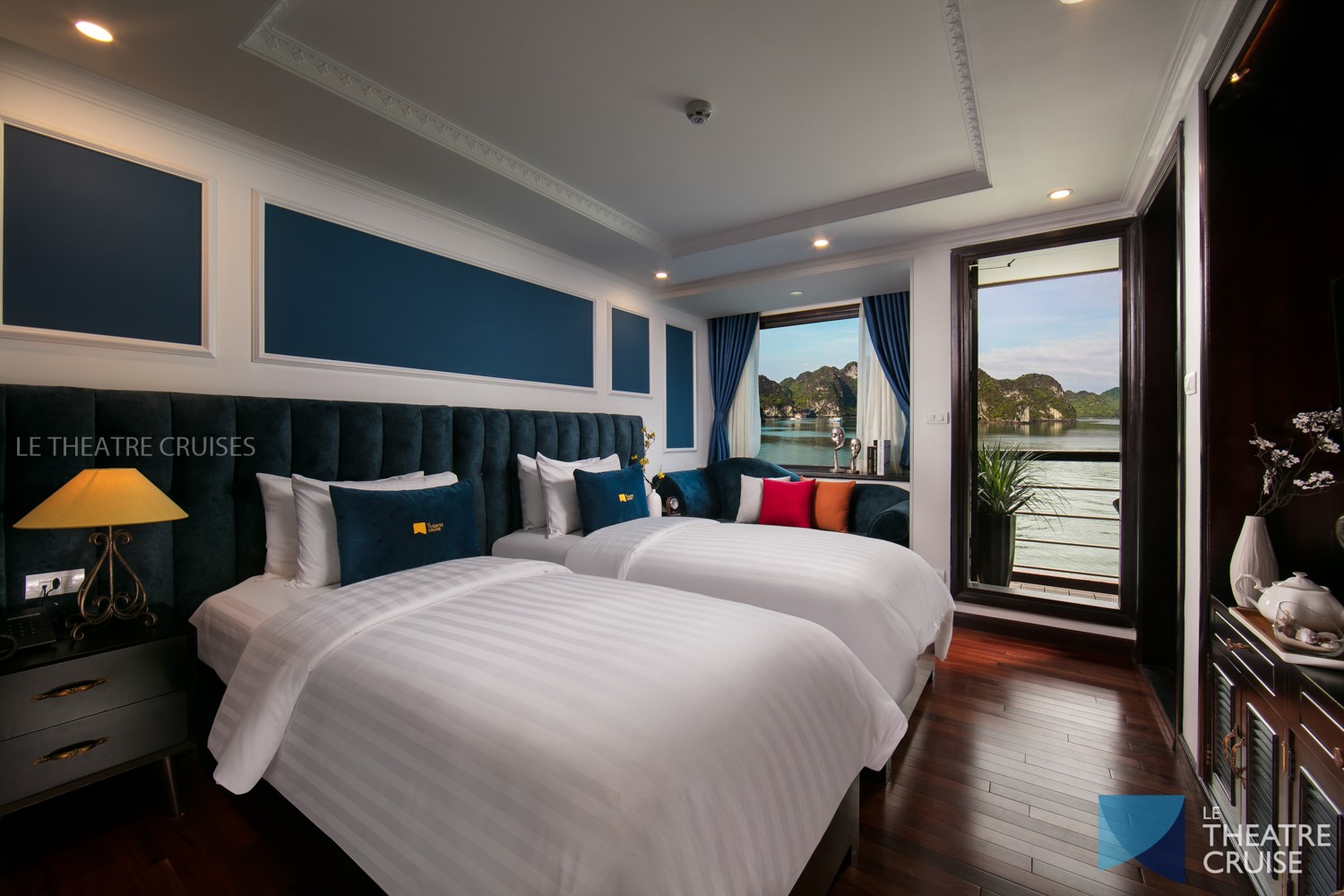 Pros
+ Ideal capacity with 21 cabins, not too small, not too big and crowded.
+ Clean, neat and well-furnished accommodation.
+ Food is abundant and varied.
+ Service from staff is excellent.
Cons
- Long transfer from harbor to the main boat.
- The pool is very shallow, not for swimming.
- Drinks are expensive.
Bottom Line
The 5-star Le Theatre Cruise retains the traditional features in design style but ensures a comfortable stay with the most up-to-date amenities.
Itinerary & activities
The itinerary on Lan Ha Bay includes a bunch of quiet areas but nothing short of fun. Guests will swim and kayak at Ao Ech Area and visit Bright Cave by a local rowing boat. A 2-night trip offers a visit to Viet Hai Village where you can ride a bike along the rustic path, watch dense jungles surrounded by mountains, and visit an ancient house. More kayaking and swimming will be added to the 2-night itinerary so guests can enjoy more water activities. If you are not after offboard activities, find a favorite spot onboard to admire the bay, join a Sunset party with Happy Hour and snacks, and book a spa to rejuvenate your body, you will never regret it.
Cruise quality
The steel boat exudes the traditional style in wooden interiors and handmade products. It is the harmonious combination of luxury and intimacy, a guarantee to bring the most comfortable and convenient stay with advanced facilities and services.
Cabin quality
21 ensuite cabins are spacious at 25 - 50 square meters. Featuring sophisticated décor with modern amenities, the cabin not only provides a luxurious stay but all you need for 5-star accommodation. All cabins boast a private balcony overlooking the bay, air conditioning, satellite TV, inhouse phone, safe box, sitting area, and a well-equipped bathroom with toiletries, hairdryer, standing shower or tub, etc.
Rooms are divided into 5 types which are Junior Suite (connected rooms available), Executive Suite, Family Suite, Panorama Suite, and Le Theatre Suite.
Service & facilities
There is no time for getting bored while cruising with Le Theatre Cruise. The dedicated and attentive service from the team ensures guests enjoy every moment from start to finish. Besides a comfortable cabin and hearty meals, guests can kick back at any time on the sundeck with tables and chairs or sunbeds. Sundeck is also the place for other interesting activities such as cooking class, Sunset happy hour (buy 2 get 1 for free), or morning Taichi.
Le Theatre includes a quiet and elegant spa. Skillful therapists use qualified materials with varied treatments inspired by traditional therapy to revitalize your skin and rejuvenate your whole body. If you are looking for something more active and local, give squid fishing a try and you may feel your night filled with fun and excitement.
Food & Drink
What could be better than savoring flavorful dishes in a Royal-Theater-style restaurant while watching incredible views of Lan Ha Bay? Le Opera restaurant is located on the second deck with a capacity of 50 guests. You will have a chance to enjoy Vietnamese authentic delicacies but no shortage of international cuisines. Various drinks such as cocktails, wine, soft drinks, fresh juice,... can be ordered from Le Piano Lounge on the same deck or from the outdoor bar on the top deck.
Frequently asked questions
Is smoking allowed onboard?
Smoking is not allowed in the cabin but in some designated areas such as on the balcony, on the terrace outside the dining area, or on the sundeck.
What time do I check in onboard?
The check in time onboard ranges from 12:30 to 12:45 pm.
Can I book a single room?
Yes. You can surely book a single room. Kindly note that there will be a single surcharge for that cabin.
Does the cruise have medical service?
No. Medical service is unavailable onboard. There is first aid and limited medicine or medical equipment on the cruise. In case you have any health problems, you should refer to the doctor's advice before joining the tour and inform the crew staff of your health condition before and during the trip.
Is there an elevator onboard?
No. There is no elevator on Le Theatre Cruise.
How many people can a Family Suite sleep?
A Family Suite can sleep 3 adults and 1 child. It consists of a king bed and a single bed or three single beds in each cabin. There are 2 Family Suites on Le Theatre Cruise.
Maps and Itineraries
Tuan Chau Wharf , Ha Long, Vietnam
Our guest's experiences (10)
| | | |
| --- | --- | --- |
| 5 star | | 8 reviews |
| 4 star | | 0 reviews |
| 3 star | | 0 reviews |
| 2 star | | 0 reviews |
| 1 star | | 0 reviews |
A
Andrea Karlstedt
8 months, 3 weeks ago
The staff was very attentive to details. They made sure we enjoyed the trip at all times. Lucky took care of our vegan meals very well. Tom was informative and shared lots of useful information about the bay. Cooking class was fun yet night squid fishing was a bit boring. Our cabin was comfortable and had all the things we expected. We loved the balcony with an excellent view of the bay. Highly recommended!
3 people found this helpful
Helpful
A
Audrey Parkes Johnson
8 months, 1 week ago
My family (3 adults and 2 kids) booked a Junior connecting suite on Le Theatre Cruise. The room was well-furnished and comfortable. Activities for 2 nights were plentiful with biking and visiting a local village on the island. I believe that it was better than 1-night since you just kayak/swim and join a sampan boat trip where you just sit on the boat rowed by a local. The food was amazing and way too much. Drinks were a bit pricey and some furniture needed to be upgraded.
5 people found this helpful
Helpful
J
John Patrick Leal
1 year ago
The ship itself and cabins were nicely designed. The food was great and the staff was friendly. Kayaking was good but more time for it would be excellent. Some cons that need to be improved are the air-conditioning in the public areas, night activities after dinner, and the check-in and check-out time (a bit chaotic).
5 people found this helpful
Helpful
P
Priyanka Surana
8 months, 2 weeks ago
The trip went smoothly and excursions were on time. However, the transfer time was a bit long due to the big crowd. We booked an Executive Suite with a beautiful balcony. The cabin had a bathtub overlooking the bay and the amenities were fully provided. The food was good, not outstanding but plenty of it.
5 people found this helpful
Helpful
S
Stephen Agnew
7 months, 3 weeks ago
We stayed for 1 night and the activities were varied. The food was great yet the drinks were overpriced. The pool was not a real pool, very shallow and needed to be better cleaned. The guide Tom did a great job. He was very knowledgeable about the area and willing to answer any of our questions. Rated 8 out of 10!
5 people found this helpful
Helpful
J
Jesco Jehle
8 months, 1 week ago
The ship looks older than the images. However, the cabin was clean and neat. The food was okay. The dinner could be better. The trip was well organized but the schedule was a bit tight. Maybe 2-night could provide more resting time. The staff was hospitable. A shout out to Anna and the tour guide.
4 people found this helpful
Helpful
A
Alvin
8 months, 1 week ago
My wife and I had a nice stay on Le Theatre Cruise. The suite was clean, modern, and fully equipped. The view from the private balcony and windows was gorgeous. All the staff was amazing. A special thanks to Anna, Tom, and Peter. Others were great too but I cannot remember their names. There were lots of things to do onboard such as kayaking, swimming, sunset party, bamboo boat, squid fishing, etc. Food was topnotch. Can't compliment enough.
4 people found this helpful
Helpful
S
Sarah Granahan
7 months, 2 weeks ago
The ship is very pretty. The design is sophisticated and the furniture is stylish. We had 1 night on Le Theatre Cruise and the staff was really a gem of the cruise. Everyone treated us so well. They were informative, caring, and very friendly. Food was excellent and plentiful, lots of seafood dishes. Our trip was just too short that we wish we had booked 2 nights instead. Thank you very much for arranging this trip for us!
3 people found this helpful
Helpful
Questions and Answers (0)
Be the first to ask a question on this page!
Talk to a cruise expert
Request a call back
Or Email us
Our customers' experiences

My wife and I recently visited Halong Bay on Peony cruise. The price is very reasonable and the vegetarian food …
Chloe (Australia)

I contacted Visit Halong Bay staff for some trip idea and they responded very swiftly with good recommendations.
Nina Ng (Singapore)

My trip to Halong Bay was delayed because of Covid-19 and I am so glad that I made it back …
Christine Nguyen (Australia)
You might also like...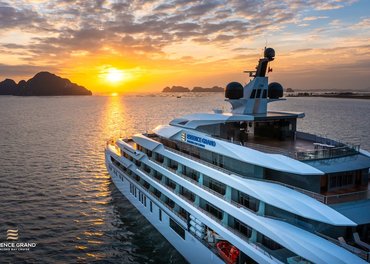 9% OFF
Halong Bay
Launched 2023 - Steel - 55 cabins
Outdoor swimming pool
Ultra luxury
Triple room
Kid-friendly
Booked 10 times in the last 24 hours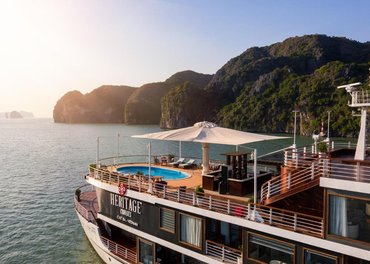 9% OFF
Lan Ha Bay
Launched 2019 - Metal - 20 cabins
Outdoor swimming pool
All cabins with balcony
All meals included
Lan Ha Bay route
Booked 2 times in the last 24 hours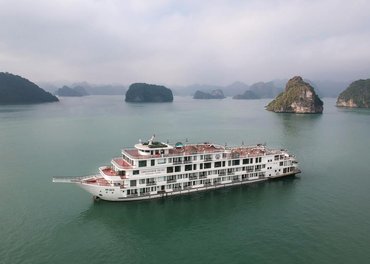 9% OFF
Halong Bay
Launched 2018 - Metal - 46 cabins
Outdoor swimming pool
All cabins with balcony
Elevator
Halong Bay route
Booked 5 times in the last 24 hours